Scuba Diving Fashion Wows at the Tacoma Arts Show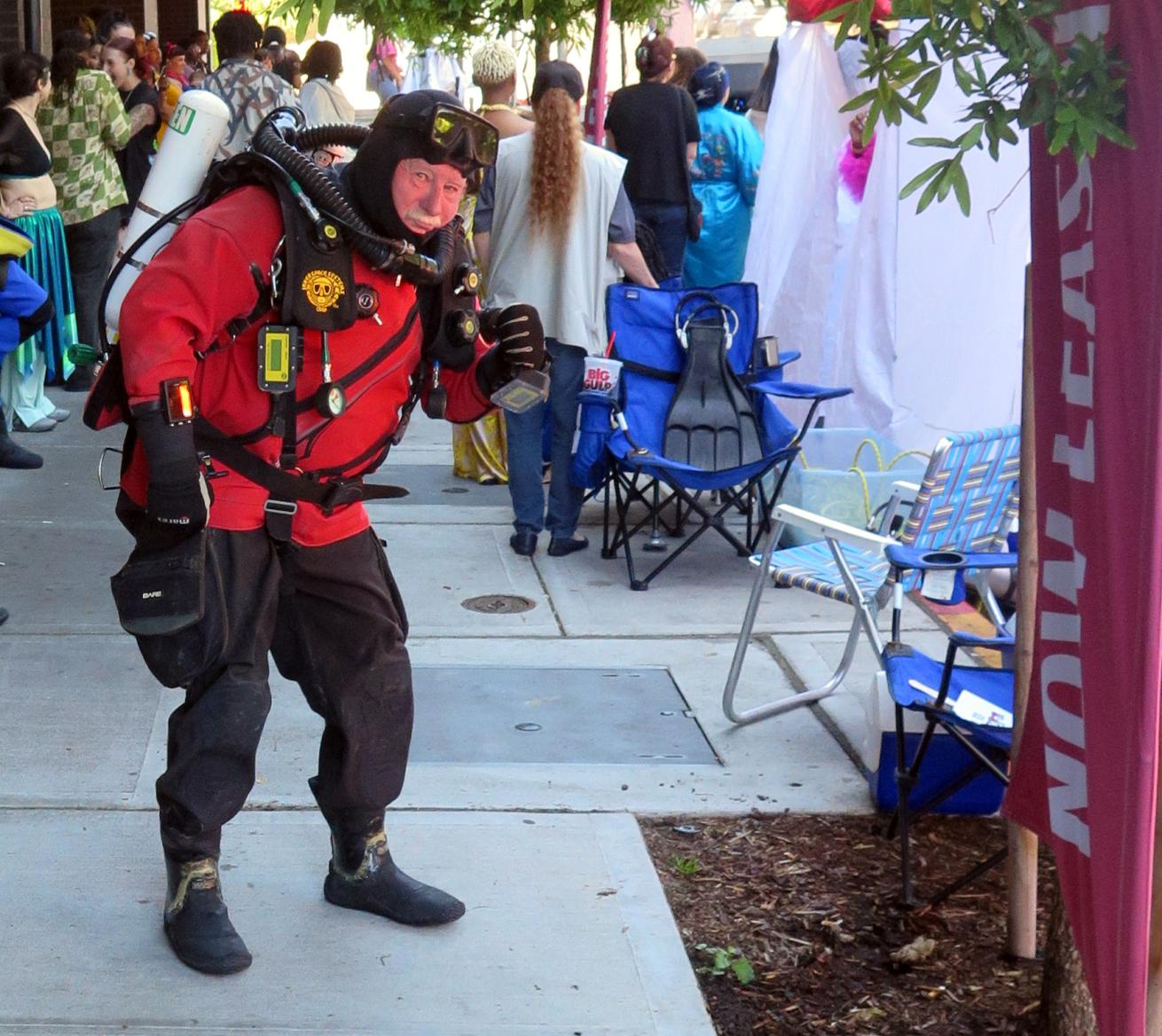 Randy Williams of Washington Scuba Alliance at Tacoma Arts on the Ave.

Angela Jossy and The Media Maker
Scuba Diving Fashion Wows at the Tacoma Arts Show
An innovative way to educate the community by the Washington Scuba Alliance
Dive gear can be many things. Bulky. Streamlined. Heavy. Expensive. Cool. A miracle of science and technology. But is it fashionable?
The Washington Scuba Alliance (WSA) set out to answer that very question at the 23rd annual Arts on the Ave event on July 23rd, 2023 in Tacoma, WA. Amid ten blocks of closed-off streets filled with arts, crafts, music, dancing, and food, a strange sight appeared. Onto a stage (with a runway!) came a boatload of local scuba divers, decked out in their best gear.
A fun day at the Tacoma Arts on the Ave show.
And not just any gear. Tacoma lies on the Puget Sound, where the average water temperature ranges from 53°F in the summer down to 45°F in winter. That means only one thing: drysuits. A scuba diving fashion show in drysuits, on an 80°F land temperature day.
"I spent most of two hours in a drysuit and full gear," said Randy Williams, VP of the WSA and the only diver to walk the runway twice. "Talk about sweating! There was lots of sweat in our drysuits."
But why do a scuba fashion show? For education, of course. As Jim Trask, President of the WSA said during the event, "Our mission statement is 'Enhancing Washington state waters to create sustainable marine environments through Advocacy, Conservation, and Education.' And education is a big part of it."
Related Reading: What It's Like to Create an Underwater Museum in Minecraft
As local divers showed off drysuits with floral designs or Ukrainian colors, and gear such as steel backplates, rebreathers, and full face masks, Jim educated the crowd on some of Washington Scuba Alliance's major projects.
"One project we're working on right now is tire reef removal. There's close to half a million car tires located underwater in the Puget Sound and Hood Canal." Those tires are leaching harmful substances into the water, which is why the WSA is working so hard to identify where they are and remove them when possible. "We've located 24 of those sites so far," said Jim, "and we have Hood Canal to complete."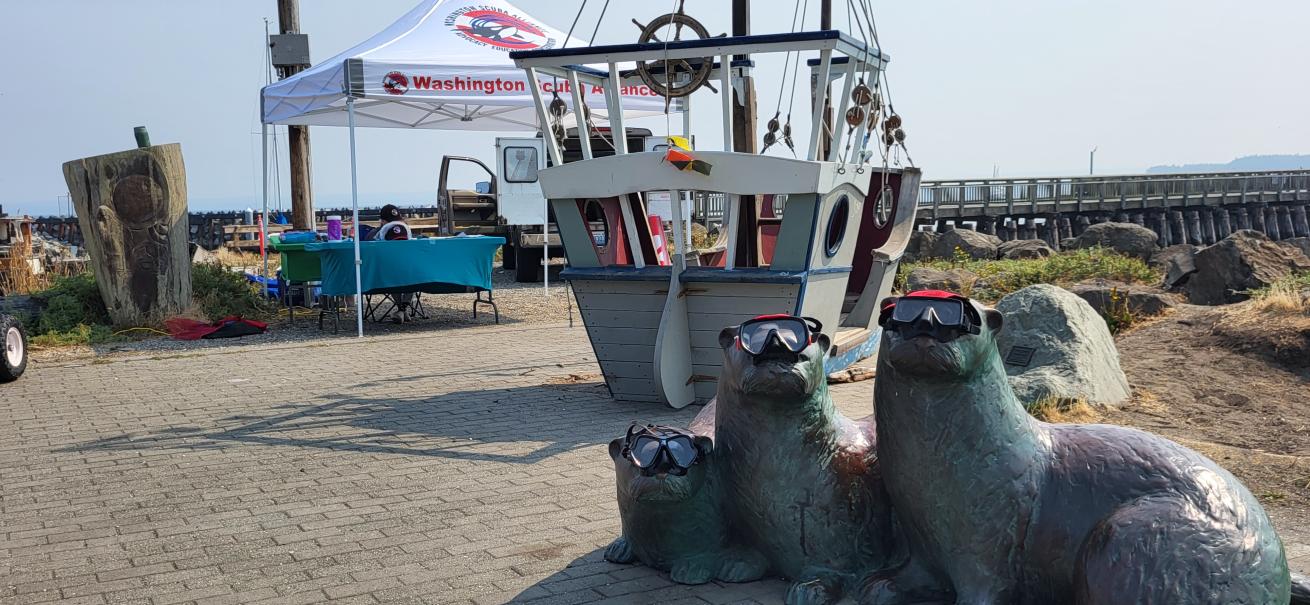 Washington Scuba Alliance, setting up for an event in Port Townsend, WA.

Randy Williams
The WSA has also been active doing underwater cleanups since 1992. "For example, at the Point Defiance Boathouse, we have pulled up over 3,000 pounds of trash in the last three years," said Jim. "Three years for that one location."
It's not just pulling things out of the water, though. The Washington Scuba Alliance is working on putting more in the water as well. "The reason we're here today is that Tacoma is going to be the location of a new underwater art park in the future," said Jim, on the day of the event. "This is going to be art made locally both from the Puyallup tribe and local artists and it will be put underwater in one of the parks in Tacoma." Like other underwater art installations, the new underwater park in Tacoma will be free of the toxins and chemicals that WSA is cleaning up elsewhere.
Related Reading: Conservation Photographer Shane Gross Recognized with the September 2023 Seiko Sea Hero Award
Despite the sweat, Randy enjoyed the experience. "We did have a very good crowd cheering us along. Not sure about educating, but we did entertain them!"
WSA's focus remains on promoting and improving the marine environment in Washington. In fact, when I spoke to Randy, he was on a dive project in Port Townsend, WA. The project: moving thousands of invertebrates from a soon to be demolished breakwater to a new man made rock reef.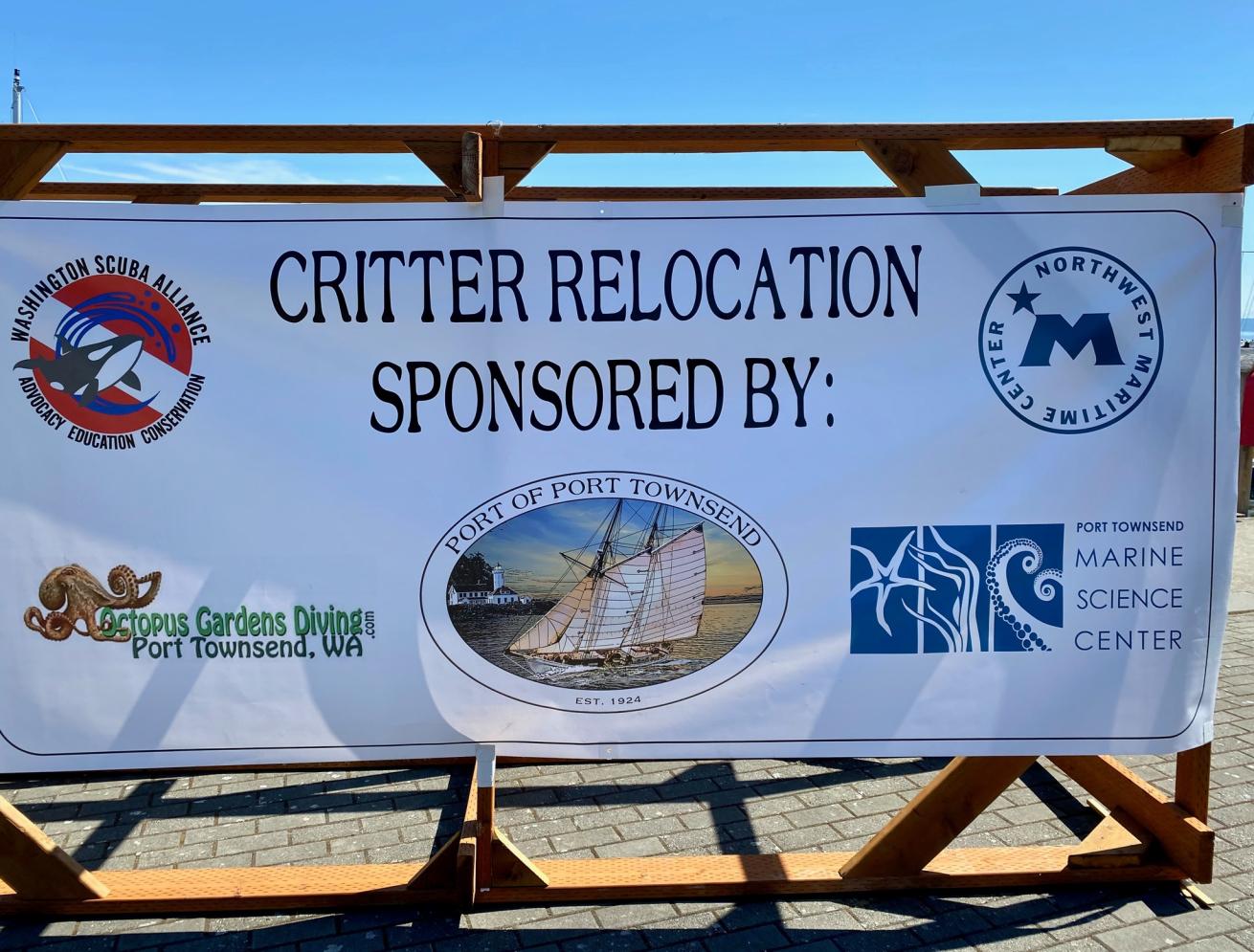 Critter Relocation event in Port Townsend, WA, sponsored by Washington Scuba Alliance.

Washington Scuba Alliance
"To my knowledge, this kind of project has not been done before," said Randy. "We have moved over 4,800 invertebrates from the old Point Hudson breakwater to the new rock we built late last year."
It's these kinds of projects that keep the members of the Washington Scuba Alliance donating their time, money, and effort to the cause. If that means putting on a drysuit and strutting down a runway to educate people about their work, well.
Let it never be said that scuba divers won't suffer for a good cause!
---