Flagler's Barge: A Kaleidoscope of Marine Life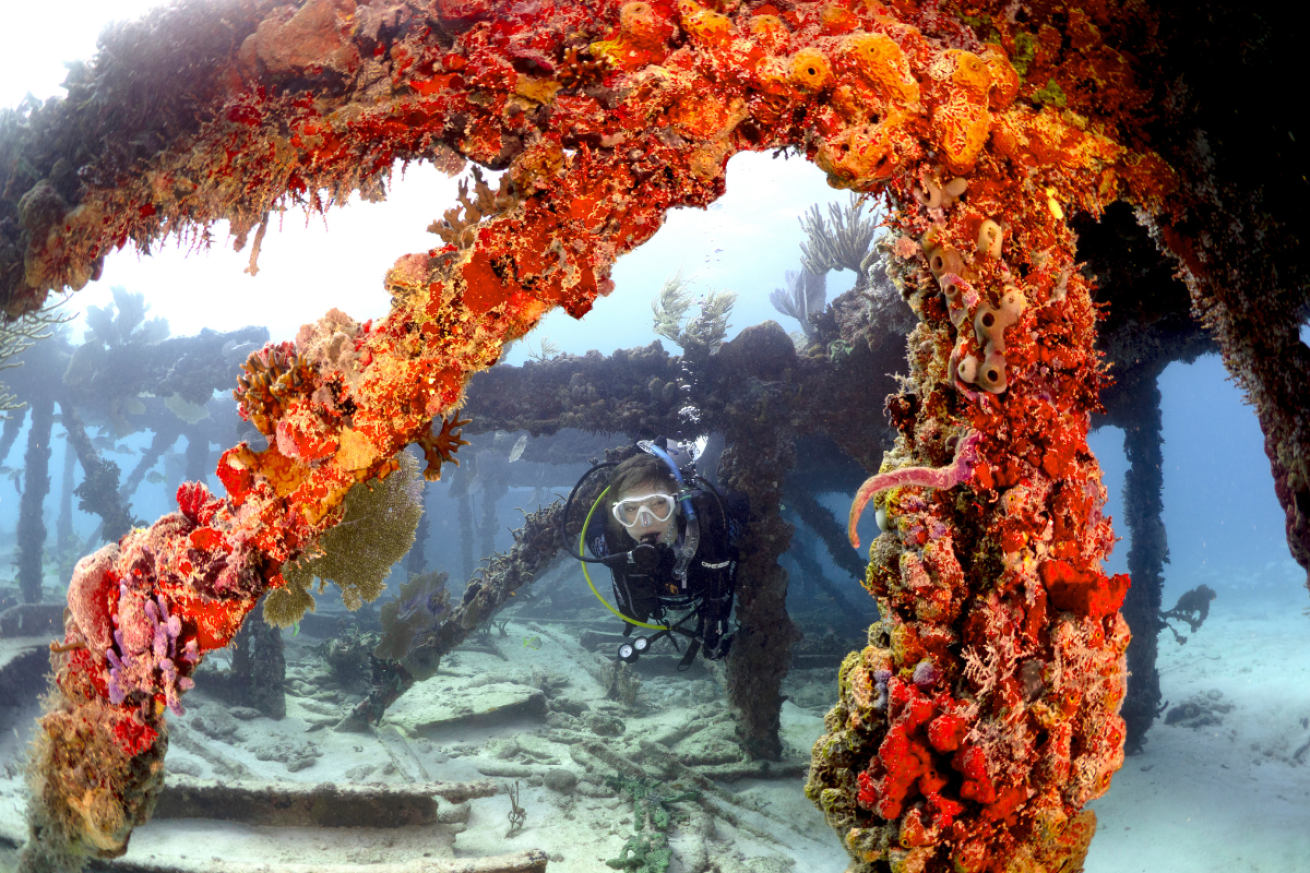 The fascinating addition of both modern and historical shipwrecks complete the tremendous sport dive appeal of the region.

David Benz
A wreck dive doesn't have to be deep to be exhilarating and memorable. Sometimes, shallow-water wrecks prove to be just as exciting and unforgettable—an experience that's like being inside a kaleidoscope, with an ever-shifting swirl of sunlight streaming down from the surface, making the colors of the corals and sponges pop.
Case in point: Flagler's Barge. One of the easiest wrecks to dive in all of the Florida Keys, it rests in just 25 feet of water very near to beautiful Sombrero Reef off Marathon, in the heart of the island chain.
A favorite Middle Keys dive site for beginner divers looking to experience their first wreck, Flagler's Barge often surprises more experienced divers, too, thanks to the sheer abundance of fish that gravitate to its rusting ribs and the breathtaking array of sponges in every color found in an orange and yellow sunrise.
The 100-foot-long barge has some interesting Florida history to tell, too.
It transported materials used to construct the Old Seven Mile Bridge, which was originally built in 1900 by Henry Flagler as part of the Florida East Coast Railway's overseas railroad extension to Key West. In 1935, during the Great Labor Day Hurricane, Flagler's Barge broke free of its mooring in the storm and eventually sank in the shallow waters near Sombrero Reef, where it rests atop a bright sandy bottom.
Carpeted from bow to stern with lush coral and sponge growth, the wreck's exterior structure has deteriorated over time. But its beams and bulkheads still make it completely identifiable as the barge it once was–not to mention a pleasure to swim through, with no overhead environment to navigate.
Because Flagler's Barge is one of the only features with structure in the sandy stretch of sea bottom here, it is a magnet for marine life.
Large schools of grunts, blue tangs and yellowtail snapper can usually be seen cruising through the structure in colorful clouds that are a joy to fin within (if you've never tried diving inside a school of snapper, it's like being an ingredient in fish soup).
Hour-long dives are the norm on the barge since you're staying shallow the whole time. The bottom time flies by with so many interesting critters to scout for within the wreck's nooks and crannies–perhaps a cute slipper lobster here, a busy arrow crab there or an eel staring back at you with its mouth agape. Angel fish abound on Flagler's Barge, too, and come in many varieties–gray, French and queen among them. Look for butterflyfish, wrasse, parrotfish and many of the other classic Florida Keys reef residents, too.
Before you surface, don't miss swimming around to the bow to take a peek beneath it. Nurse sharks can often be seen relaxing on the sand in the serene, sheltered spot.
The most ordinary of shapes are made spectacular through a kaleidoscope's lenses, and that is certainly true of Flagler's Barge. Nature has provided the perfect combination of location and depth for divers to witness a beautiful spectacle of marine life.