Here's What Happens to an Island When Tourists Disappear
"Draw near to us, on our green island," sing The Odyssey's Sirens. "...And in our arms, you will be happy."
The siren song reverberates centuries later, with mainlanders answering its call whenever we can take a week off work. But, as the Greeks knew, this tune can be dangerous. Too often our collective love overwhelms an island's fragile ecosystem, leaving us to wonder, like Odysseus, how to enjoy the beauty without parallel destruction.
A sudden contraction of tourism—like COVID restrictions—offers the chance to gauge the actual impact of our travel, ways to rebalance visitors and vistas, and what stressors are beyond tourism's sway. Here's what three islands look like after visits drastically declined—and one where travelers never engulfed the getaway in the first place.
Cozumel, Mexico
Two spotted eagle rays soar through Cozumel's waters.

Shutterstock.com/Priya Talwar
COVID brought Cozumel tourism to a crashing halt in 2020. One of the world's most popular cruise ports, which hosted 1,369 ships carrying more than 4.5 million passengers in 2019, has hosted zero since last June. Even with tourism reopening in fits and starts, the ferry to and from the island saw 50 percent fewer passengers in January this year than the first month of 2020. Headed into March, Cozumel operator Dive Paradise was sending out one partially full boat at a time when it would typically run eight stuffed vessels at once.
Local and visiting divers are encountering more animals, like eagle rays and nurse sharks, says Dive Paradise general manager Laura Alcala. Nearshore sightings occurred within a week of tourists leaving, says Dive Paradise owner Michael Penwarden.
"A lot of people who've been diving with us for 20 years or more kind of wistfully say it's much more like it was before the cruise industry really overtook the island," he says.
Both he and Alcala credit the quick animal resurgence to the decreased underwater noise. "I have been diving, not underneath a cruise ship, but very near to when they have their engines on and it is a huge noise," says Alcala. "I can imagine for the animals being near they just want to get out." Human noises under the sea, from ship engines to seismic blasts, can scare animals away and make it harder for them to navigate, according to a recently published survey of more than 10,000 scientific papers.
The animal resurgence, however, is likely temporary. Cruise ships and other boat traffic are expected to return. And any reef relief from pandemic restrictions, from the scientific perspective, is akin to tapping your brakes when what you need to do is switch lanes, says Sergio Suárez, a biologist and director of Expeditions Cozumel. Disease has sliced into coral populations for decades, egged on by hurricanes, acidification and nutrient pollution. Even before the pandemic, Cozumel implemented a rotating "reef rest" program, temporarily closing various reefs for a month or two at a time, to lessen human impact. It will take more than fleeting tourism pauses to keep the island's marine jewels shining long term.
Dive Cozumel
Operator Dive Paradise
When to Go Year-round; May through September is the warmest season, with calm conditions and relatively low dive traffic.
Dive Conditions Cozumel's strong currents make for a fun, slightly advanced drift dive with great visibility.
Boracay, Philippines
Boracay became an international symbol of tourism run amok in 2018 when the nation's president called the island a "cesspool" and mandated a six-month closure to address environmental degradation. Visits had swelled from 280,000 in 2000 to more than 2 million in 2017, with upward of 100,000 people at a time on the less than 4-square-mile speck of land. Illegal sewage discharges fostered algal blooms so thick algae piled up on the beaches. Coral cover declined by more than 70 percent, and sand extraction for beach construction combined with storms to erode shorelines about 130 feet. The dive shop association's quarterly cleanup dives could net more than a ton of marine debris, says Ga Mylen, general manager of Boracay's DiveGurus.
The closure overhauled the island: illegal beachfront buildings were bulldozed, tourist numbers capped to 19,000 at any one time, single-use plastics banned, mooring buoys installed, sewage infrastructure upgraded, all water activity operators brought into compliance with Green Fins guidelines. Government funds paid for the dive shop association to handle underwater cleanups and train employees to strengthen underwater monitoring.
An enforced tourist limit is "a big help" to the island, says Mylen. Algal blooms are thinning and animal sightings are increasing, including a new nesting site of olive ridley turtles in Manoc-Manoc. Fish populations may have thinned during the pandemic as out-of-work residents turned to subsistence fishing, says Mylen, but "you can see that the corals are growing" while discarded fishing lines, nets and plastics have disappeared.
Dive Boracay
Operator DiveGurus
When to Go November through April; avoid July to October, which is monsoon season. February and May offer the best chance to see whale sharks near Boracay.
Dive Conditions Waters in the Philippines range from 73° to 86°F depending on the time of year.
Sipadan, Malaysia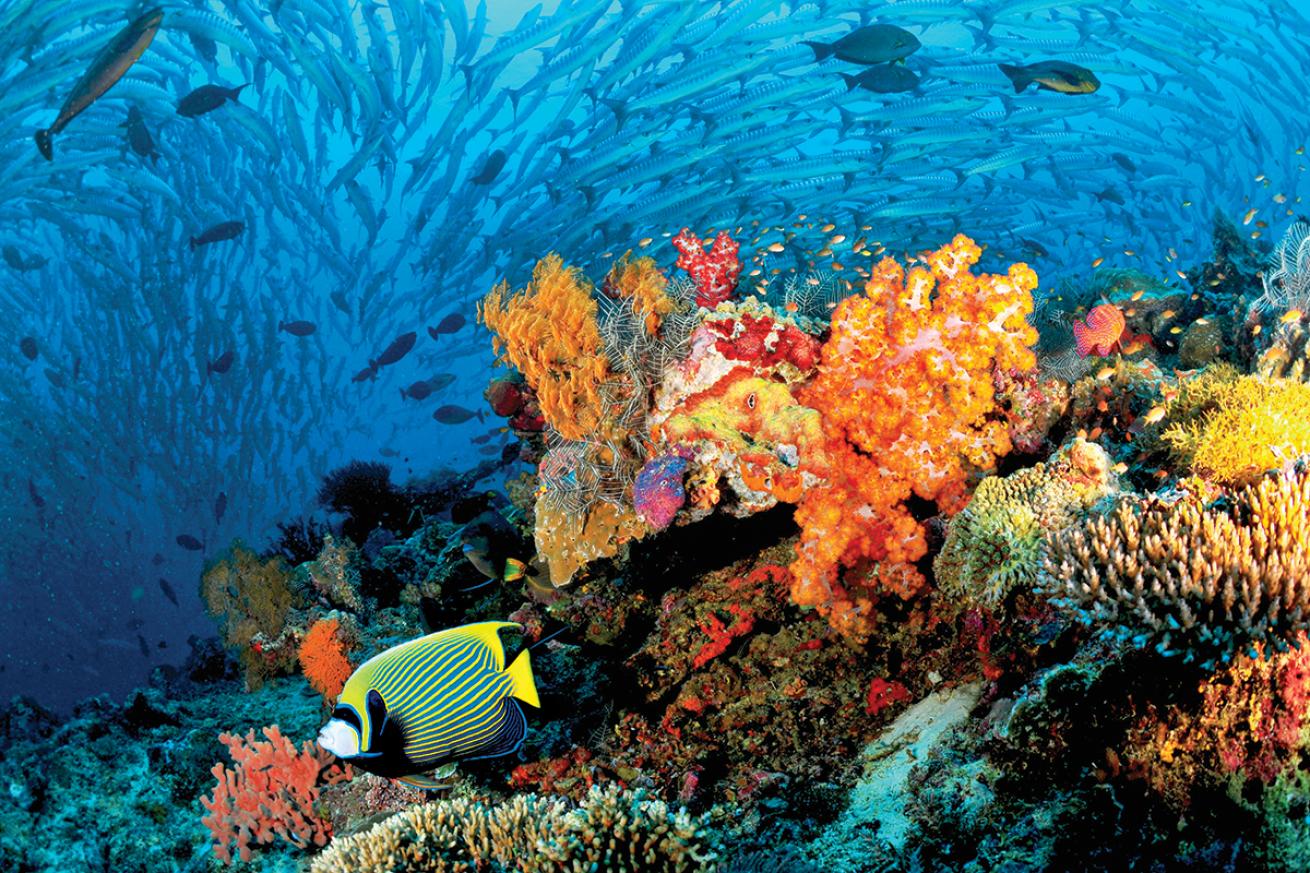 Reef life thrives under tourism restrictions and a fishing ban in Sipadan, Malaysia.

Shutterstock.com/Simon Shin Kwangsig
Pelagics like hammerheads and whale sharks frequent Sipadan, along with looming schools of barracuda and turtles. "It almost acts as a meeting or rest point as it is surrounded by open ocean" that can reach past 1,900 feet, writes Dr. Samantha Sherman, Oceania Chondrichthyan Society secretary. A fishing ban is strictly enforced.
Jacques Cousteau dubbed the vibrant frenzy "an untouched piece of art" when he first dived it in 1989. Tourists discovered the island in the following decades, however, with resorts and dive shops setting up shop on the island to share the incredible biodiversity. By 2002, one study found divers still adored the underwater experience, but crowding, overdevelopment, noise and litter were increasingly a concern on this tiny island that's less than half a square mile in area. The Malaysian government mandated businesses relocate to Mabul Island 9 miles away in 2004; today only 176 divers a day are allowed day-trip access to Sipadan. Sabah Parks, which manages the island's waters, also plans to cut off underwater access every November to further reduce visitation pressures.
The impact of these protections is best seen when contrasting Sipadan's health today with neighboring reefs, says Catherine McCann, conservation manager at Mabul's Scuba Junkie. An overwhelming majority of reefs around Sipadan—75 percent—are in good condition, according to a 2018 Reef Check Malaysia annual survey report. In contrast, all of Mabul's reefs, where fishing is allowed and human activity is common, were in fair condition that same year. Nearly 70 percent of nearby Kapalai Island's reefs were in poor condition.
Dive Sipadan
Operator Scuba Junkie Mabul Beach Resort
When to Go Year-round; the dry season from April through October provides the best viz and surface-interval weather.
Dive Conditions Currents impact viz, which can range from 15 to 160 feet; water temps hover between 77° and 84°F.
Gardens of the Queen, Cuba
Protections against overtourism and overfishing make Cuba's Gardens of the Queen National Park a haven for Caribbean reef sharks.

Brandon Cole
Jardines de la Reina is Eden without Adam. With no history of mass tourism, it is a window into tightly controlled travel.
The archipelago was a favorite fishing spot of Fidel Castro, but a dive trip there with Jacques Cousteau in 1984 helped persuade the president to make it the country's largest marine protected area. In 1996, formal protections kicked in, and today only 1,000 divers are allowed to explore each of the marine park's 100 sites annually, with no more than 14 allowed at a site per day. Fishing is catch-and-release for 1,000 anglers max annually.
Avalon is the park's only licensed dive operator—others offering Gardens of the Queen experiences, like All Star Liveaboards or Oceans for Youth, contract Avalon's license and boats. Emphasizing a slight but steady flow of tourists over boom-and-bust seasonal cycles, says owner Filippo Invernizzi, avoids high-season reef stress. "You have a quality product, but for a few people," he says. "So it maintains and gives you the possibility to offer a quality service over the decades, instead of just having a profit that is limited to a few seasons. Because then, of course, it will just go down."
Fabián Pina Amargós, Avalon's scientific advisor and professor of protected areas at the University of Havana, agrees limiting human access is the most important aspect of keeping the park healthy. Over the past 25 years, he and other scientists have documented a large increase in the number of fish in the park and watched coral expand.
Uninterrupted, firm protections helped turn these mangrove islands into some of the best-preserved reefs in the Caribbean, bursting with sharks, groupers, colorful coral and, yes, the park's famous crocodiles.
Here is where many stories refer to this vibrancy as a time capsule, a vision of the world that used to be. But Jardines de la Reina is more than a glimpse of the past. The ecosystem is vigorous in the here and now. More than a relic, it is an alternative view of the present and—hopefully—a sneak peek into our lively future.
Dive Gardens of the Queen
Operators Avalon Charters
When to Go Year-round; November to April is peak season. Sharks, eagle rays, hawksbill turtles and dolphins are all common encounters
Dive Conditions Viz is often 100 to 130 feet, and waters are typically 70° to 84°F.
---
Travel Tip: Go Off Beat
Divers and reefs agree—crowds are not ideal. For divers, scores of others around can scare away animals or impede visibility. And coral colonies feel the pressure; every reef has a carrying capacity, or the maximum number of divers it can handle before the traffic stresses the ecosystem. The max capacity of some reefs has been quantified, but most are unstudied and unknown. Even for reefs without a hard cap, you can take this paradigm into account when planning your dive trip by traveling off season or visiting uncommon destinations. This increases the likelihood that your visit will be within the reef's visitation threshold while simultaneously relieving pressure on other, overcrowded reefs.
The best part? Giving reefs a rest doesn't require any sacrifice. You can score cheaper trips when visiting places outside of the high season, and selecting atypical destinations lets you log dives few others will ever experience.
---