Stella Diamant Recognized as November's Sea Hero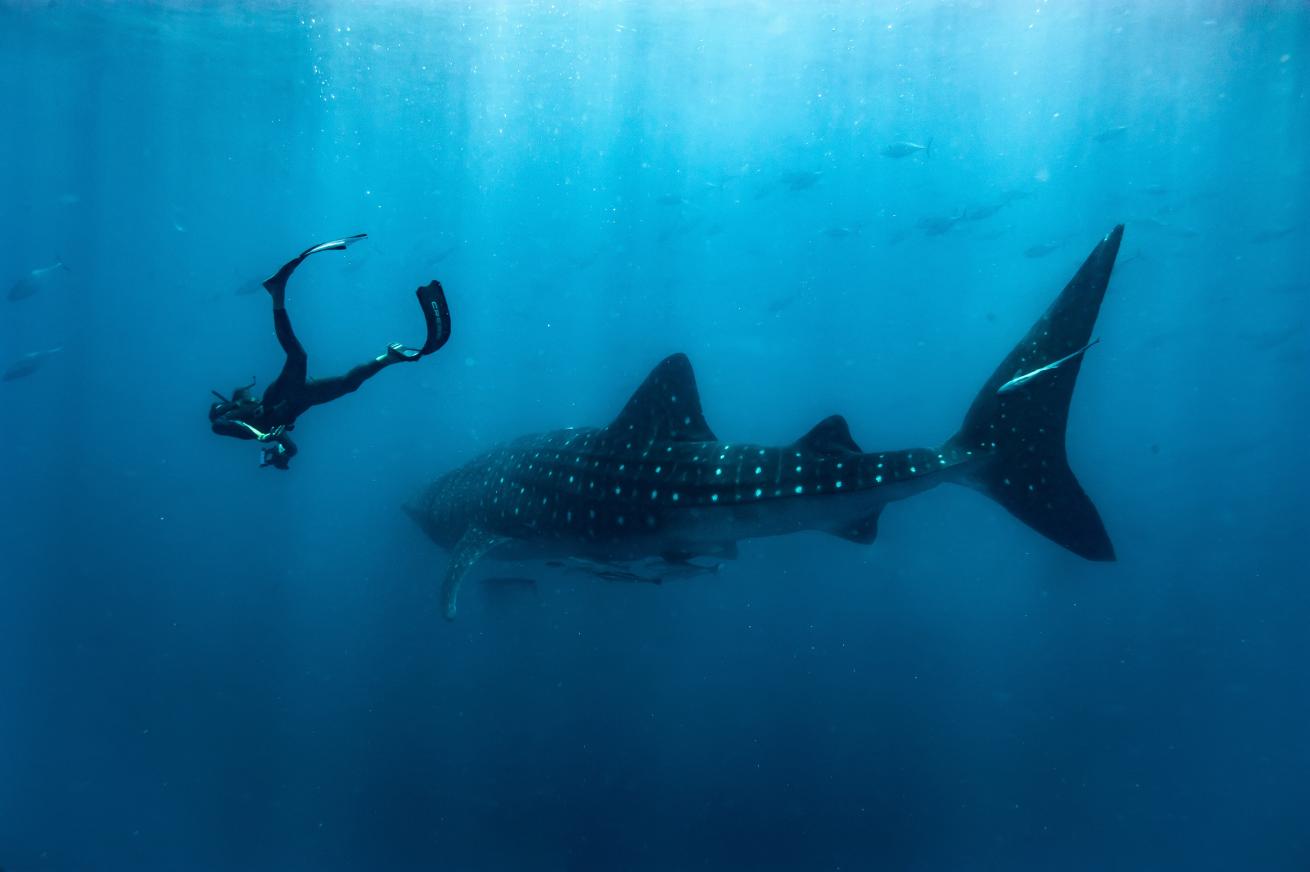 Stella Diamant swims alongside a whale shark in Nosy Be, Madagascar.

Courtesy Stella Diamant
YEARDIVECERTIFIED: 2011
AGE WHEN CERTIFIED: 21
DIVE CERTIFICATION LEVEL: SSI Rescue Diver, Advanced Freediver
WORDS TO LIVEBY: "If it was easy, it would have been done already."
WEBSITE: stelladiamant.com
FACEBOOK: @madawhalesharks
INSTAGRAM: @_stelladiamant
Stella Diamant always had a passion for the natural world and animals. Early on, she aspired to become a veterinarian, but she yearned to be outside, indirect contact with nature. It wasn't until her first trip to Madagascar in 2011 that she learned about conservation and the innovative and inclusive solutions that were so desperately needed.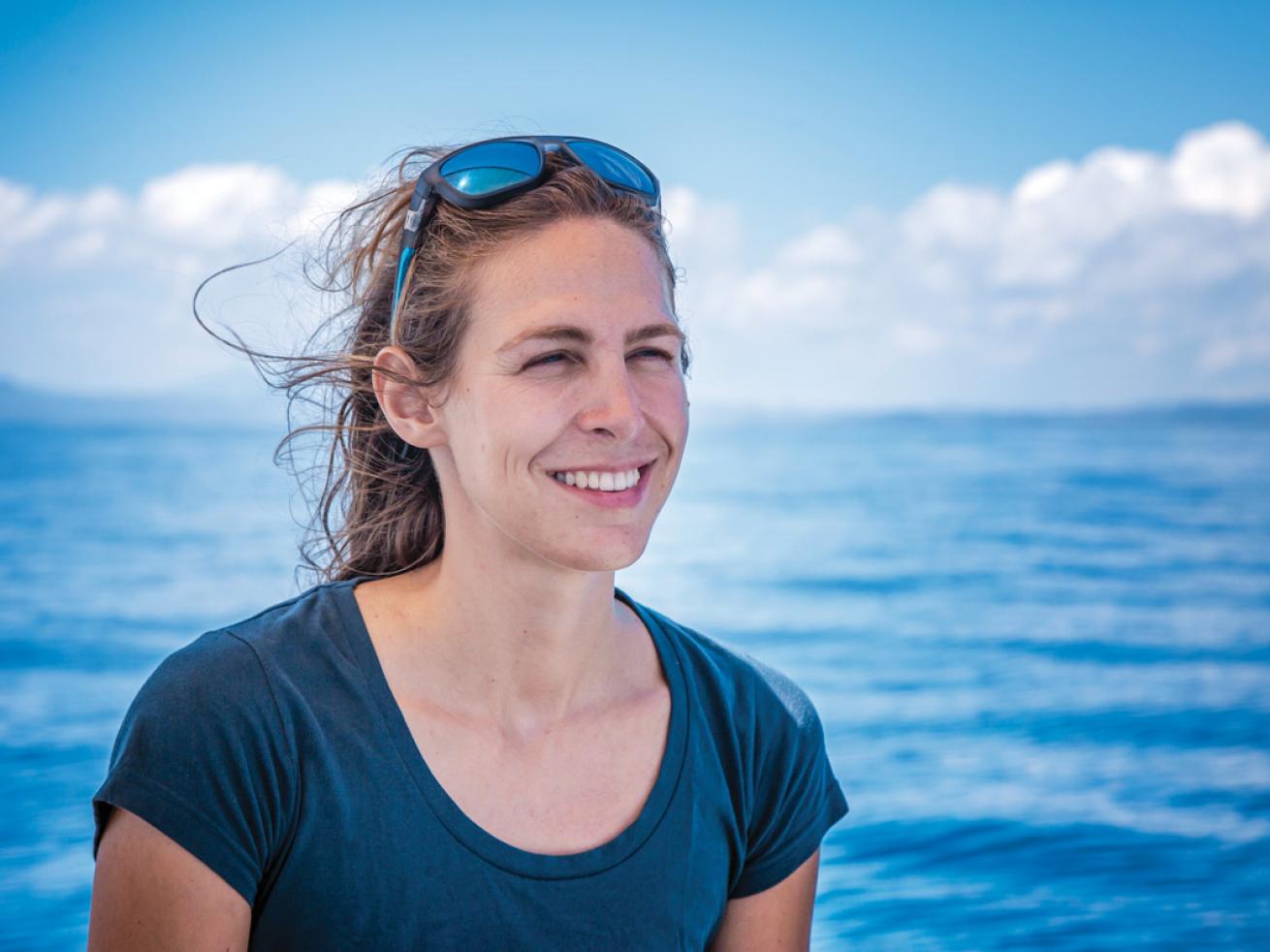 Courtesy Stella Diamant
Having always been fascinated with marine megafauna, she joined a whale shark trip to Madagascar in 2014; it was her first time swimming with the gentle giants, and she was hooked. She found that no ongoing research was taking place, and since she'd always wanted to initiate and lead a research project, she submitted funding requests and looked for someone who could help.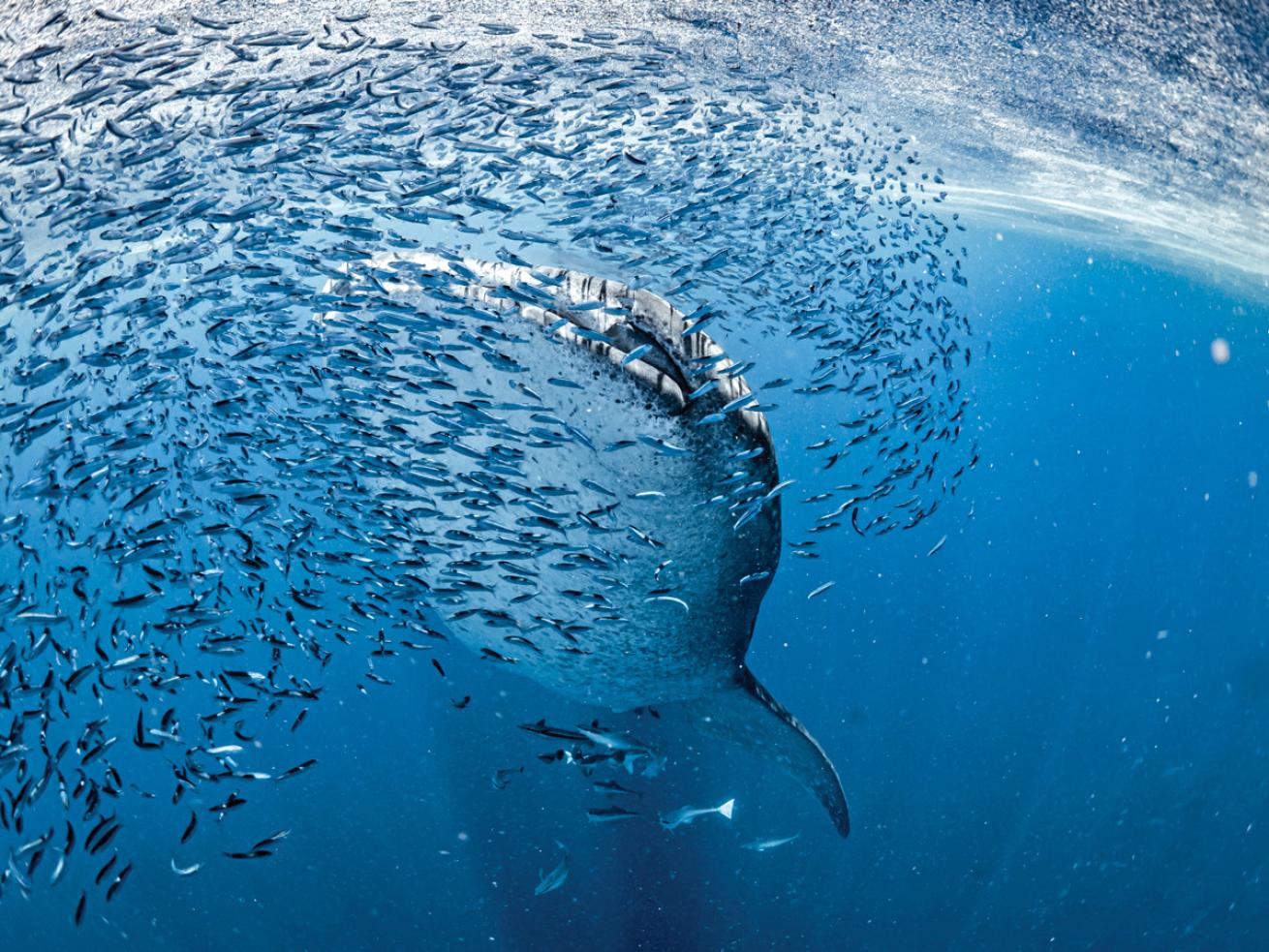 Alphonse, a whale shark Diamant's team has been tracking since 2015, feeds on a school of swarming baitfish.

Courtesy Stella Diamant
Q: How has the Madagascar Whale Shark Project Foundation changed since its inception in 2016?
A: Initially, it was a small project to find out whether there were whale sharks in Nosy Be, so I took pictures to compare them and come up with a population estimate. I never imagined we'd reach the 500 mark! In 2017, we started welcoming volunteers to expand our data-collection efforts and introduced a code of conduct to regulate whale shark interactions. In 2018, we initiated an educational program raising awareness about the ocean and marine megafauna. We are getting ready to start our sixth season now, and I am really pleased with how the project has grown. Our small team is growing, and while it is mainly volunteer-led, we work with Malagasy scientists, project coordinators and other nongovernmental organizations active locally, as well as international collaborators across the world.
Q: You created a whale shark code of conduct. How was this signed into law?
A: Using the code of conduct with whale sharks provided a framework for operators to work together at sea while limiting anthropogenic impact on whale sharks and on swimmers. It's a win-win solution for everyone, and everyone quickly realized how efficient it was when followed. The issue was, and still is, the nonrespect of these rules, partly due to the lack of knowledge about whale sharks.
We offered to add the whale shark code of conduct to an existing law regulating whale-watching activities in Madagascar; it was the right time as the organization leading that part was also adding changes to their law. So, we drafted a text together and provided all the required background and science to support our case. Sadly, everything was halted during the pandemic, but the law has finally been signed, and we are awaiting the official announcement.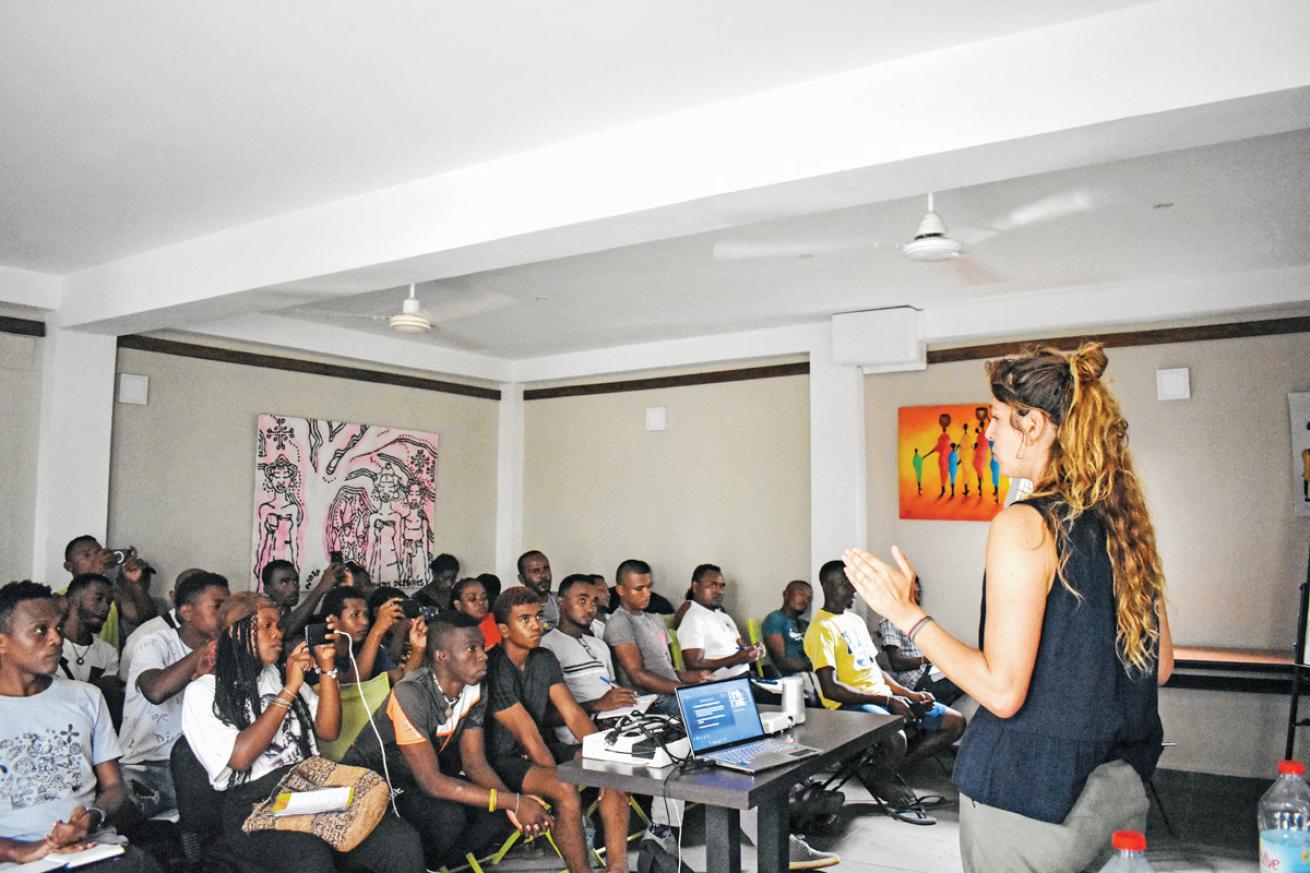 Diamant leads a whale shark workshop on Madagascar. Raising awareness among locals, especially younger generations, is one of her organization's primary goals.

Courtesy Stella Diamant
Q: You are investing in whale sharks through research, but you are also investing in the local community through your education programs. Can you explain how the two go hand in hand?
A: Many projects conduct amazing science in the field but fail to share their findings with communities, who see foreigners come and go without understanding what they do and what's at stake. And there's the major issue of education and lack of training on marine science and conservation.
So, we had to start raising awareness locally, among the younger generations. Again, this was a collaboration with various organizations, to make sure the program had the right format for a country like Madagascar, where access to basic education is already difficult.
Q: What are the greatest challenges in marine conservation today? How are these reflected in your own work?
A: There are two dilemmas at the moment: lack of funding and the major gap between scientists and communities.
Lack of funding, especially for small independent projects, means organizations can't afford qualified staff and, as a result, have to compromise and find other solutions. In the current world of social media and visibility, not many organizations have the time or resources to be so visible yet work so hard.
Our challenges are identifying volunteers who can donate their time on top of a full-time job and working with budding conservationists when often senior expertise is required. These solutions create great opportunities and have enabled us to grow a lot, but at this stage, we really need to find qualified staff to get to the next stage, which is reliant on funding. So, there's a lot of pressure on small teams, constantly juggling priorities while identifying new opportunities.
The other challenge is the lack of conversation between the scientific community and local populations. Often, local communities possess significant knowledge of existing species and deserve to be included in ongoing discussions. Furthermore, government officials and decision-makers often fail to be informed about findings and results, and thus remain excluded from conservation initiatives.
This gap is hard to bridge; different cultures and histories come in the way. I see it as a responsibility to share our work and findings with the inhabitants of the countries we hope to save. It takes a great deal of innovative thinking, collaboration and adaptability!
Related Reading: Conservation Couture: Fashions that Drive Change for the Ocean
Q: What's been your most satisfying moment?
A: There have been many; definitely, some very special moments with certain sharks I know well at this point. To evolve underwater amongst whale sharks, without disturbing them yet being able to study them through freediving, is something I cherish very much.Even though it's not in my comfort zone, the moments with operators where we share our knowledge through training sessions are amazing, as they will remember the key findings and proudly recollect them at the end of the session.
Q: What's been your most surprising moment?
A: Many of them; I have to say life in the field is full of surprising and unexpected moments. I love being at sea because you never know what you might see; whatever you expect it will be different, and coming up with big expectations is often not the right mindset.I think definitely taking the president of Madagascar to sea last year to show him whale sharks was pretty unexpected; and highly stressful as nothing was certain until it was happening.
Q: Who are your "sea heroes"?
A: I admire innovators who have found ways to change local perceptions while coming up with solutions for marine conservation, and those who share the blunt truth about what's happening to our oceans. Alastair Harris, who founded Blue Ventures, always struck me with his ideas. I deeply admire my friend Chris Scarffe, a Madagascar-based filmmaker, for his courage to report on uneasy truths happening in the marine world; always with respect for local communities who often have no choice. I admire many of my female colleagues out there fighting the same fight, with limited funding and support, powered by sheer passion and dedication. It's not an easy career path — filled with uncertainty and inequality. And lastly, my freediver friends and community, for always watching out for each other. Not all heroes wear capes!
Q: Is there anything we did not ask that you would like readers to know? Tell us what's important to you!
A: Having the privilege to dive into the world's most beautiful sites means we cherish the ocean even more, and as divers, we are the ocean's ambassadors. So act like one! Do not touch and disturb marine life. Support companies who do the right thing with the money you pay as a customer. Be curious, look up where you go, and what rules are in place. Do the right thing!
Related Reading: Czech Freediver Achieves Remarkable Feat with Record-Breaking Dive in Frozen Swiss Lake
---
Each Sea Hero featured in Scuba Diving receives a Seiko SRPD43 watch valued at $525. For our December issue, judges select a Sea Hero of the Year, who receives a $5,000 cash award from Seiko to further their work. Nominate a sea hero at scubadiving.com/seaheroes.
---