Three Love Stories Defined by the Ocean
It's said that true love knows no depths—leave it to scuba divers to take that literally, bringing their love for one another under the waves!
Pray She'll Say Yes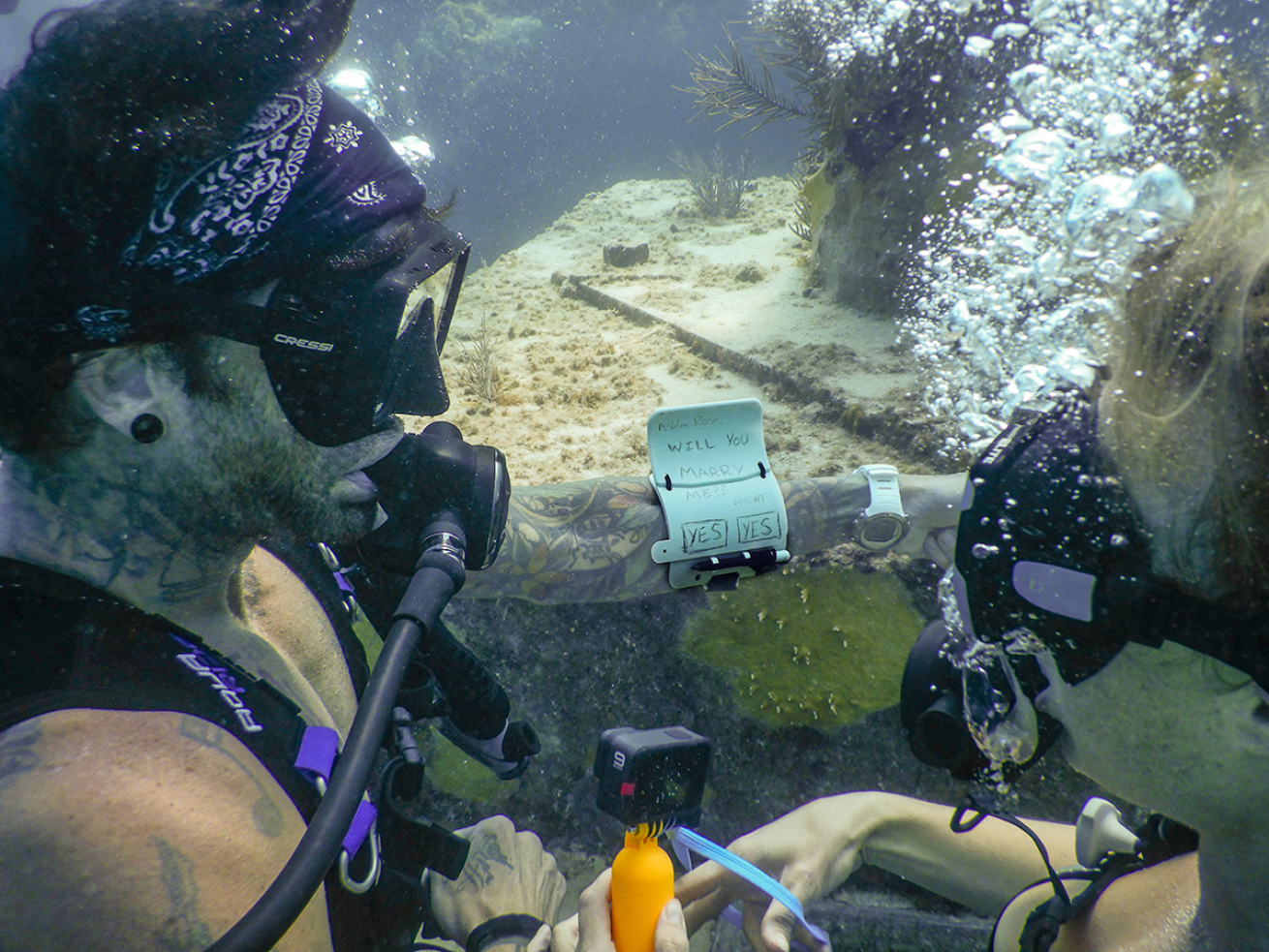 Nick Britt proposes on his dive slates and a ring in a GoPro case.

Tiffany Duong/Ocean Rebels
When musician Nick Britt booked a songwriter's festival in Key Largo in late 2020, he invited his girlfriend to join his journey to paradise. While planning the trip, Britt suggested the calm Florida Keys waters would be the perfect venue for their first ocean dive together. They'd previously only been quarry diving in Tennessee, so the subtropics were a welcome change.
On the day of the dive, there was one detail left out of the shared dive plan: a turquoise ring hidden in Britt's GoPro case. The couple hopped in and, wandering the reef, they "happened upon'' the famous Christ of the Abyss submerged statue. Britt invited his dive buddy to kneel with him and pray.
With the ring in one hand and his heart racing, he drew her attention from the statue and to his dive slates. Flipping through, he asked: "You are the love of my life and I will serve you … and Jesus forever…. Will you marry me?"
Two boxes followed—both read yes.
"Mama didn't raise no fool," Britt says with a laugh.
The couple surfaced, shared a kiss in the waves and then cruised along, listening to an original song that Britt had written for that exact moment.
Love Dangerously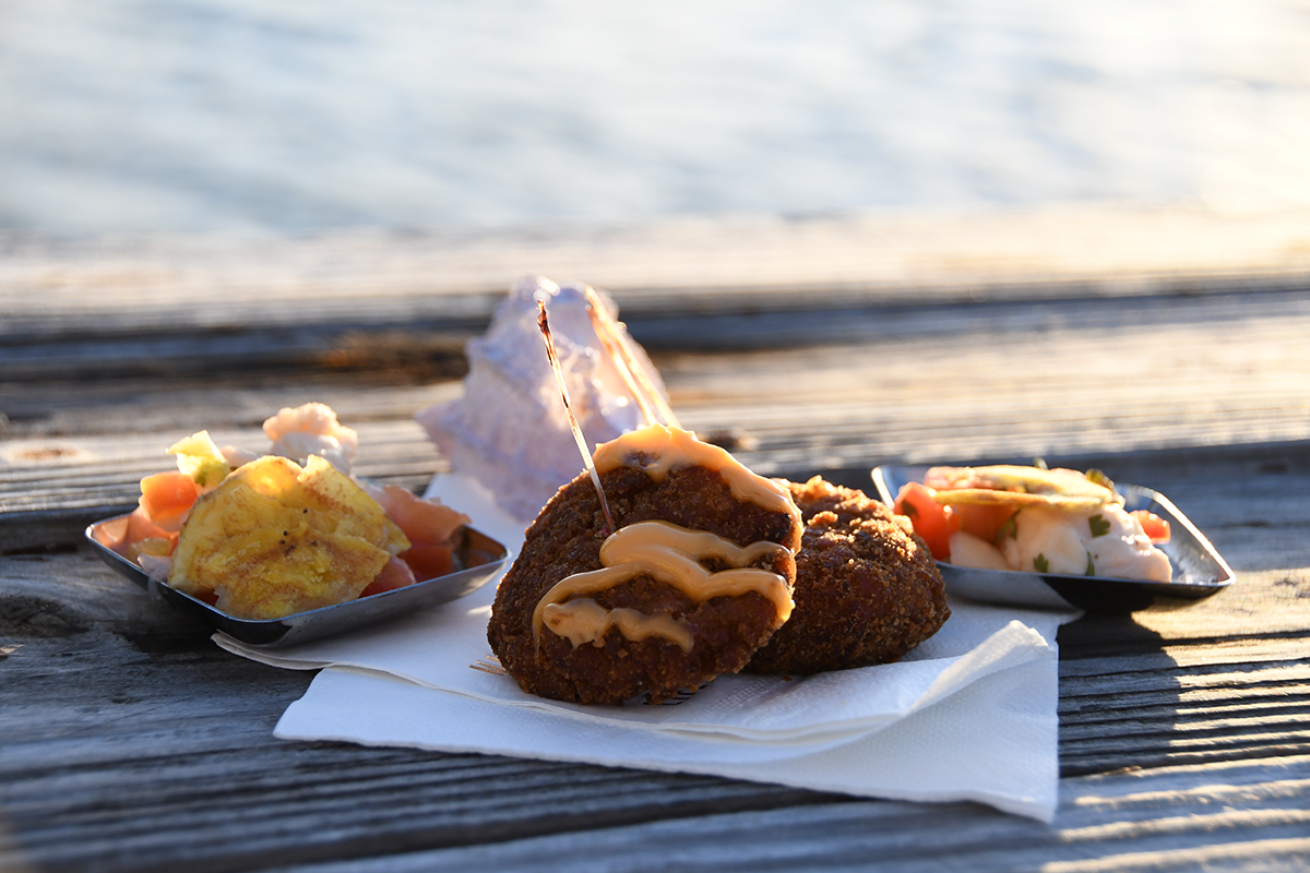 Fresh lionfish ceviche and crab cakes drew attention to how versatile the fish is for eating – a win for conservationists and gastronomists.

McLaughlin Photo & Video
Invasive lionfish harm Florida Keys reefs with their voracious appetite and prolific reproduction. What does this have to do with love? Everything, if you're Yvette Moreno and Brent Robinson!
This adventurous, water-loving couple decided their 2021 Florida Keys wedding would raise awareness for the need to address the spiny invasion. While requiring guests to spear a lionfish as an "entrance fee" to the wedding was just a joke, the full-on lionfish theme was not. Guests dined on lionfish ceviche and crab cakes speared with de-venomed lionfish spines as toothpicks. The groom's cufflinks and the party favors featured the fish of the hour and two live lionfish in a tank served as decor, spurring conservation conversation the whole night.
The ocean, lionfish and love all are "the mix of beauty and adventure — with a little danger mixed in," Moreno says.
Something Old, Something New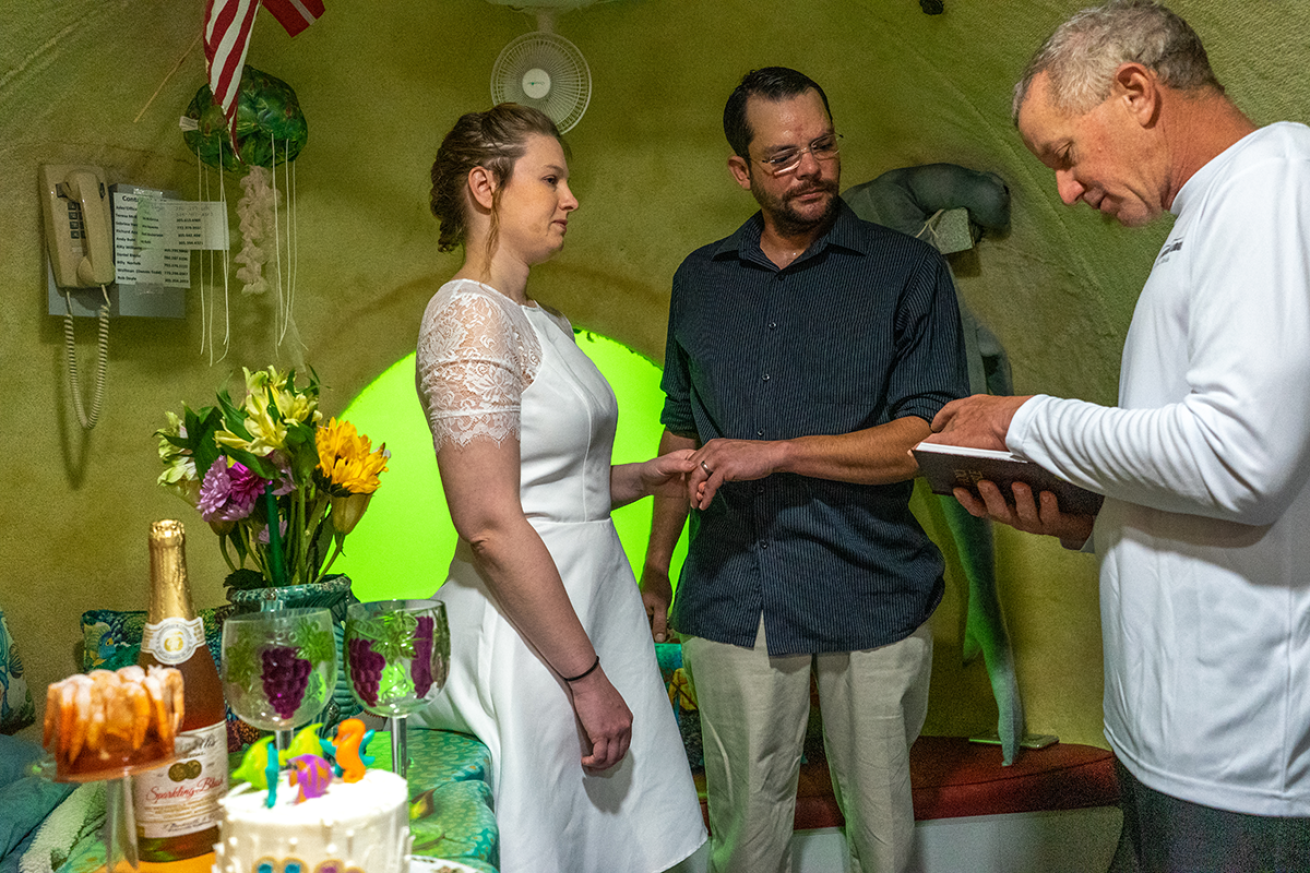 Jessica and Jaylyn Hamm renewed their vows on their 15th wedding anniversary in an underwater hotel. Their celebrations included everything from shrimp cocktail to wedding cake, all brought down by their officiant/course director.

Tiffany Duong/Ocean Rebels
Fifteen years after first exchanging 'I do's' in a small church ceremony, Jessica and Jaylyn Hamm of Conroe, Texas, decided to renew their vows. Rather than rinse and repeat, they chose to incorporate their new shared hobby: scuba.
"When we planned our vow renewal, we knew that we wanted it to be something that was just for the two of us," Jessica said. "The only thing that made sense was to incorporate our shared passion [for diving]."
They booked a night at Jules' Undersea Lodge in Key Largo. The underwater hotel sits in a protected lagoon almost 30 feet below the surface. Guests must scuba dive to enter, and everything — from luggage to pizzas to TVs — requires dive delivery.
Guests become "aquanauts" during their 24-hour stays, sleeping with the fishes and enjoying unlimited diving without surfacing.
"Not many have that in their logbooks," Jessica says.
For the Hamms' special ceremony, the course director/officiant used a special case to bring down an ocean-themed wedding cake, apple cider for a "champagne toast," flowers, shrimp cocktail and a warm steak dinner. This is where peak buoyancy skills really come in handy!
'By making the ocean an active part of our lives and incorporating it into what was already a special occasion, it made our love for each other and the ocean that much more evident," says Jessica.
---