When Life Gives You Lionfish, Make Carpaccio!
Recently in the news for welcoming remote workers to set up shop on its lovely beaches, Barbados is often underrated compared to its southern Caribbean neighbors. However, a day of diving in Barbados offers an incredible variety of wrecks, (we explored three on one Carlisle Bay dive, including full hull penetration), turtles, rays, eels, squid, clear warm water and seahorses for days. In fact, the one thing you won't see in abundance is lionfish.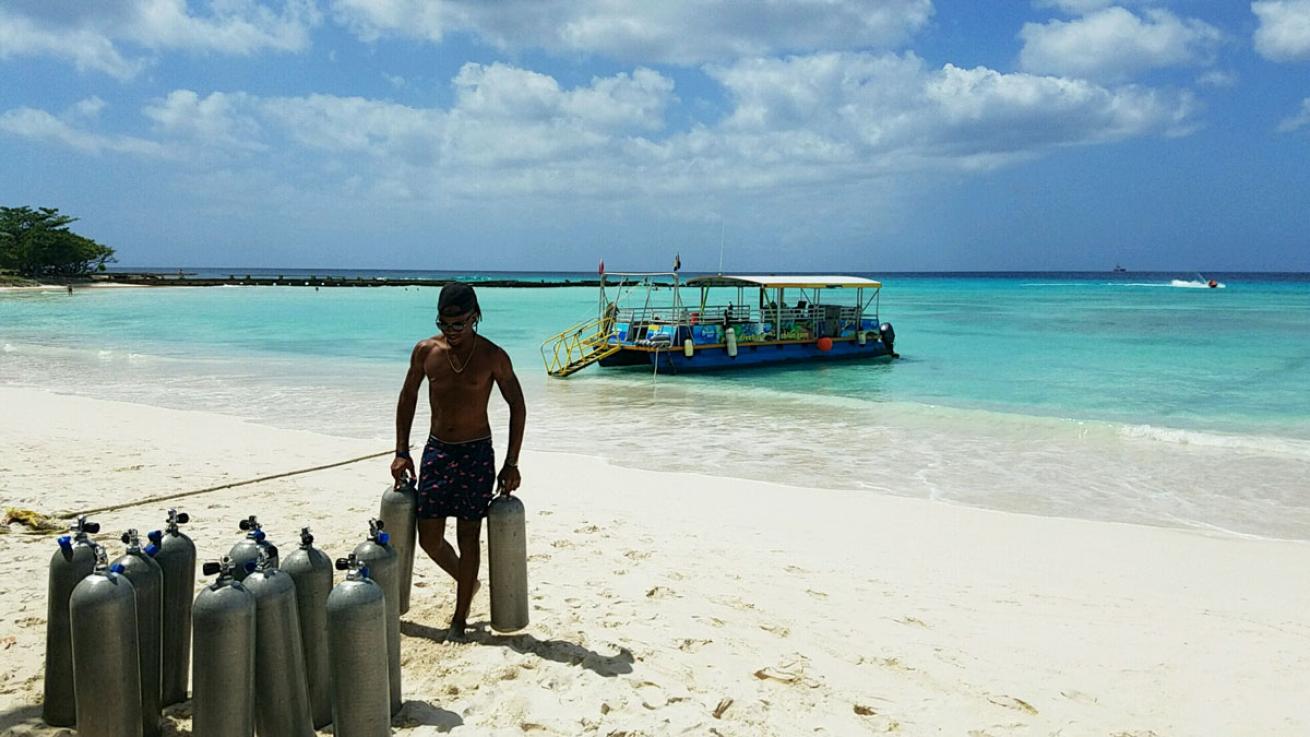 Barbados Blue Water Sports captain loading tanks and readying the dive boat for a lionfish dive.

Sascha Zuger
The lionfish is a gorgeous creature with dramatic stripes and a flashy array of spiky fins native to the Indo-Pacific region. But in the Caribbean, they are considered invasive and have no natural predator and have been known to cause extinctions of native plants and animals, reduce biodiversity and forever alter habitats. According to researchers at NOAA, a single lionfish residing on a coral reef can reduce recruitment of native reef fish by 79 percent. To tackle this invasive scourge of reefs and their inhabitants, Barbados took a three-pronged approach (no spearfishing pun intended). Education, competition...and degustation.
Marine Biologist and Barbados Blue Water Sports PADI MSDT, André Miller Msc., credits an enlightening BBC film on the Invasive Caribbean Lionfish as a huge help. BBC TV came to the island and accompanied Barbados Blue on a dive, filming their hunt for the program.
"Can't explain how much this video helped," says Miller. "Visitors were asking for lionfish from the taxi ride from the airport. It made lionfish one of the most sought after fish and it's often hard to find the adult fish at most dive sites now. Fishermen are actually seeking lionfish in traps at more remote sites."
Miller and Barbados Blue did their part in organizing the first Lionfish group hunts and derbies, both in Barbados and Grenada. The group dives with local divemasters and instructors who were an instant hit and major factor in reducing the population. Derbies are regular events now, with freediving and SCUBA teams competing to take the most of this destructive species during a day-long tournament. Each fish is measured and prizes are awarded for teams catching the most, biggest and even the smallest lionfish. To add to the education element, the public is invited to watch scoring, taste free lionfish samples, watch filleting and dissection demonstrations, and ask questions.
"We saw what was happening in other areas and had to get proactive," says Miller. "We imported the spears and containers even before they [lionfish] arrived as we knew they were coming."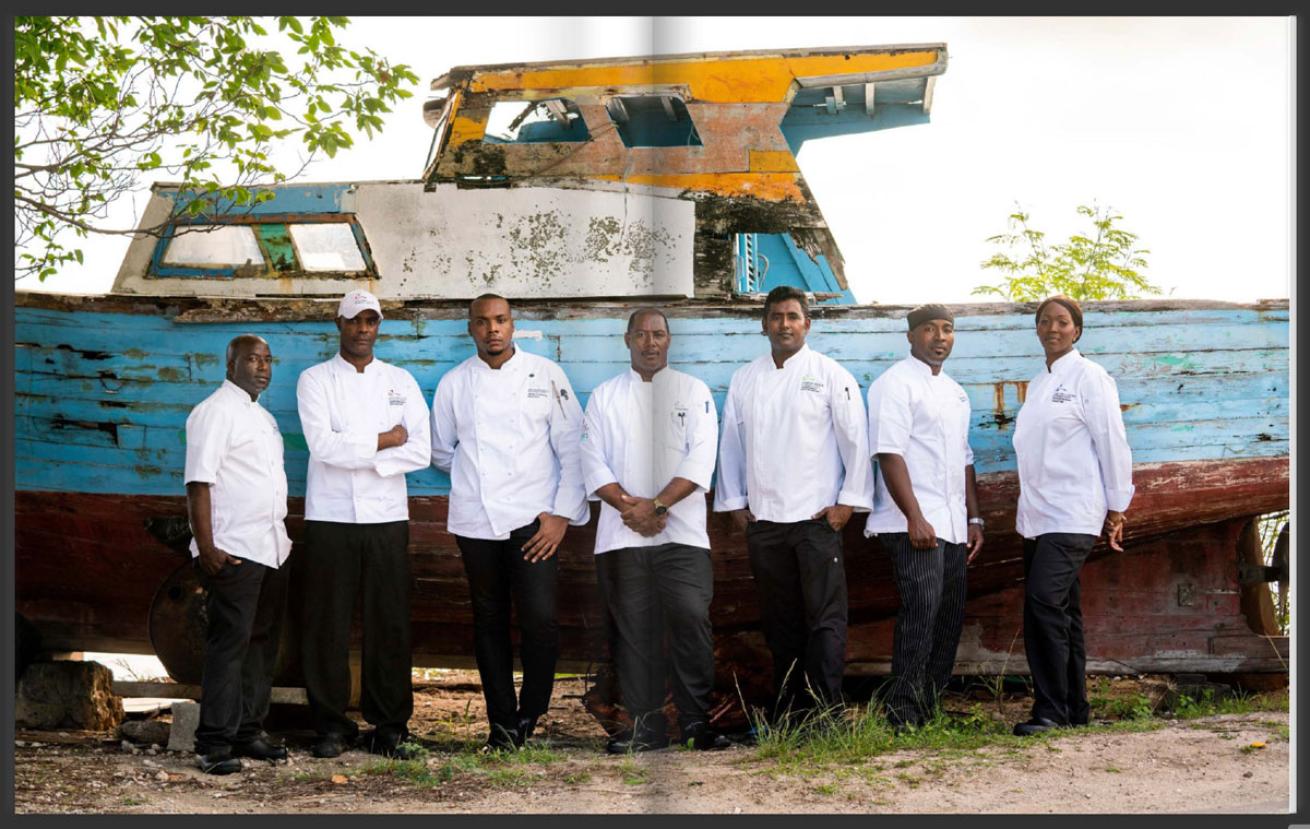 Local chefs in Barbados are committed to keeping lionfish on the menu.

Courtesy of TASTE by Elegant Hotels and Hugo Juarez Photography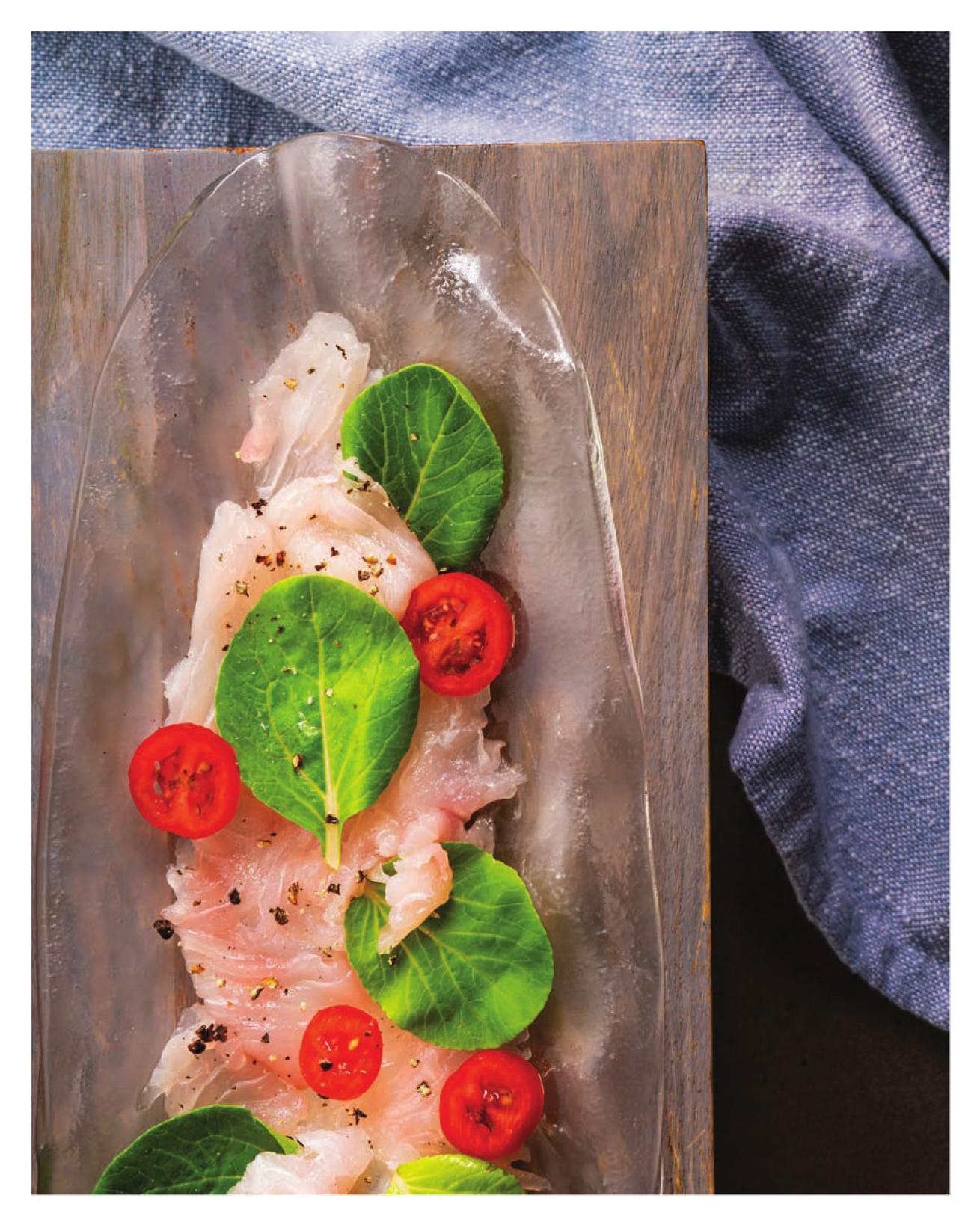 Lionfish carpaccio prepared by local chefs from Elegant Hotels in Barbados.

Courtesy of TASTE by Elegant Hotels and Hugo Juarez Photography
The Elegant Group of island hotels is helping keep a lid on the lionfish problem by featuring the fish on their daily menus. The "eat it to beat it" mentality serves up a number of excellent dishes. One was so consistently popular that it earned a coveted spot in the upscale hotel group's gorgeous coffee-table/local recipe treasure, Taste Cookbook.
"Lionfish are safe to eat, but precaution must be taken when cleaning them as they are a venomous fish," says Executive Chef Dario Daniel, of Tamarind by Elegant Hotels. "The light buttery meat is light on the palate which makes it great to prepare as sushi, tartar, ceviche or in one of our favorites —a tasty carpaccio."
---
See below for the full Lionfish Carpaccio recipe: