Tiny Yet Stunning: Best Destinations to Dive for Macro Life
Bonaire
Divers tend to find many frogfish and seahorses on the reefs of Bonaire. Perhaps it's because the reef supports bigger numbers of them than other Caribbean islands, but more likely, it's because the island's pool-like conditions make it easier for people to stay still long enough to spot them.
"The creatures are everywhere—you just have to have a sharp eye," says Augusto Montbrun, dive operations manager for Buddy Dive Resort.
He suggests joining a boat dive trip or two shortly upon arrival to take advantage of having a guide. "He might be luckier than you to fi nd the creatures," jokes Montbrun.
Guides return to the same dive sites every week. That, combined with the fact that these creatures stay put as long as the food supply holds, increases the odds of sightings. Frogfish keep house on the same sponge patch for a month or two—sometimes up to a year.
"People go crazy for frogfish and seahorses, but there is more to Bonaire," he says. "We try to educate divers on how to find the octopus, the squid, the shrimp, the cleaning stations and all other smaller life that you can find on our reefs."
READERS PICKS
RESORTS
Buddy Dive Resort, Bonaire

Plaza Beach & Dive Resort Bonaire
OPERATORS
Buddy Dive, Bonaire

Toucan Divers at Plaza Resort, Bonaire
Indonesia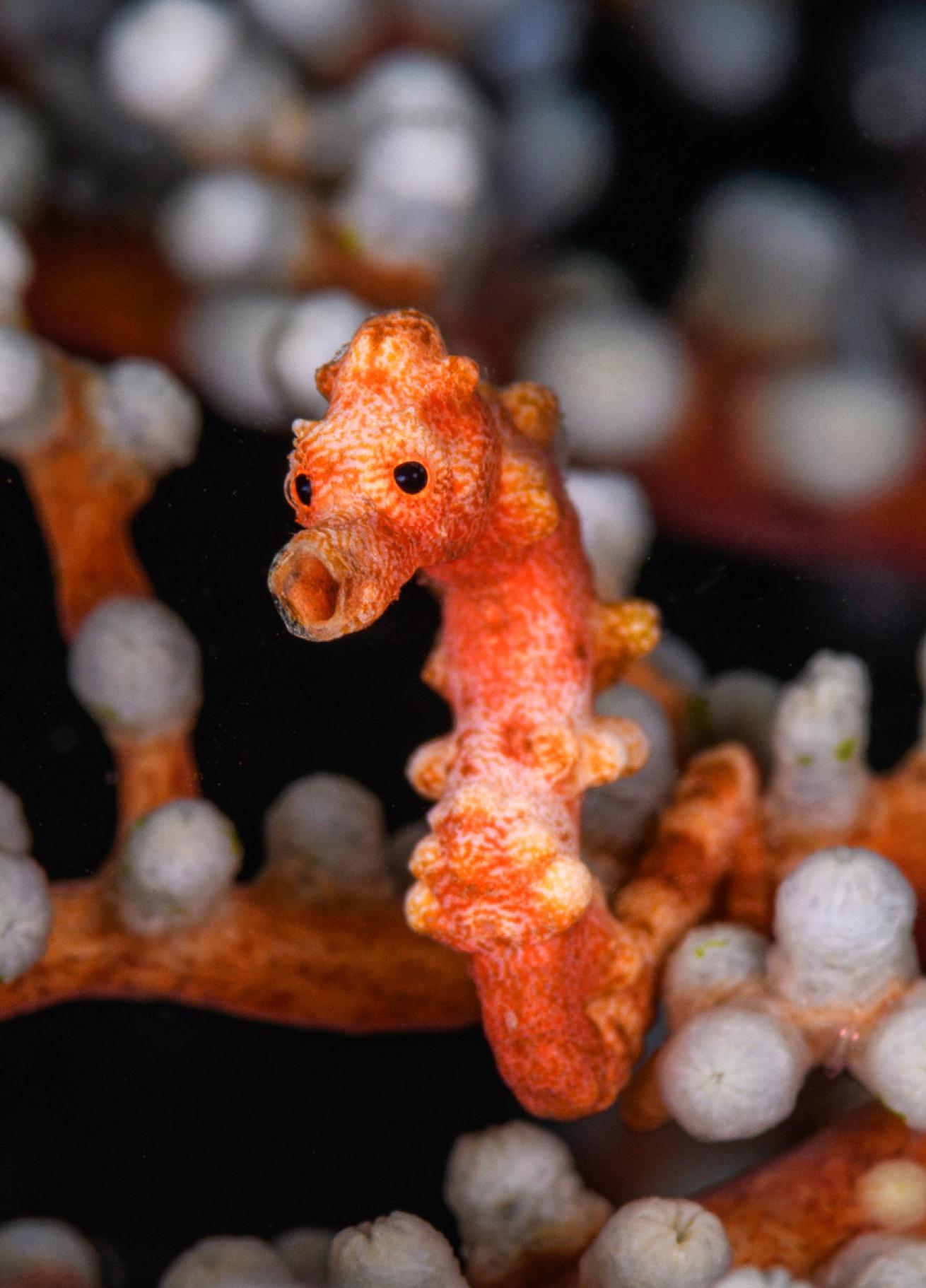 A Denise's pygmy seahorse on a gorgonian sea fan in Indonesia.

BRANDON COLE
Divers are wowed by the iridescence and vibrant colors on Indonesia's reefs. But these colors can also be found on pier and muck dives, home to neon wonders as tiny as a pinky nail.
Wakatobi Dive Resort stands out not only for its choice location surrounded by a marine park, but also for guides who excel at pinpointing the small stuff, including three species of pygmy seahorses as well as thread pipefish.
When it comes to spotting the small stuff, many divers are only as good as their guides, as it takes training to commit critter silhouettes to memory and learn their usual habitats.
READERS PICKS
RESORTS
Wakatobi Dive Resort, South Sulawesi, Indonesia
LIVEABOARDS
Florida Keys
Stay shallow in the Florida Keys, especially in the Key Largo Dry Rocks Sanctuary Preservation Area, and buy yourself time to watch a wealth of coralperching fish, including the hawkfish, a photographer favorite.
"They're very easy to spot," says Ned DeLoach, co-author of the Reef Fish Identification reference book, of the redspotted hawkfish, the only hawkfish species found in the Florida Keys. "Look down, especially down into blade fire coral, as they hide down in it."
"Like a hawk, they hold still and wait for somebody tasty to come along," says Jeff Gneiser, owner of Amoray Dive Center on the island of Key Largo. "They only give you about four seconds to take your photo or have a look," he says. "But if you watch, you learn they have favorite perches—two or three."
Wait a bit, and then they return, giving you four seconds or maybe two.
Because this fish provides relatively long pauses for divers to shoot them, "they're a great beginner fish for macro photographers," Gneiser says.
READERS PICK
RESORTS
Amoray Dive Resort, Key Largo, Florida Keys

Courtyard by Marriott Key Largo, Florida Keys

Holiday Inn, Key Largo, Florida Keys

Marina Del Mar, Key Largo, Florida Keys
OPERATORS
Amoray Dive Center, Key Largo, Florida Keys

Captain Hook's Dive Key West, Florida Keys

Horizon Divers, Key Largo, Florida Keys

Islamorada Dive Center, Florida Keys

Rainbow Reef, Key Largo, Florida Keys
Related Reading: Unprecedented Mass-Bleaching and Significant Coral Mortality in the Florida Keys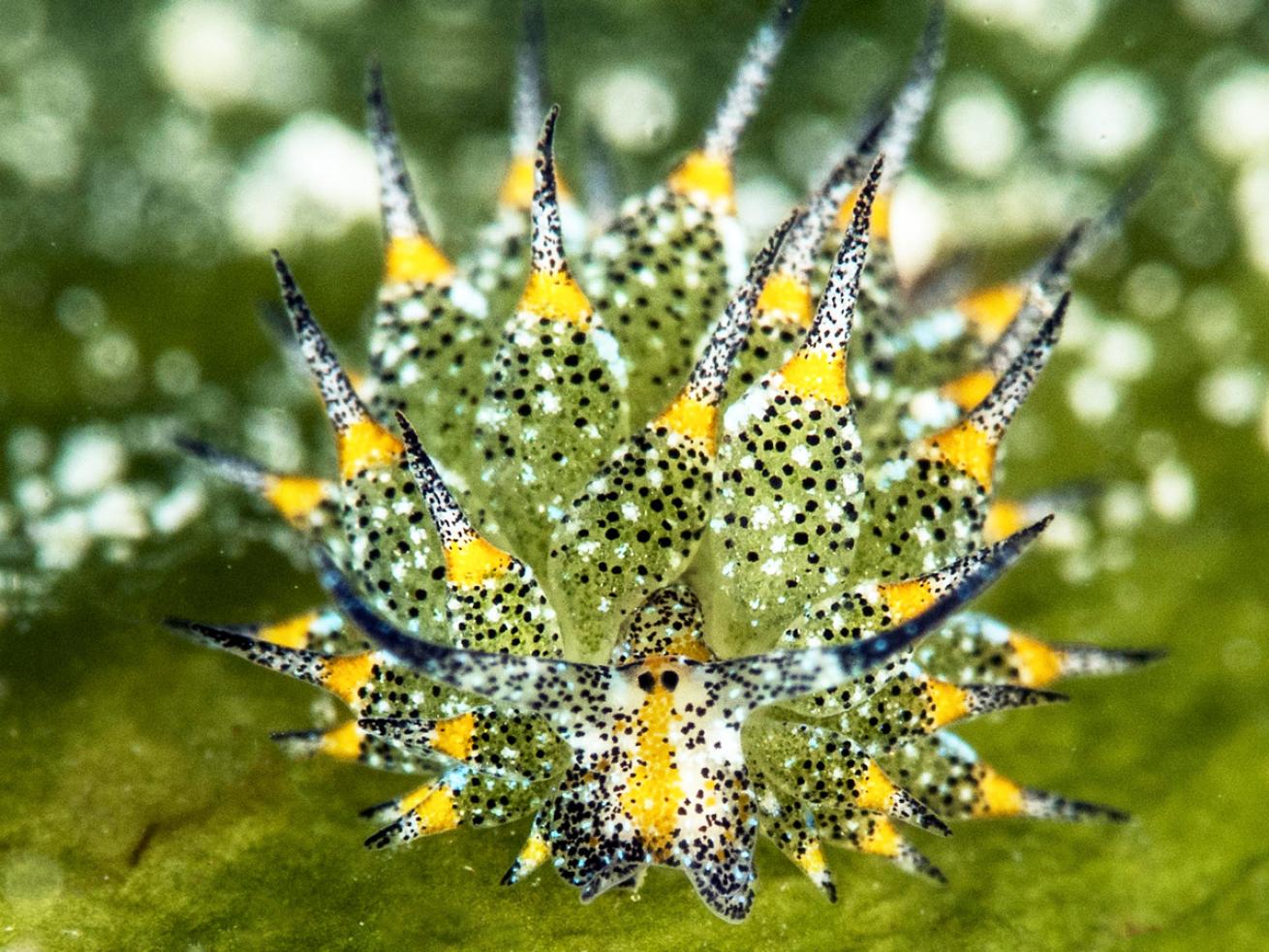 An eyespot Costasiella nudibranch on CocoView Resort's house reef in Roatan.

MICKEY CHARTERIS
Bay Islands
Three habitats collide in front of CocoView Resort on the island of Roatan, Honduras—and they're all hotbeds for small stuff.
Just off the resort, a sand channel separates a lagoon from a seagrass bed. Head straight along the sand channel and collide with the Prince Albert wreck, a habitat preferred by Elysia sea slugs.
But to find Roatan's tiniest pièce de résistance, zero in on the rubble and algae— specifically the paddle-blade algae. There, divers can uncover "the Holy Grail of nudibranch finds," says Mickey Charteris, photo pro for the resort and author of the Caribbean Reef Life book.
The Costasiella nudibranchs are "tiny green guys with two eyespots, and they are the size of a head of a matchstick," Charteris says. "Everybody thinks you need to go to Lembeh Strait or the Philippines to see them, but they are literally right in front of the resort."
READERS PICKS
RESORTS
Anthony's Key Resort, Roatan, Bay Islands

CocoView Resort, Roatan, Bay Islands

Mayan Princess Beach & Dive Resort, Roatan, Bay Islands

Turquoise Bay Dive & Beach Resort, Roatan, Bay Islands
OPERATORS
Anthony's Key Resort Dive Shop, Roatan, Bay Islands

CocoView Resort, Roatan, Bay Islands

Dockside Dive Center at CocoView Resort, Roatan, Bay Islands
LIVEABOARDS
Roatan Aggressor, Bay Islands
Related Reading: Where To Plan Your Next Scuba Vacation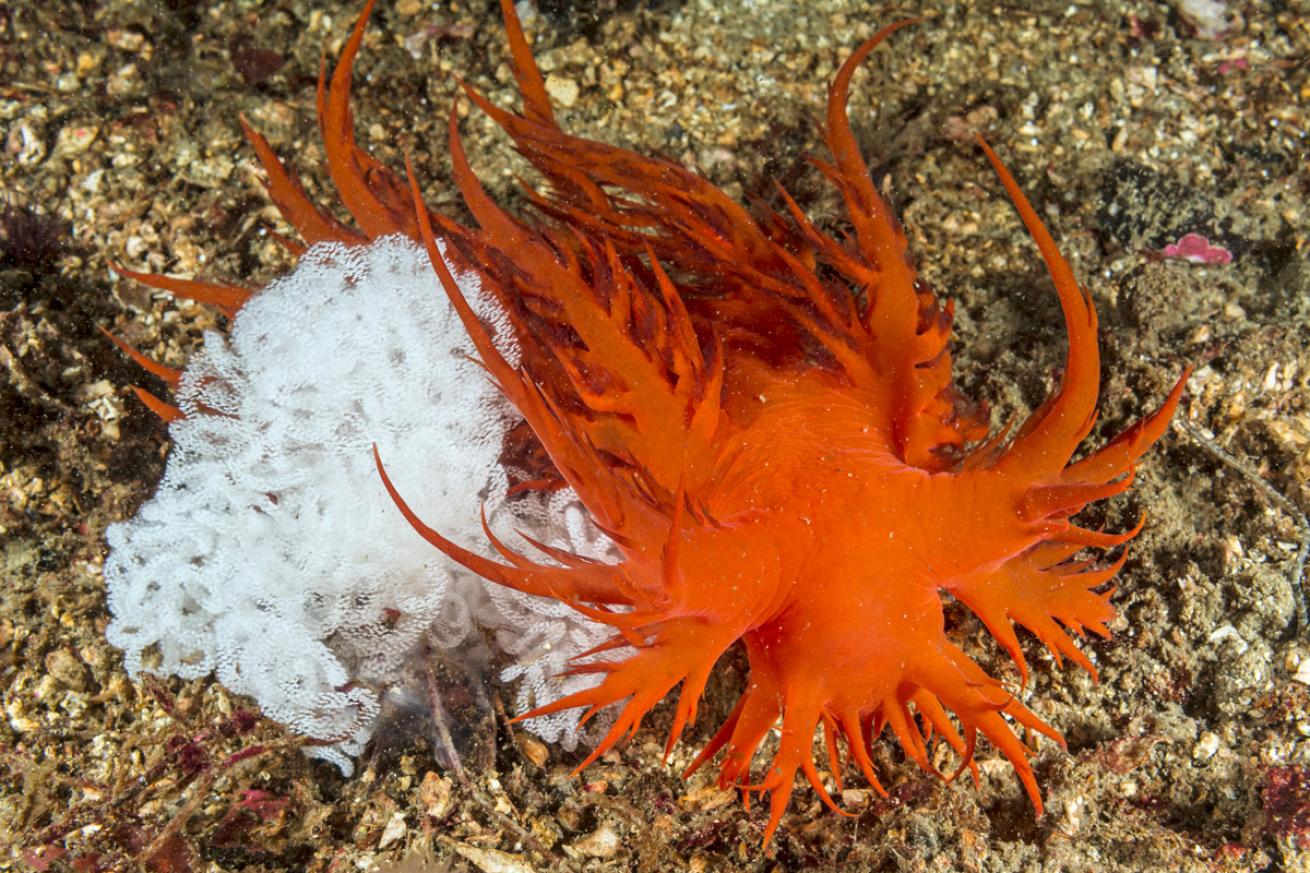 A large Dendronotus iris nudibranch lays its eggs on a soft bottom in British Columbia.

BRANDON COLE
British Columbia
Every dive site off British Columbia's rugged coastline brings its own unique mix of marine life.
"You find tons of rockfish on some sites and loads of wolf eels at others," says Claus Eckbo, owner of God's Pocket Resort on Hurst Island, 10 nautical miles from the town of Port Hardy, Vancouver Island.
Some sites are known for particular quarry and named to reflect residents: Hoodie Nudie Bay, for example, is home to many Melibe leonina, aka hooded nudibranchs.
"It's incredible to see how many congregate in one spot," Eckbo says.
Other species are seen regularly not due to location but season. Spring is when juveniles spill into the shallows.
For example, juvenile ratfish no bigger than an inch have been sighted in the bay as the warmer months approach. This tiny fish is a rare sighting for divers as they typically inhabit much deeper waters.
Surprising, and also not, given that God's Pocket Marine Park has such an incredible amount of plant and marine life that it attracts not just volume but a variety of life unparalleled by most other destinations on the Pacific Coast.
St. Lucia
The Thing is the name of a 1982 cult classic horror film, but it also describes the wine-colored, iridescent worm that dwells underwater in front of Anse Chastanet Resort.
That name stuck until photographer Walt Stearns captured it on film and consulted with marine identification experts Ned and Anna DeLoach. After some deliberating, they categorized it as a Eunicidae worm. Today, the most recent version of the Reef Creature Identification book names it a bobbit worm, a bristle worm of up to 10 feet long, recognizable for its spiky, tentacled mouth.
"It's guaranteed you'll see it on the house reef," says Carmen Toanchina, Reef Life and Renewal ambassador and PADI Master Scuba Diver Trainer with Anse Chastanet, adding that bobbit worms on St. Lucia can typically be found on crevices in the reef.
Tucked inside crevices is where divers lay eyes on another of St. Lucia's top finds: the black brotula, a grayish-black fish with an undulating ribbon of a fin that makes it appear much like an eel. It's also a marvel for the fact that it doesn't lay eggs but gives birth to live young. "They're super rare and hard to spot unless you are looking continuously into crevices with a torch," says Toanchina.
Divers can also choose the easier option and simply ask a guide—this fish tends to stay in the same area for months, even years. "For almost two years, we keep finding the same black brotula on one of our closest sites, Turtle Reef," she says.
Related Reading: Five Marine Science Books for Scuba Divers
Caribbean and Atlantic
Bonaire

Bay Islands

St. Lucia

Mexico

Curaçao

Bahamas

Cayman Islands

Belize

Turks and Caicos

Aruba

U.S. Virgin Islands
PACIFIC AND INDIAN
Indonesia

Philippines

Fiji

Red Sea

Hawaii

Maldives

Galapagos

Thailand

French Polynesia

Costa Rica

Mexico
U.S. AND CANADA
British Columbia, Canada

Texas

Washington

California

Florida Keys

Florida

North Carolina

Great Lakes
What Is Readers Choice?
More than 3,000 readers cast their vote in our 2023 survey to decide this year's Readers Choice awards. Here we feature some of the top destinations, listing in alphabetical order the winning resorts, operators and liveaboards serving those areas.
---