Travel to the Heart of the Philippines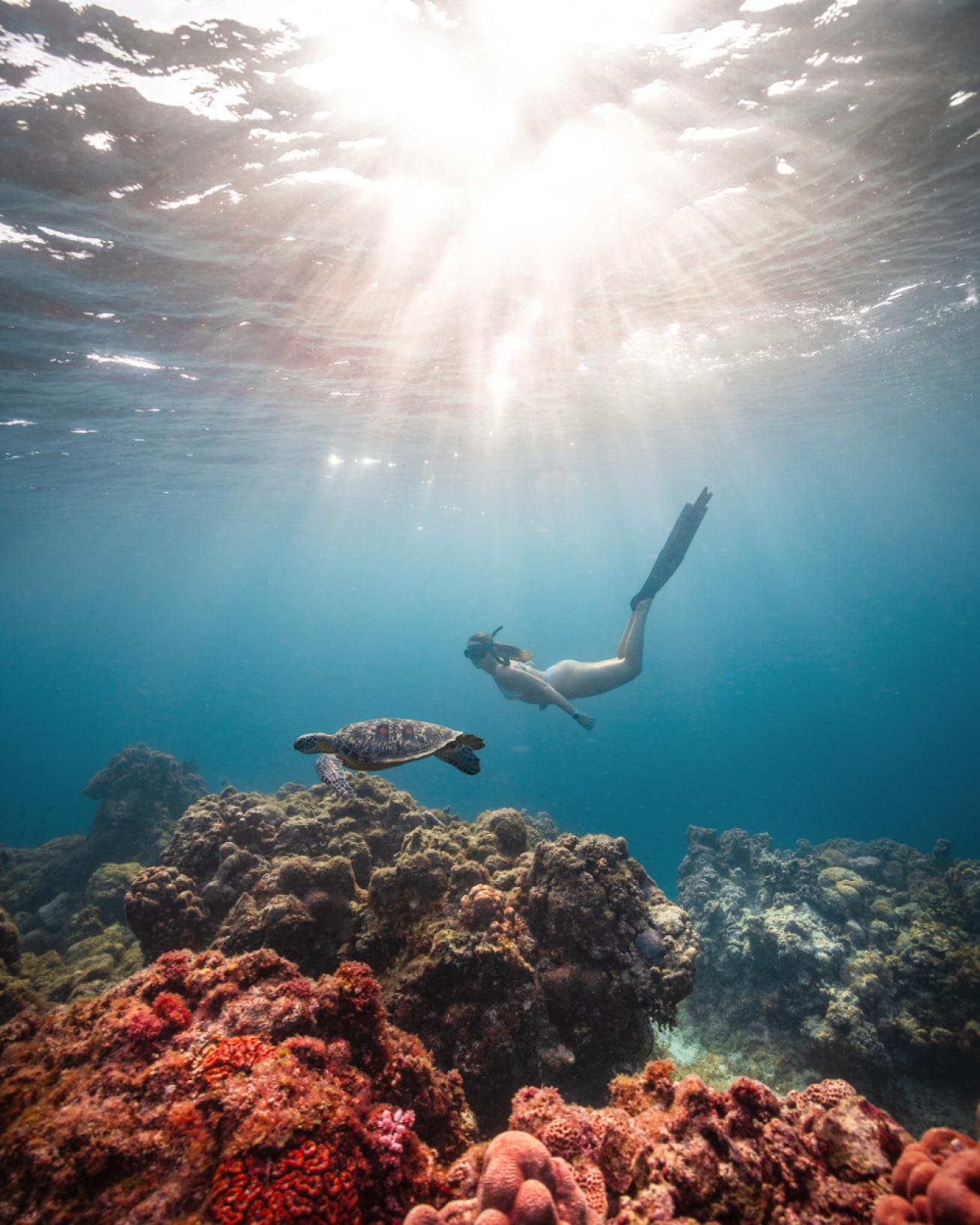 A freediver swims along the reef with a sea turtle.

Nick "Hex" Van Sicklen
FEELING FREE IN MOALBOAL
Sometimes the best things in life actually are free, and this applies to Moalboal. Being able to grab your snorkel gear and swim off the beach at your leisure is a luxury on any vacation. Directly off Panagsama Beach, you can find loads of green turtles, beautiful coral and thousands of sardines with little effort. A local told me if you haven't seen a turtle in Moalboal you must not have been in the water yet.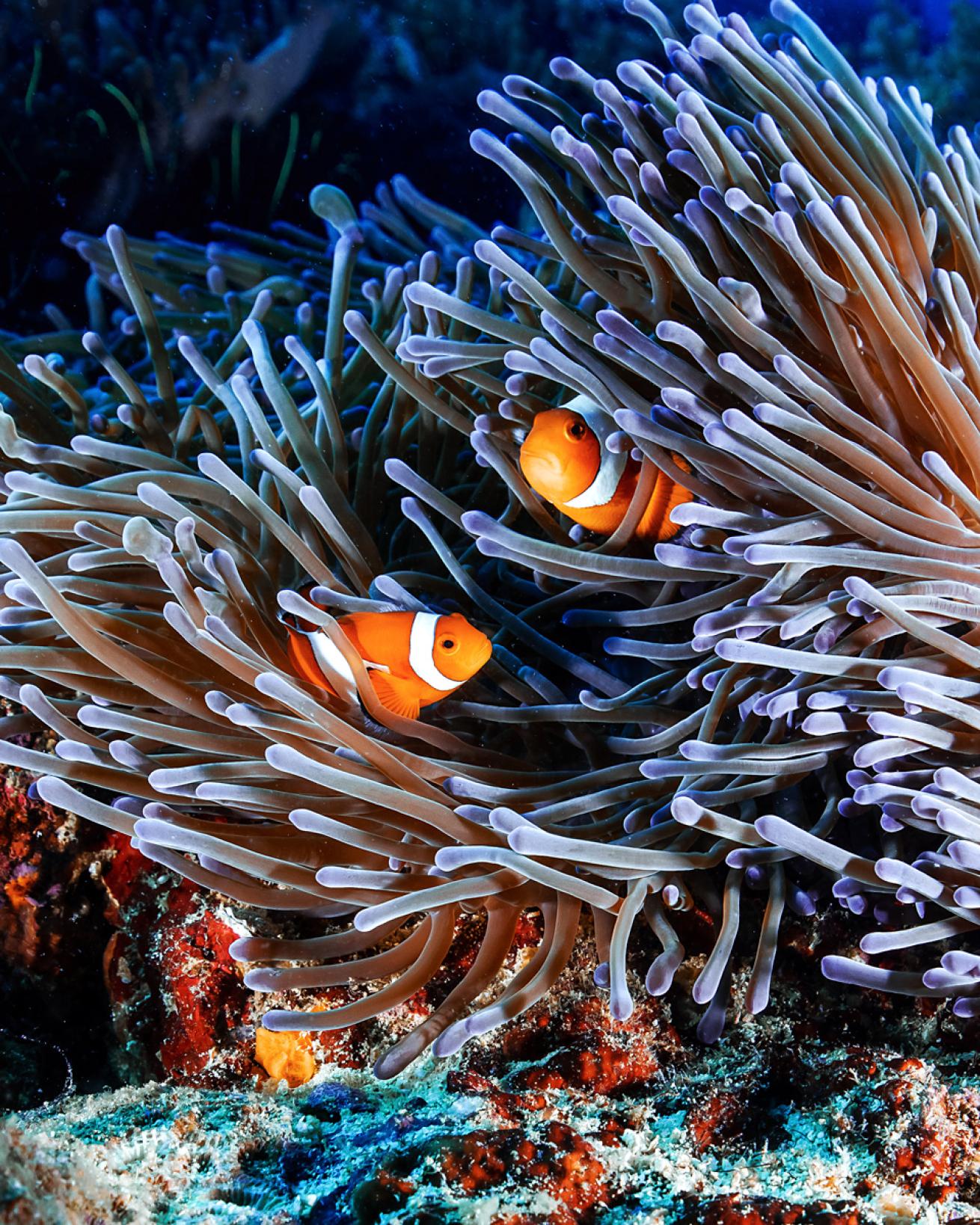 Clownfish are a popular subject to photograph in Malapascua.

Rayna O'nan
THE LITTLE THINGS
Malapascua Island is a diver's and photographer's paradise. It may be best known for its thresher sharks, but it's also home to some of the coolest little creatures. Get a local guide to point out the ghost pipefish, blue-ringed octopuses, mandarinfish and more—and make sure you don't forget your macro lens at home. Bugtong Bato (above) is my favorite of the many reefs surrounding Malapascua, with its pinnacle of soft coral and countless clownfish. However, you can't miss diving at Gato Island. This uninhabited island hosts a sea snake sanctuary for banded sea kraits, pygmy seahorses and a roughly 100-foot underwater tunnel that can be dived beneath the island.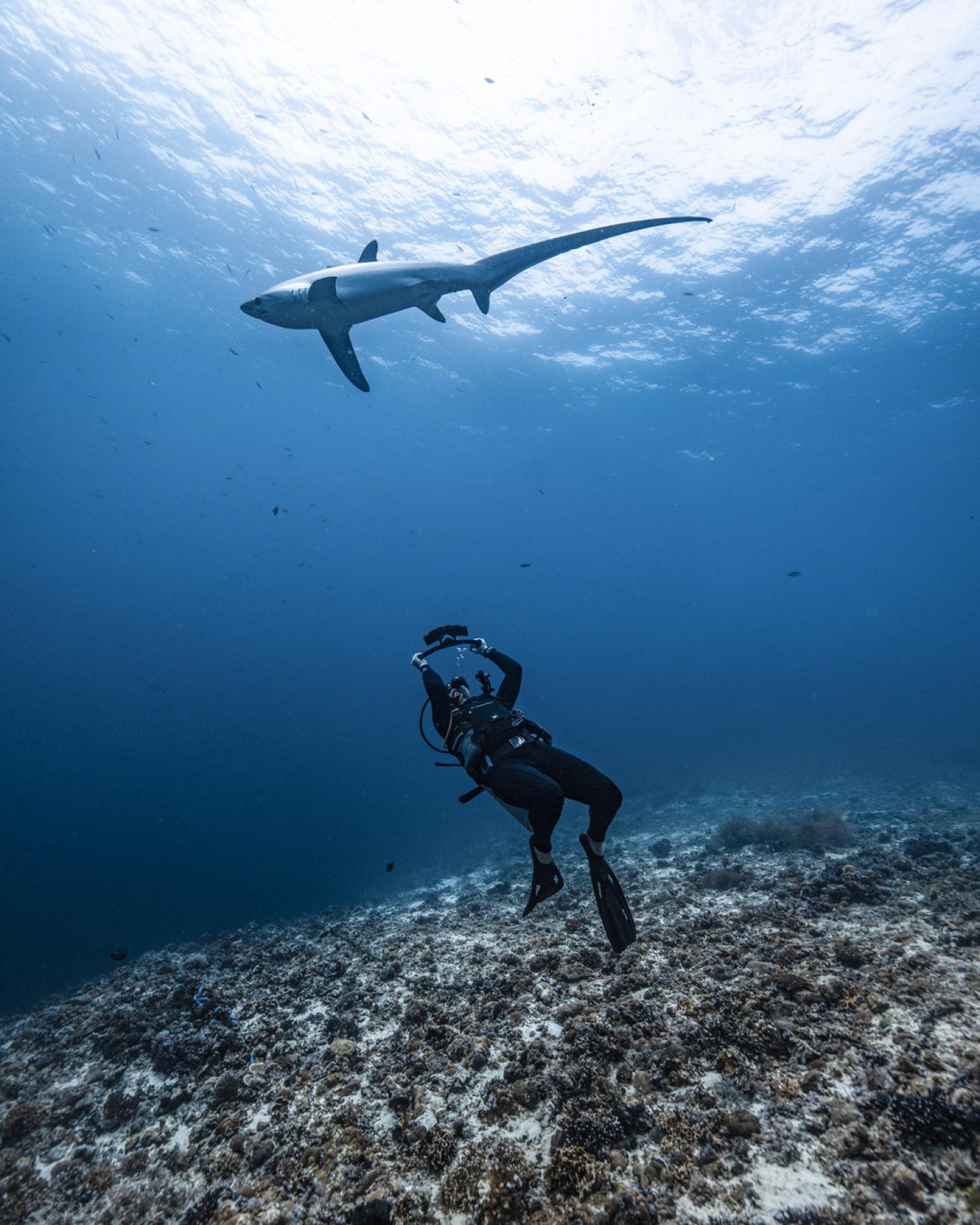 A diver photographs an elusive thresher shark.

Rayna O'nan
THE MAIN ATTRACTION
While thresher sharks live in much of the world's oceans, Malapascua is considered one of the only places on Earth where you can consistently dive with them. These pelagic sharks often inhabit the deep seas, so being able to encounter them on a reef is truly special. Their identifying feature is their long, ribbonlike tail that can be half the length of their body. They use their tails not only for propulsion but to stun their prey with a whiplike motion. The combination of their unique tails and doe-eyed faces makes thresher sharks adorable and fascinating.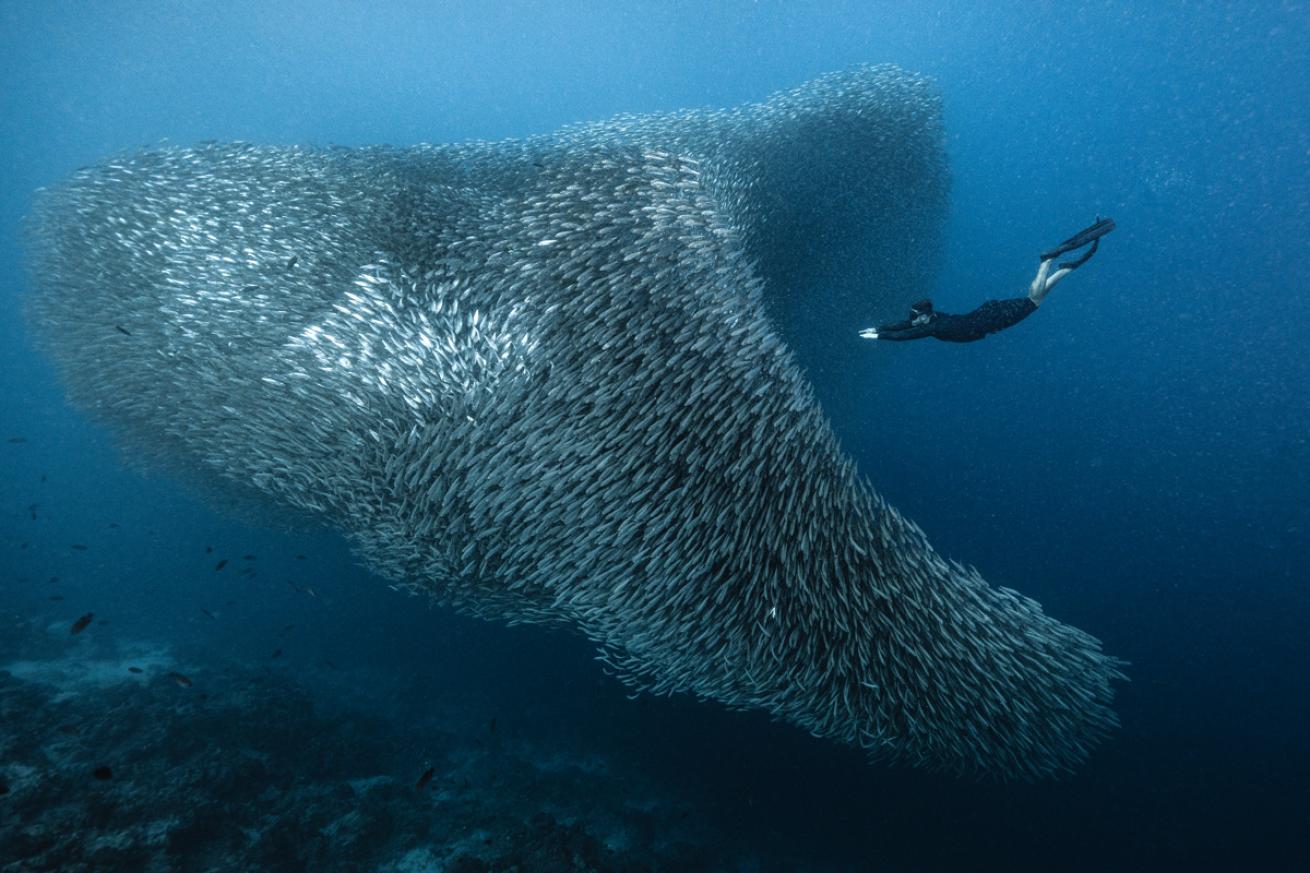 Schooling sardines attract divers and freedivers for an awe-inspiring experience.

Rayna O'nan
OFF TO SCHOOL
The early bird might get the worm, but the early diver gets the best sardines. To experience the most action, try to begin early in the morning. With fewer people around, the sardines will be schooling tightly for epic photos and swim-throughs. The sardines hang out right at the drop-off, which is a short swim off Panagsama Beach. Both scuba divers and snorkelers can enjoy the sardines as they school close to the surface.
Related Reading: Scuba Diving with a Million Sardines in the Philippines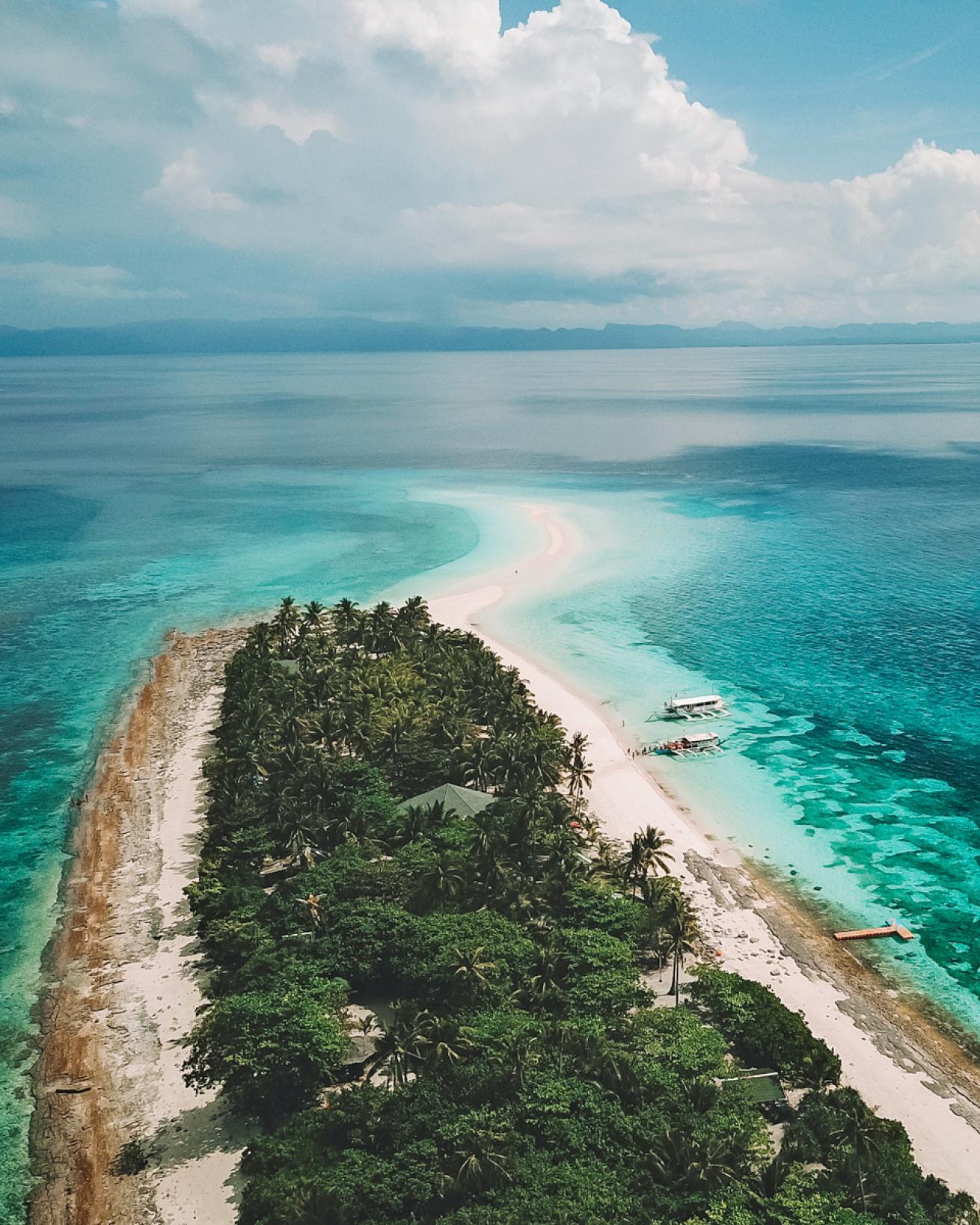 White sand beaches of Kalanggaman

Rayna O'nan
PARADISE FOUND
Kalanggaman is one of 7,000 islands that make up the Philippines, but it is an island unlike any other. It offers white-sand beaches, and at low tide an impressive sandbar juts out into the crystal-clear water. Visitors can enjoy a barbecue beneath the palm trees after taking a dip. Make sure to bring your snorkel gear to explore the reef right offshore, where you can find colorful fish, rays and turtles. Dives can also be booked in advance if you want to go beyond the drop-off and dive the wall. Divers and nondivers alike will enjoy a day on this little slice of paradise.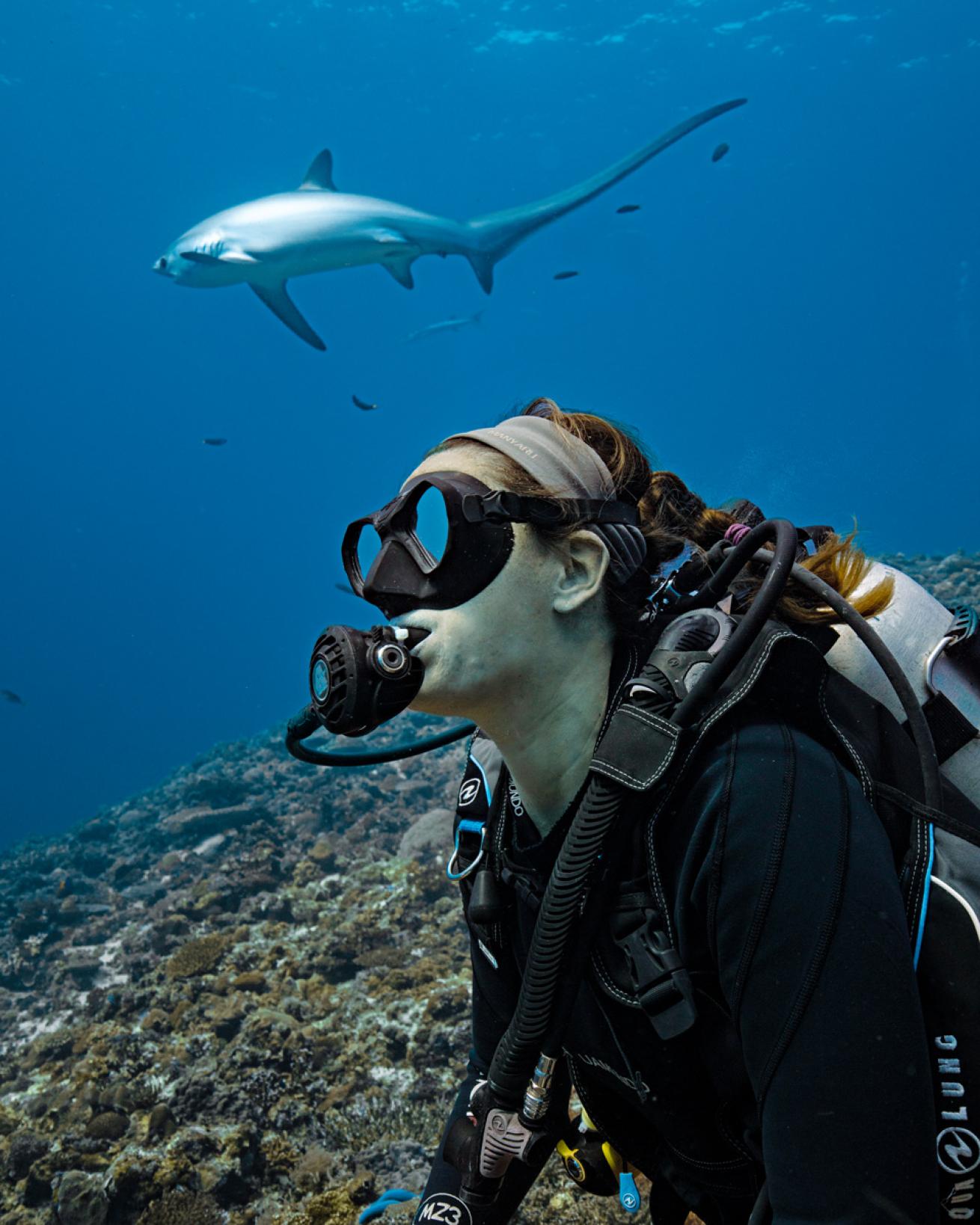 Image of the author, Rayna O'nan, with a thresher shark in the background.

Nick "Hex" Van Sicklen
SHARKS AT SUNRISE
A 4 a.m. wake-up call is not ideal on a vacation, but it's worth it if you want to encounter the elusive thresher shark. These magnificent sharks come up from the deep every morning around sunrise to visit the cleaner wrasse that live on Monad and Kimud shoals. Doing your best to blend into the reef when a thresher swims by will encourage these skittish sharks to come in close and check you out.
Related Reading: Dive Hotspots You Should Have on Your Radar
NEED TO KNOW
WHEN TO GO
You can dive all year in the Philippines, but for the best weather conditions, visibility and sardine action, visit December through May.
DIVE CONDITIONS
Water temps are consistently 80 to 86 degrees year-round, with the warmest waters in June and coldest in February. The visibility is normally in the 50- to 70-foot range depending on rainfall and tides. Current conditions range, depending on the site, from nonexistent to moderate. The island of Cebu offers diverse dive sites with varying conditions, depths and animal life. There is truly a dive for everyone here, no matter their skill level.
OPERATORS
The Shark's Tail Dive Resort, Malapascua (thesharkstail.com) Neptune Diving Resort Moalboal (neptunediving.com)
TRAVEL TIPS
Make sure to grab a good amount of cash before leaving the airport or the main city of Cebu. ATMs can be hard to come by, and most ferries, cabs and local vendors will only take pesos. If crossing over to the island of Malapascua, get to the ferry dock well before 5 p.m. so you don't miss the last ferry of the day.
---