Underwater Photographer Georgienne Bradley Honored for Marine Conservation Work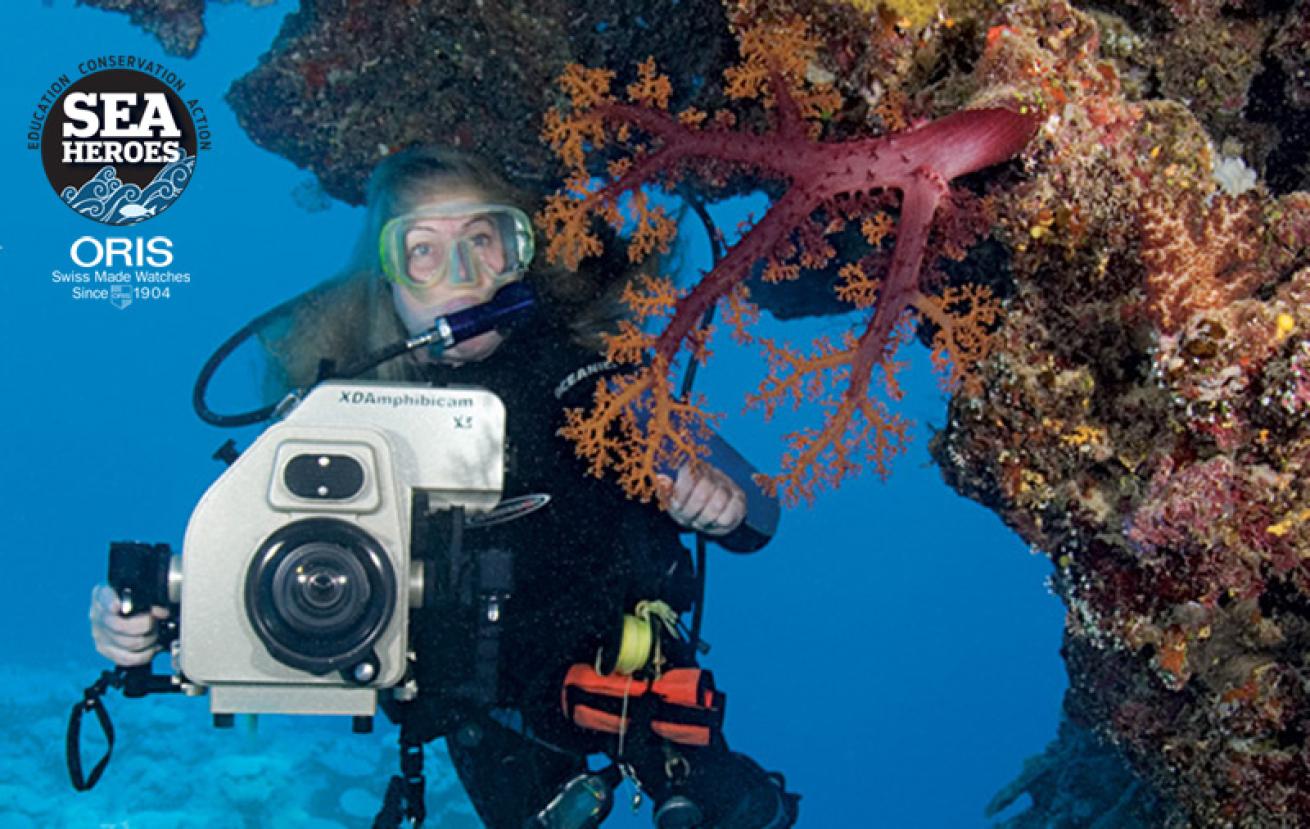 Sea Save Foundation's Director Georgienne Bradley was given the title of Sea Hero in 2011.

Courtesy of Georgienne Bradley
When it comes to writing about Georgienne Bradley, it's easier to list what this passionate marine conservationist doesn't do. Her resume includes scientist, artist, photographer, videographer, writer and teacher. As co-owner of Bradley Ireland Productions, Bradley's imagery has appeared in hundreds of magazine articles and she's produced a number of television programs. Today, she is focused on her volunteer work as director of Sea Save Foundation, a nonprofit that encourages divers and others to make a difference in marine conservation.
Of all your accomplishments, of which are you most proud?
Hmmm, that is a tough one. I'm very proud of my participation in Cocos Island becoming a UNESCO World Heritage Site. I was delighted to be a motivating force in raising ocean awareness in Costa Rica by having postage stamps and ocean educational lottery tickets created from my images. I love phone calls I receive from past students who have become conservationists and I am proud of my induction into the Women's Divers Hall of Fame. Honestly, though, I believe my greatest accomplishments are yet to come.
You are a conservationist and a scientist — how do you marry these two disciplines?
To understand the importance of marine conservation, it is helpful to have a strong foundation in biology. I feel very fortunate as I have done basic research and completed a graduate degree in biology, thus giving me a background to effectively execute my conservation work.
About 20 years ago, in Costa Rica, I met underwater photographer Jay Ireland and we began a career documenting the underwater world of Cocos Island. We documented the shark-finning practices at Cocos Island, presented our findings to Costa Rican President Figueres and the Minister of Natural Resources, Alvaro Ugalde. The images were published throughout the Costa Rican press and influenced a positive vote several weeks later that expanded the protected areas around Cocos Island National Park. That was in 1990. Since then I have continued to work to protect this sanctuary.
We developed a series of national postage stamps and lottery tickets illustrating the beauty of Costa Rican marine areas. We knew that these educational tools were finding their way into virtually every Costa Rican household, giving us amazing access. By leveraging an existing media pipeline and a bit of creativity we were able to create a national educational campaign at very little cost.
On your Sea Save Website you have several quotes from environmentalists. Who is your single most important role model?
Jacques Cousteau, full stop. I will never forget the excitement that permeated Cousteau's television specials. As a child, I followed him and today I can still feel his curiosity, excitement and victories. Most of all he found a way to show the entire world what was beneath the surface of our oceans. How cool is that?
Tell us about Sea Save's current projects.
We have several projects going on. I think readers might be most excited about our Dive 4 a Difference program. We are eager to connect the collective photographic talent and energy of recreational divers with documenting the challenges and beauty of our underwater world. Contributors will have the satisfaction of knowing their work will be used for important ocean educational purposes for academics and ocean conservation.
We are also focused on promoting the passage of AB 376, the California bill to prevent the sale and importation of Shark Fins. This is very important to me because I have spent a large portion of my life fighting finning in other countries, I need to make sure we ban this horrific practice in my home state.
I know you have a history at Cocos Island, Costa Rica. Are you doing anything there currently?
I am super excited about our newest Cocos project. The Voice of Cocos Island uses Facebook to open a consistent and transparent channel of communication between National Park Guards, on the front line combating poachers, and the rest of the world. We can support their brave efforts virtually in real time.
Are you using social media like Facebook to get out your message?
Absolutely! A typical day for me is going through emails in the morning and being bombarded by issues and threats about animals and areas all over the world. I believe if Jacques Cousteau were living today, he would be broadcasting his message on Facebook, YouTube, and Twitter because that is where young people are engaging and learning.
While the challenges facing our oceans are daunting we have unbelievable tools to communicate and harness our energies to conserve and protect our oceans. I believe the Internet is one of the greatest tools to help educate and mobilize people and is capable of bringing our oceans back from the brink.
What is your message to young people?
The ocean is fragile. We cannot think locally because our oceans do not know political boundaries. Tomorrow's children will look back at us and wonder why we did not do something to insure that they too could experience the beauty of whales, dolphins and other ocean creatures. Our future is intrinsically linked to how we treat our blue planet today. Service, optimism, and the belief that I can and have the duty to help protect the world's oceans is a good mantra ; thus our tagline: It's YOUR Ocean. Do Something About It!
Who are the Sea Stars?
Sea Save is very fortunate to have a group of wonderful, talented supportive friends who have a deep interest in ocean conservation. Actress Kay Lenz, actor Alex Rocco (The Godfather), country star Stephanie Quayle and the Fantastic Four's Rebecca Staab to name a few. These friends have taken time and energy from their professional entertainment careers to donate to Sea Save in many ways. We are so excited to have opportunity to work with past Sea Stars and are eager to begin projects with new surprise talent — shhhh!
---
For more information on Bradley and her work, visit Sea Save Foundation
Meet all of the Scuba Diving Sea Heroes