The Vandenberg: From Military Ship to Massive Artificial Reef in Key West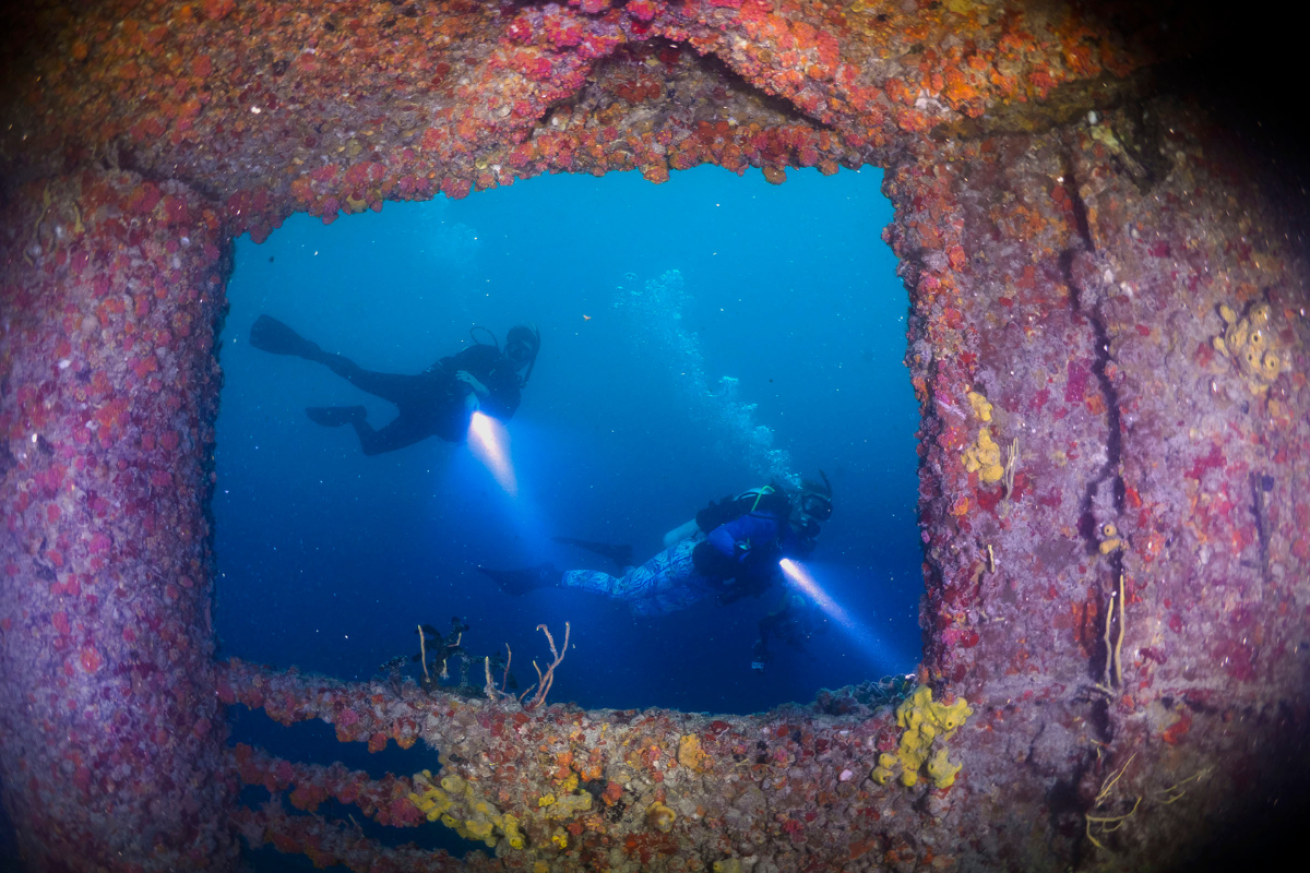 Vandenberg sits upright approximately seven miles off Key West in the Florida Keys National Marine Sanctuary.

David Benz
During its distinguished career, the 524-foot USNS Gen. Hoyt S. Vandenberg was once a troop transport and missile-tracking ship that monitored Soviet missile launches during the Cold War and tracked space launches off Cape Canaveral, Florida. It was also cast as a Russian science ship in "Virus," a 1999 film. In May 2009, four veterans who served on the Vandenberg bid the ship a final farewell when it was scuttled seven miles off Key West.
Today, experienced divers now pay their respects to "Vandy," as it is known to local dive operators and divers. The massive ship commands respect as the second-largest artificial reef in the world.
When it comes to underwater superlatives and a dive that promises something different every time you go down on it, the Vandenberg is Key West's crown jewel wreck for divers with advanced training.
One of nine wrecks along the Florida Keys Wreck Trek, the ship is a behemoth, towering some 11 stories high underwater, stretching nearly two football fields long and laying in 165 feet of water south of Key West.
"The Vandy was purpose-sunk for divers, by divers, who made a lot of extra cut-outs on the ship for swim throughs," says Dave Parkhurst of Lost Reef Adventures, a Key West dive shop that regularly double dips the wreck, year-round.
There's so much to see on the ship, he says, that two dives just scratches the surface. Even divemasters and instructors who come from elsewhere to dive the Vandy often hire a guide to accompany them on the wreck so they don't miss any of the incredible underwater sights.
When she was scuttled, the Vandenberg went down in less than two minutes, roughly 7 miles offshore from Key West, beyond the reef line.
"She did exactly what she was supposed to do as an artificial reef," Parkhurst says. "She started collecting growth immediately all over the wreck and attracting fish."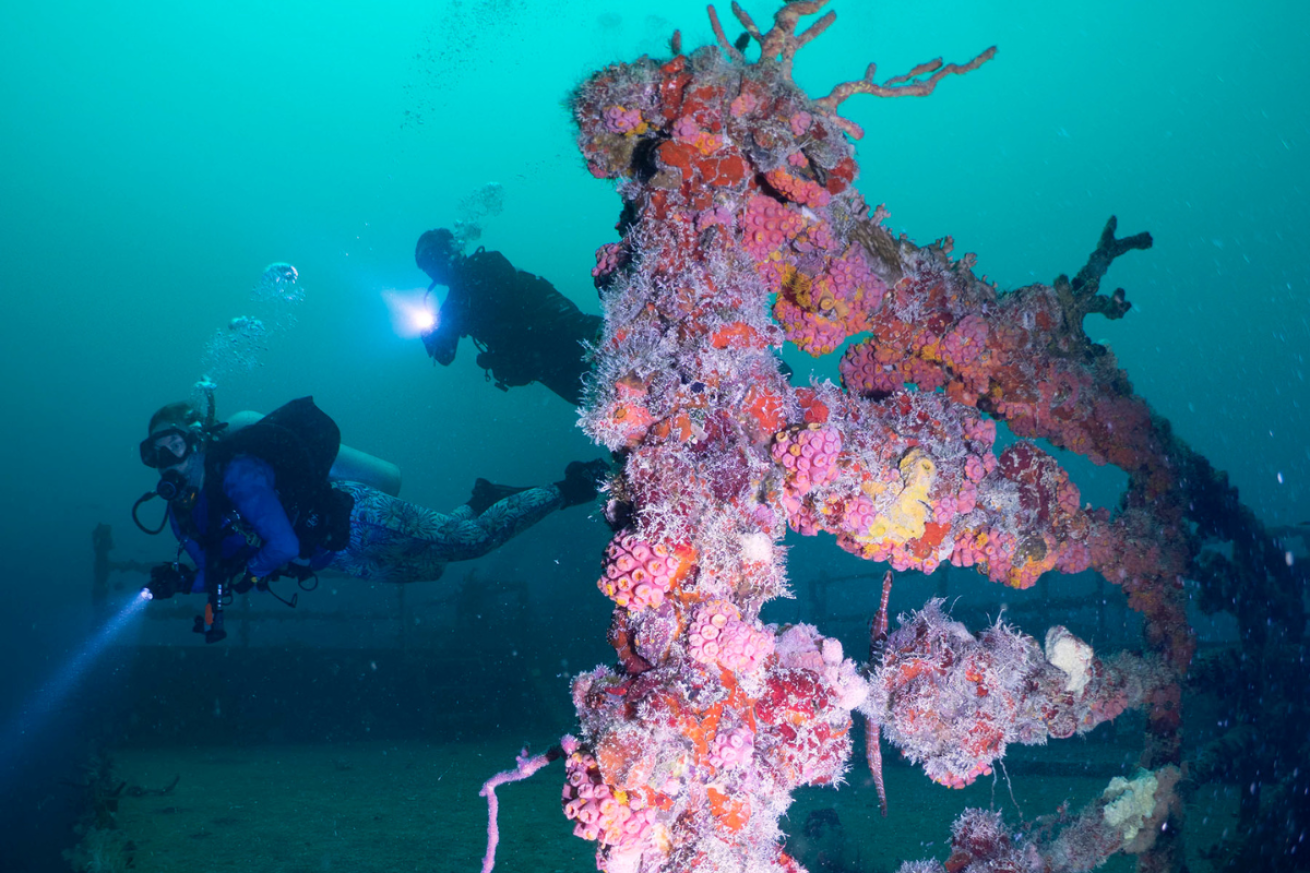 The Vandenberg represents the southernmost part of the Florida Keys Shipwreck Trail.

David Benz
Divers are typically treated to the sight of large schools of bar jacks and amberjacks, he says, with goliath groupers also frequently seen patrolling the wreck.
Look down to the sandy bottom, where the wreck bottoms out in 165 feet of water, and you might spot sandbar sharks and bull sharks, too. During the winter months, says Parkhurst, divers sometimes get lucky and see hammerheads (scalloped and great) cruising the blue during their safety stops.
"There's a lot to see and not a lot of time to see it," says Zach Goodfellow of Southpoint Divers, another Key West dive shop that regularly takes divers down on the Vandenberg.
Typical recreational dives on the wreck last about 28 minutes, Goodfellow says, which gives you about 17 minutes of bottom time to explore–all the more reason to dive with a guide to make the most of all there is to see.
Divers really like to swim through the bridge. "It's really wide open, and there's a POW flag in there," he says. "And this is definitely more of an advanced dive. You have to pay attention to your dive computer and make sure you do your safety stops. There can be current sometimes, too."
The ship's history is captivating. In addition to tracking missiles, the Vandenberg was used to transport troops during World War II. Its radar dishes, which have deteriorated in storms but can still be seen, were used to track Mercury, Gemini and Apollo capsules. And in the science-fiction film "Virus," the wreck starred as a derelict wreck with a crew that was either missing or dead.
There's even a local legend that the sailor kissing the nurse in the classic end-of-World War II photo from Times Square spent time on the Vandenberg, says Max Ebel of Captain Hook's, a dive shop with outposts in Key West, Big Pine and Marathon.
"There are so many reasons why the Vandy is a cool dive," he says. "Underwater, the amount of things we see on that wreck are endless."
Huge barracuda up to five feet long are almost always around, Ebel says, and it's not uncommon to encounter between 50 and 75 of them at a time.
He's also seen manta rays and up to four species of sharks, including tiger sharks, on a single dive. Look closely at the wreck's structure and you'll see bristle worms, scorpion fish, arrow crabs and other smaller critters, too.
"If you're coming down to the Keys, and you have an advanced certification and you miss out on diving the Vandy, you're kind of cheating yourself," Ebel says.
It's a wreck with a colorful and distinguished history, and it's a must-dive for those who are wreck-diving aficionados.