What to Do When You Overheat While Diving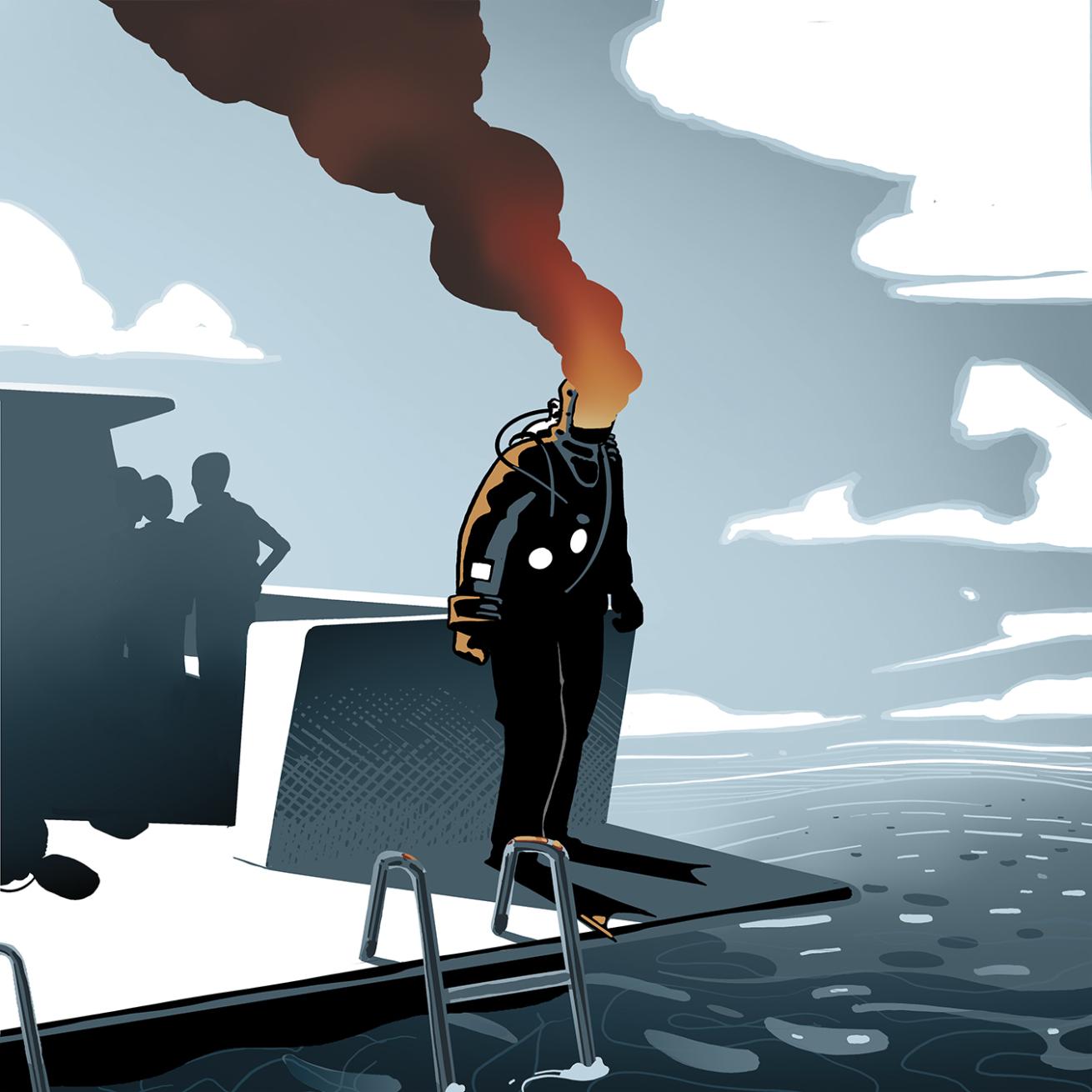 Failing to stay alert can create a lot of problems in the water.

STEVEN P. HUGHES
The air was hot, and all Diane could think about was getting in the water. Her drysuit made it even worse. She rushed to get to the swim step, telling her dive buddy she would meet him there. And then everything went dark.
The Diver
Diane was a 45-year-old diver in good physical condition, with PADI Advanced Open Water Diver and Dry Suit Diver certifications. She'd been diving for five years and had no known health conditions.
The Dive
Diane and her buddy were diving from a local charter boat with a planned depth of 80 feet. The air temperature was mid 80s, and there wasn't much of a breeze. Surface water temperature was 64 degrees, but at depth it dropped to the 50s.
Diane was overheating as she sat in the sun waiting on her buddy. She'd already sealed the zipper on her drysuit so she decided to get in the water to cool off. She felt lightheaded when she stood up but made her way to the entry point and put on her fins. With Diane's "OK," the divemaster turned away to help other divers.
Related Reading: Ask DAN: How do I shore dive safely?
The Accident
Four other divers were already underwater when they saw Diane descending face-first like a rag doll. She was unconscious, and her regulator was out of her mouth. They saw her hit the bottom hard.
Three of them raced to help while the fourth headed to the surface to alert the boat crew. All the divers were PADI Rescue Diver certified. One attempted to get Diane's regulator in her mouth, but when that failed, they inflated her BCD and escorted her to the surface.
The boat crew got Diane on board. She was not breathing, and her lips were blue. After a few minutes of CPR they noticed her breathing shallowly. They put her on oxygen first aid while heading to shore.
Diane was airlifted to a local medical facility and almost immediately recovered. She was later given a CT scan to determine the reason for losing consciousness. None was determined. She was released the next day with a perforated ear drum and soreness but was otherwise fine.
Related Reading: Tied Up | Lessons for Life
Analysis
Diane overheated and passed out as she stood on the swim step. Dive gear is often dark or black, making it uncomfortable to sit in under bright sun, especially when air temperatures are high. In situations like this, stay in the shade, stay hydrated and don your exposure protection at the last minute to avoid overheating.
The boat crew made a mistake by not observing Diane in the water or becoming concerned when she didn't surface to wait for her dive buddy. But the most important takeaway from this accident is the quick reaction of the divers in the water and then by the boat crew on the surface. They performed CPR and administered oxygen. They also implemented their emergency plan and got an air evacuation on the way. The quick thinking and the actions of everyone involved saved Diane's life.
Lessons For Life
Be prepared. Take a PADI Rescue Diver course and learn to respond in an emergency.
Avoid overheating. You can overheat quickly in dive gear. Don your exposure protection last-minute, or leave your suit unzipped to maintain a comfortable body temp.
Pay attention to your body. If you're feeling lightheaded or otherwise unwell, take a minute to figure out what's wrong. Collapsing on the boat in full gear can hurt. Losing consciousness in the water could be worse.
---