What Underwater Photogaphers Should Know About Raja Ampat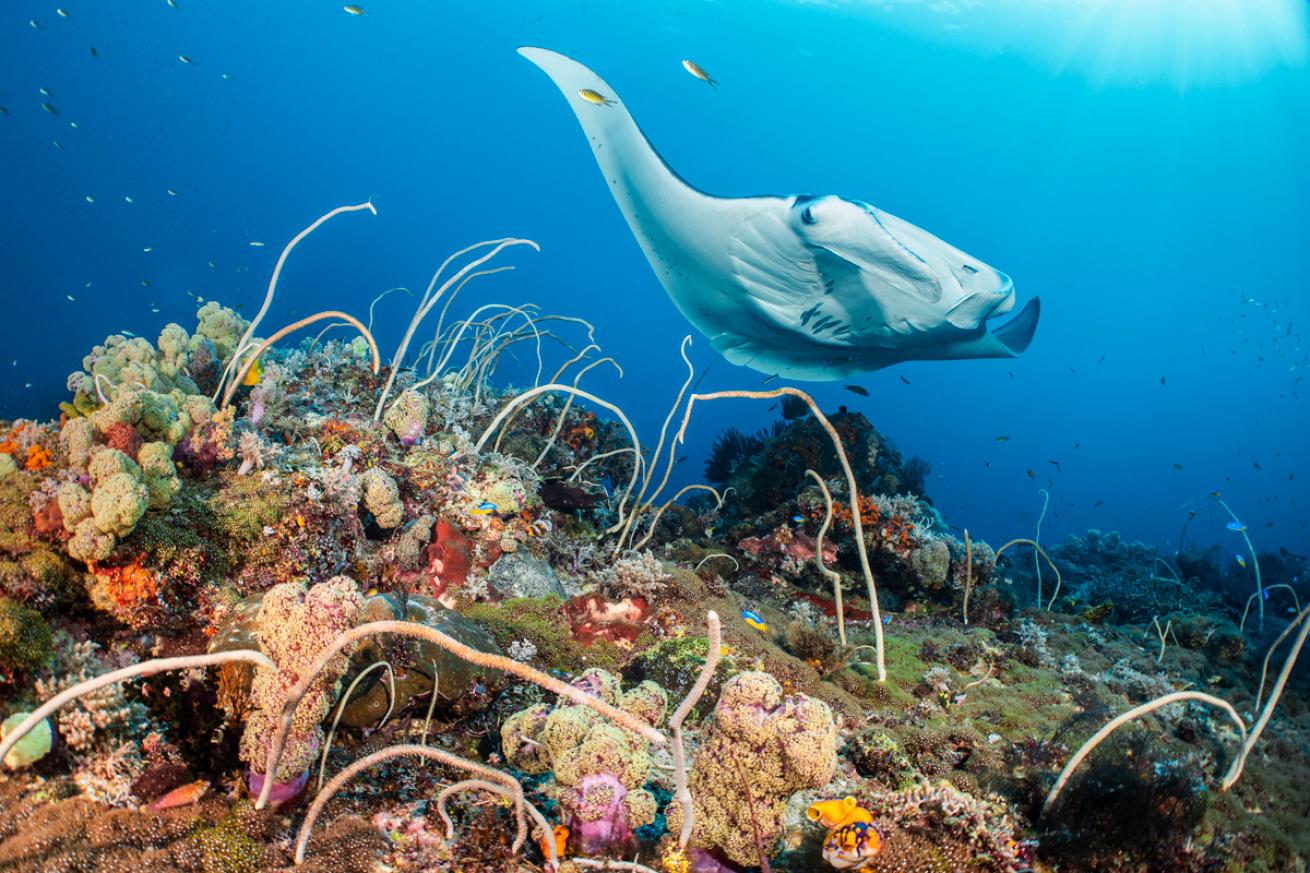 Mantas are abundant in Raja Ampat, and they shine when photographed near the lively reefs.

Alex Mustard
Heaven on Earth—or, more precisely, underwater—perfectly describes Raja Ampat. This Indonesian archipelago has been closed off to international travel for the past two years, and many of us are itching to get back. It is the richest reef system I have ever dived.

I first visited "Raja," as it is known to friends, 15 years ago, and it was easy to conclude that these were the best hard coral, best soft coral and fishiest reefs I had ever seen. What is perhaps even more remarkable is that the diving has become ever more impressive. There are a lot more fish, turtles, rays and sharks than when I first visited. What this means for the photographer is an abundance of subjects, making the challenge not finding something to shoot, but keeping your focus to bring home the best possible shots!
Tip 1: Season's Greetings
The equator bisects the northern tip of the Raja Ampat archipelago, which means it doesn't have strong seasons. That said, most photographers tend to avoid going there in the Northern Hemisphere's summer months, which typically bring rougher seas. Fall is my favorite season because it brings grand schools of baitfish that flood these already vibrant reefs. I also enjoy visiting in early spring, when the visibility is typically at its best.
The full-on marine life experience can be overwhelming for some shooters on their first visit. The richness is an assault on the senses. Focus on finding subjects and looking for shots rather than being sucked in by the spectacle, and make sure you try to capture the mesmerizing abundance of life in your pictures.
The classic advice for shooting wide-angle is to simplify. Powerful pictures tend to be simple graphic compositions, rather than the mess of shapes and colors you're presented with underwater. In practice, on a coral reef, this means focusing on a single soft coral, sea fan or anemone and combining it with a pleasing background. The trick in Raja is to search for this setup in an area rich with fishes or wait to press that shutter when fish are streaming past. The most fish action is usually where the prevailing current strikes the reef, which means working those leg muscles as well as the gray matter for your photography. In Raja, I'd always rather a shorter dive in the right part of the reef than a long bottom time away from the action.
Tip 2: Stellar Subjects
While the seascapes of Raja are mesmeric, this is also a tremendous destination for A-list underwater subjects. Two of the most celebrated are fish at opposite ends of the size spectrum: manta rays and pygmy seahorses. There are many destinations around the world where you can photograph majestic mantas, but Raja is my favorite. There are even dive sites where you can see both species: oceanic and reef mantas. But what I really like is completing my images of them with attractive scenery. Compositionally, this again means keeping a cool head and seeing the whole picture, not just "bull's-eyeing" in on mantas and clipping out the reef.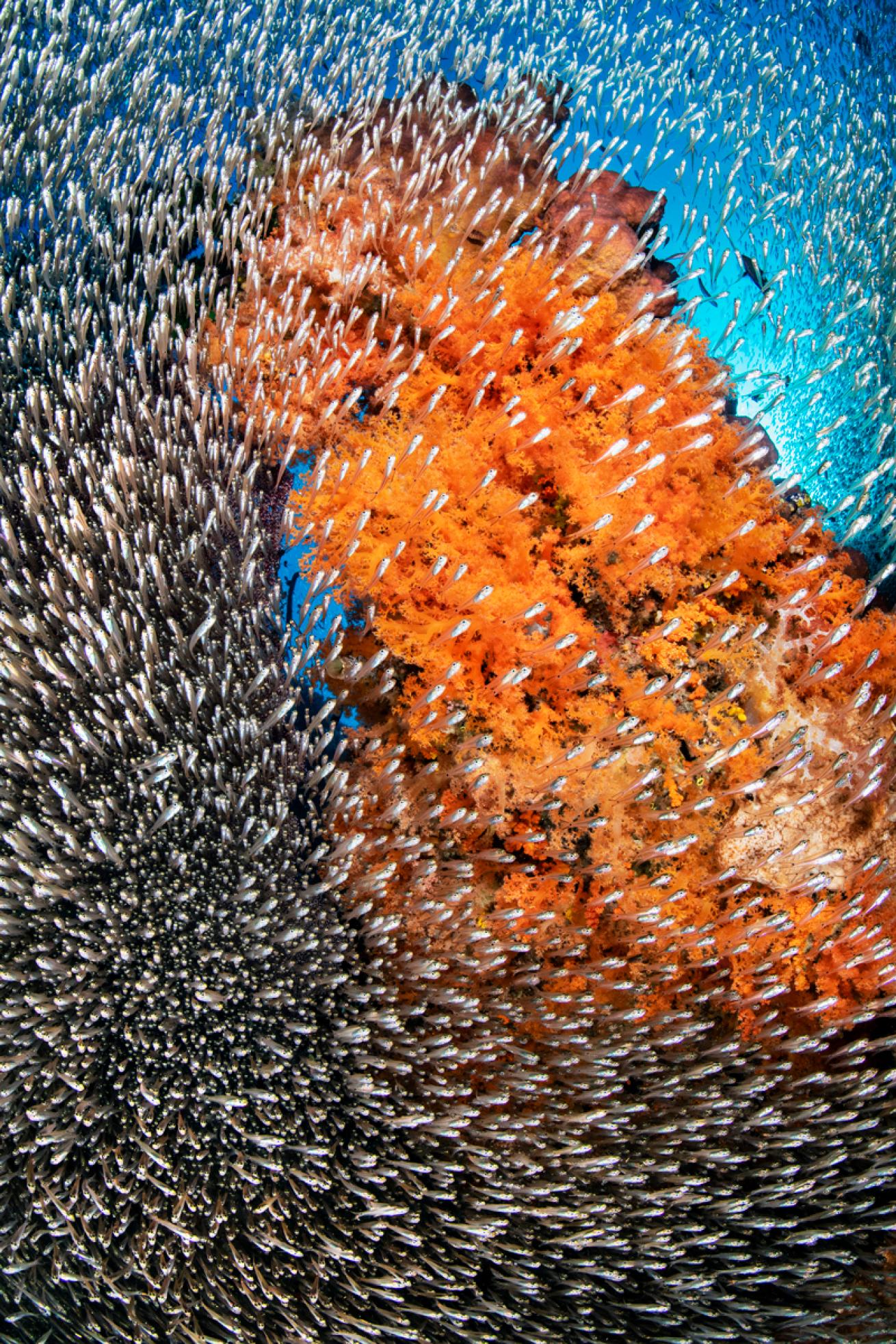 Wide-angle photos in Raja should celebrate the explosion of life on these reefs.

Alex Mustard
Lighting these shots is a challenge, and I typically position my strobes at 10 and 2 o'clock positions to produce a more even spread of light on both the reef and manta. I'll choose my spot, find my angle and wait. Now I just need the manta to come close. The trick is to stay still and stay low—nobody ever got a good manta photo by spooking one. I try to look for an attractive coral outcrop and duck in behind it with my back to any current. Mantas usually approach a cleaning station up-current; the outcrop conceals me as they approach and then provides me with a foreground.
I've not been anywhere else with as many pygmy seahorses as Raja; there are very few sites that they can't be found on. This means three species and many more varieties can be seen on a trip. Also, because most of the diving attractions are wide-angle, when you decide to go seahorse hunting you will likely be the only one in your dive group, giving you
undiluted access both to the dive guide and any photo opportunities. Time is the greatest asset when photographing seahorses. You don't get great pictures of pygmies by blatting away; they come instead when the seahorses are relaxed, used to your presence. Sea fans flourish shallow in Raja, meaning it is possible to find pygmies in shallow water, further removing time pressures. I never use a focus light, as pygmies are clearly far more bothered by this than by a camera's flash, and likely to hide away.
Raja lies at the heart of marine biodiversity. There are many charismatic species, from anemone fish to wobbegongs, and there are many unique diving experiences, from coral-rich mangroves to jetty dives. If you are lucky enough to be visiting this amazing location, embrace shooting them all.