Where to Plan Your Next Family Liveaboard Dive Trip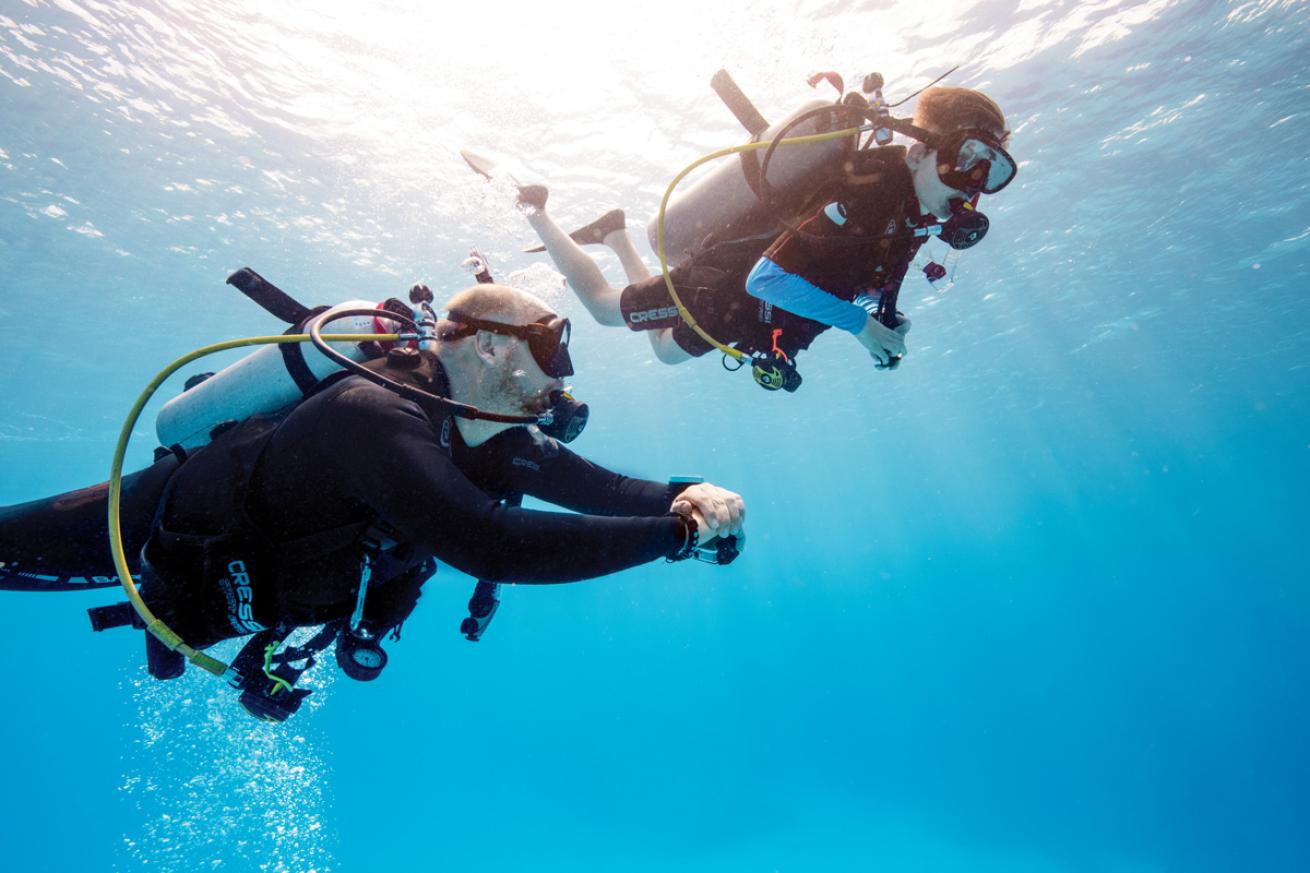 If planned well, a liveaboard trip is a great way to instill a love of diving in kids.

PADI
Let's face it. Even the dive-all-day, off the-grid but totally dialed-into-adventure weeklong liveaboard experience isn't going to be enough to hold every scuba certified kid's attention—and that's OK! These yachts mix in kid-friendly fun and topside activities to keep everyone engaged on the entire itinerary.
Blackbeard's Cruises, Bahamas
Boy Scouts are the reason that Blackbeard's yachts launched in 1979, catering to young people hungry for underwater adventure in the Bahamas. Today, the fleet's two 65-foot liveaboard sailboats offer one of the best prices for a week with up to 19 dives—ideal for anyone age 10 and older ready to pack in adventure.
The crew brings a vibe that's youthful and full of energy. Talk and jokes tend toward pirates, which not only keeps kids laughing but also helps build camaraderie between everyone on board, creating a one-big-family feeling shipwide. The always smiling staff are quick with answers to any question, from "What's that purple fish we saw underwater?" to "What's for dinner?" freeing up parents to take it easy on the sun deck or hop in for a dip.
With a packed week of diving reefs and wrecks around the Exuma islands, kids stay enthralled. In between dives, there's time for deep-sea fishing, lessons in sailing, and feeding the fish at Periwinkle Reef, a shallow site off Nassau. Then there's halyard swinging: The crew rigs up a rope swing, allowing kids to jump from the boat out into that legendary turquoise water. It'll have the kids howling with laughter and adults feeling, well, like a kid again.
BVI Aggressor, British Virgin Islands
The British Virgin Islands is playing with a stacked deck when it comes to diving with kids. This warm-water archipelago is home to a handful of purpose-sunk wrecks, intentionally downed at depths friendly to even younger divers. One highlight, the Willy T, is a veritable Pirates of the Caribbean ride: Swim around the wreck to find several scenes of life-size skeleton swashbucklers fighting, reading maps and carousing.
Related Reading: Better Together: Planning Your First Family Dive Trip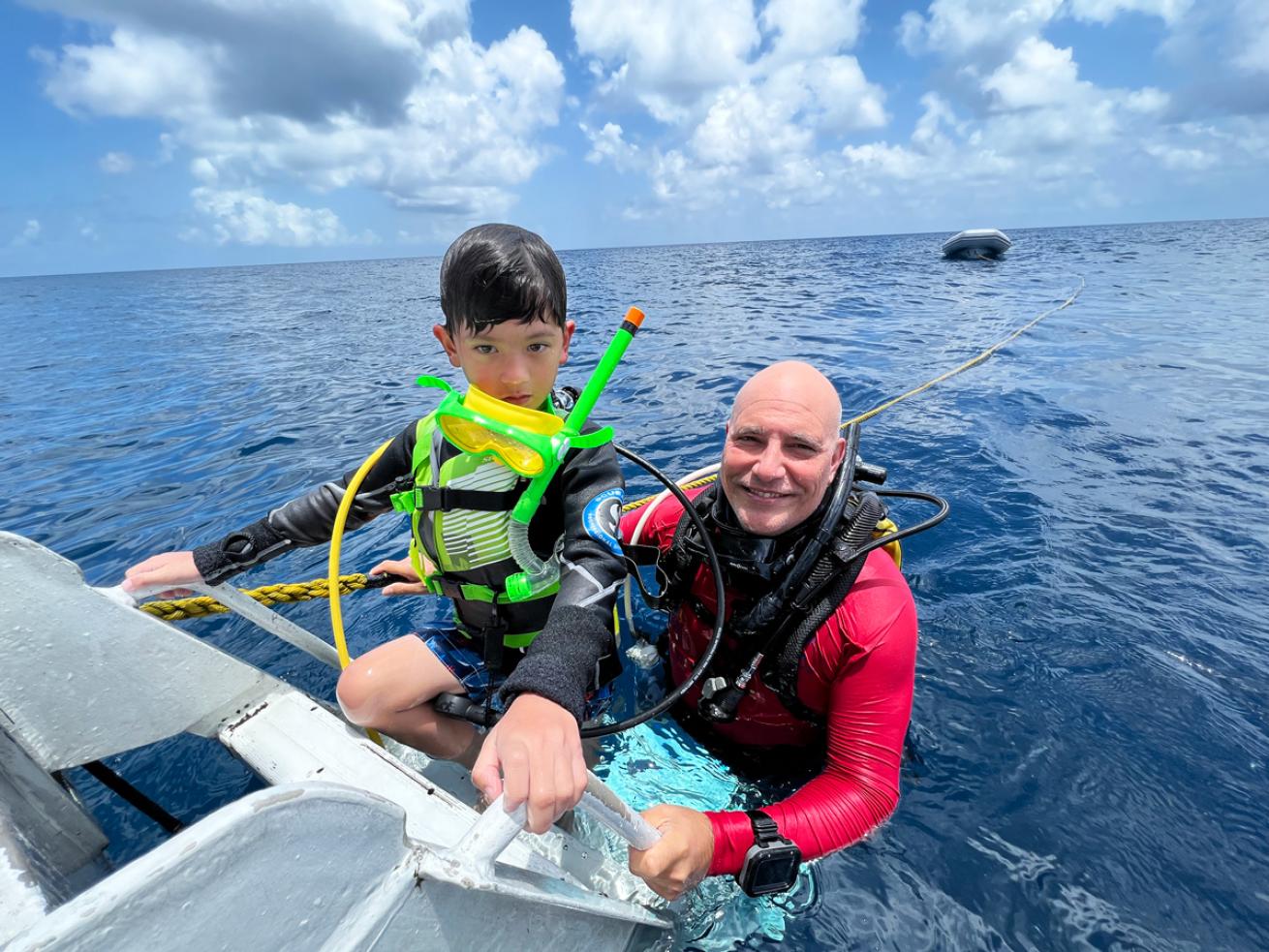 An instructor teaches a young diver aboard Belize Aggressor III.

Aggressor
"Any dive is going to be something different, depending on what you encounter, but with the Willy T, it's easier to get kids excited and sell them on the dive because seeing the pirates is a given," says Jay Roberts, operations manager with Aggressor Adventures.
Likewise, it doesn't take much to get kids suited up to dive a trio of planes reconstructed to resemble sharks and sunk off Great Dog Island. The metal hammerhead, bull and nurse shark, collectively known as Sharkplaneo, all lie at 40 feet deep.
In between exploring it all, BVI Aggressor serves as a floating resort, with two 32-foot rigid inflatable boats to whisk divers to and from the dive sites. The mothership moves between calm, protected anchorages, which double as ideal swimming spots. RIBs can also bring guests to the various tucked-away coves and beaches that once made BVI such a favored spot among pirates.
Every week includes a visit to the Baths, the iconic smooth basalt boulders on the island of Virgin Gorda that serve as a jungle gym for kids of any age. Hike and climb to the top before jumping into the calm waters below.
Related Reading: Start 'Em Young: How and When to Get Kids Diving
Cat Ppalu, Bahamas
Nonstop eco-adventures and diving aboard Cat Ppalu, a 12-passenger schooner-rigged sailing catamaran operating in the Bahamas, are enough to spark young minds, but it's the citizen science program that will really give ocean-minded middle and high school kids something to talk about.
Offered three times a year on Cat Ppalu, the citizen science weeks give guests hands-on opportunities to work in coral restoration. The focus varies depending on current environmental needs, but always centers on underwater action. Past programs have removed algae and relocated diadema sea urchins to restore the balance on reefs, allowing corals to thrive once again.
Granted, the weeks aren't all about science. Exploratory dives and beach time are part of the itinerary, making sure the trip is as fun as it is productive.
Beyond these dedicated weeks, kids ages 12 and older are welcome on any sailing aboard Cat Ppalu. Note, too, that given the boat's small size, with just six cabins, each accommodating two passengers, this vessel is a popular one for buyouts —and in the case of a buyout, there is no age minimum, although it's recommended that children be at least 5 years old. Two families or several generations of one family can have the boat and crew to themselves, allowing almost unlimited flexibility in the itinerary, whether the focus be reef restoration, shallow reefs, sandbar hopping in the afternoon or whatever else floats your family's boat.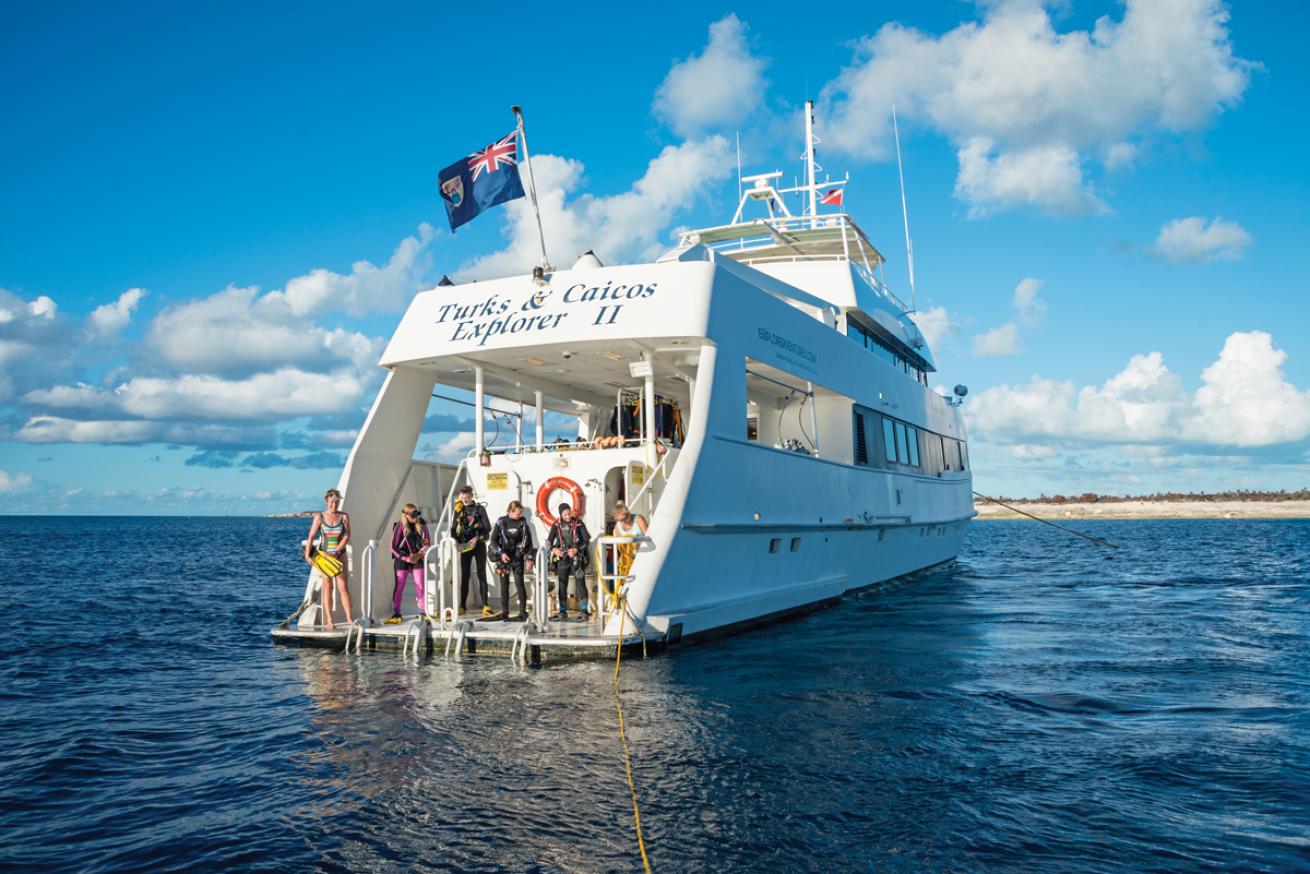 Guests of all ages join in on the fun aboard Turks and Caicos Explorer II.

COURTESY EXPLORER VENTURES LIVEABOARD DIVING FLEET
Turks And Caicos Explorer II, Turks And Caicos
Tutus, pirate talk and card games are all in the mix when Kids Sea Camp runs a takeover week aboard Turks and Caicos Explorer II, one of the few Caribbean-based liveaboards the family-centric dive-travel company endorses.
Even when Kids Sea Camp isn't on board, this 115-foot, 20-passenger yacht scores big among divers 10 and older. Weekly itineraries cruise to the walls, amphitheaters and shark dives of this island country neighboring the Bahamas to the southeast.
A big treat for any diver, Caribbean reef sharks abound at just about every site. These islands support a wealth of big stuff, including eagle rays, jacks, grouper and sea turtles. When conditions are right, it's possible to sight a hammerhead.
Note that because most sites lie beyond the 40- foot depth limit, it's recommended that divers be at least 12 years of age to take full advantage of an itinerary that packs some days with five dives.
Beyond diving, Clay McCardell, president of Explorer Ventures, says Turks and Caicos Explorer II makes time for shore exploration with the occasional beach visit as well.
Related Reading: Dive Hotspots You Should Have on Your Radar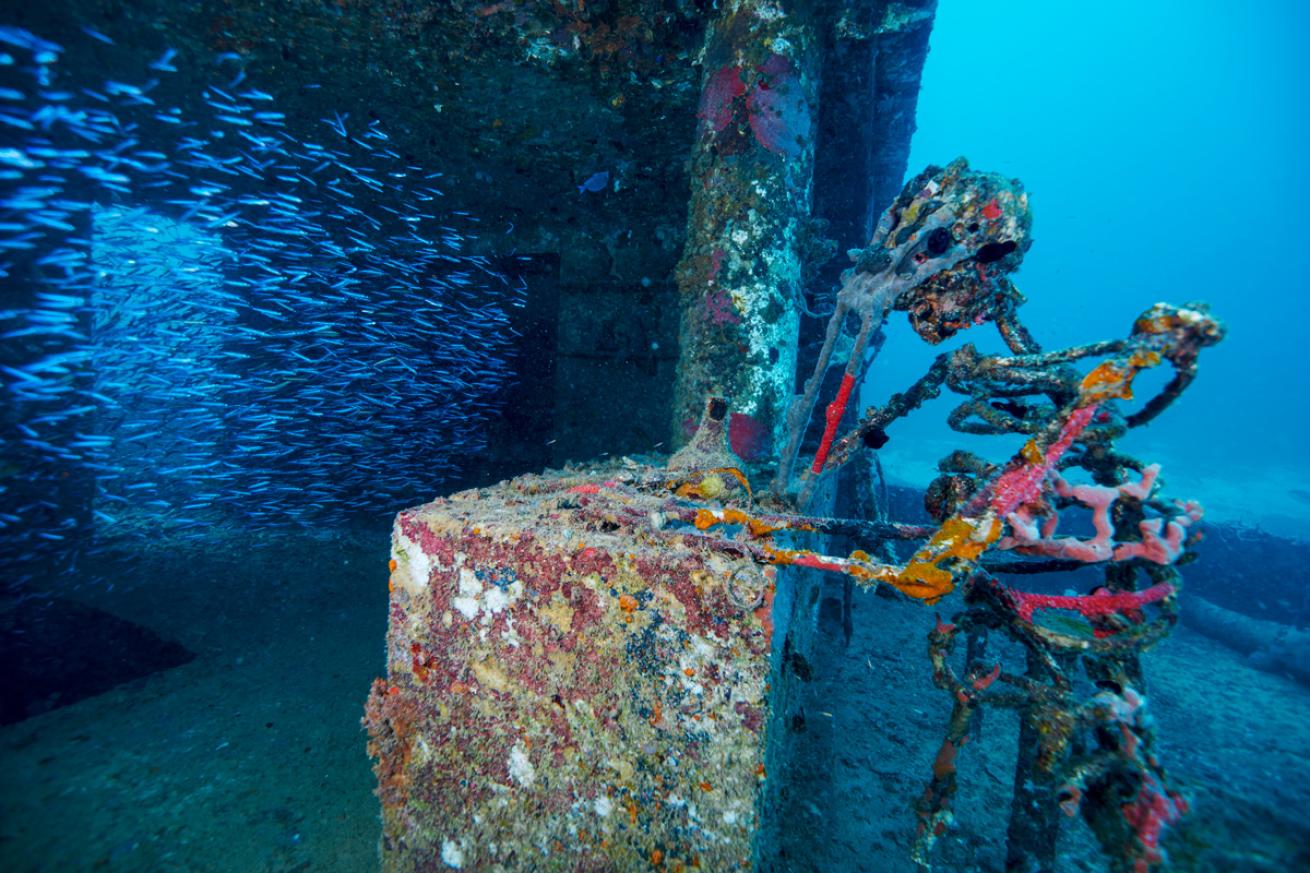 The British Virgin Islands' Willy T wreck adds a dash of pirate-themed whimsy sure to be popular with kids.

Aggressor
Belize Aggressor III, Belize Aggressor IV, Belize
"Belize is unique because you have many activities," says Aggressor's Jay Roberts. "It is not an island." He's talking about the huge menu of adventures that the country's interior jungle offers, including river tubing, spelunking, exploring Mayan ruins and visiting places like Jaguar Paw, a nature preserve with opportunities to see jaguars—all of which can be arranged by Aggressor.
"We do recommend you book any add-ons after your [liveaboard] trip just in case you're on a tour and slip and fall," he says. "You don't want to be out of commission for your charter."
As for the charter itself, Belize offers a lot—with much of it accessible at shallow depths.
"Belize is the most diverse ecosystem out of all the Caribbean," says Roberts of the walls, sandy patches rife with macro life, shallow reefs, mangroves and more that are seen every week.
Marine life varies from big—manatees, nurse sharks, groupers and green sea turtles—to a world of smaller finds, including seahorses and the whitespotted toadfish, found only in Belize.
All the marine life Belize offers can be seen while staying above 40 feet deep. Take the dive sites off Lighthouse Reef. "They start in just 20 feet of water, drop dramatically to 200 feet then step off to 2,000 feet," says Roberts.
And you don't have to go far at all to see the wow factor of Belize.
"You can snorkel and dive right under the boat because it's so shallow," he says.
---