Diving the Solomon Islands: Where the Past is Always Present
In the Solomon Islands' Munda region, the reach of history is felt everywhere, from untouched wrecks below to proud villages above, and wonders natural and man-made compete with islanders' warm smiles to win divers' hearts.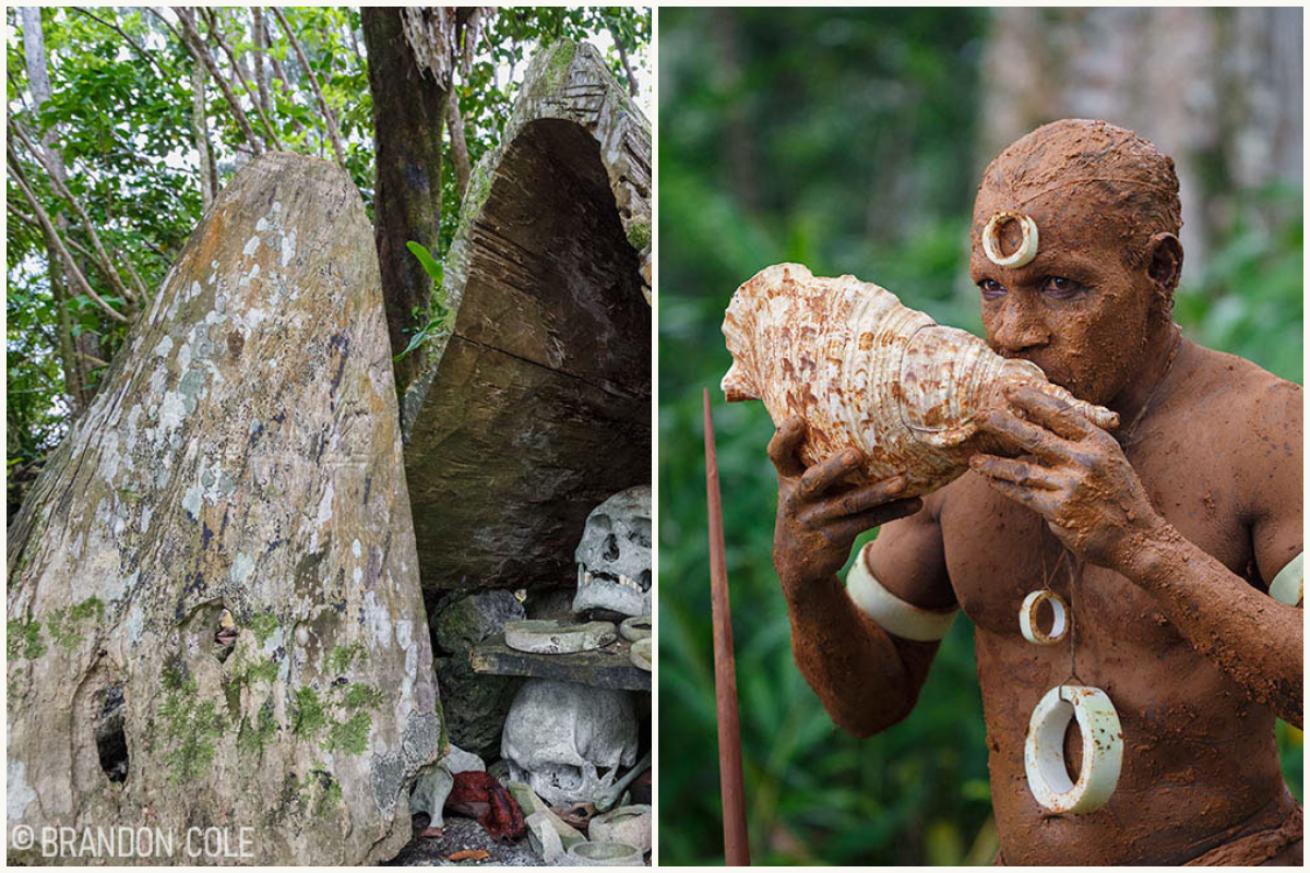 From left to right: Human skulls, venerated by their descendants, are preserved in a sacred shrine on Skull Island; an Ughele Village islander blows a triton shell in reenactment to demonstrate the historic role of village watchmen.

Brandon Cole
There was a time when history had nothing to do with my scuba diving, when the past and geopolitics did not intrude on my marine biologist musings. Exploring the shipwrecks of Truk Lagoon changed something inside me—dive after dive, I was staring at the reality of World War II, and a piece of the big, messy picture that was humanity more than 75 years ago. And just like that I was hooked. When a die-hard wreck diver friend said I needed to visit the Solomon Islands, the hands of fate immediately busied themselves organizing my next dive expedition.
Which is how I find myself 50 feet below, hovering reverently beside the Douglas SBD-4 Dauntless dive bomber aircraft flown by Jim Dougherty of the U.S. Marine Corps, shot down by the Japanese over Rendova Harbor on July 23, 1943. I'm grappling with what he must have felt a split second before his plane crashed into the sea and darkness closed in. Even more unfathomable is what Dougherty must have experienced revisiting this site 52 years later, donning scuba gear to look into the cockpit that was nearly his coffin. The memories that must have come flooding back.
Dougherty's remarkable story, told by filmmaker Kevin Juergensen in Lost Warriors of the South Pacific, would have been enough to lure me to Munda, on New Georgia Island in the Solomons' Western Province. Add eight more—at least—WWII planes, stunning coral gardens, plunging walls and the fascinating and friendly culture of the Solomon Islanders, and it became imperative to submerge with Dive Munda without delay.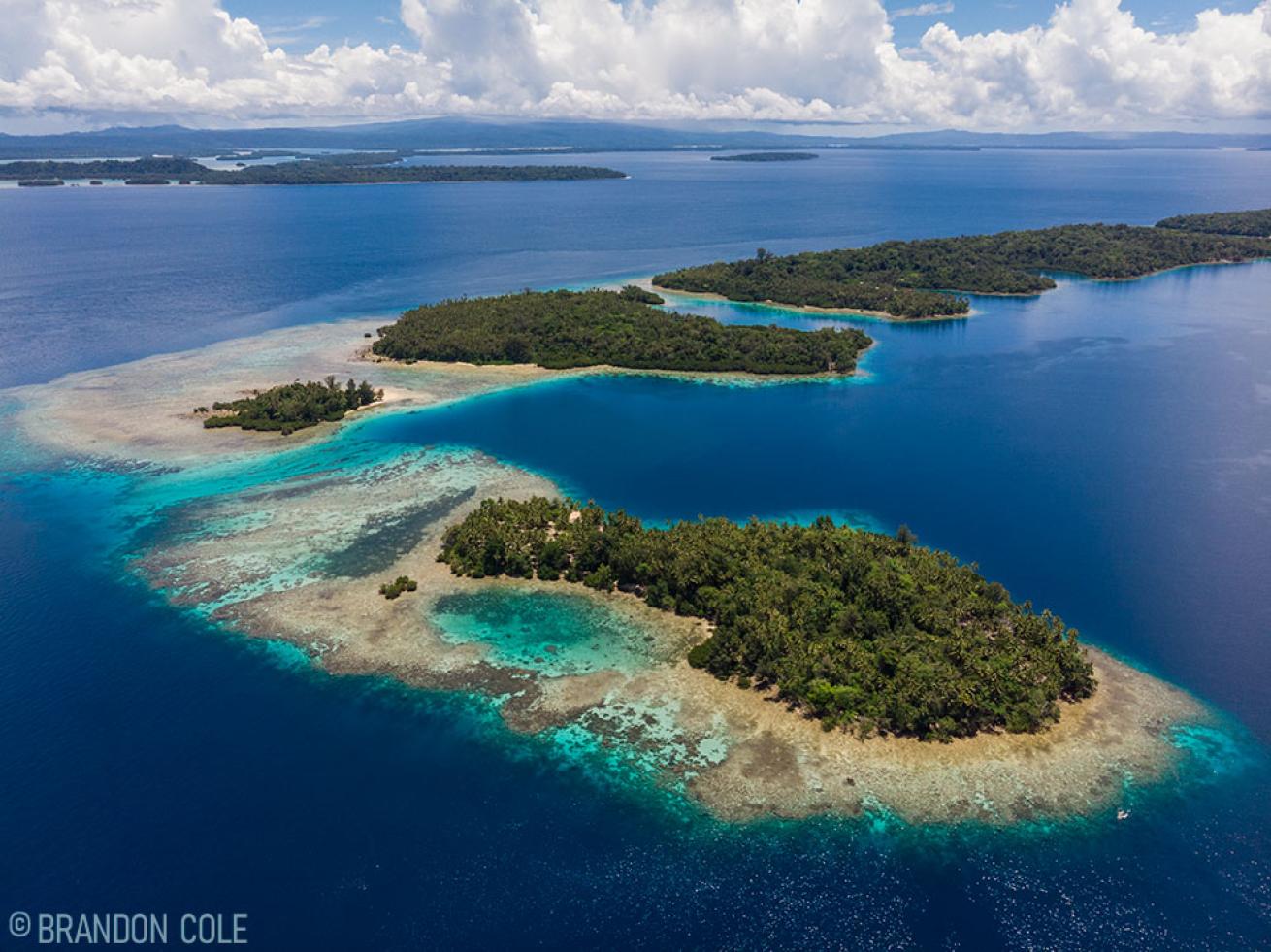 John F. Kennedy was stationed on Lubaria Island during WWII—today Solomon Islanders have established a memorial of sorts there.

Brandon Cole
HAPI ISLANDS, HAPPY DIVERS
I ask three different locals about the origin of their nation's "Hapi Isles" moniker and receive three big smiles. Enough said. Apropos, then, that for our first submersion, Dive Munda divemaster Chevone Whitaker takes us to Hipae Reef. (Spelling is overrated underwater. It's the scenery and experience that counts.) Like sunbeams lancing down onto a reef sprouting purple lace corals, clouds of purple anthias flit by. We lose count of how many different angelfish and snappers we pass because our eyes are drawn ever downward. In that alluring void beyond the sponges, whips and fans at 90 feet, we're told gray reef sharks lurk. Instead of sharks, we stumble on dolphins—15 or 20 spinners— just as we're revving the engines and motoring to the next site. Hipae divers are we.
Shark Point is a 20-minute boat ride from headquarters, on the outside of an arc of verdant islets stretching west to east in front of Dive Munda's doorstep. This is another signature site, sometimes home to—you guessed it—up to a half-dozen possible shark species, plus some of the best schooling-fish action in the area. The point itself is underwater, the corner of a reef that juts out a mile into the Solomon Sea, prone to current and almost always a crowd favorite. Drifting along the sheer drop—it bottoms out at 2,000 feet—we're sucked into a spinning vortex of barracuda, then spadefish, then midnight snappers.
Lionfish, grouper and bannerfish nestle in close to sea fans, and a fire dartfish pair dances above a ledge. We switch back and forth between wide-angle and macro cameras until we're dizzy. When it's time to ascend, we glide past whitetip reef sharks reclining in the sand and a titan triggerfish with teeth bared, doing his ferocious best to defend his nest from hungry little tropicals fluttering about. Our last 10 minutes are spent on the reef flat at 10 feet, watching a wave of surgeonfish spawning with frenetic vigor while mackerel with mouths agape charge through the smoky clouds of eggs and sperm. It's a spectacle worthy of Sir David Attenborough's narration.
EPICENTER FOR EXPLORATION
Belinda Botha, Dive Munda's owner and operator since 2014, has organized an ambitious week for us to ensure we experience the diversity of the Munda area, with some bonus topside adventures thrown in. From the Dive Munda base at Agnes Gateway Hotel, our oceanside accommodations on the southern flank of New Georgia Island, we overlook an infinity of possibility— islands and atolls, caves, wrecks and reefs, history, culture and biology. The surfeit of opportunities and the untrammeled state of the reefs are two reasons Botha, originally from South Africa, settled here.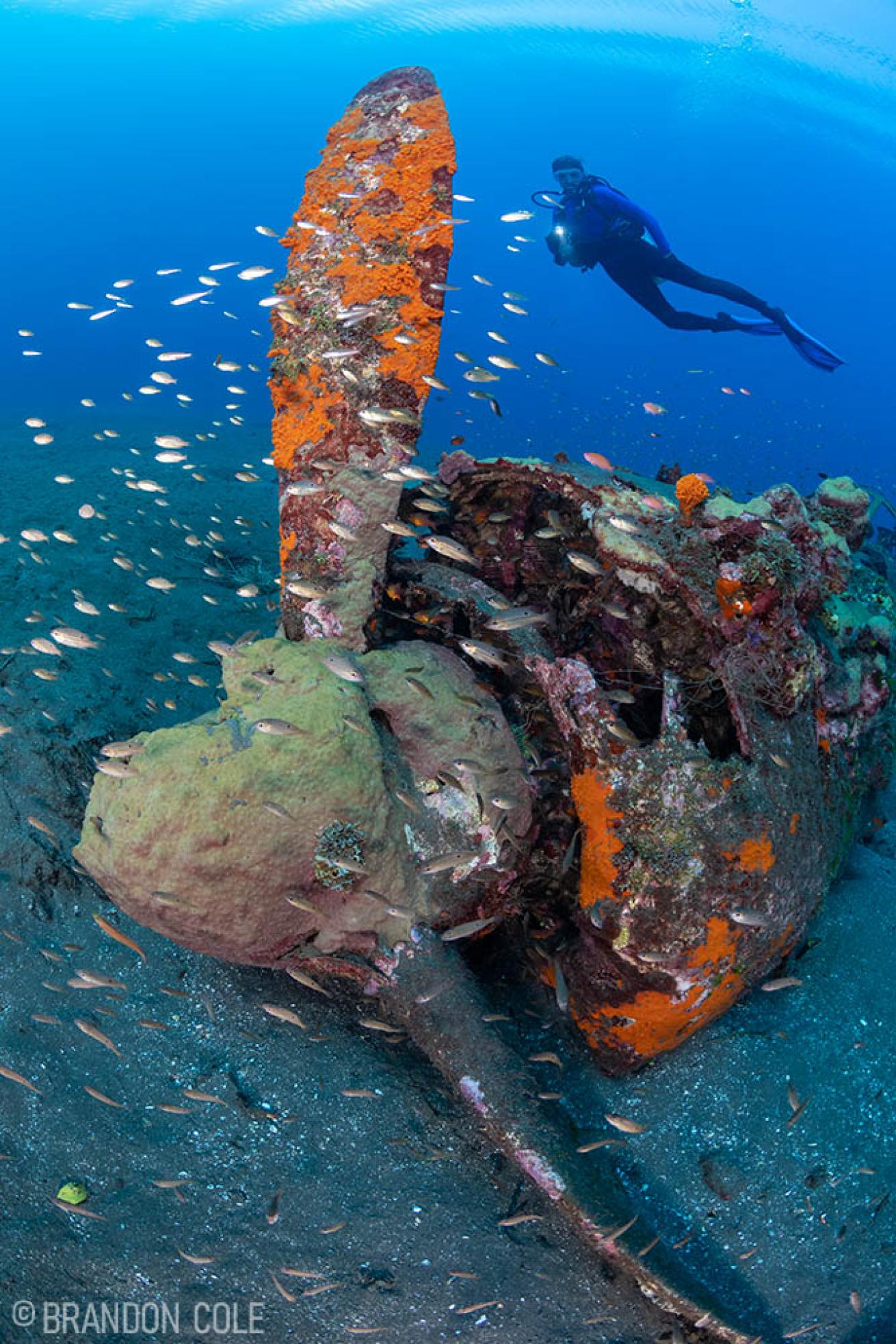 A diver cruises over an unidentified Japanese Zero plane.

Brandon Cole
The community is another. With a passionate belief in actively engaging her Roviana neighbors, Botha works tirelessly with the government, promoting local businesses, taking care of the island's stray animals and protecting the environment. Most of her staff is local. Botha created a program to employ and train local youth through divemaster and instructor levels, with a focus on women, something almost unheard of in the Solomons. Her crew has more than 100 combined years of diving experience already. She also works with village chieftains and elders to ensure local traditions and culture are respected through sustainable tourism.
CASUALTIES OF WAR
On the ride up to Kolombangara Island, we learn that Botha partners with military organizations to research and pay tribute to the region's World War II legacy, marking sites where lives were lost and recording stories. Tying up alongside a rickety dock in the shadow of a 5,600-foot extinct volcano, we're greeted by the landowner whose property rights extend to the sea on which we're floating. Skipper Joe Grenier chats with him a moment in the local Pijin dialect—one of over 800 languages spoken in this country—then hands over a few colorful bills, and they shake. It's customary to request permission, and pay a small "kastom" fee, to access dive sites or tour villages, ensuring Solomon Islanders some benefit from our touristic activities. Formalities observed, we back-roll toward a single-prop Mitsubishi A6M2 Model 21 Zero fighter plane resting upright in fine black sand 60 feet deep. Our guide points out the commemorative plaque. I move close to the sponge-encrusted cockpit and fuselage and time-travel into history, imagining myself a fearless kamikaze pilot. Banzai! I go dream-diving again in the heavily listing hulk of the Kashi Maru, a Japanese freighter that sank in Mbaeroko Bay on July 2, 1943, while offloading fuel and vehicles. The 172-foot ship perches on a sand slope in shallows a stone's throw from palms, its mast breaking the surface. The wreck is a cradle of life, with bright-yellow whorls of cabbage coral on its stern deck, sardines schooling around the perimeter, and sweepers inside.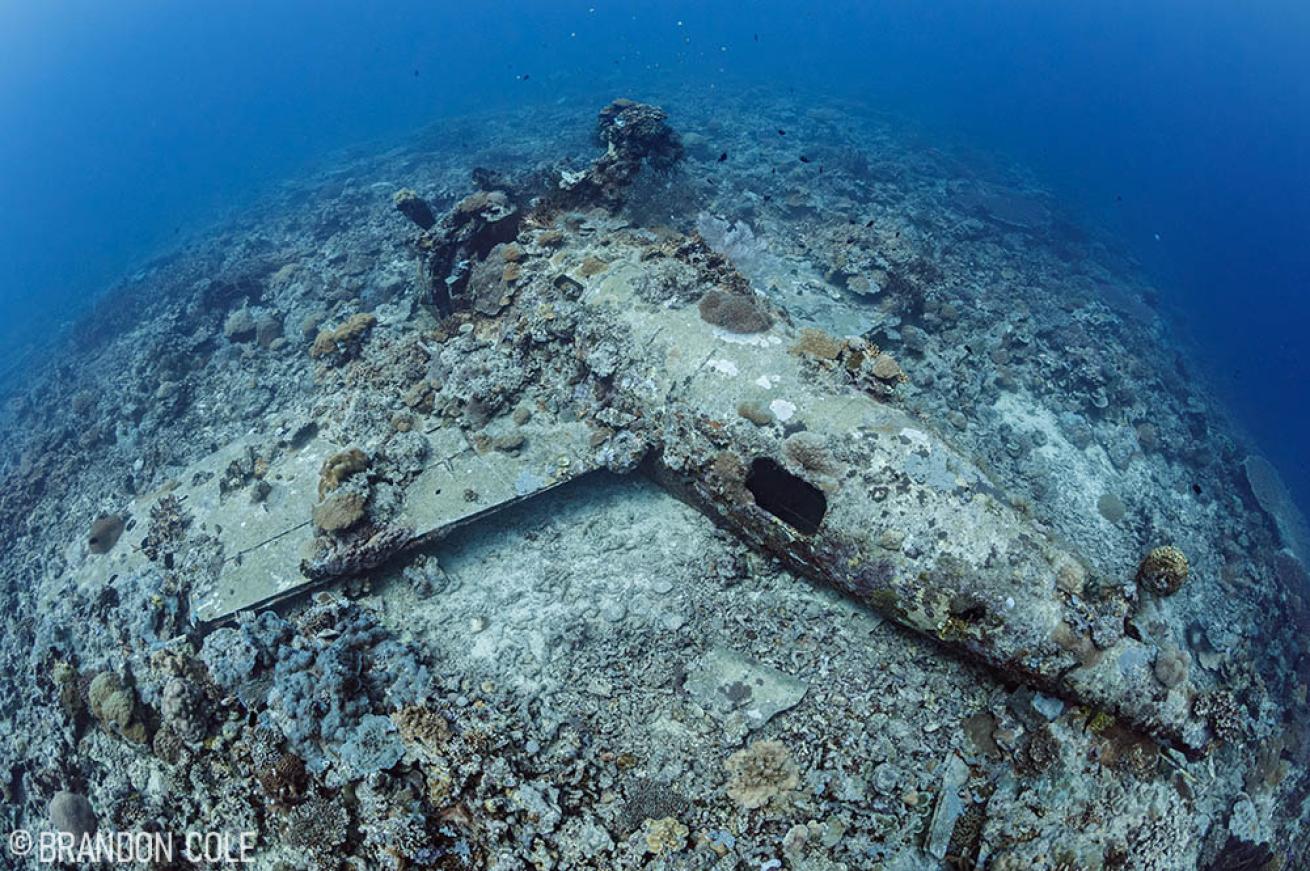 An F4F Wildcat fighter plane at Alice in Wonderland, gunned down by Japanese antiaircraft fire on Aug. 4, 1943.

Brandon Cole
For the next several days, we bounce between wrecks and reefs. Euna Zio leads us on a brilliant 80-minute circuit of Mbigo Mbigo (the "M"s are silent; the translation is "Rainbow Rainbow"), with its lovely terraced gardens of multihued hard corals in a winding maze formed by splits in the reef top. Between spiky green-and-purple staghorn thickets and corals resembling car-size mounds of melting ice cream, we zoom in for portraits of curious cuttles, a giant banana nudi and a juvenile rockmover wrasse. I'm thrilled to find a whitebonnet anemonefish, an endemic species of "Nemo" found only in the Solomons and neighboring Papua New Guinea. Zio's contagious enthusiasm propels us through a night dive at Susu Hite, where we capture the psychedelic biofluorescence of corals, fish and crustaceans.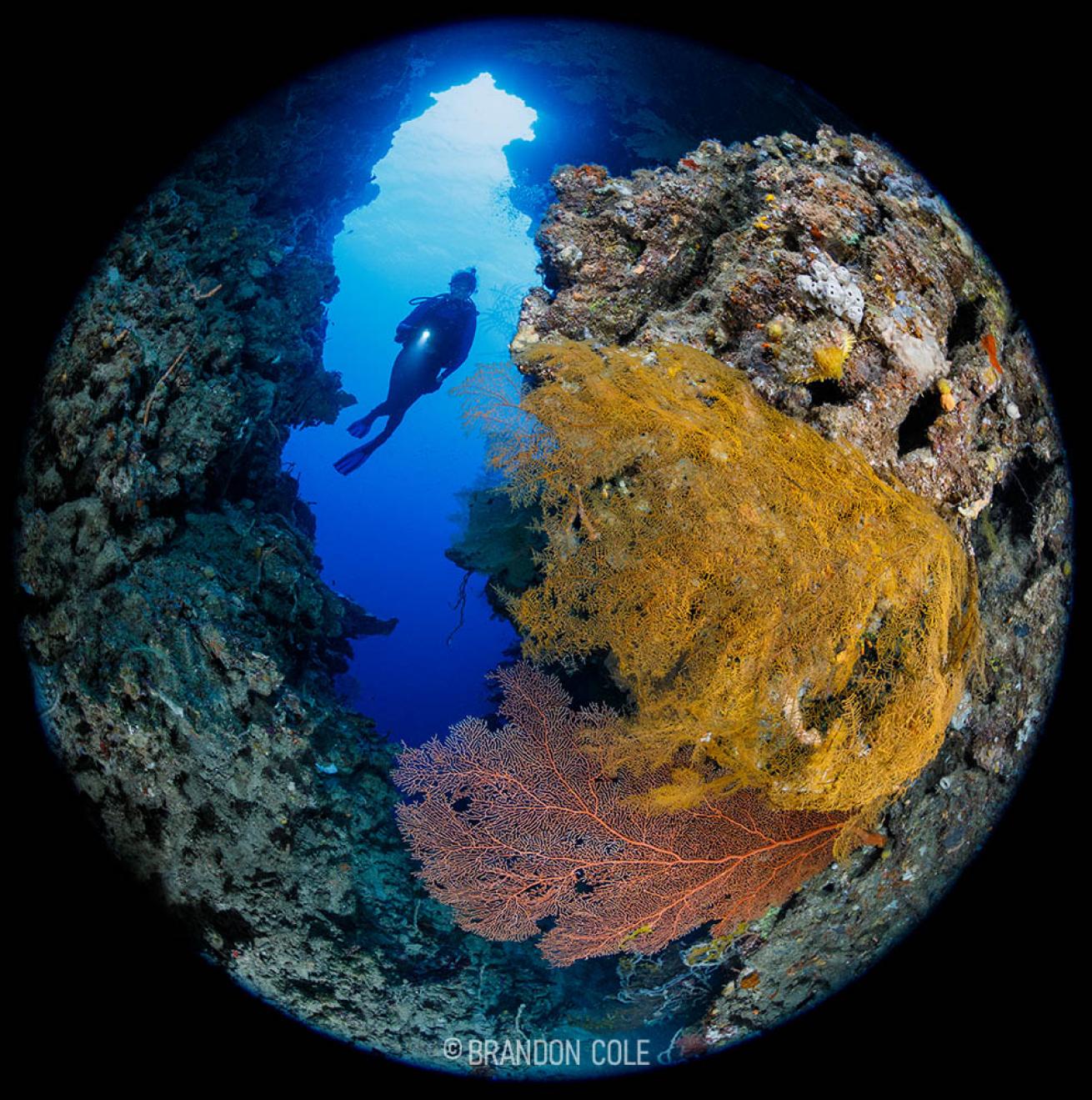 A diver swims into a tunnel at the Cave of Kastom Shark.

Brandon Cole
Whitaker shows us the Airacobra, an American P-39 fighter plane discovered by Dive Munda staff in 2011 in 90 feet of water not far from the Dauntless. Botha takes a breather from the classroom, where she's training the latest batch of homegrown dive professionals and reef protectors, to guide us through the Cave of the Kastom Shark. This advanced dive through Ndokendoke Island, about a 50-minute boat ride east of Munda down the Blanche Channel, starts with a short walk from our boat into the jungle to a water-filled hole in the rock. This is the ominous entry point to a unique submerged "cave." (Picture the flooded digestive tract of a writhing sea serpent.) Next is an angled descent down to 100 feet in a tight, pitch-black tunnel requiring, all told, a careful 10-minute single-file, no-turning-around traverse by tec-diver frog kick. (The walls and floor of the passage silt up easily.) Finally, we emerge in the glorious blue at 75 feet, where there's an easy wall to the left and to the right; many Dive Munda guests rate this their perfect dive.
Even our surface intervals are epic. We stretch our legs on Lubaria Island, where John F. Kennedy and his PT-109 crew were stationed. The island's caretaker recounts the tale of JFK's heroism after his ship was cut in two and sunk by a Japanese destroyer.
The trials JFK and his men faced—swimming to shore, being marooned on a deserted island, their eventual rescue thanks to passing Solomon scouts and a mayday message carved into a coconut—is the stuff of legend.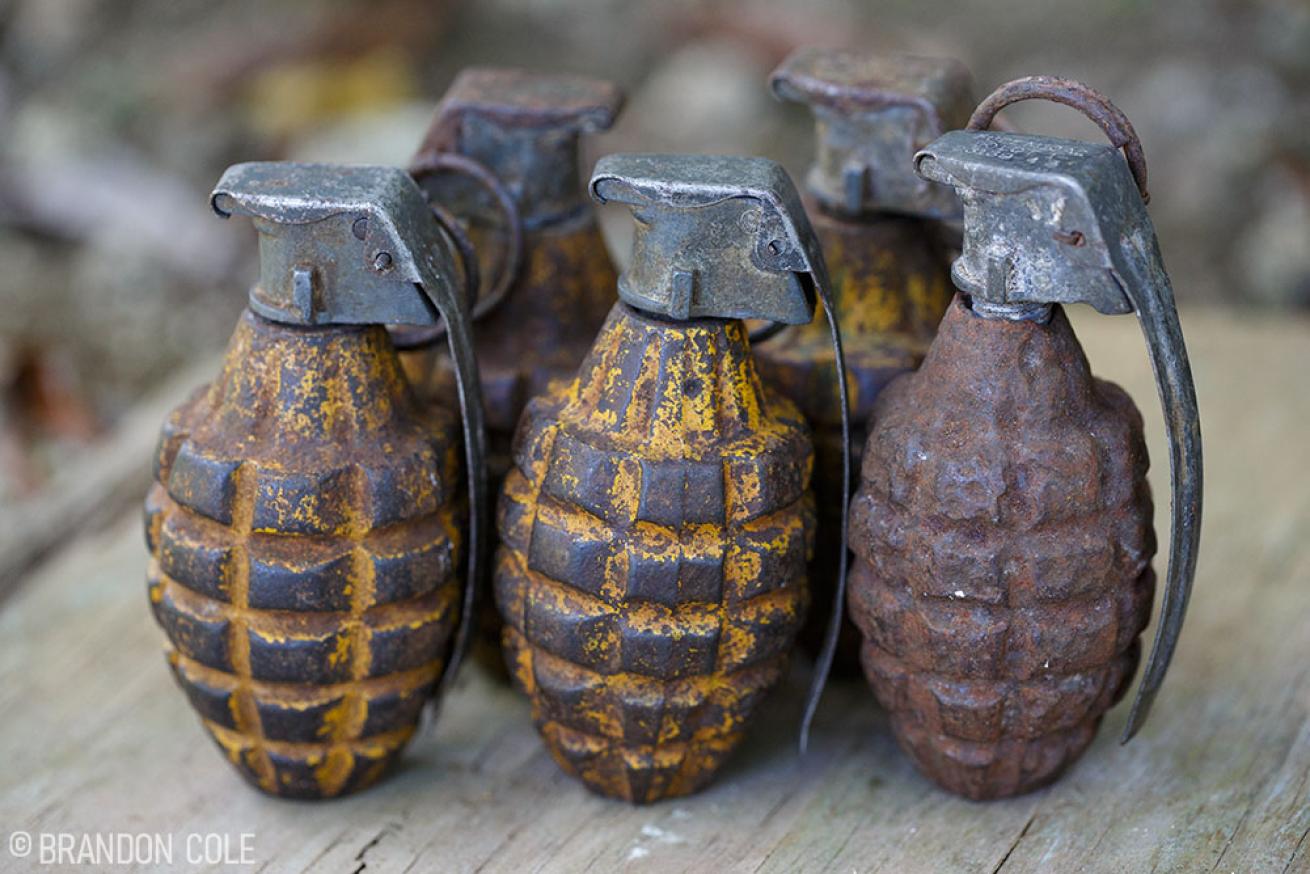 Hand grenades on display at Barney's World War Two relic Museum near Munda.

Brandon Cole
I fly my drone above Lubaria to get a bird's-eye view of the waters the 35th POTUS once patrolled. For lessons in a different history we visit Skull Island, a sacred site where the skulls of revered warrior chieftains—and some of their trophies from a time when headhunting was practiced—are enshrined in the trees. One blisteringly hot day between morning and afternoon dives we meet Barney Paulsen, founder of Barney's World War Two Relic Museum and discoverer of an astonishing collection of wartime artifacts. Paulsen's trove, unearthed over 20 years of poking about in New Georgia's jungle, is on display to the public a short drive outside Munda town. Everything from guns and ammunition, knives and grenades to ID tags, combs, razors, canteens, bottles and cutlery of both American and Japanese soldiers is meticulously cataloged. I could spend a lifetime here.
PEOPLE'S CHOICE
As inevitably happens when folks gather for happy hour, talk turns to favorite dive sites. An Australian father and daughter rave about Aussie Point, where they saw two hammerhead sharks. A Dutch videographer votes for the Kashi Maru. Dave the Kiwi, who has been here before, says it's still Langarana. That's the second time I've heard that name. The friend with whom we stayed in Brisbane, Australia, before flying to Munda on Solomon Airlines' new direct service, recommended the same.
Langarana and Mbela Mbela are often done as a two-tank excursion, so I'm justified in naming the pair as my top Munda reef dive. Both are walls, both spectacular, especially in the sea fan department. Huge, healthy specimens exploding with color cling to the vertical, and make for powerful wide-angle imagery. The 80- to 100-foot depth range is particularly impressive. Also noteworthy are the creepy white and green-gray rope sponges hanging like strands of spiderwebs. These sites warrant time in the shallows too, where a laser light show may await you, courtesy of the sun shining through tree branches above.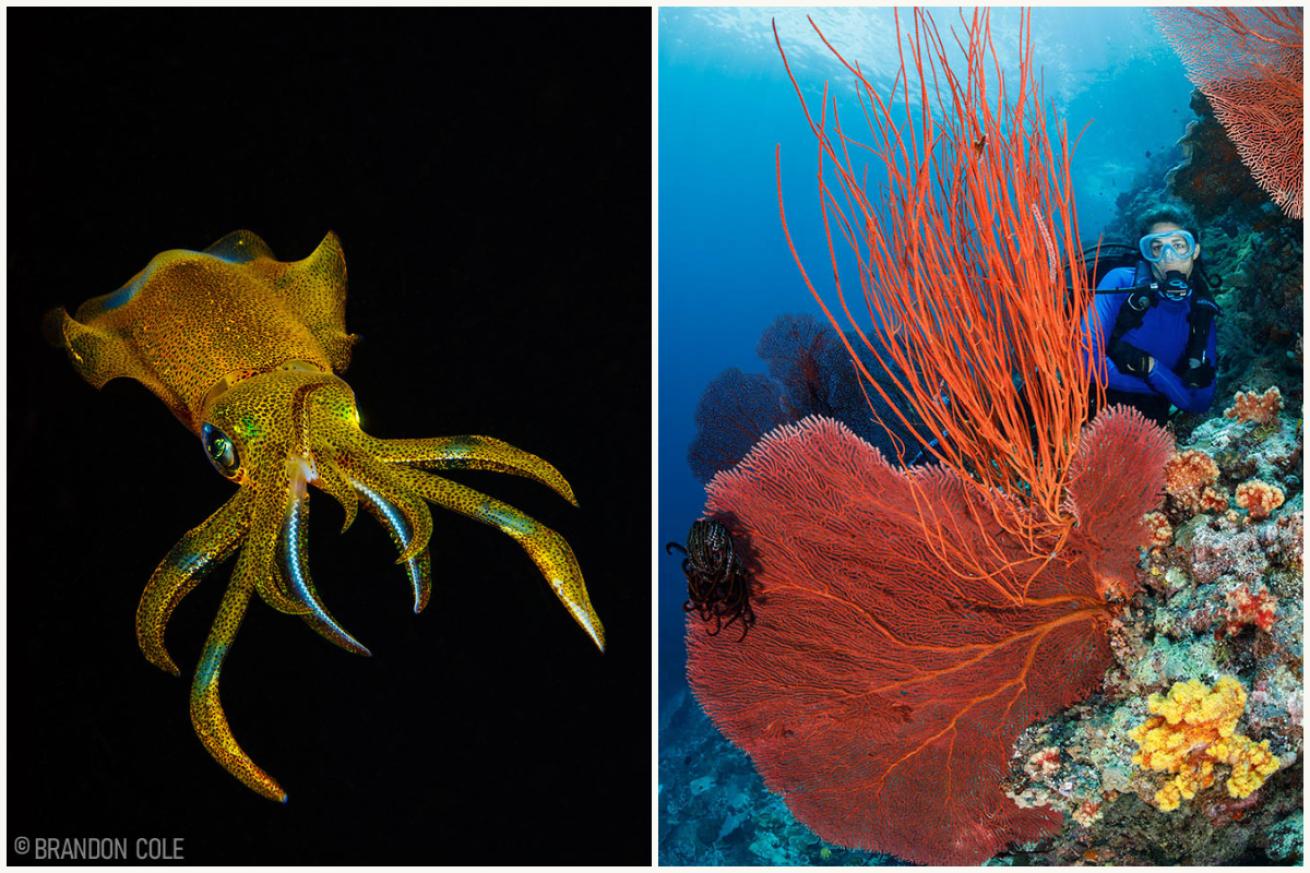 From left to right: A bigfin reef squid [Sepioteuthis lessoniana] at night, with tentacles upraised; brightly colored sea whip corals and sea fans grown on a steep reef slope.

Brandon Cole
My wife, Melissa, cheats when proclaiming her fave site: Ughele Village, a cultural experience on Rendova Island that may well resonate most profoundly in years to come. Through demonstrations, song and speech, shyly smiling children and handsome elders shared how, as Solomon Islanders of the 21st century, they keep alive their Melanesian culture, the inherited traditions, customs and skills that define and guide their people.
Ughele Village is often offered in tandem with an overnight dive excursion to Tetepare Island or Titiru Eco Lodge. Along the way to the former we dive Blue Wall and Tetepare Wall to see lush tangles of gorgonians, fans with crinoids velcroed to them, sea turtles, morays, orange lace corals, and harems of anthias. Tetepare is a celebrated conservation success story, with its dense forests, thriving reefs and busy turtle nesting beaches, all staunchly protected. Rustic accommodations cater to the adventurous.
At Titiru we are greeted enthusiastically by the cheery staff, given flower garlands and shown about organic gardens and comfortable bungalows before the 20-minute walk to Ughele.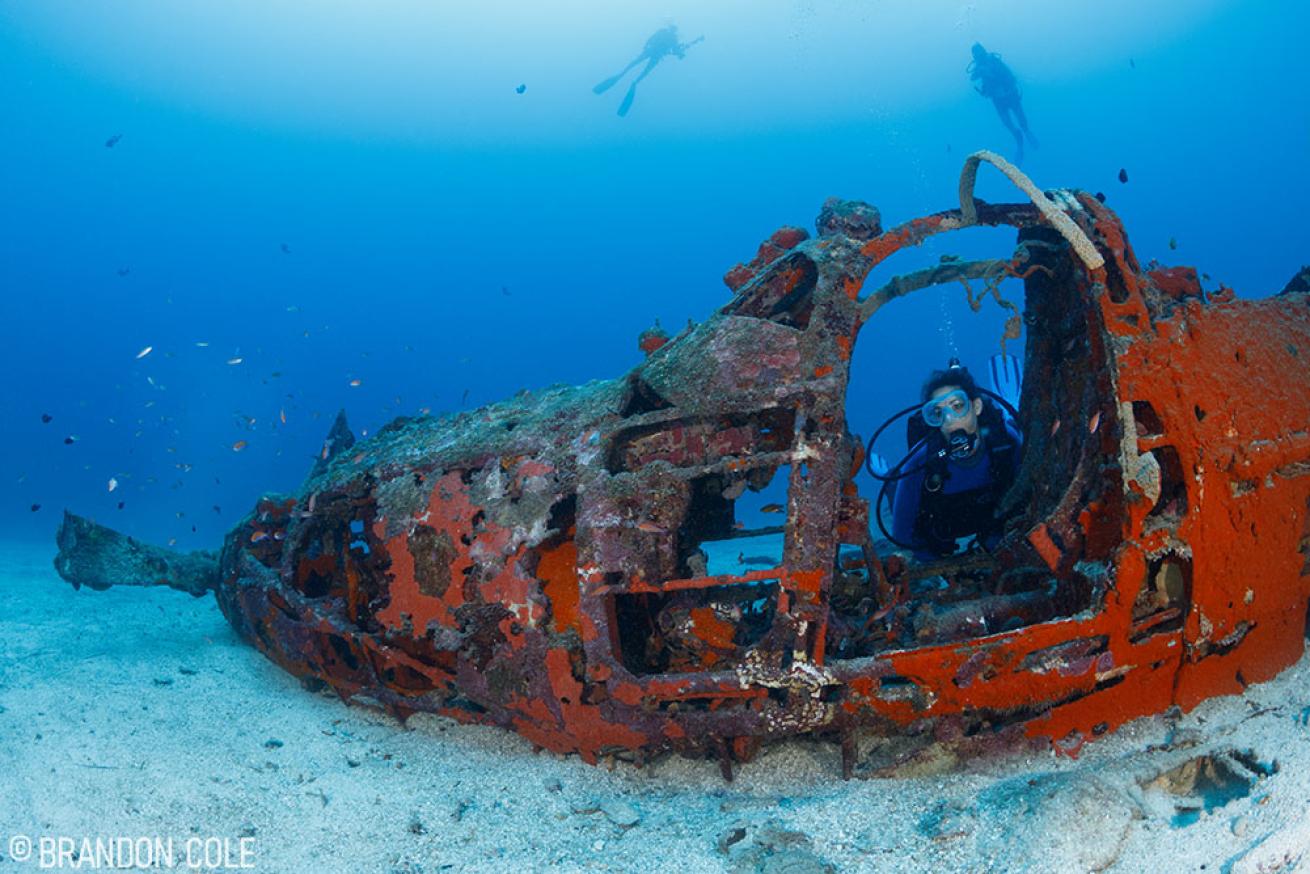 A diver peeks into the sponge-covered cockpit of Airacobra—nothing is known about its sinking.

Brandon Cole
While the marine biologist in me chose reefs, the dives most meaningful to my wannabe historian are the Dauntless dive bomber and the Koviki Corsair, for its mystery.
In contrast to the Dauntless, we know virtually nothing about the American F4U-1 Corsair airplane 170 feet down near Parara Island. According to Brian Daga, Dive Munda's senior dive guide, Melissa and I are two of only 50-some people to see this. The feared warbird, nicknamed "Whistling Death" by the Japanese, is now in stately repose, majestic on a canvas of bright sand and painted with wispy bushes of silvery black coral and a patina of feather stars, sponges and soft corals. A barrel sponge grows fat and happy on the tail. No longer a harbinger of the end, today the plane serves a different mission, backbone of a reef promising a new beginning for the marine life of tomorrow.
During the precious few minutes we're given to circle the Corsair, my thoughts fly back to the past for what must be the millionth time while diving Munda. What daring deeds did this pilot accomplish in the line of duty? What happened on his last day aloft? Did he ditch successfully while still airborne, and escape after hitting the water? Was he captured by the enemy? Or did he pay the ultimate price, giving his life for others? Who was this hero, and what was his story?
---
WHEN TO GO
Diving is year-round in the Munda area of New Georgia Island, in the Western Province of the Solomon Islands. April to November is the most popular time to dive.
Daytime topside temperatures average 84 degrees Fahrenheit. Rain showers are possible anytime, with more rainfall from December to March.
TRAVELERS TIPS
Do not leave the Solomons without embracing its people and their culture. Village visits and cultural activities are among the best we've experienced anywhere.
Opportunities to immerse yourself in World War II history, above and below, are world-class.
Flying from North America, consider connecting through Brisbane, Australia (BNE) to take advantage of Solomon Airlines' weekly direct flight to Munda on a 737, which makes dealing with carry-on luggage much easier.
The other option is to fly through Nadi, Fiji, to Honiara (HIR), capital city of the Solomon Islands, on Guadalcanal Island, before connecting to Munda via frequently scheduled flights on smaller aircraft. If you can manage extra time to add more diving, choose Raiders Hotel & Dive on Tulagi Island or a liveaboard cruise on the Solomons PNG Master.
Save a little space in your suitcase to bring much-needed and greatly appreciated supplies for Munda schools and medical clinics. Dive Munda actively participates in the Pack for a Purpose program.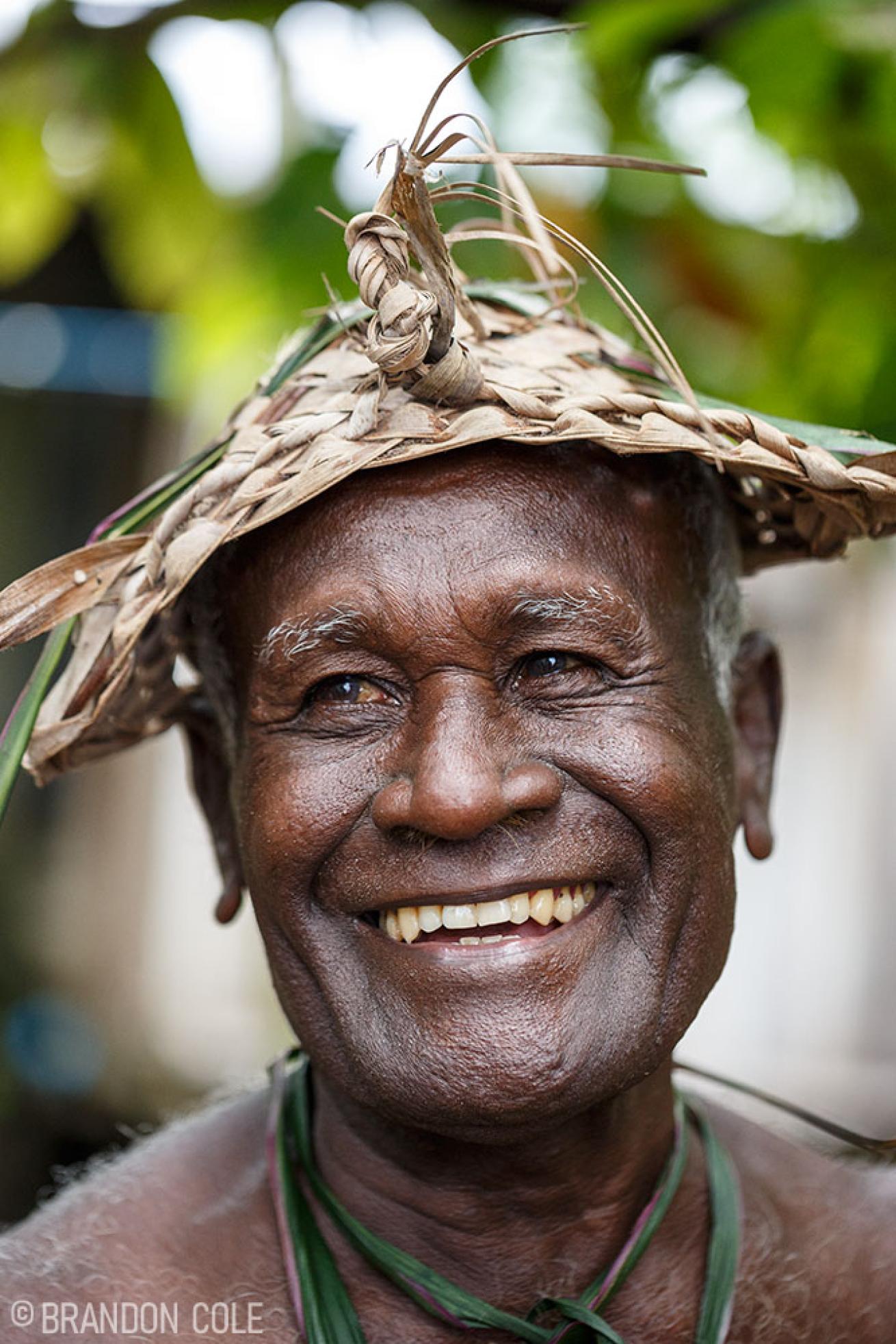 A villager from Ughele, on Rendova.

Brandon Cole
DIVE CONDITIONS
Sea temperatures remain fairly steady at 82 degrees F. Bring a skin to 3 mm full wetsuit, depending on your fortitude. The sun is brutal in the Solomons, so be sure to cover up and use reef-safe sunscreen. Visibility varies from 20 feet to over 100, depending on location.
Sea surface state is usually calm, and currents are generally nonexistent to mild, except at a few sites where stronger currents are possible. Most dive sites are suitable for beginner and intermediate divers, though some wrecks and caves require advanced training. The very remote location of Munda means it is prudent to dive conservatively.
Emergency evacuation insurance, such as DAN, is required. The nearest recompression chamber is in Honiara.
SUGGESTED TRAINING: PADI Wreck Diver (padi.com)
OPERATOR: Dive Munda (divemunda.com), affiliated with Solomon Islands Dive Expeditions, is a full service dive center offering scuba diving, a full training portfolio, topside tours and more. It visits over 50 dive sites, covering the gamut for both wreck and reef aficionados, as well as snorkeling and freediving.
Agnes Gateway Hotel (agneshotelsolomon.com) is Dive Munda's onsite accommodations partner.
PRICE TAG: Dive Munda offers customized packages, with or without accommodations and/or airfare. A 2020 package for seven nights' accommodations (double occupancy) at Agnes Gateway Lodge with six days of two-tank boat dives starts at $1,070 per person without airfare and approximately $1,649 with return airfare from/to Brisbane, Australia, on Solomon Airlines.
---
Why So Many Wrecks?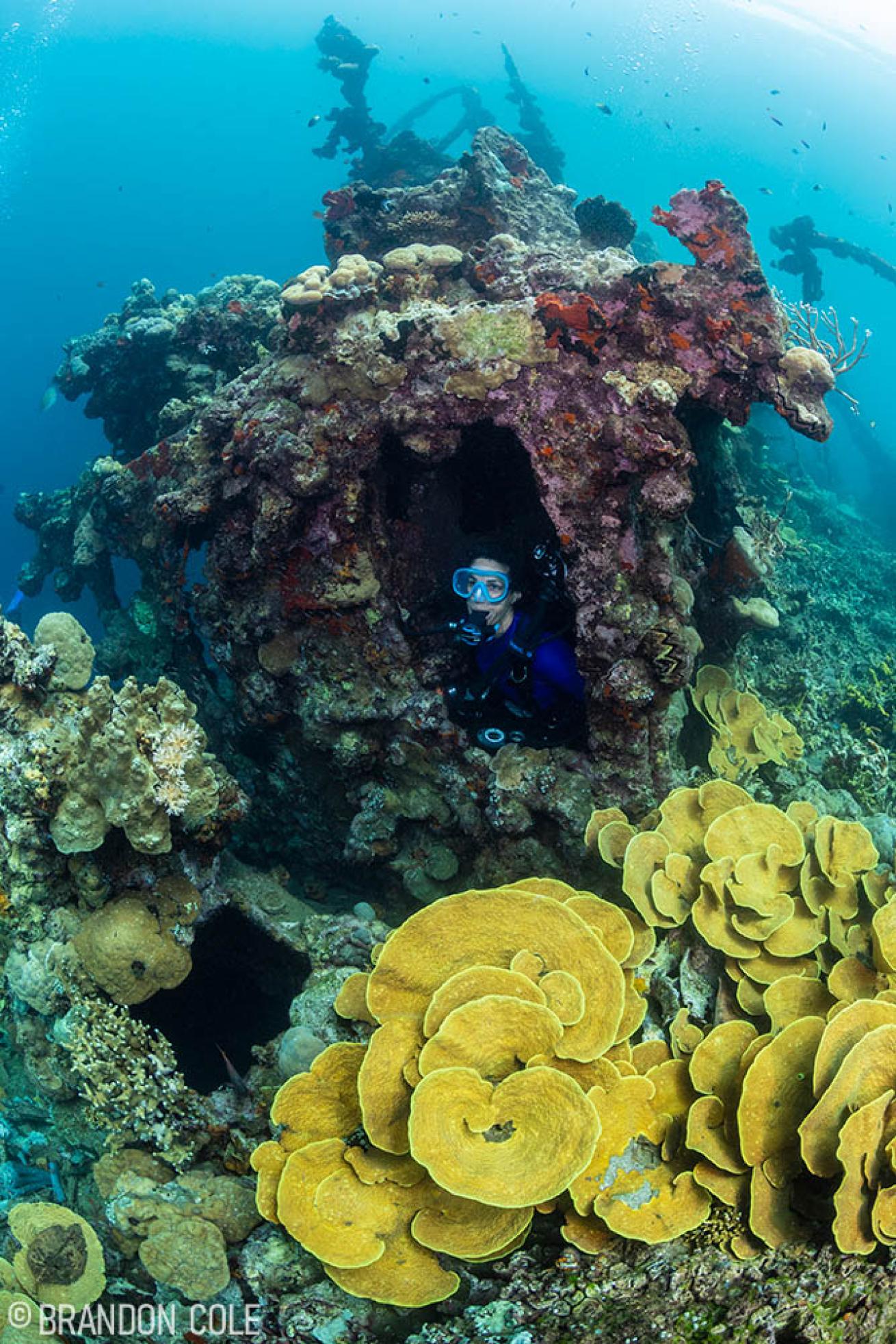 A diver explores the Kashi Maru, sunk in July 1943.

Brandon Cole
The Solomon Islands were at the center of the battle for control of the Pacific during World War II. The archipelago was of significant strategic importance to both the Japanese and Allied powers. The Japanese had fortified a major base at Rabaul, on the Papua New Guinea island of New Britain, to launch offensives throughout the Pacific and to interrupt supply lines and communication between the United States, Australia and New Zealand. To check Japan's expanding power, the Allies had to prevail in the Solomons.
New Georgia Island was in the middle of the major sea thoroughfare between Japan's power bases of Rabaul to the northwest and Guadalcanal to the southeast—it was dangerous to be anywhere near Munda, in the air, on land or at sea. After capturing the island from the British in 1942, the Japanese had built an airfield at Munda, and were well entrenched in the surrounding jungle. American troops fought fiercely to take the airstrip, but the effort was bloody and slow going, and plagued by military missteps. Finally the Americans took Munda's airfield in August 1943, six months after the crushing Allied triumph at Guadalcanal had seriously weakened the Japanese; it would be another two months before the New Georgia campaign was successfully completed. The hard-won Allied victory in the Western Province, along with Guadalcanal, Tulagi and successes yet to come in Rabaul and Bougainville, were key to winning the Second World War in the Pacific. All told, some 1,365 planes and ships and 38,100 soldiers were lost before fighting in the Solomons was done.
---
Capturing Munda — Behind the Shot
There's a lot to think about when trying to make a collection of photographs speak to the essence of a dive destination. Here are tips and techniques used in five different scenarios in the Western Province of the Solomon Islands.
1. SUPERWIDE REEF SCENES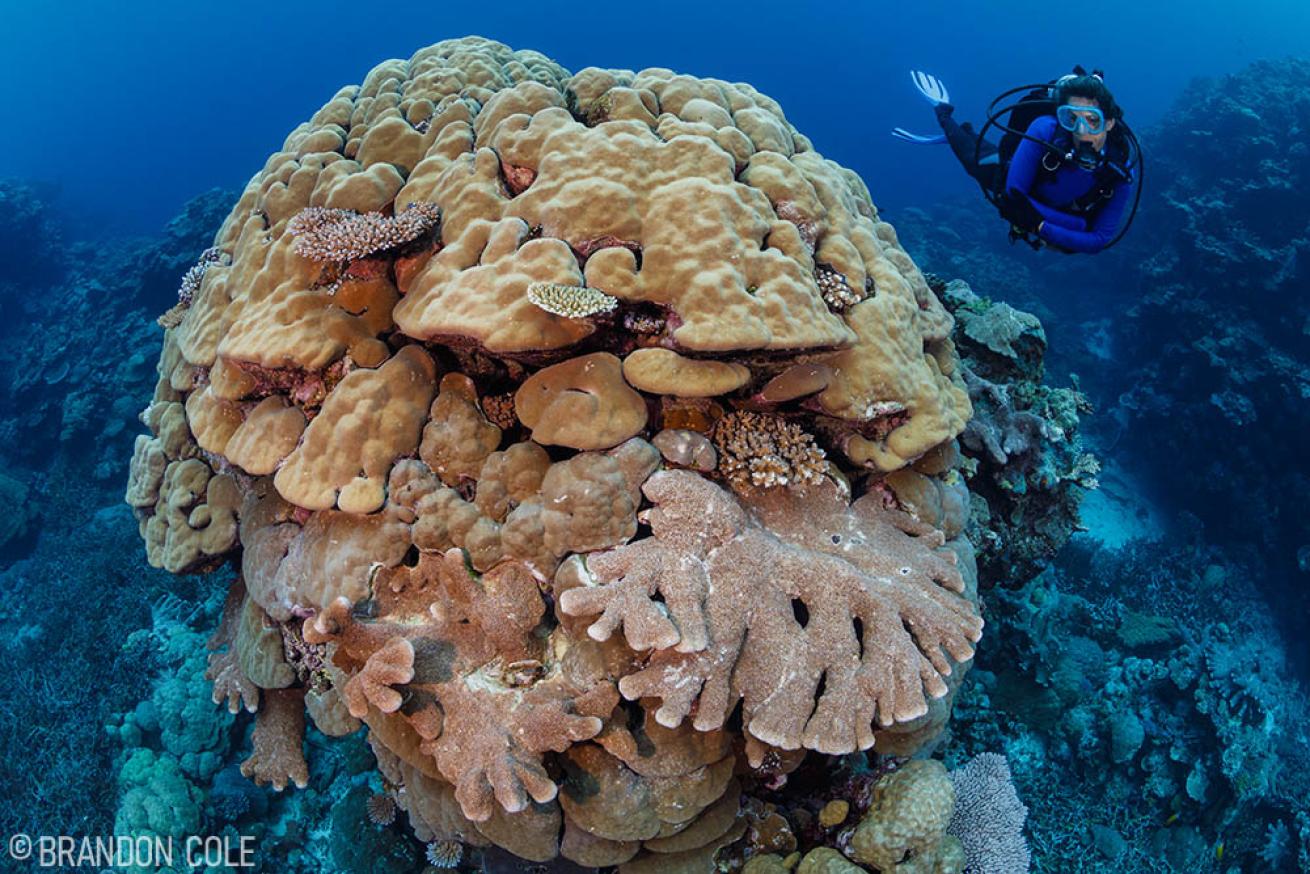 Super wide scenes can be captured with a Canon 8-15mm fisheye lens, which was used to take this photo.

Brandon Cole
I'm a fan of the fisheye lens. When used effectively, it translates big scenes into impactful photographs with a dramatic sense of space, especially when a diver is included. Munda boasts a plethora of big scenes—expansive coral gardens, a shipwreck, and many airplanes—so the Canon 8-15mm f/4L USM fisheye lens behind the 230mm dome was my go-to super wide-angle optic during this assignment. At 8mm on my full-frame Canon 5D Mark IV, I created a few mind-bending circular ultrawide images of certain reefs, wrecks, and caves. Used too frequently, 8mm seems gimmicky, but in moderation I like the special effect. Usually I am zoomed to 15mm, however, resulting in a "normal fisheye" 180-degree field of view.
2. EYE IN THE SKY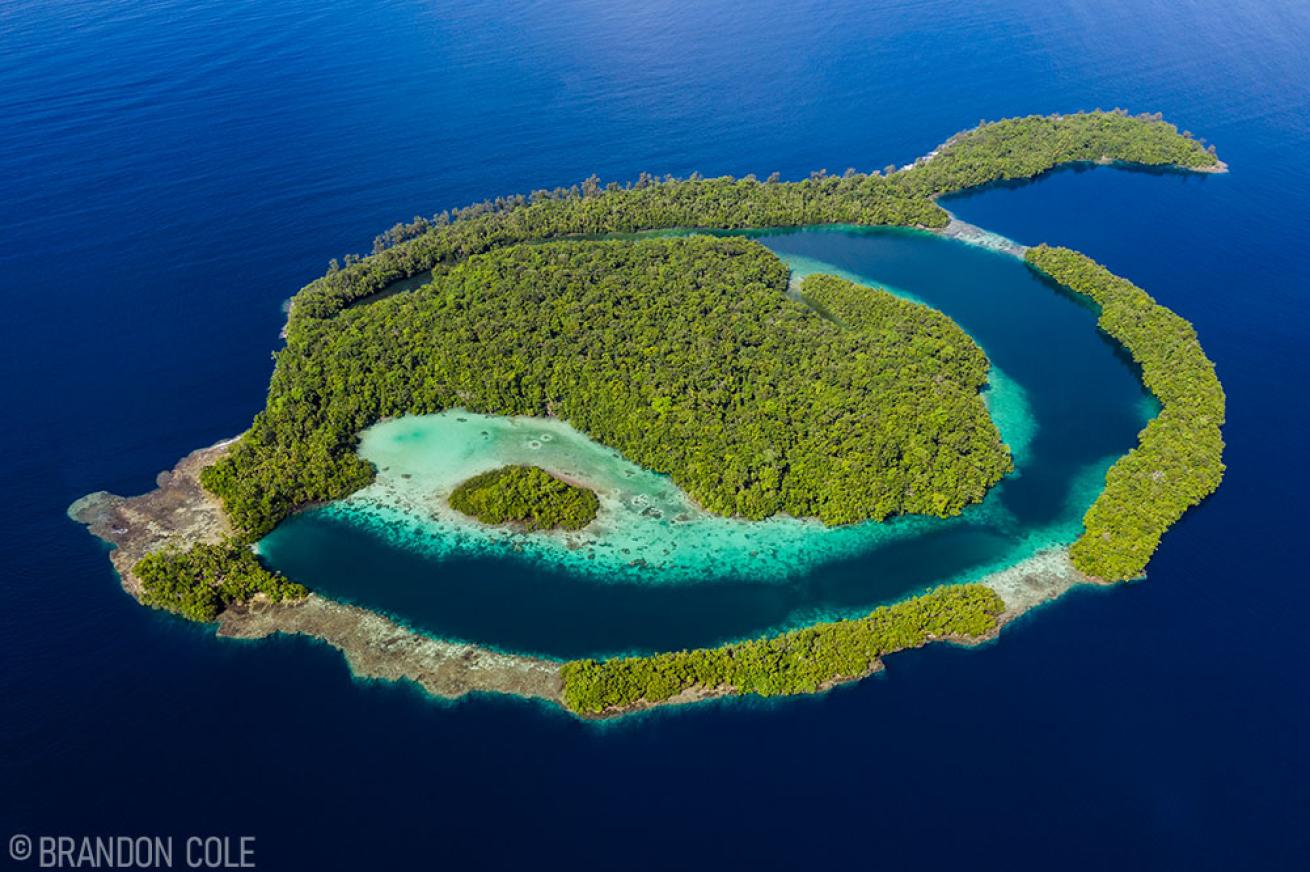 The author's drone of choice for travel is the DJI Mavic 2 Pro.

Brandon Cole
My drone of choice for dive trips involving plane travel is the DJI Mavic 2 Pro. Weather rules all when droning. Blue skies (for maximum contrast, clarity and color) and no wind (for operational safety) are ideal. Use a shade over your phone to help see the LCD screen in bright sunlight. Remember to calibrate and install updates, and always check satellite signal strength and set the home point. When flying from boats, it's important to be comfortable hand launching and landing, so practice beforehand on land. Be conservative with low-battery warnings to ensure your aircraft makes the round trip safely. As always, follow local operating guidelines and regulations.
3. PORTRAIT OF A PLACE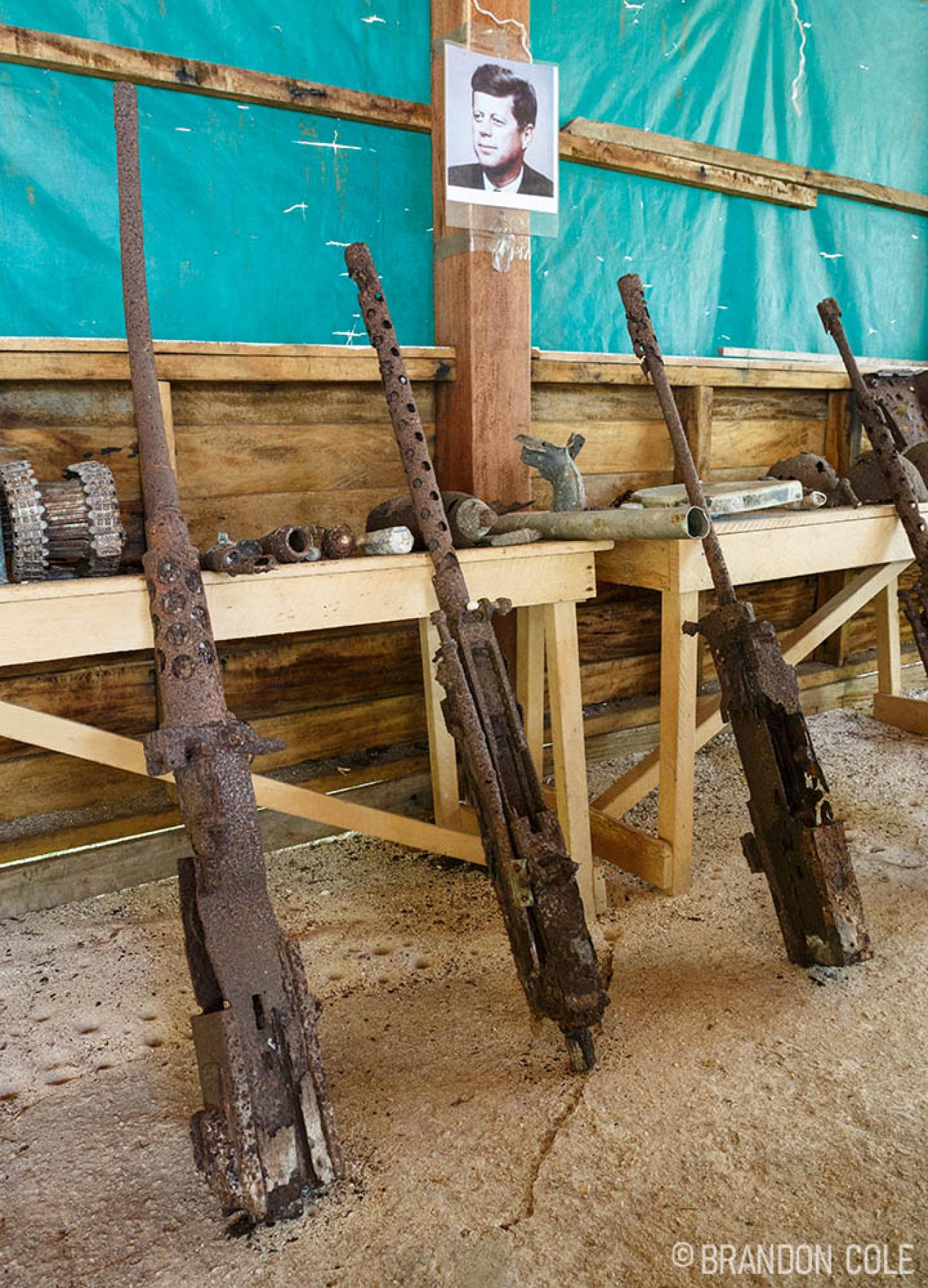 Brandon Cole
On the Ughele Village visit I carried two cameras: the Canon 5D Mark III, with a Canon 16-35mm f/2.8L II USM lens for wide-angle, and a Canon 100mm f/2.8L USM IS macro lens for portraits. The latter's image stabilization helps when hand-holding in low light—tripods just seem to get in the way—and the fast 2.8 aperture allows me to shoot wide open, blurring distracting backgrounds. My second camera was a small Sony RX100VI, for flexibility in compositions and working quickly. I prefer natural light for people pictures, but keep a flash nearby for fill lighting just in case. Respecting people's property and right to privacy is paramount, so I moved through the village carefully and asked permission before taking pictures.
4. DEEP-DROP INTO HISTORY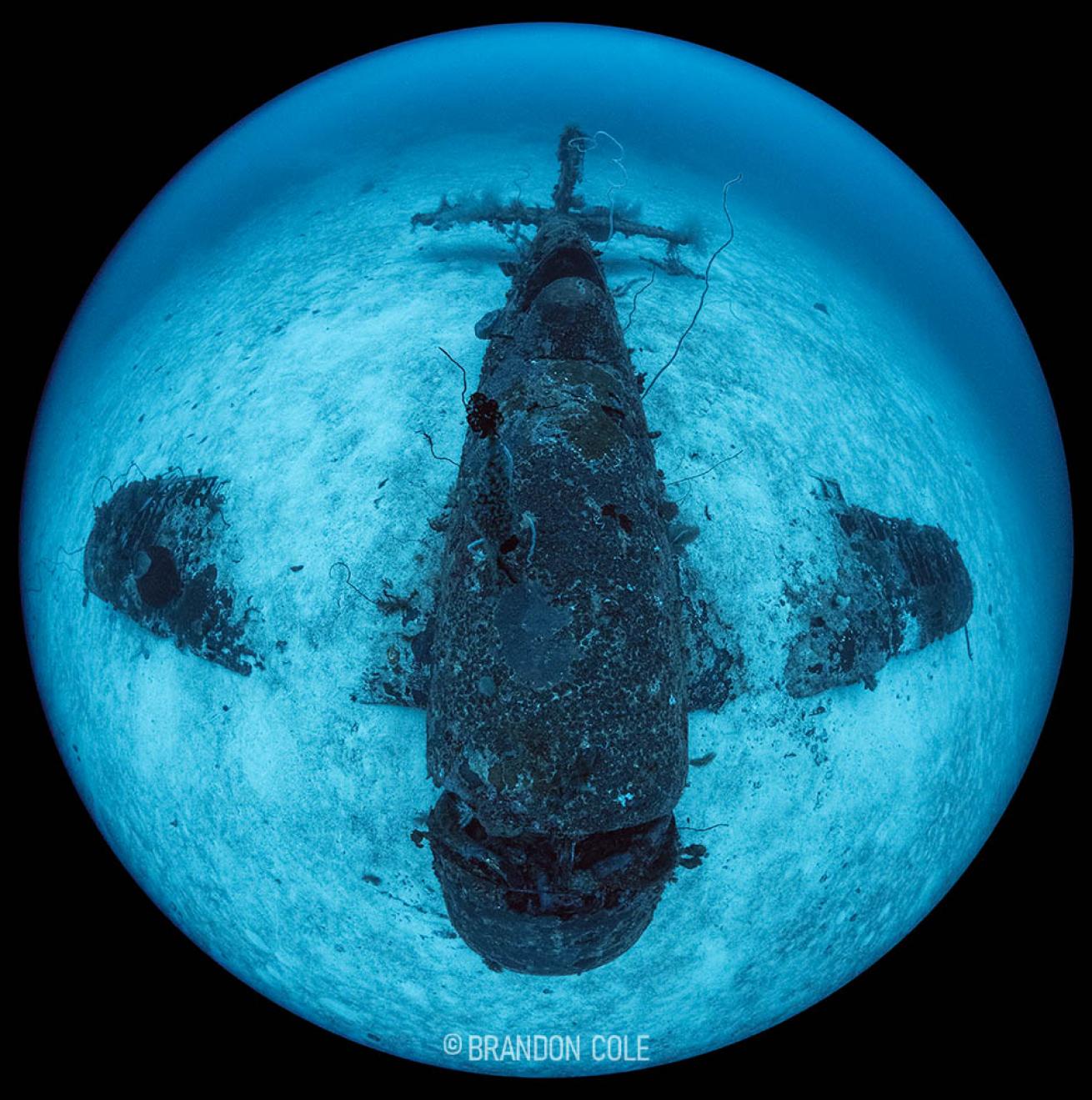 The Koviki Corsair airplane at 170 feet.

Brandon Cole
For dives between 100 and 200 feet I spend more time in thought and preparation than the actual time logged underwater. The Koviki Corsair airplane at 170 feet was no exception. An extensive predive briefing with Dive Munda guide Brian Daga included manifold details about our plan (descent and ascent protocol, navigation to and around the wreck, time at depth, planned deco stops), the hang tank underwater, safety equipment on the boat, hand signals, etc. We also discussed the photo objectives, ensuring everyone was on the same page, and I made notes on my slate, including basic diagrams showing where I'd like my model, the order of our shots, and so on.
5. IMAGING BIOFLUORESCENCE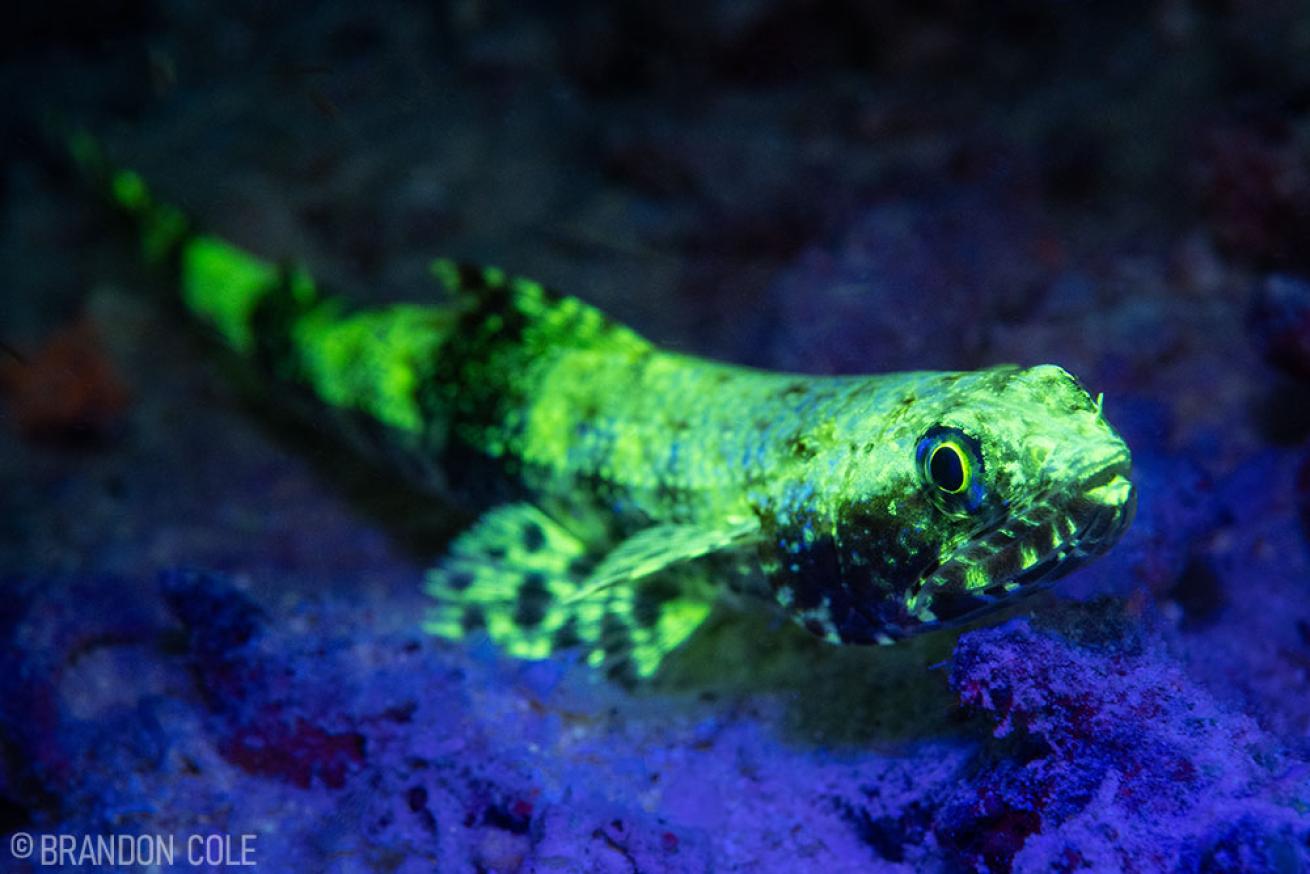 A lizardfish spotted on a fluoro night dive.

Brandon Cole
For our "fluoro night dive," I geared up with powerful blue LED excitation light, dichroic excitation filters on two strobes (Ikelite DS161 and Inon Z330), and barrier filters over my mask and the front of the camera housing's macro port (all specialty biofluorescence equipment by Fire Dive Gear, firedivegear.com). Inside the Nauticam housing is a Nikon D500 camera with Nikon 60mm macro lens. Though the physics of exactly what's happening are a bit beyond me, practice and experimentation with settings of around 1/100 sec, f/11, ASA 1600 can work luminary wonders, transforming a humble lizardfish into something magical.