Carl Charter Named April Sea Hero for Making the Underwater World Accessible to Nondivers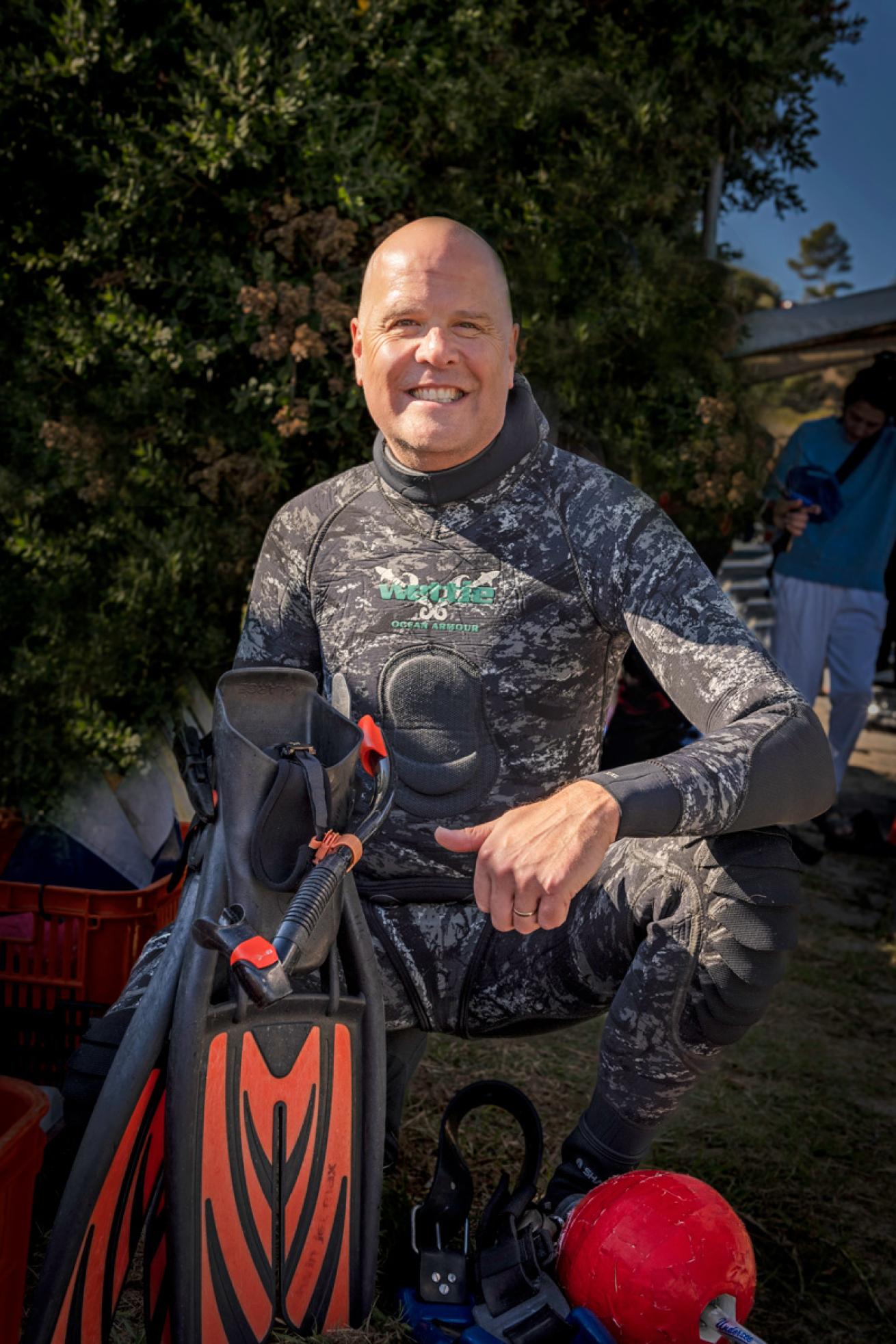 A portrait of Carl Charter.

Courtesy Heather Petty
Year Dive Certified: 1985
Age When Certified: 15
Dive Certification Level: Open Water Scuba Instructor
Instagram: @carlcharter and @ExperiencingMarineSanctuaries
Words To Live By: "Nothing ever becomes real, until it is experienced."
-- John Keats
---
Carl Charter has always been fascinated by the ocean. After completing his marine science degree and spending over 30 years working in natural resource management, maritime archaeology, revegetation and water conservation, he co-founded Experiencing Marine Sanctuaries (EMS) South Australia. EMS South Australia enables access to the ocean for people of all abilities while inspiring citizen science and promoting the protection of South Australian waters. For making the underwater world accessible to nondivers, Carl Charter is our April Sea Hero.
Q: What led you to co-found Experiencing Marine Sanctuaries?
A: In 2015, I returned from overseas as a newly certified PADI Open Water Scuba Instructor. Marine parks had just been implemented in South Australia. I was keen to have the nondiving community experience marine parks with their own eyes, fall in love with them and become advocates for their continued protection. I met Experiencing Marine Reserves (EMR) founder Samara Nicholas, who was interested in setting up a sister organization to the New Zealand-based EMR in Australia. Now, eight years later, EMS has an eight-member management committee, six PADI professional staff and 120 volunteers who have guided over 8,000 snorkelers, many of whom had not snorkeled before, at fully inclusive events across the state.
Q: You developed an inclusive program involving virtual reality (VR) that allows access to the ocean in South Australia. Can you tell us more about that?
A:I believe everyone should have access to, and be able to experience, the ocean. I developed the EMS Inclusive Program to remove barriers. We provide equipment such as the immersive Mobi-Chair, an all-terrain wheelchair that allows those with mobility issues to be transported in and out of the ocean. We train the team to assist medically fit people who are living with disability to snorkel and experience our marine parks. Not everyone can snorkel—factors such as age, confidence, disability, medical conditions and living far from the ocean inhibit many from experiencing marine life. Because of this, over the past five years, I completed many dives across South Australia, recording marine-life experiences with a 360-camera rig. I can now take large groups for a fully immersive VR dive with sea lions, leafy sea dragons, sea jellies, rays and sharks. Currently, this dive experience is shown via VR headsets. Soon, I hope to use new technology to project onto planetarium domes to make it possible to entertain and educate larger groups at large community events.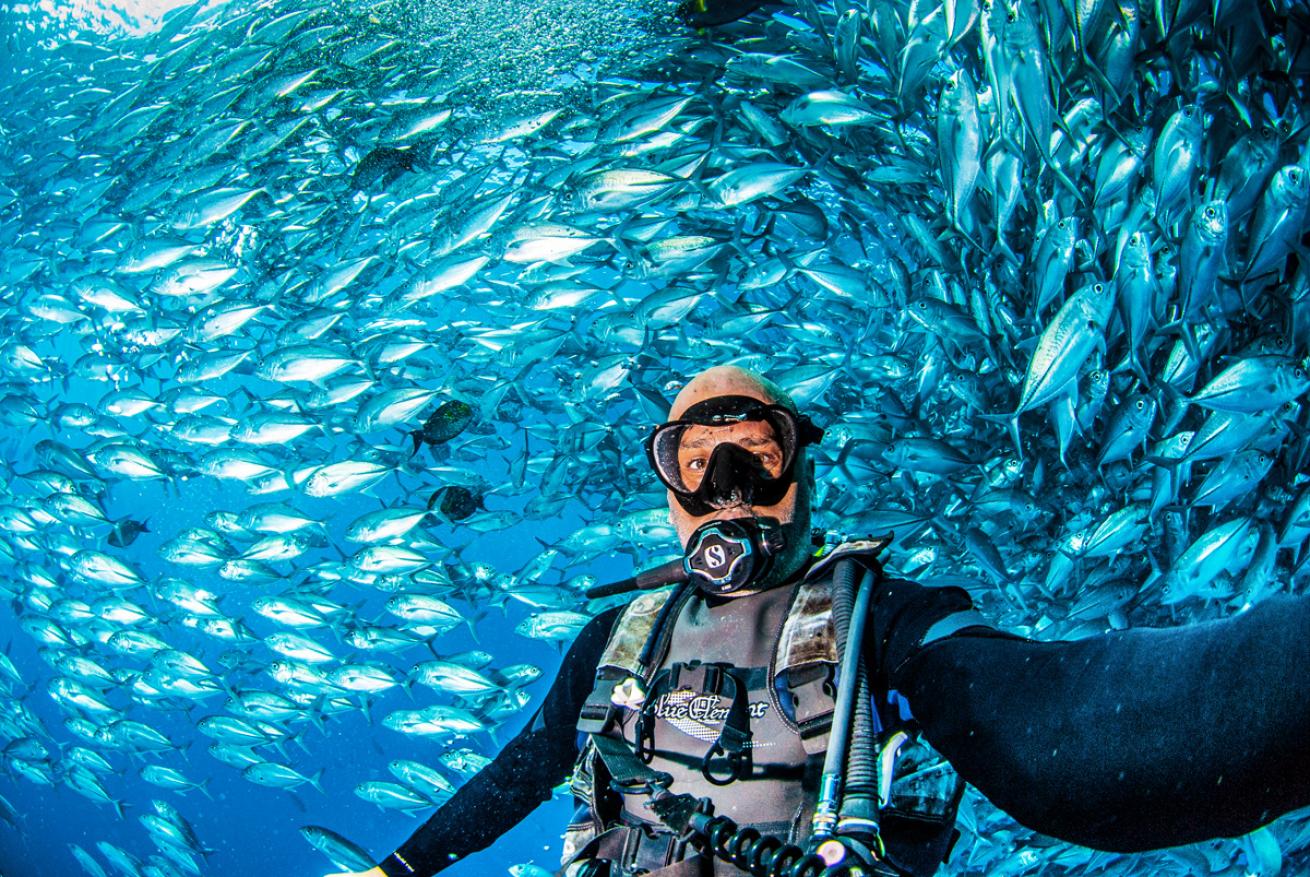 Carl takes a selfie with a fish tornado at Sipadan Island in Borneo to celebrate becoming a PADI Open Water Scuba Instructor.

Courtesy Carl Charter
Q: What makes the underwater world in South Australia so special and worth sharing?
A:I always look forward to diving in South Australia due to its colorful and biodiverse natural reefs, jetty and wreck dives, easy shore dives and unique marine life. South Australia is part of the Great Southern Reef, which has more biodiversity than the Great Barrier Reef. Eighty-five percent of our fish, including the leafy and weedy sea dragon, and 75 percent of our red algae species are found nowhere else in the world. We also have the world's largest known breeding aggregation of Australian giant cuttlefish— now on the National Heritage List. Blue whales, bottlenose dolphins, and sperm and pilot whales feed here; southern right whales breed and calve here. At the other end of the spectrum, our waters are home to the world's smallest live-bearing sea star.
Q: How do you utilize underwater photography in your conservation work?
A:Underwater images and videos engage, inspire and educate while increasing awareness of our oceans and the need for conservation. Over the past decade, I have donated images to dive shops, magazines, the tourism commission, marine conservation campaigns and schools for education and to promote South Australia as a top diving destination. My photos and videos promote EMS snorkel tours and educational events and attract more nondiving communities to join EMS for a safe and supervised marine-life experience.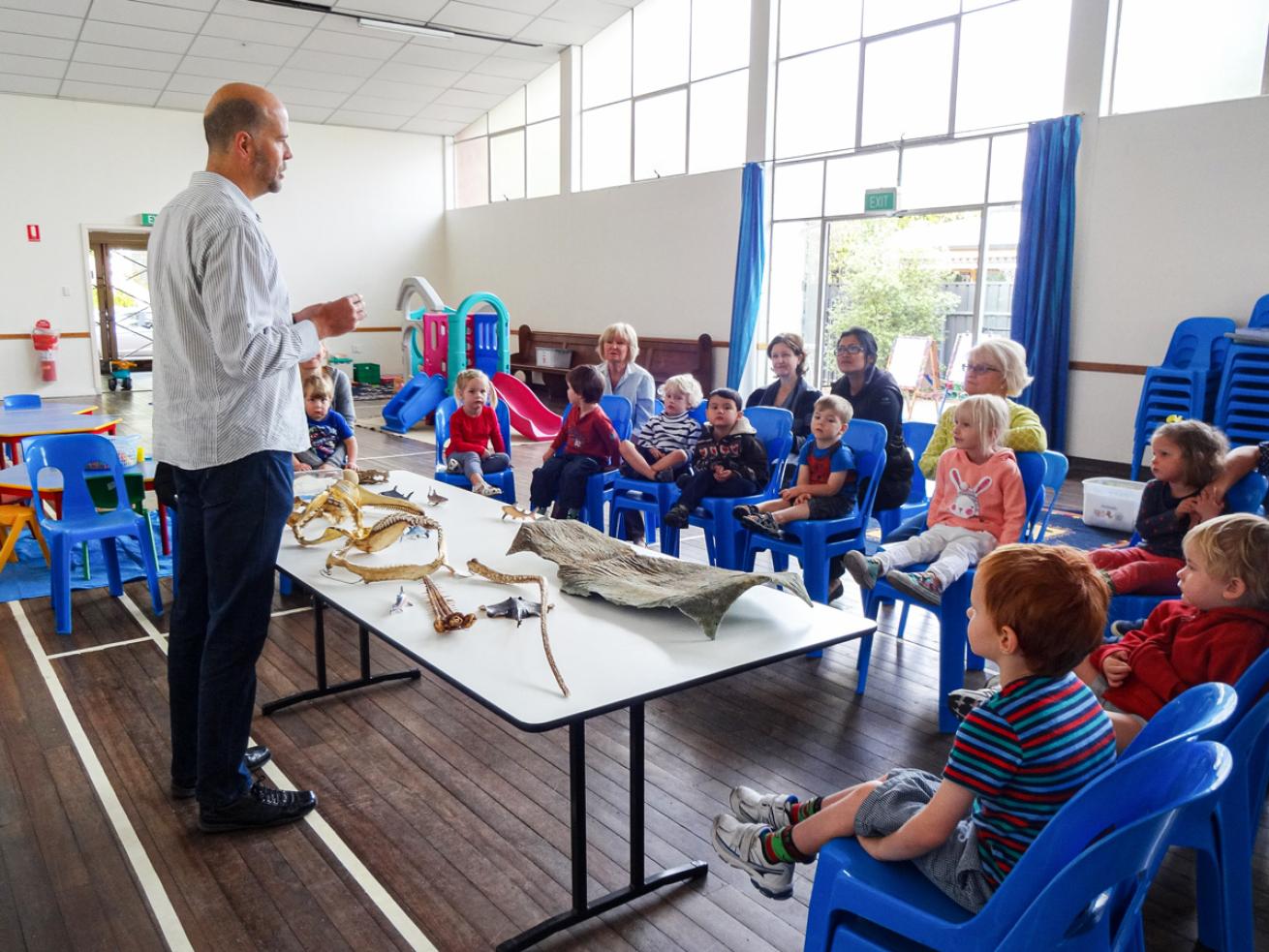 Carl presents a "jaw-some" workshop on sharks of the Great Southern Reef to a group of young students.

Courtesy Carl Charter
Q: What do you view as the greatest challenges in marine conservation today? How are these challenges reflected in your work?
A: Some of the greatest challenges in marine conservation are centered on political and economic perceptions of people's wants and needs, which may have short-term benefits but could undermine the long-term sustainability of the planet. For example, overfishing, desalinization of plants and the production of single-use plastics. South Australia has a powerful fishing lobby that has successfully lobbied the government to reduce the size of sanctuary zones. There needs to be a balance between fishing and conserving marine habitats to ensure that we have healthy, thriving fisheries and marine life for future generations to enjoy. A lack of knowledge of the marine environment and not knowing what is below the ocean's surface in your own backyard is a big issue and results in less support for the protection of marine life and habitat. My work with EMS has proved to be a powerful tool in not only making people aware of what is below the surface in South Australia but also educating them about the challenges in marine conservation and creating advocates for marine park protection.
---
Each Sea Hero featured in Scuba Diving receives a Seiko SRPD43 watch valued at $525. For our December issue, judges select a Sea Hero of the Year, who receives a $5,000 cash award from Seiko to further their work. Nominate a sea hero at scubadiving.com/seaheroes.
---