Groundbreaking Depths: What It's Like to Work in the World's Deepest Pool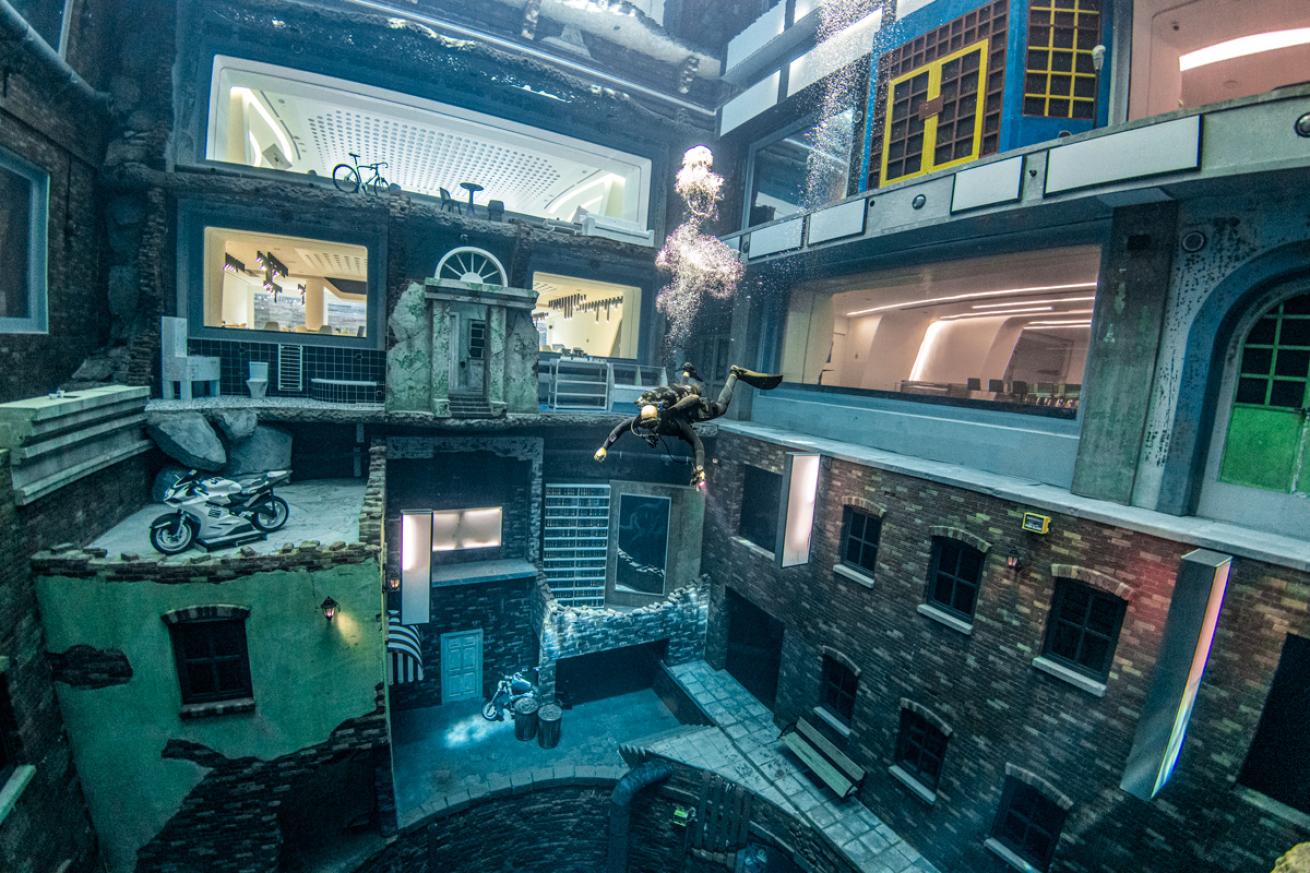 The pool is filled with entertaining installations built for divers.

Courtesy Deep Dive Dubai
When Jesper Kjoller comes to work each day, his responsibilities can include anything from diving with a Hollywood celebrity and filming underwater video projects to teaching technical diving courses and using lift bags to place cars, motorcycles or other props into the surreal landscape beneath the surface of the world's deepest pool.
Kjoller works for Deep Dive Dubai, a nearly 200-footdeep, 14 million-liter diving pool that opened to the public in 2021.
The pool has been verified as the world's largest for diving by Guinness World Records, and its elaborately decorated underwater environment, with everything from street scenes and art galleries to cars and pool tables, has become a popular destination for international visitors in the city of Dubai.
Kjoller was among the first dive staff hired at Deep Dive Dubai, starting in August 2015, before the pool had even been filled with water.
Related Reading: Ocean's Calling
Originally from Copenhagen, Denmark, Kjoller had previously spent 20 years training dive instructors as a PADI Course Director while also serving as editor-in-chief of the Scandinavian dive magazine DYK.
"I was teaching PADI IDCs and traveling all over the world taking pictures and writing articles," Kjoller says. "I thought that would be my dream job for the rest of my life until I was offered the opportunity to work for Deep Dive Dubai."
He says his unique background as an editor, storyteller and photographer, paired with the ability to teach a full range of dive courses, including trimix and technical diving, landed him the job.
Kjoller's official title, senior marketing supervisor, doesn't fully describe the diversity of his work at Deep Dive Dubai.
"I spend a lot of time accompanying journalists, influencers and celebrities underwater," Kjoller says. "I'm also one of the only instructors on staff with the technical training to go all the way to the bottom of the pool—we get everything from professional film crews to military dive training at the facility."
Related Reading: Whale Sharks, Warm Waters and Wonderful Wrecks: Everything You Need to Know About Diving in the UAE
Another important part of Kjoller's job is helping move and install new features for divers to explore and interact with underwater.
One notable recent installation was a full-size replica of a Mercedes-Benz convertible, made by a prop house from fiberglass and stainless steel so it can survive a lifetime submerged in the freshwater pool.
"We have a crane built into the ceiling that we use to move heavier items around and lower them into the water," he explains. "From there, we use lift bags to get installations neutrally buoyant so we can easily move them into position."
According to Kjoller, the skills and experience required to get a job at Deep Dive Dubai are similar to those needed to work as a dive instructor at a resort or liveaboard.
"We generally look for people with at least a few years of experience working as a dive instructor and guide, and additional skills like photography, videography and equipment repair are as valuable here as with any dive operation," he says.
"Language skills are also quite important. Dubai is a multinational city, and we have 26 different languages on staff last I counted."
People from around the world come to see Deep Dive Dubai and dive in its depths, but visitors from around the Middle East, places like Saudi Arabia, Egypt and Jordan, are the most common. But Kjoller says they get quite a few visitors from the United States, Russia and Europe, along with people from Asia, including China and India.
Related Reading: When a "Scuba Drive" Doesn't Sound Appealing, Do What This Diver Does
Job Requirements
Degree: Photo/Video Production, Communications
Certifications: PADI Instructor, PADI Tec Instructor, Trimix
---