Scuba Diving Dutch Springs, Pennsylvania
COVID-19 travel restrictions and border closings are constantly evolving. There is no guarantee that the dive sites mentioned within this article will be open at your time of travel.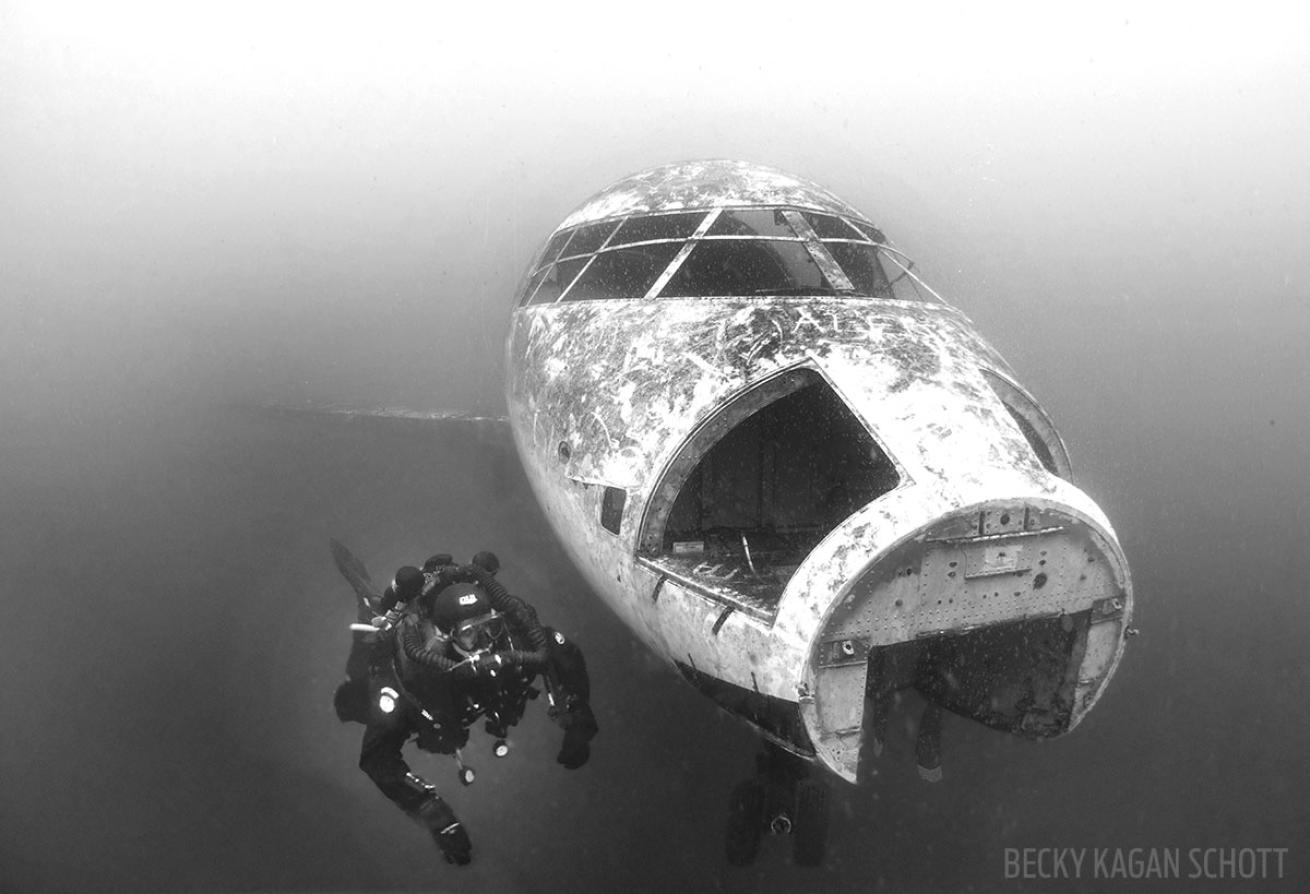 A Bombardier Challenger 600 series business jet was added to the myriad attractions at Dutch Springs in March 2016.

Becky Kagan Schott
Dutch Springs isn't just a place to dive as a last resort — it's a spot that attracts thousands of scuba divers from all over the United States, and even other countries. This inland gem offers a place that is open rain or shine, where divers can practice skills, see a submerged plane, and meet new dive buddies in an environment defined by barbecues, cookouts and camaraderie.
Some might think that good scuba diving can't be found far from salt water, but some of my favorite diving is in freshwater locations. Scuba diving Dutch Springs requires no boats, no rush and no need to wash salt out of your gear after the dive. Diving in fresh water also offers unique opportunities to see or photograph different kinds of aquatic marine life such as largemouth bass, koi, perch, blue gills, trout and, of course, zebra mussels.
Those mussels are an invasive species introduced to the quarry and many other places including the Great Lakes. The negative side is they are sharp and cover everything; on the positive, they clear up the water to give us 50 to 60 feet of visibility on most days. That can change depending on algae blooms or the number of divers in the quarry, but you can typically expect very good conditions here.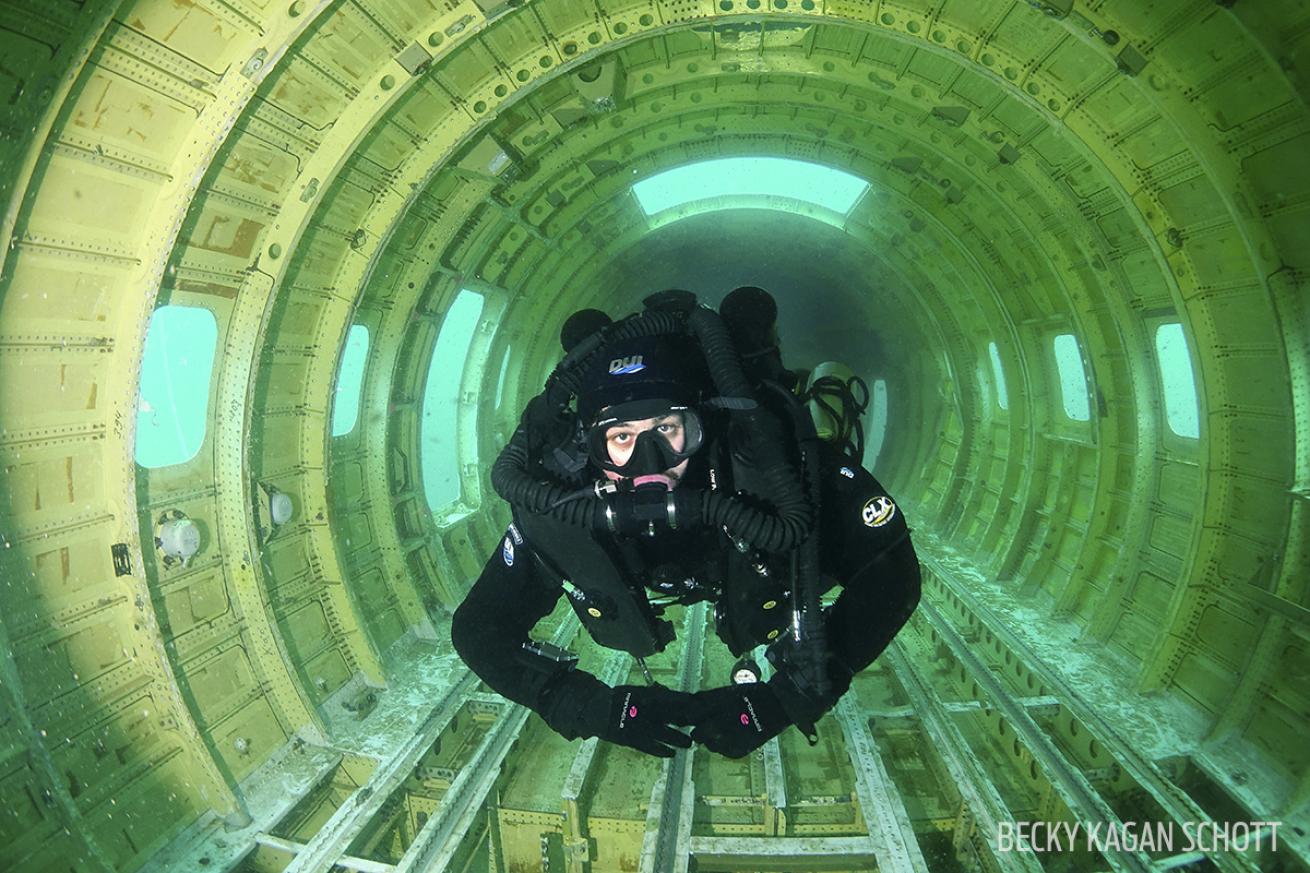 Inside the fuselage of the Challenger aircraft. The suspension makes the plane look as though it is flying through the water.

Becky Kagan Schott
I grew up in Florida, so when I moved to Pennsylvania almost 10 years ago, I had heard of Dutch Springs but had no idea what to expect. My first time there blew my mind, seeing about 100 dive shops set up tents, and hundreds of divers blending together from recreational to technical. This is not a small place, nor just a dive site. The site includes a fill station, lunch pavilions, showers, concessions, an aqua park for kids (and adults), and a rock-climbing wall. This is a place the whole family can enjoy. If you arrive on a Friday night in summer, you'll see tents spread out over the grass and scuba divers entering and exiting the water nonstop. On an average weekend, hundreds of divers from six surrounding states and farther venture to this underwater Disneyland for divers.
QUARRY LORE
Located in Bethlehem, Pennsylvania, the National Portland Cement Company began mining limestone from the quarry for use in cement manufacturing in 1935. Pumps were used to keep the water out of the quarry and prevent flooding. Through the 1970s the quarry continued to be used for limestone, but when the company went out of business, the pumps were turned off and water rose, creating the 50-acre freshwater lake that is now known as Dutch Springs.
In 1980, Dutch Springs was purchased and made into a scuba diving facility. With a maximum depth of 100 feet, the quarry is an excellent site for training of all levels, and a sure thing when boats can't get out due to weather.
When you first arrive at Dutch, you can choose to dive on the peninsula side or what is known as the student side. Each has unique attractions, and both are worth visiting. I usually arrive early in the morning so I can get a picnic table on which to set up my gear. (They have plenty, but they can go quickly.) Dutch offers maps that can help point you to different underwater attractions such as a school bus, crane, several boats, a fire truck, tanker, old cars and several planes, all in 20 to 100 feet of water.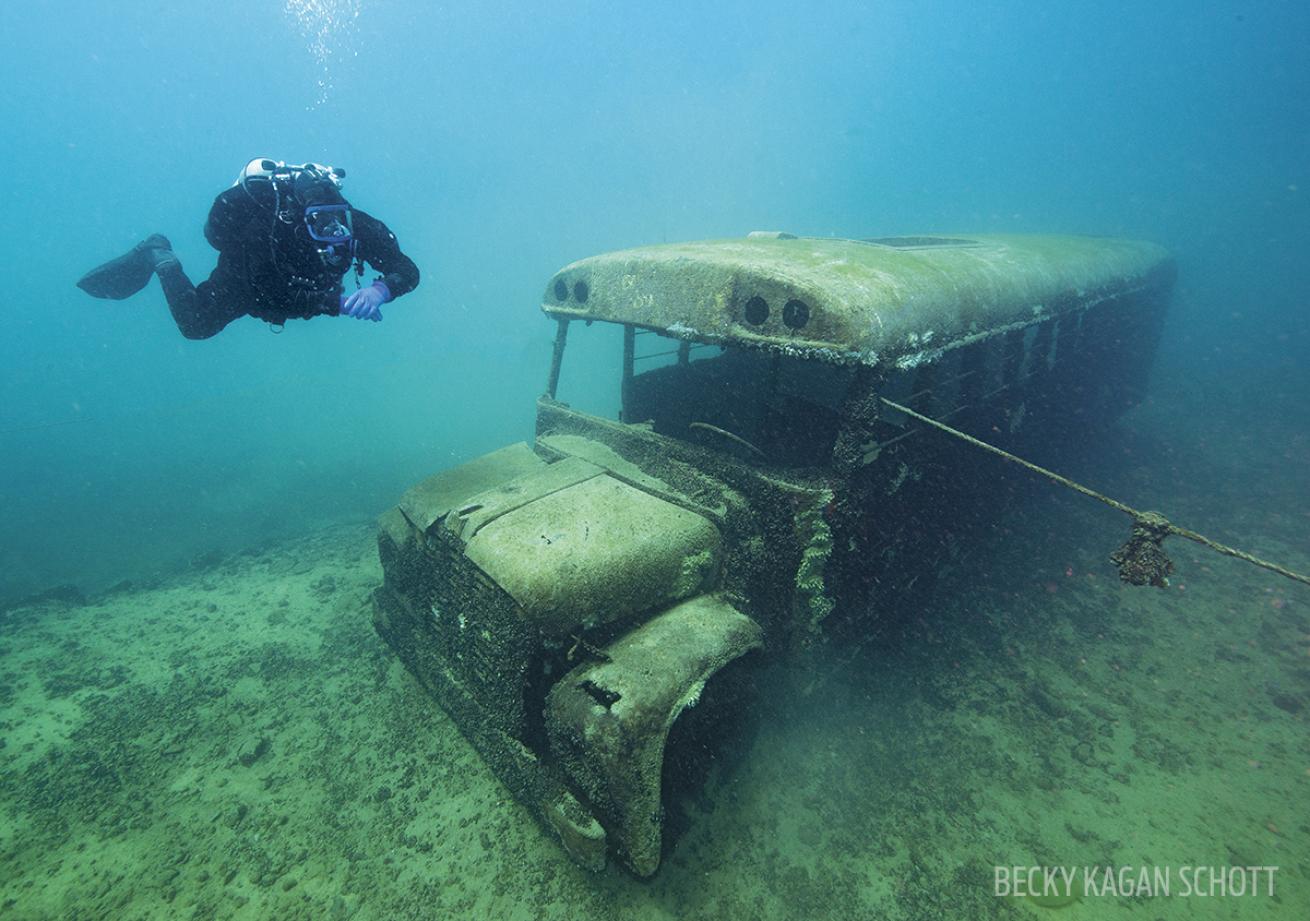 The quarry's underwater school bus is one of many attractions for scuba divers to see at Dutch Springs.

Becky Kagan Schott
One of the dives I enjoy most is the pump house near the student side. There's a floating dock to gear up on, and then you descend down a beautiful rock wall; a staircase, pipes and the pump house are half above water and half under it. This is usually a quiet side of the quarry, and you can see koi there.
A great second dive from the student side is heading out to the new jet plane. It was added in early 2016, uniquely suspended in 30 to 40 feet of water so divers can see it and stay off the silty bottom. Being suspended also makes it look as though the jet is flying through the water, an exciting swim-through and very visual for underwater photographers.
The attractions aren't the only things to see in the quarry. One of my favorite dives is to descend to about 40 feet on the rock wall and swim the perimeter of the area. You'll swim across submerged trees and telephone poles, and find the old roads that would lead out to other attractions. If you follow those, you'll eventually make it to a dynamite shack toward the back of the quarry.
Most of the attractions are marked by a buoy on the surface; underwater, many of them but not all have yellow ropes leading you on trails from one attraction like the school bus to the Cessna plane on top of a rock island. It sits at 25 feet on the edge of the island and is a great spot for photography. There is also a lot of plant life and young bass that hide in the rocks around this area. From the plane, divers can descend along the wall to a crane, or make a longer swim out to the tanker.
QUARRY LOVE
The popularity of this inland dive site is overwhelming. There is a huge sense of community, a gathering place for divers from all over the Northeast who meet up to share their common passion. It's a place for new divers, rebreathers, DPVs and freedivers. On the weekends there are events, workshops, camping and cookouts. There are demo days and, on Memorial Day and Labor Day, the North East Diving and Equipment Group comes with all types of vintage dive equipment and hard hats that the public can try. Only open-water certification is required, and it's one of the most unique experiences you can have diving. The team will dress you in heavy steel boots and a Mark V hard hat, and you can jump around on the rocky bottom while talking to the surface through communications inside the helmet. It's something you'll never forget, and can do only at Dutch Springs.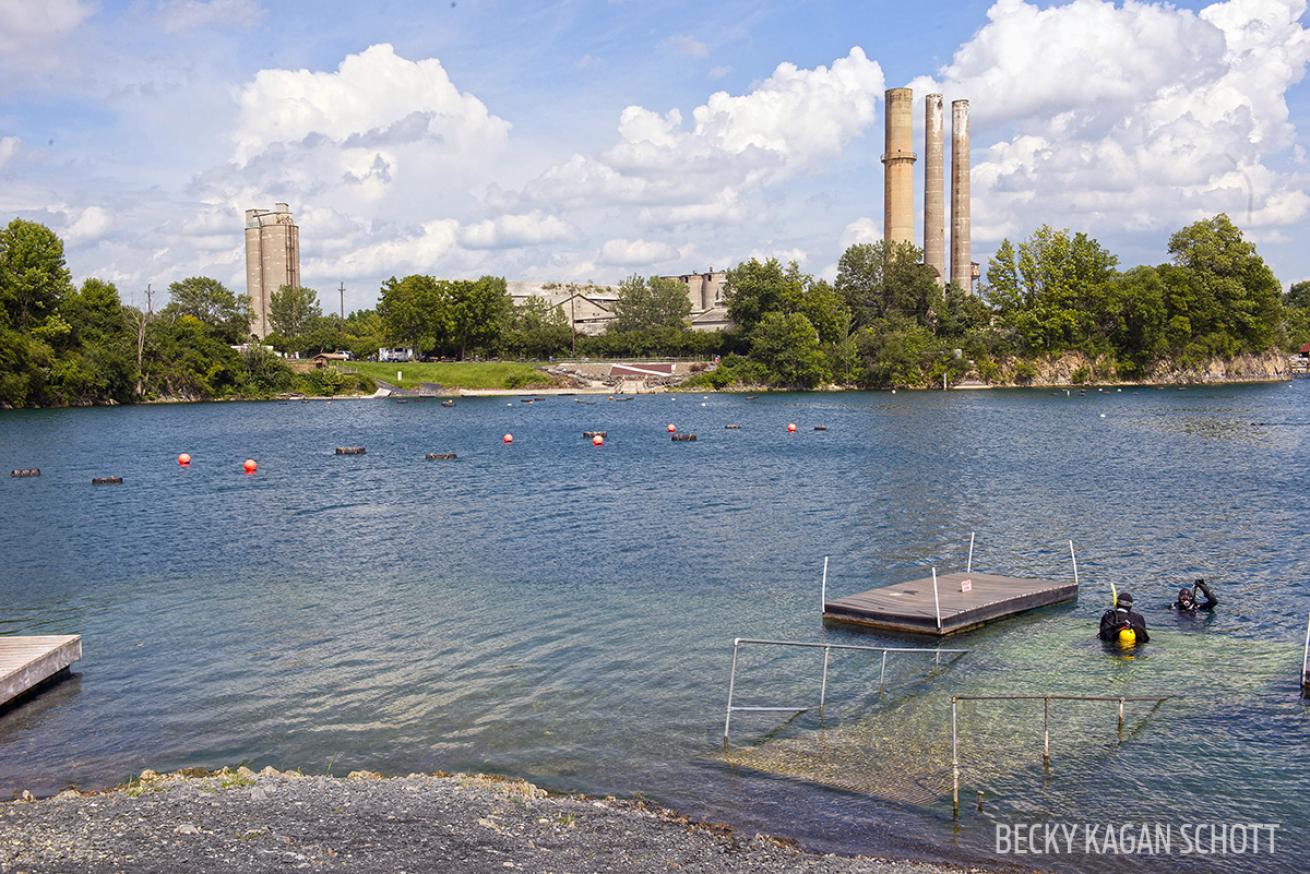 The floating dock on the student side of Dutch Springs.

Becky Kagan Schott
NEED TO KNOW
WHEN TO GO Dutch Springs is open April through November on weekends and every day from Memorial Day to Labor Day weekend. Check its online schedule at dutchsprings.com before you go.
DIVE CONDITIONS Temperatures can vary. In spring, you'll want to use a drysuit or 7 mm full wetsuit, gloves and a hood, since the water temps can be in the mid-40s top to bottom. In summer, the surface to 25 feet on the platforms is in the 70s; below the thermocline is usually in the 50s. There is no current, and visibility can range from 40 to 60 feet most days, unless there has been a lot of rain or divers in the quarry.
OPERATOR Dutch Springs
PRICE TAG An all-day dive pass is $40 per person; tank fills and camping are additional. Dutch also offers an annual pass.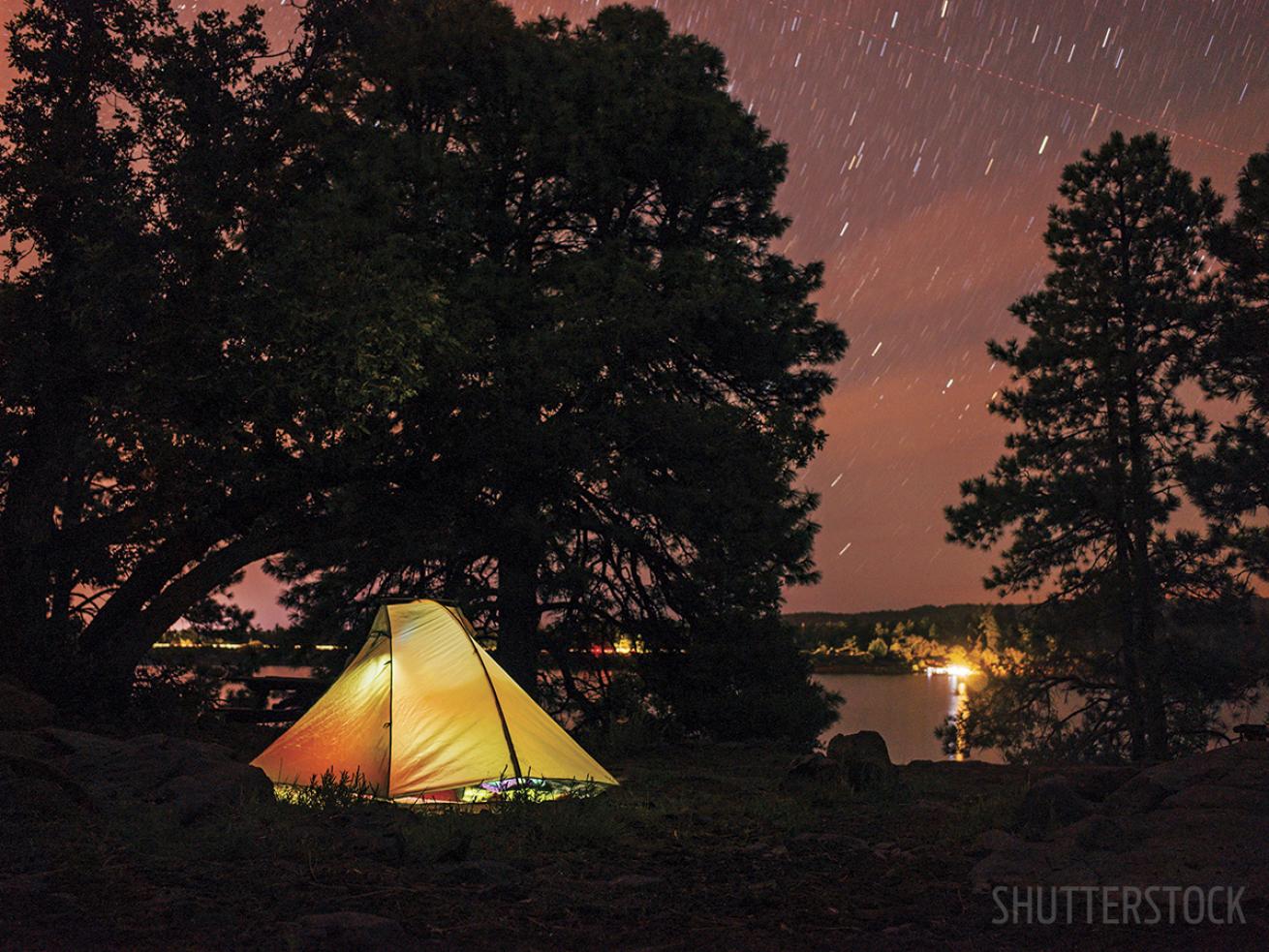 If you arrive at Dutch Springs on a Friday night in summer, you'll see tents spread out as well as scuba divers entering and exiting the water.

Shutterstock
ITINERARY
DAY ONE
It's convenient to camp at Dutch Springs on Friday and Saturday nights (May through October), and Sundays on holiday weekends. It's $15 for adults and $10 for kids. If you camp, you can also sign up for a night dive. If camping isn't your thing, there are several hotels in the area that offer discounts if you tell them you're diving at Dutch Springs. Holiday Inn Express is great, and it offers breakfast and free Wi-Fi. It's about 10 minutes from Dutch Springs. There are plenty of places to eat around this area, including PJ Whelihan's Pub and Restaurant, a local chain known for its famous wings and nearly 50 beers on tap.
DAY TWO
Grilling lunch or dinner at Dutch Springs is one of the most popular things to do. You can bring your own portable grill or use one of the charcoal grills available. There is nothing better than burgers or hot dogs after a great day of diving while sharing stories and watching the sun go down.
DAY THREE
Try Thai Thai II in Bethlehem for great curry and noodles; it has vegetarian options as well. If you prefer Italian food, there are dozens of great pizza and pasta places in the area.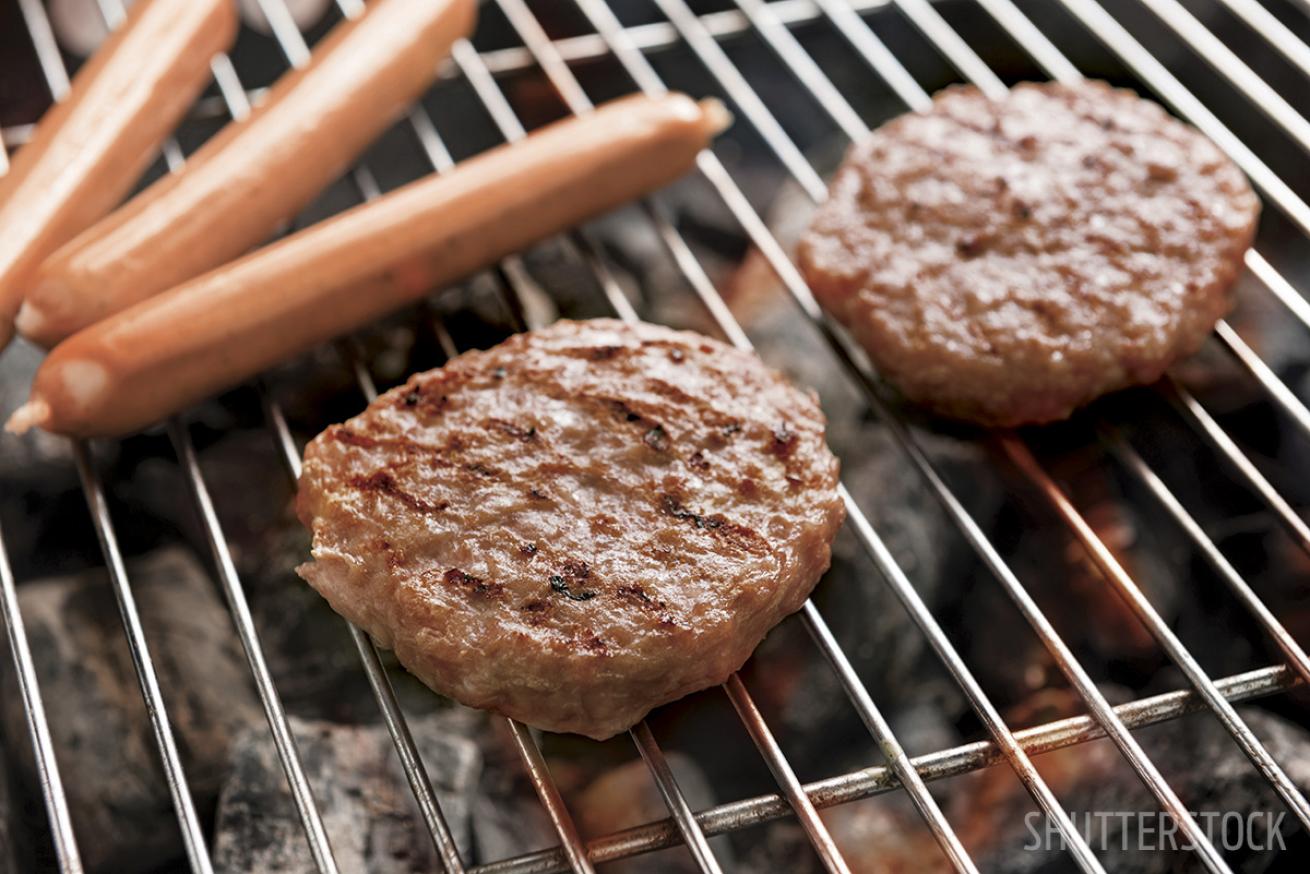 Grilling up lunch or dinner at Dutch Springs is the perfect way to end a great day of diving.

Shutterstock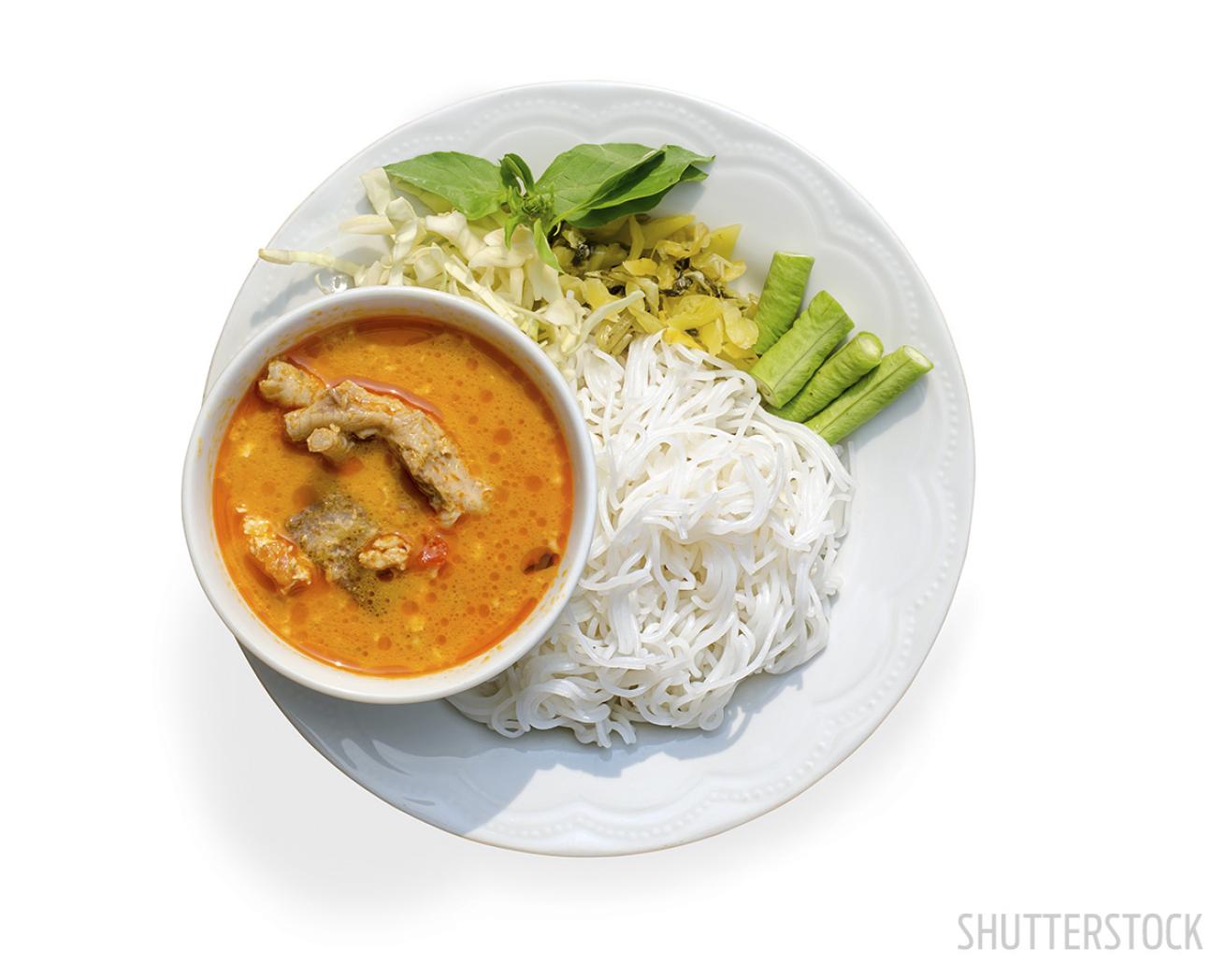 If you don't feel like grilling you can find some great Thai food near Dutch Springs.

Shutterstock