Six Great Destinations for Scuba Diving Wrecks
Our readers have spoken! Nearly 5,000 readers evaluated destinations, resorts, operators and liveaboards for our 2021 awards. Here we highlight some of the top vote-getters for wreck diving destinations, including winning resorts, operators and liveaboards in that area, listed in order of votes received.
1. British Virgin Islands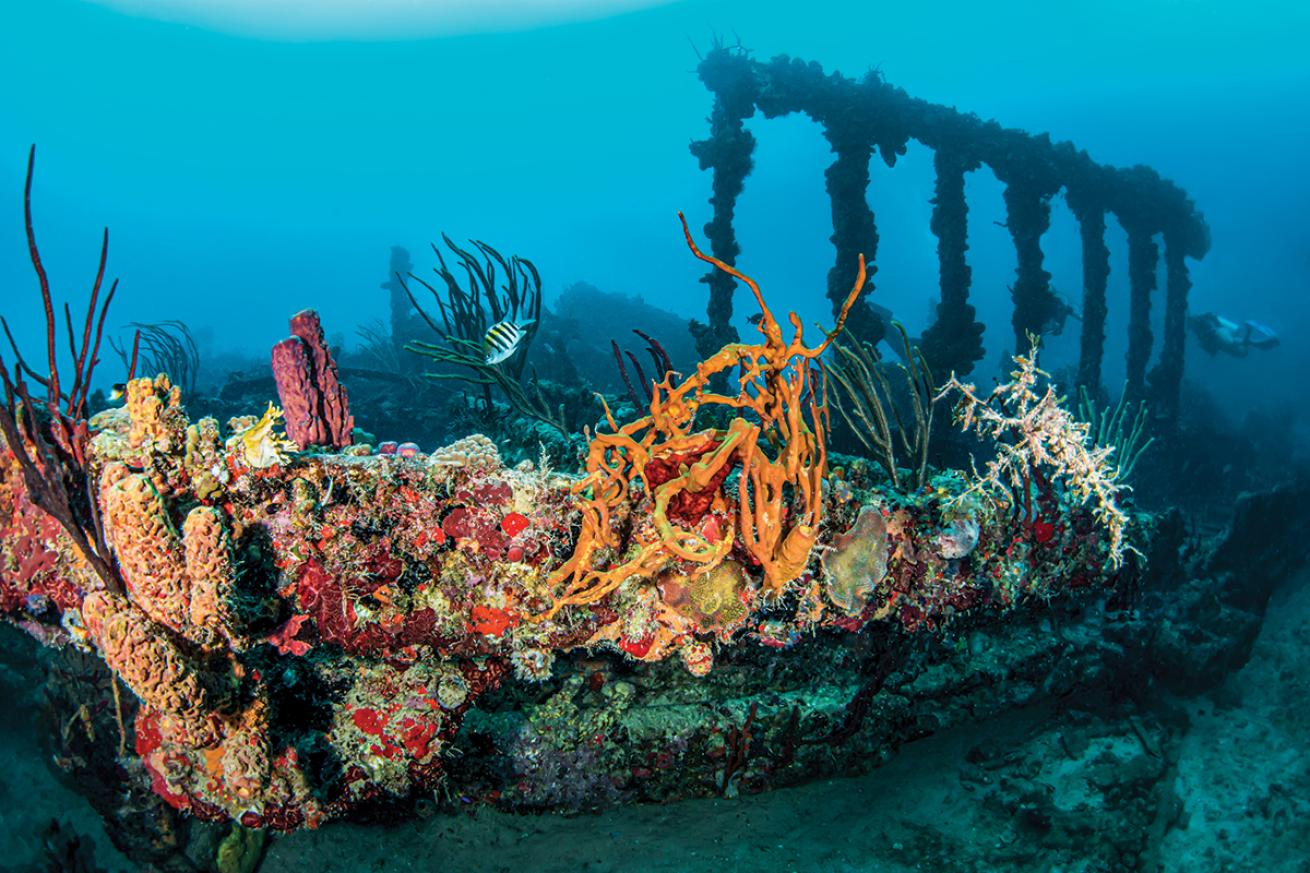 Lively colors abound on the RMS Rhone off Salt Island. Parts of the wreck are as shallow as 40 feet.

Tanya Burnett
No other Caribbean destination serves up more recreational-diver-friendly wrecks than the British Virgin Islands.
Most are shallow enough for open-water divers; even RMS Rhone has sections in just 40 feet of water. Then consider the site known as Wreck Alley, home to three vessels lying in 90 feet at the deepest point, with structures starting around 40 feet.
As for history, these wrecks span centuries, from the storied Rhone, sunk in 1867, to the Kodiak Queen, purposely downed in 2017 but also packing historical significance—it survived the 1941 Pearl Harbor attack.
Perhaps one of the most interesting is the Chikuzen refrigeration ship, lying off the northeast tip of Virgin Gorda. It's out of the way for most dayboats, but it's part of the weekly itinerary for the Cuan Law liveaboard. "It's a lone wreck, not near any of the islands," says Kevin Purdy with All Star Liveaboards. "The Chikuzen really is a little oasis."
There are no reefs nearby. As such, the wreck has become a stopover for spotted eagle rays, reef sharks and green moray eels—and the hull is a constant flurry of schooling grunts. "To see all those different things on one dive—the eagle rays, the sharks and the schools of fish—really is a treat," Purdy says.
Readers Picks
Liveaboards
All Star Cuan Law, British Virgin Islands
2. Bonaire
Bonaire does not have quantity when it comes to wrecks—in fact, the shore-accessible 235-foot Hilma Hooker is really the only one frequently dived, but that wreck is so unique and rewarding that the destination is a favorite among metalheads.
The Hilma Hooker is special in large part due to its location in the middle of a double reef system, protecting and attracting a different gathering of marine life.
Tarpon, barracuda and other "big, shiny, silvery fish" are always at the wreck. "We definitely see them in larger numbers and larger sizes than at other sites," says Bas Noij, owner of VIP Diving, a dive center offering guided dives and retail on Bonaire.
Inside the wreck, divers with overhead-environment training and gear can explore the engine room an a captain's room. You can also pop your head through one of the windows and see a safe.
Of course, you need to know which one. "This is definitely a good dive to do with a guide," says Noij, who tasks his charges with finding the real name of the ship, written in relief letters on the bow and the stern.
Going with a guide also opens up choices for diving the wreck in unexpected ways, such as starting from either neighboring reef— Angel City or the Lake.
Either way, he says, "You approach and just see gray amid all the blue, and then the wreck appears. It's a very cool, very surreal experience."
Readers Picks
Resorts
Buddy Dive Resort, Bonaire
Carib Inn, Bonaire
Divi Resort, Bonaire
Eden Beach Resort, Bonaire
Plaza Resort, Bonaire
Operators
Buddy Dive Resort, Bonaire
Carib Inn Dive Center, Bonaire
Divi Flamingo Divers, Bonaire
Toucan Divers at Plaza Resort, Bonaire
VIP Diving Bonaire
Wannadive Bonaire at Eden Beach Resort
3. Red Sea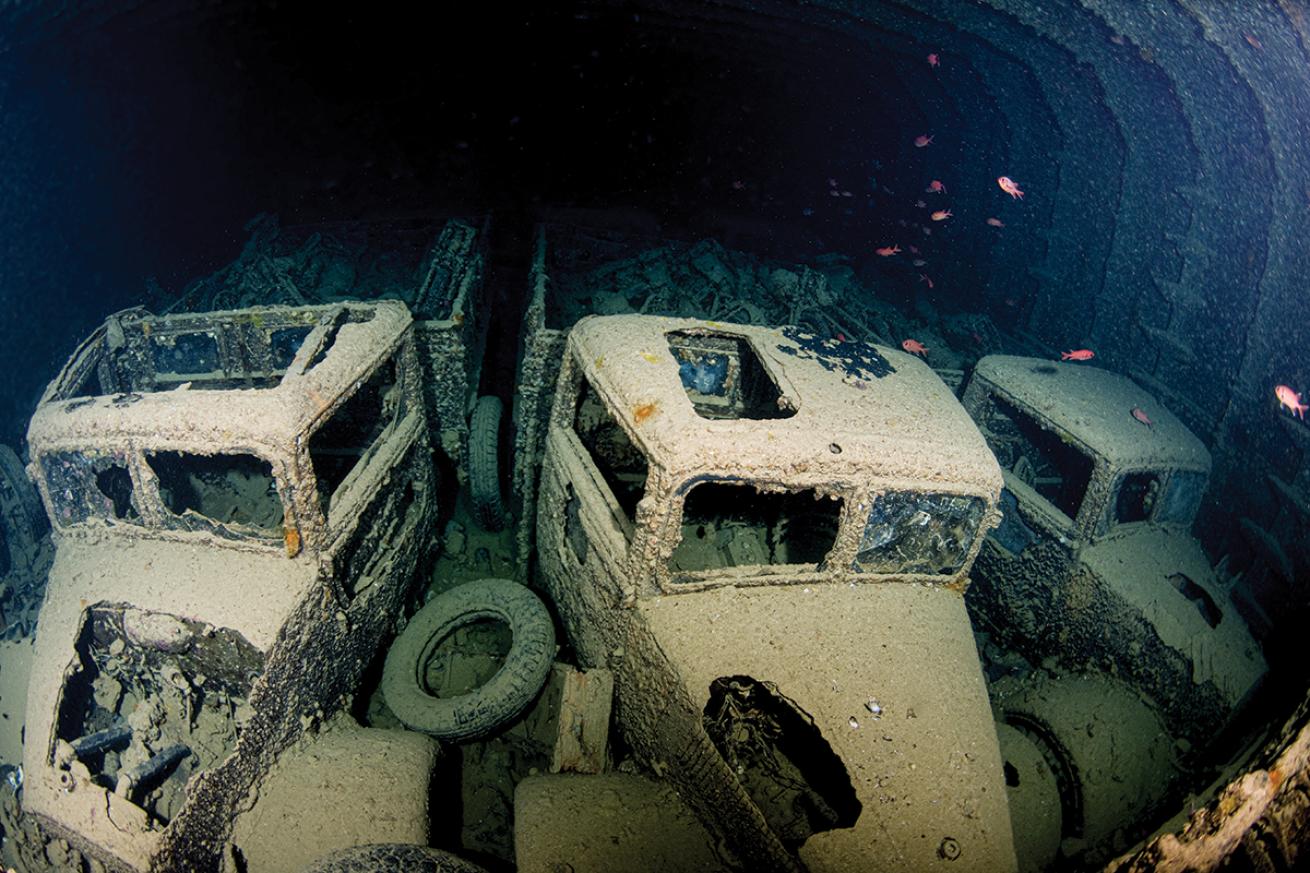 Well-preserved military vehicles still lie aboard the SS Thistlegorm off the coast of Egypt.

Dray Van Beeck
World War II leveled harbors and created mass destruction above and below the waterline. Of all that remains, the SS Thistlegorm off the coast of Egypt—where the Gulf of Suez meets the Red Sea—is without comparison the most impressive and museum-like vessel to welcome divers.
For liveaboard travelers, exploring the wreck is as easy as giant-striding from the swim platform off the aft deck. From here, each dive is a tour through room after room of jeeps, motorcycles, trucks and a host of other vehicles and supplies. There's an eerie calm inside each room, where collected exhalation bubbles create mirrors on the ceiling—the only movement inside the rooms besides eels, crabs and other dark-seeking dwellers nestled among the motorcycle kickstands, anchor chains and other now-stilled gear.
"It's all sitting strapped down like they were when it was transported during wartime—it's as if you're diving it the day after it sunk," says Wayne Brown, CEO of the Aggressor Adventures fleet of liveaboards.
Readers Picks
Liveaboards
Red Sea Aggressor II, Egypt
4. Australia
The name "Yongala" isn't that well known among North American divers, but the iconic images of marble rays stacked up in the current are. Officially the SS Yongala, this 350-foot passenger ship off Cape Bowling Green, Queensland, is famous first for its tragic history. A 1911 cyclone claimed the ship, along with 121 lives.
Second, it is famous as an artificial reef amid acres of sand. As such, the list of marine life it draws in is large: giant grouper, sea snakes, turtles, shovelnose guitarfish and cobia lying on the seabed. "You can dive it all day—it is absolutely exciting," says Craig Stephen, managing director for Mike Ball Dive Expeditions.
Because the ship is its own ecosystem teeming with life, Spoilsport—Mike Ball's liveaboard dive vessel—stays moored in the area long enough for divers to log up to six dives, including one at dusk and another at dawn.
With that much time, divers can explore its entirety, and locate the knickknacks around the perimeter, such as the gas lamps. "With the combination of history and all this wildlife, there really is so much going on at just this one wreck," Stephen says.
Readers Picks
Liveaboards
Spirit of Freedom, Great Barrier Reef
Spoilsport, Great Barrier Reef
5. North Carolina
Any diver who has read the historical nonfiction book Shadow Divers has certainly fallen under the spell of U-boats and the hidden war games happening just off the Eastern Seaboard.
Morehead City is the departure point to dive the U-352, an easily accessible intact German submarine. Sitting in 110 feet of water, it's best suited to advanced divers and those comfortable with depth. Those who make the journey will be awed at the thought of what life was like inside the 218-foot vessel.
Travelers come for the allure of the U-boat, but stay to work their way through the long list of North Carolina wrecks, including the 328-foot USS Indra in 60 feet of water, and the 188-foot USCGC Spar, a buoy tender lying at 85 to 110 feet.
6. Florida Keys
It's a rare thing when the person briefing you on the wreck you're about to dive has a personal connection to it.
Rainbow Reef Dive Center has two staff members whose life stories intertwine with the USS Spiegel Grove, hands down the most famous wreck off the island of Key Largo—and also the largest, at 510 feet.
The name Lew Bellows will ring a bell for anyone who admires the flags waving in the current off the ship. Bellows, a staff member at Rainbow Reef, has made it his personal mission to replace the flags when needed.
Another staff member, Jim Wyatt, now a captain with Rainbow Reef, once served on the Spiegel. "He gave me and my son a tour of the Spiegel— we asked him to give us a tour of exactly what he would do on a given day, from where he ate to where he slept," says Billy Wise, general manager of the shop. "Even thinking back to that dive, I get excited all over again."
Readers Picks
Resorts
Courtyard by Marriott, Key Largo
Dive Amoray, Key Largo
Holiday Inn, Key Largo
Marina Del Mar, Key Largo
Operators
Horizon Divers, Key Largo
Ocean Divers, Key Largo
Rainbow Reef, Key Largo
The Best Regional Wreck Destinations Around the World
Caribbean and Atlantic
British Virgin Islands
Bermuda
Cayman Islands
Aruba
Bay Islands
Bahamas
U.S. Virgin Islands
Mexico
Bonaire
Curaçao
Pacific and Indian
Red Sea
Hawaii
Indonesia
Truk Lagoon
Guam
Palau
Australia
Japan
Thailand
U.S. and Canada
North Carolina
Great Lakes
Florida Keys
Florida
New York/New Jersey
California
---