Four Extraordinary Dive Resorts to Blow Your Next Trip Out of the Water
Divers usually care more about what's beneath the waves than what can be found on land (unless it's what's for dinner). Manatees matter more than massages, and a squeaky bed is fine if it's close to the seabed.
But shouldn't your surface interval be just as spectacular as your dives?
These four dive resorts deliver a wow factor all their own—think hanging out on a decommissioned oil rig, or a "liveaboard rock" with its own helipad. At the end of your trip, you may just find yourself telling friends back home as much about your stay as the stingrays.
Anse Chastanet, St. Lucia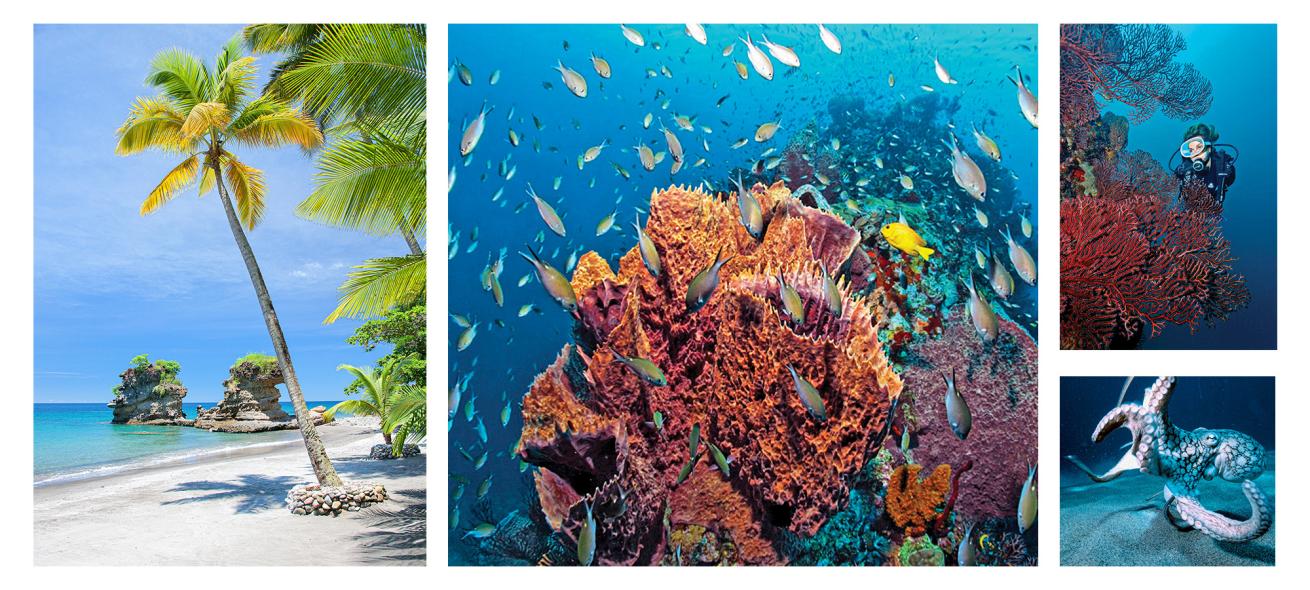 "When you surface from a great dive and look back to shore, all you see is our rooms tucked into the rainforest, and nothing else but jungle." — Yasha Troubetzkoy, general assistant manager, Anse Chastanet

Courtesy images from Anse Chastanet
Built into a hillside and enveloped in natural foliage, Anse Chastanet provides luxury eco-friendly diving and accommodations. Rooms breathe nature in through open fourth walls, allowing for trees to grow in the building, says Anse Chastanet's general assistant manager Yasha Troubetzkoy, adding the resort also has "12 air-conditioned rooms at beach level, which are very popular with our divers." Nestled low among the trees, resort views encompass evergreen peaks and azure waters, and all of it is protected by rainforest and marine reserves.
Conservation permeates the resort's activities on land and sea. Anse Chastanet offers quality Caribbean diving with easy access to the reefs of St. Lucia, which begin only 10 yards offshore, as well as wreck and night diving, all in a dormant volcano. The volcano's last blast left the area with a "stunning underwater topography...full of underwater pinnacles, steep wall dives dropping into the deep blue, and lush coral gardens," says Troubetzkoy. Area reefs house nurse sharks, lobsters, eels and rays, and the house reef scuttles with octopuses, seahorses and more than 150 kinds of fish.
Dive depths range from 20 to 140 feet, depending on the site, including several walls and the wreck of the purpose-sunk Lesleen M. Guests can also get certified to hunt invasive lionfish, which resort chefs will happily include in your five-course dinner; tour the resort's organic farm or chocolate lab; take a bike ride through the jungle; or do paddleboard yoga.
When to Go Year-round; dry season, from October to May, offers the best topside weather
Dive Conditions 20- to 200-foot viz depending on the day and site; 79° to 85°F water temps
Nightly Rates $430 to $1,645
Website ansechastanet.com
Villa on Dunbar Rock, Guanaja, Honduras
"We are unique in that the number of dive sites is about triple the number of divers that visit each week." — Mark Walker, vice president of Villa on Dunbar Rock

Courtesy Villa on Dunbar Rock
From the outside, this resort looks like a millionaire's island getaway; it's easy to imagine a Bond villain landing on the villa's private helipad during a glamorous action sequence. But this "liveaboard rock" caters to serious divers, with easy access to one of the Caribbean's most underrated locales, the Honduran island of Guanaja. Located about 8 miles northeast of better-known scuba mecca Roatan, Guanaja is the most remote of Honduras' Bay Islands.
According to the villa's vice president, Mark Walker, its isolation plays to visitors' advantage: "On almost all dives, we are the only dive boat in sight."
When they're not diving, visitors can relax with a drink in the heated infinity pool on the second story, or paddleboard off the pocket-size private beach. Every room on the rock has rockin' ocean views; if you've ever dreamed of having your own private island, Villa on Dunbar Rock has you covered—the entire resort can be rented for weeklong private parties for you and your 21 closest friends.
"Few people expect to go to a remote location such as this and find amenities that meet or exceed the standards of the finest of five-star hotels," says Walker. Their 50-plus accessible dive sites "offer a mixture of pinnacles, vertical walls, lava tunnels and wrecks." The reefs are home to octopuses, moray eels and more than 300 species of fish. Dolphins and whale sharks frequent the area, and the 240-foot wreck of the Jado Trader is nearby.
When to Go Year-round; April and May for the warmest, driest weather; March to April for whale sharks
Dive Conditions Viz hovers around 100 feet, and temperatures between 78° and 84°F
Nightly Rates $181 to $541; a three-day minimum is required
Website dunbarrock.com
Lady Elliot Island Eco Resort, Queensland, Australia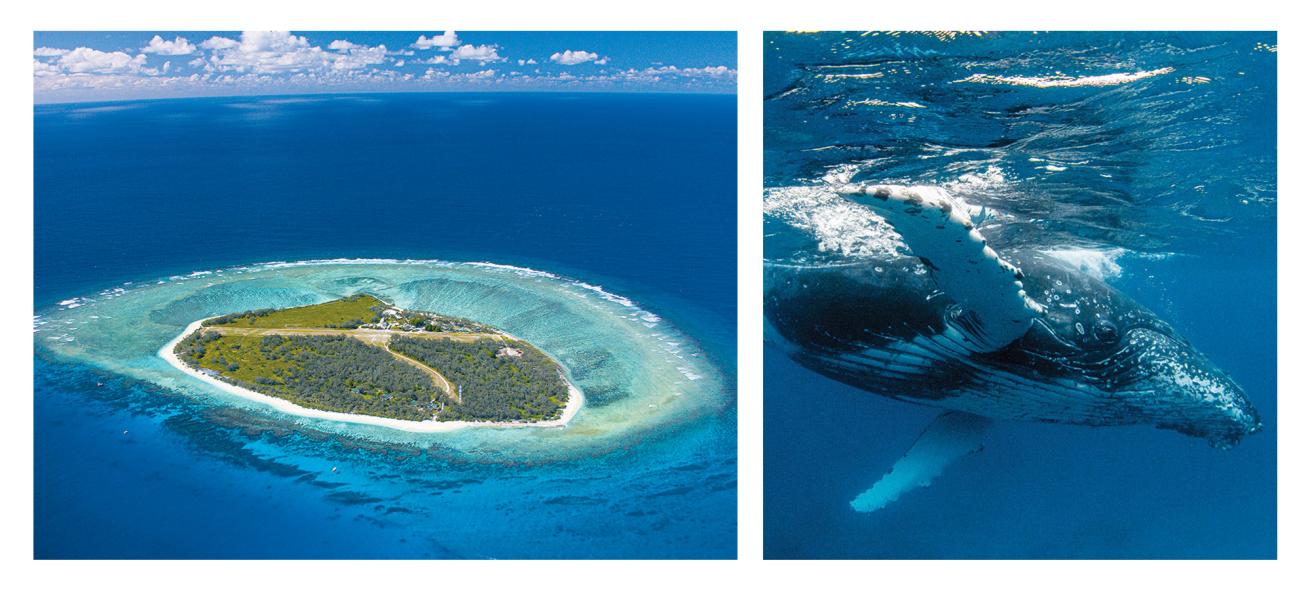 "The main goal is to provide guests with life-changing moments and world-class experiences through natural encounters, both above and below the water." — Remy Suffredini, reservations and operations, Lady Elliot Island Eco Resort

Courtesy Lady Elliot Island Eco Resort
"The island is situated within a highly protected Green Zone of the [Great Barrier Reef] Marine Park," which means nothing can be taken or hunted, resulting in "sanctuary for over 1,200 species of marine life," says Remy Suffredini, a marine biologist and dive instructor who works on the resort's reservations and operations team. Lady Elliot Island "is renowned for its healthy coral reef and abundance of turtles, manta rays, reef sharks and the entire cast of Finding Nemo."
As highlighted by the marine sanctuary, green is the name of the game at the award-winning Lady Elliot Island Eco Resort, which is progressing toward 100 percent sustainability thanks to its on-site solar panels and water desalination plant. Guests staying in the resort's 44 low-key rooms can explore the island's Climate Change Trail, a hike designed to highlight the damage of increasing global temperatures. There are also two snorkel trails and daily snorkel safaris for those who want to stay in the water even when staying at sea level.
Nearby dive sites cater to a variety of tastes; guests can choose between caves, walls, reefs and a wreck. The resort organizes at least two dives daily and night dives upon request. Wreck-diving fans can check out the Severance, a yacht that sank to nearly 70 feet in 1999. PADI named the resort one of the five best places to dive with manta rays—if you're lucky, you might spot Inspector Clouseau, the world's only known pink manta ray.
When to Go Year-round; December to February for high viz and water temps; May to November to witness humpback whales and coral spawning
Dive Conditions 85°F water in the summer, with 50- to 100-foot visibility
Nightly Rates $106 to $389 for adults; $60 to $83 for children
Website ladyelliot.com.au
Seaventures Dive Rig, Sebah, Malaysia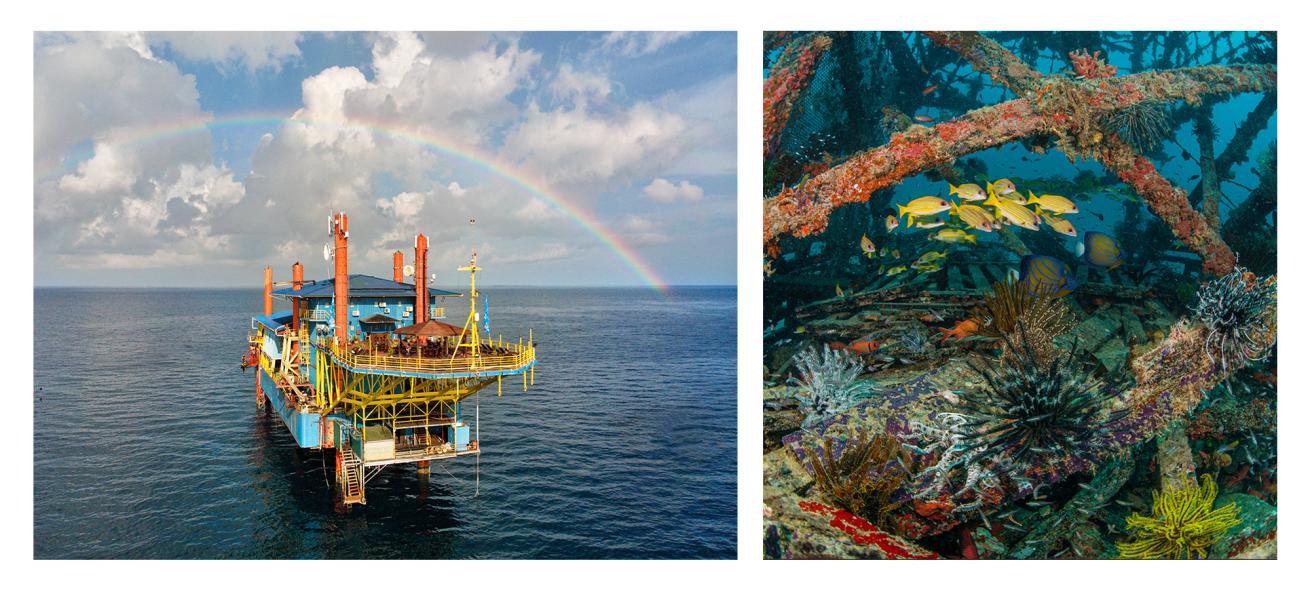 "Divers of all levels will be spoilt for choice" and, for avid photographers, the area offers "a playground of colorful reefs and marine life." — Edrie Juce, Seaventures' Communications Administrator

Courtesy Seaventures Dive Rig
Most people looking at a decommissioned oil rig would see a heap of scrap metal. But a Malaysian government official who spied this rig in Singapore in the 1980s saw something else entirely—a world-class dive resort.
"We repurposed what would otherwise be demolished or abandoned, turning it into this unique place where people come together doing something they enjoy and [are] passionate about," says Edrie Juce, Seaventures' communications administrator. After renovations, this one-of-a-kind lodge boasts an expansive sun deck on the top floor, providing broad ocean and island views in the Coral Triangle.
Divers can hop straight into the water day or night from a descending platform to explore nearby artificial reefs including the legs of the rig itself, giving you the easy access of shore diving without a long swim. Juce says these reefs bustle with "ghost pipefish, frogfish, sea fans, nudibranchs and the occasional pygmy seahorse."
Less than a half-hour's boat ride away is world-famous Sipadan Island. "An untouched piece of art," according to Jacques Cousteau, Sipadan is strictly protected by government-rationed dive permits. If you get one of the day's 176 permits, you'll drift through some of the world's most biodiverse waters at sites like Barracuda Point and Turtle Cave. Keep an eye out for pelagics like hammerheads and whale sharks weaving among thousands of fish species. The nearby islands Mabul and Kapalai have reefs that do not require a permit; they are revered by macro photographers and those looking for a beachside surface interval.
When to Go Year-round; the dry season from April through October provides the best viz and surface interval weather
Dive Conditions Currents impact viz, which can range from 15 to 160 feet; water temps hover between 77° and 84°F
Nightly Rates From $420 for three days/two nights in the four-bed dormitory to $1,180 for six days/five nights with Sipadan dive
Website seaventuresdive.com