The Six Best Destinations for Underwater Photography
1. Bonaire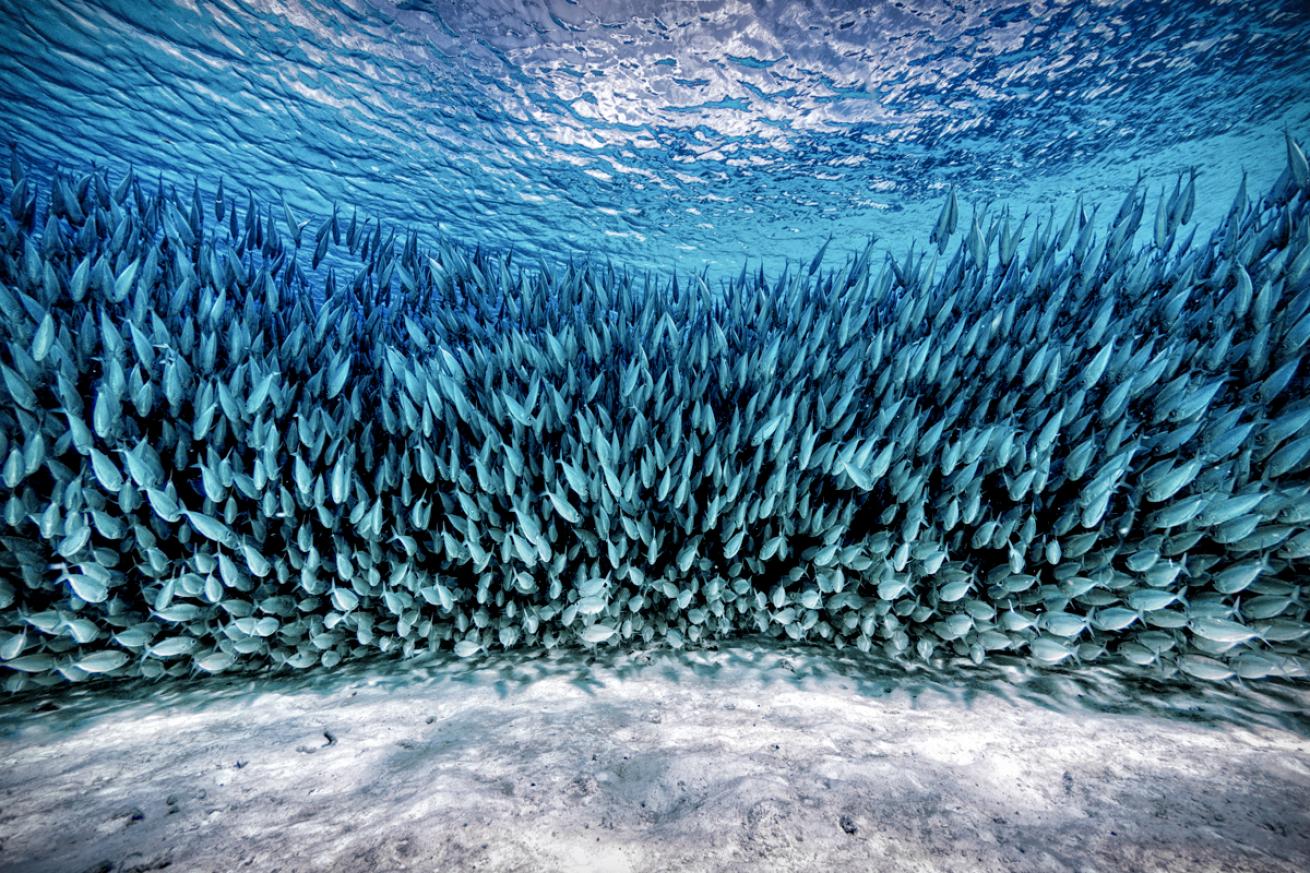 A wall of bigeye scad swarm on a shallow dive in Bonaire.

Lorenzo Mittiga
Happening upon an ideal subject on a colorful, lush, healthy backdrop only to realize your strobe battery has died can be frustrating, to say the least. Rarely does life allow for do-overs—but underwater photographers visiting the Dutch Caribbean island of Bonaire get exactly that.
This shore-diving mecca ranks No. 1 in our annual Readers Choice results due in no small part to its healthy population of frogfish, nudibranchs, seahorses, mantis shrimps and other macro life.
There's a reason that these small critters unlike the eagle rays, squid and turtles also found off Bonaire, give photographers second and third chances. "They don't travel that far, so you can come back two times in the same day and they are still in the same neighborhood as where you found them," says Guillermo Alcorta, the photo guy at Buddy Dive Resort.
This is especially helpful when a diver finds a new critter that becomes an obsession: You can go back again and again to keep hunting that elusive perfect shot. For Alcorta, it's the teardrop crab, a red-and- white, hairy-limbed miniature spanning less than half an inch.
Readers Picks
Resorts:
Buddy Dive Resort
Carib Inn
Bonaire
Divi Resort
Bonaire
Eden Beach Resort
Bonaire Plaza Resort
Operators:
Buddy Dive

Carib Inn Dive Center
Divi Flamingo Divers
Bonaire Toucan Divers at Plaza Resort
VIP Diving Bonaire

Wannadive Bonaire at Eden Beach Resort
2. Bahamas
The Bahamas stands out to photographers for so many reasons: stellar visibility, warm water and ease of access for many North American travelers— not to mention the sure-thing shark encounters to be had throughout the islands. The island of South Bimini in particular has become synonymous with great hammerheads over the past decade.
"Bimini is the only place in the world where you can consistently and reliably hone your photography skills on hammerhead sharks," says Neal Watson II, owner of Bimini Scuba Center.
From November to March, they're found yards from shore in a sandy area just 25 feet deep, which means the limiting factor for most shooters is likely their camera battery or memory card—not their air supply. "Every day [during season], people come up and say that they have never taken so many photos in their life," says Watson, adding that some divers have taken upward of 900 shots on a single tank. That's because the sharks nose in, often bumping cameras—letting shooters experiment with capturing up-close shots, wide-angle and everything in between. Thanks to the water clarity and the site's shallow depth, strobes aren't necessary—making it a great opportunity for newer photographers as well as those more experienced.
Readers Picks
Operators:
Stuart Cove's Dive Bahamas
Liveaboards:
AquaCat

Bahamas Aggressor
Blackbeard's Cruises
Cat Ppalu
3. Indonesia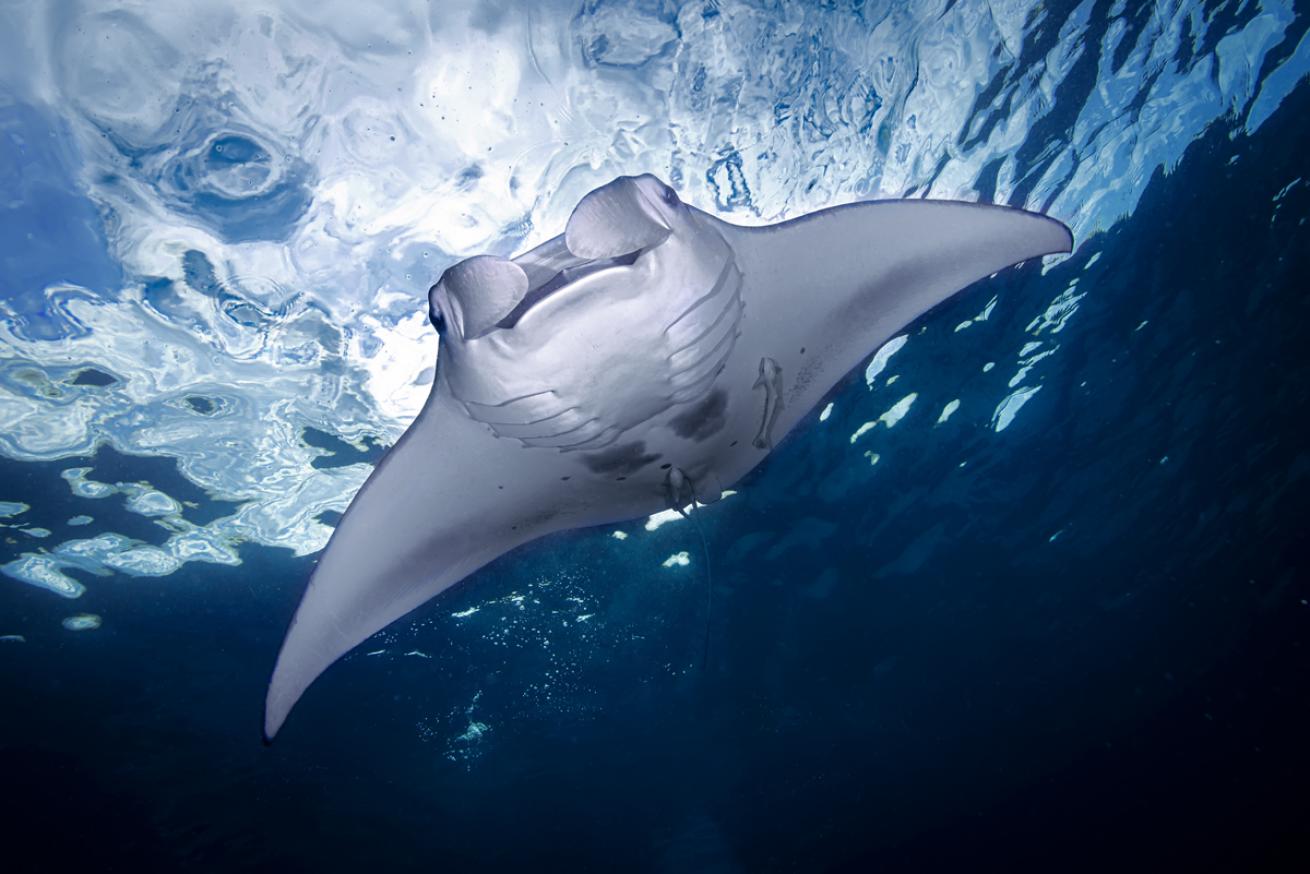 A manta shows off in Komodo National Park, Indonesia.

Massimo Giorgetta
It's tempting to praise Indonesia for its ability to deliver wide-angle gold—that is, panoramas packed with vibrant, so iridescent-it's-almost-neon coral—but the highlight for many shooters is the seemingly unending availability of otherworldly critters. With macro life abounding throughout the country, one of the best ways to decide where to base yourself for a photography-centric getaway is the quality of the staff and service.
Take Wakatobi Dive Resort, near the island of Sulawesi. "All you have to do is tell our guides, 'Hey, I want to see this creature,'" says Karen Stearns, manager at the resort, about the dive team's intimate knowledge of the house reef and nearby dive sites. Whether it's a coral cod or a pink hairy squat lobster, staff can give detailed directions or hop in the water for a personal tour.
Another unique offering is the private boat available for day bookings, allowing photographers to indulge in that one thing they're so often denied: the ability to move at their own slow, deliberate pace. This option also means guests can spend the day at a site of their choosing, zeroing in on a specific reef or critter.
Readers Picks
Resorts:
Wakatobi Dive Resort, South Sulawesi, Indonesia
Operators:
Wakatobi Dive Resort Dive Center
Liveaboards:
All Star Aurora
The Arenui
Dewi Nusantara
Pelagian Yacht
Sulawesi
4. Maldives
What you think about the Maldives depends mostly on whom you have been listening to. "The majority of scuba divers aren't photographers, and tend to gravitate toward the big things," says Wayne Brown, owner of the Aggressor Adventures liveaboard fleet. "That's how a destination like the Maldives gets a reputation for mantas and whale sharks. But really, it's got pygmy seahorses all the way through whale sharks."
Many photographers who spend a week on Maldives Aggressor II will shoot a mix of macro, midrange and wide-angle shots thanks to the ranging scale of subjects: nudibranchs, turtles, cuttlefish, schools of anthias, soft corals, leopard sharks, mantas and whale sharks.
Another bonus for divers who favor wide-angle shots is the topography. "With areas like Indonesia that have these volcanic cliffs and mountains, you're limited in the time you can shoot wide-angle because those mountains will block the sun-light," says Brown. "Obviously, in the Maldives, that never happens because these islands are all flat."
Readers Picks
Liveaboards:
Four Seasons Explorer
Maldives Aggressor II
5. Australia
Some of the biggest highlights of Australia's Great Barrier Reef are, well, the big stuff: minke whales, blacktip reef sharks, gray whaler sharks, leopard sharks and dugongs.
For many underwater photographers, this makes for a long list of must-get shots. "The wide-angle shot of multiple sharks close enough to see their electroreceptors" is one of those holy grail shots of the Coral Sea, says Craig Stephen, managing director of Mike Ball Dive Expeditions in Cairns.
So too is a close-up of the eye of a minke whale. This species comes to the reefs every June and July. A favorite among photographers, this 30- to 35-foot baleen species is especially acrobatic, often thought to behave more like a dolphin than a whale.
Readers Picks
Liveaboards:
Spirit of Freedom
Spoilsport
6. Florida Keys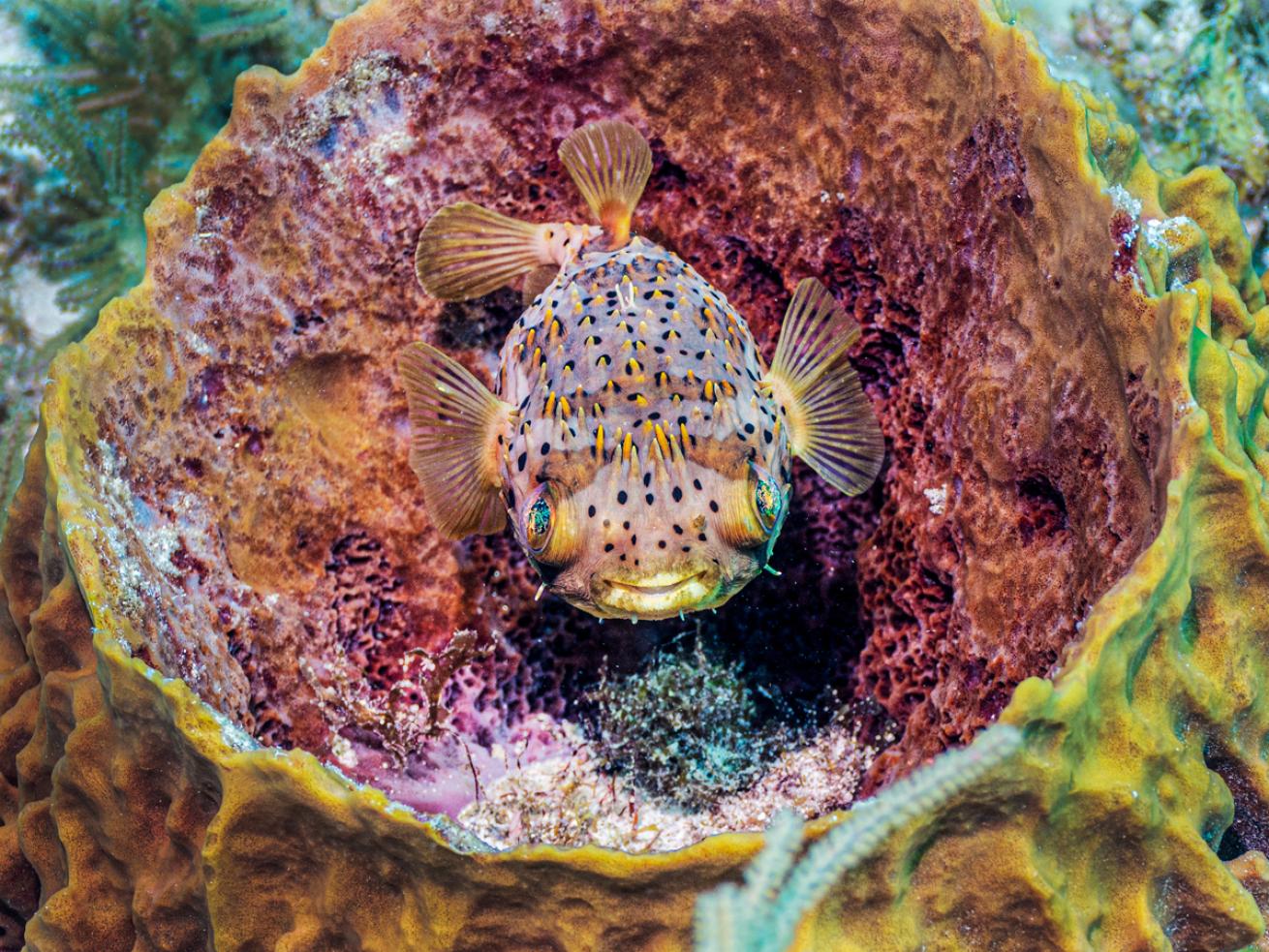 A pufferfish smiles for the camera in Key Largo, Florida.

Erik Boman
The Sunshine State offers one of the longest lists of photo subjects available in the country, from the manatees off the west coast in the winter months to the goliath grouper spawning off the Palm Beaches in September.
But for reefs so shallow that even snorkelers can get in on the action, there's no better place than Key Largo. Sites such as Banana Patch can offer schooling fish, free-swimming eels, turtles, nurse sharks and more, all between 20 and 30 feet deep. "At these depths, you get a lot of light, so you don't have to have a crazy camera system," says Beverlee Smith, instructor with Rainbow Reef Dive Center.
The destination sees its share of beginners as well as professional shooters, who often charter local boats by the week.
In that weeklong time frame, divers can see a healthy mix of the 60 or so sites, which include 30 dives at the renowned Molasses Reef Sanctuary Preservation Area as well as three deep wrecks and two in a shallower range. Dive centers
like Rainbow Reef also offer another set of sites just for snorkelers. "We have even more sites that are very shal- low, with the corals right in front of you when you're right on the surface," says Smith.
It's enough to fill any underwater photographer's memory card.
Readers Picks
Resorts:
Courtyard by Marriott Key Largo
Dive Amoray
Florida Keys Holiday Inn
Marina Del Mar
Operators:
Dive Key West
Florida Keys Horizon Divers
Ocean Divers
Florida Key (now owned by Rainbow Reef)
Rainbow Reef
---