The Best Destinations for Advanced Scuba Diving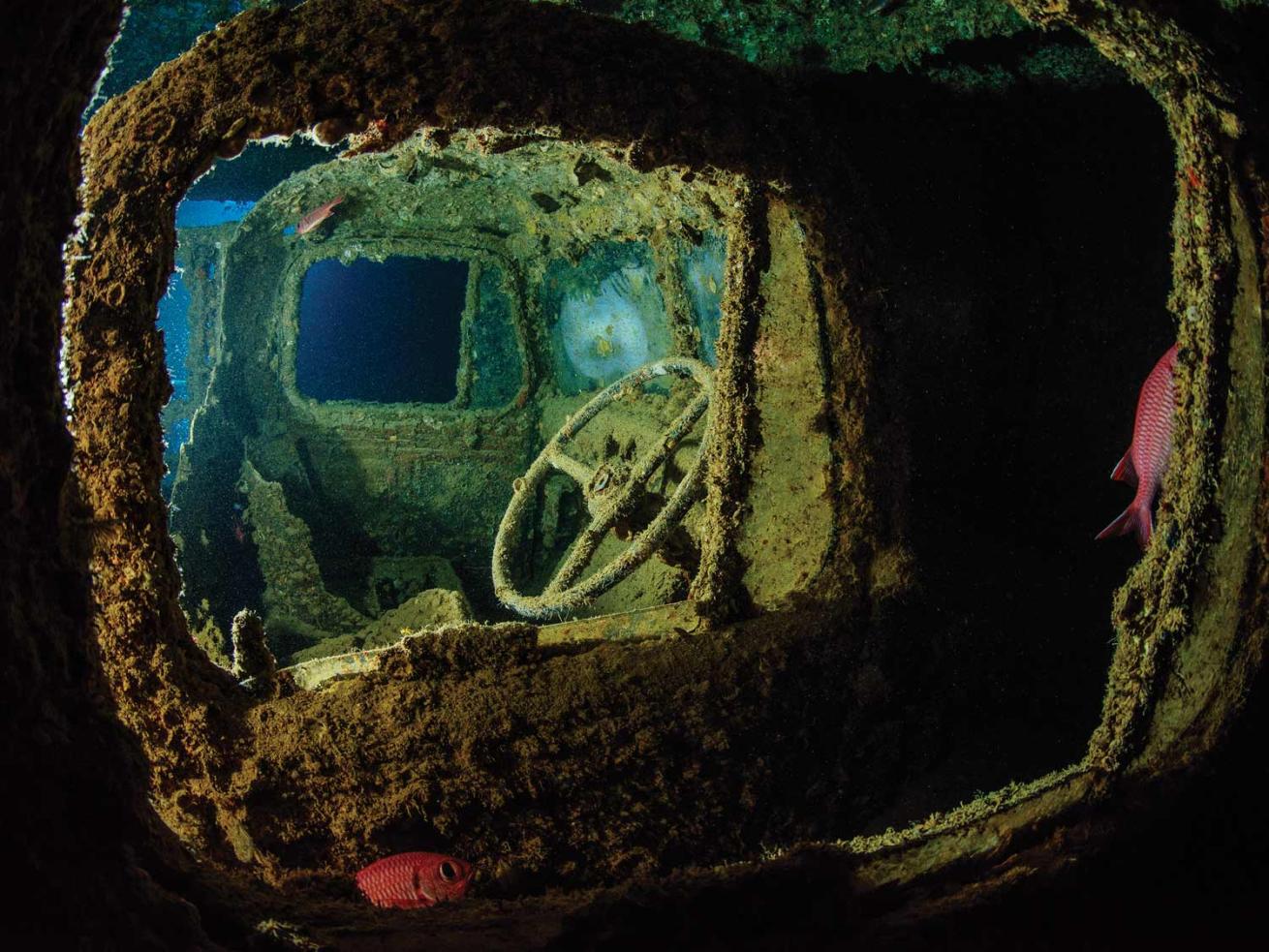 The Thistlegorm is full of trucks and bikes.

Damien Mauric
Red Sea
Some Red Sea-based liveaboards require guests to show proof of an advanced diver certification or similar experience thanks to the dive conditions: Nearly every dive is a drift dive, and many reefs start at the 70- to 80-foot range. If you can handle fast water and deep dives, then this narrow body of water can grant you encounters with great hammerheads, tiger sharks, whitetip reef sharks, mantas and even whale sharks. Plus, the SS Thistlegorm presents a further challenge: Penetrating a World War II wreck while traveling single file through cargo hold after cargo hold demands that divers bring ace buoyancy.
Readers Picks
Liveaboards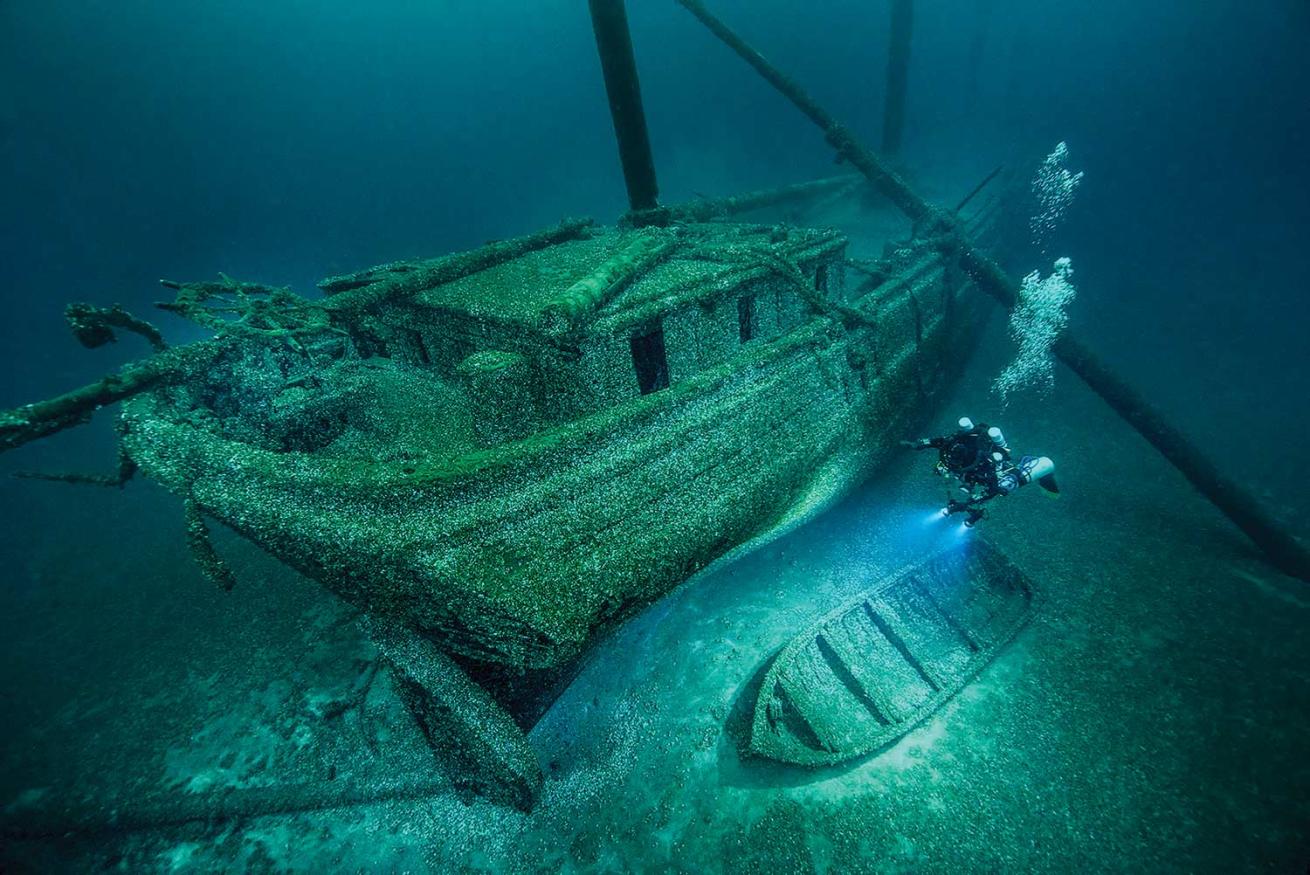 A diver illuminates the yawl boat by the Cornelia B. Windiate in Lake Huron.

Becky Kagan Schott
Great Lakes
What wrecks in the Great Lakes have in common is that most became reefs as a result of storms, not because a team of divers planned their sinking. They lie ­wherever the hand of Mother Nature swept them, often at depths well past 100 feet.
"We have wrecks at 120, 130 feet, so depending on your capability, you can dive on a wreck at 130 feet," says Bruno ­Burnoski, owner of the Great Lakes Diver, a ­scuba center in Port ­Sanilac, ­Michigan. In addition to depths that require experience, the temperature is more demanding on a diver.
"With that cold water, 120 feet here is totally different from 120 feet in the ­Bahamas," Burnoski says.
Those ready to take on the cold and the deep will be rewarded with some of the most haunting scenery diving has to offer, from the 588-foot SS Cedarville, 110 feet down in the Straits of Mackinac Shipwreck Preserve, to the 265-foot wooden steamer SS Henry Chisholm in depths starting at 80 feet in Isle Royale ­National Park.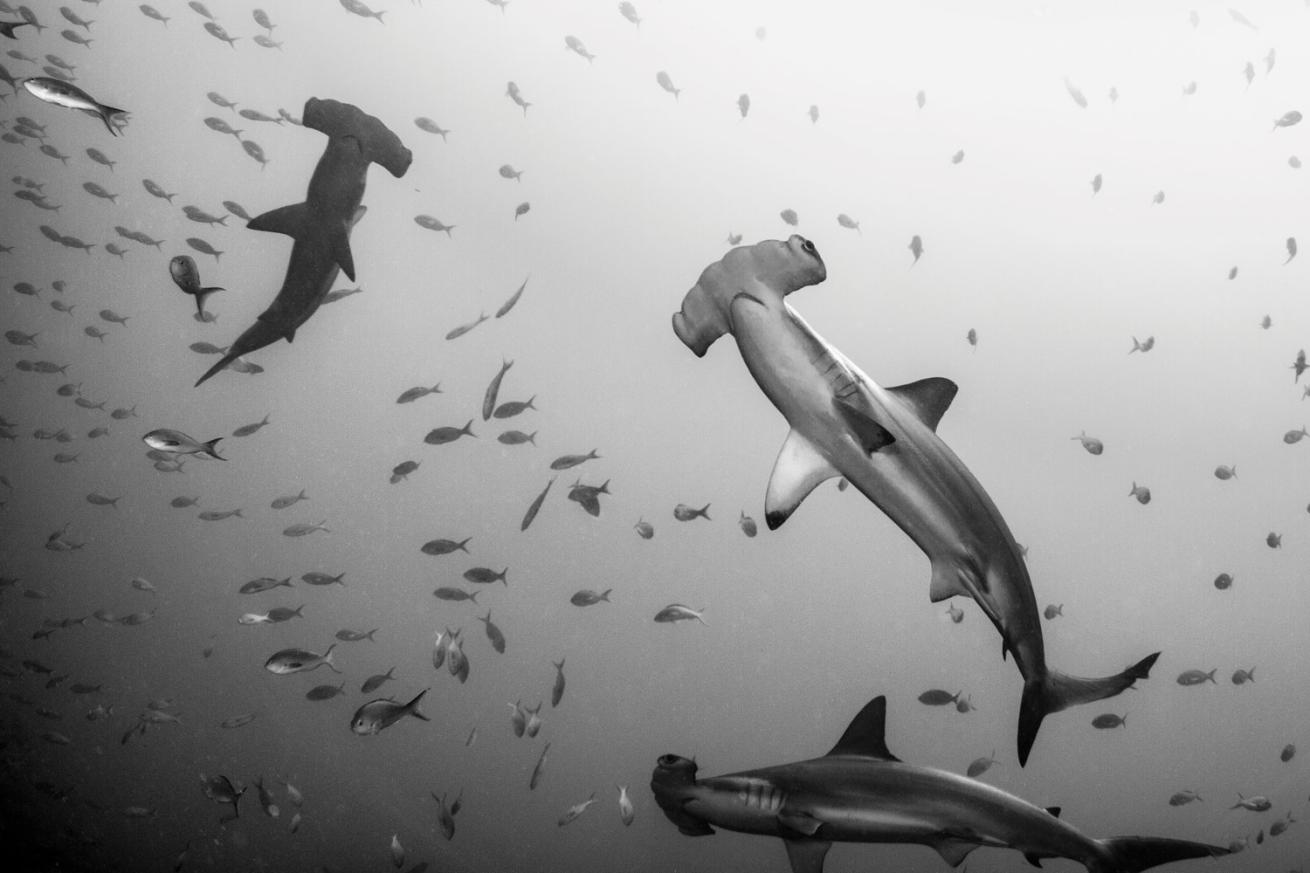 Hammerheads pass by Wolf Island in the Galapagos.

Kadu Pinheiro
Galapagos Islands
Swift currents and the occasional down-­current make the ­Galapagos Islands one of the—if not the—most challenging dive destinations that's also a household name. To enjoy the abundance of life here, divers need to have buoyancy dialed in—and be prepared to handle the unexpected, from shifts in current direction to maintaining a fixed point on a rocky bottom to avoid getting blown off a site. Do so, and the rewards are many, from schooling hammerhead sharks, seen most commonly June through November, to manta rays from December to May.
Readers Picks
Liveaboards
North Carolina
North Carolina's ­Outer Banks are a ­territory for advanced divers. One reason is depth: Most wrecks start in waters outside an open water diver's ­wheelhouse.
Those who can dive the collection of World War II ships will also be treated to a parade of pelagics.
"The diversity of ­marine life is phenomenal thanks to the meeting of the ­Labrador and Gulf currents," says ­Debby Boyce, owner of ­Discovery Diving, based in Beaufort, North Carolina. "On many wrecks where we ­typically see Atlantic sand ­tigers, you'll see six to eight —but on certain days, you can see 100."
Palau
Hook-in diving is said to have been invented in Palau, where sites such as Blue Corner and Peleliu Express require that divers rely on metal J-shaped tools to anchor themselves to the edge of the walls where the current whips by. There, when timed with the outgoing current, divers stay put alongside schools of gray reef sharks that cruise in the ­current, hoping to take ­advantage of smaller fish that get swept up in the ­speeding water. Beyond the drifts, ­Palau presents further challenges because many sites are wall dives, with visibility so deceptively clear that it's easy for less-careful divers to drop to and past 130 feet completely unaware—until their dive computer beeps madly, elbowing them to return to shallower depths.
Readers Picks
Resorts
Operators
Liveaboards
Palau Aggressor II/Rock Islands Aggressor
Florida
From cave-laden middle Florida to the reef that parallels the coast as far north as Jupiter, the Sunshine State has a lot to keep advanced divers busy.
But perhaps the biggest attraction is wreck diving.
"Key Largo has some of the most fantastic wrecks in the state—the Spiegel, the Duane, the Bibb—and the most interesting parts of those wrecks are past 100 feet," says John Buckley, PADI Master ­Instructor with Rainbow Reef Dive ­Center. He's referring to the ­superstructures and swim-throughs of the 510-foot USS Spiegel Grove, and its sister ships, both 327 feet long.
The Spiegel runs the gamut for an advanced ­recreational dive, with the shallowest part of the superstructure at 65 feet, and the ­propeller near the sand at 130 feet. ­Buckley's highlight list includes the navigation bridge, the helicopter landing pad and the air traffic control tower, which flies a flag atop.
Readers Picks
Operators
Rainbow Reef, Key Largo
Ocean Divers, Key Largo
Horizon Divers, Key Largo
Dive Key West
Key Dives, Islamorada
Sea Experience, Fort Lauderdale
Quiescence, Key Largo
Pura Vida Divers, Riviera Beach
Florida Keys Dive Center, Islamorada
American Dream Dive Charters, Fort Lauderdale
Resorts
Amy Slate's Amoray Dive Resort, Key Largo
Hawks Cay Resort and Marina, Duck Key
Looe Key Reef Resort, Ramrod Key
Liveaboards
Juliet Sailing and Diving, Miami
Blue Iguana Charters, Key Largo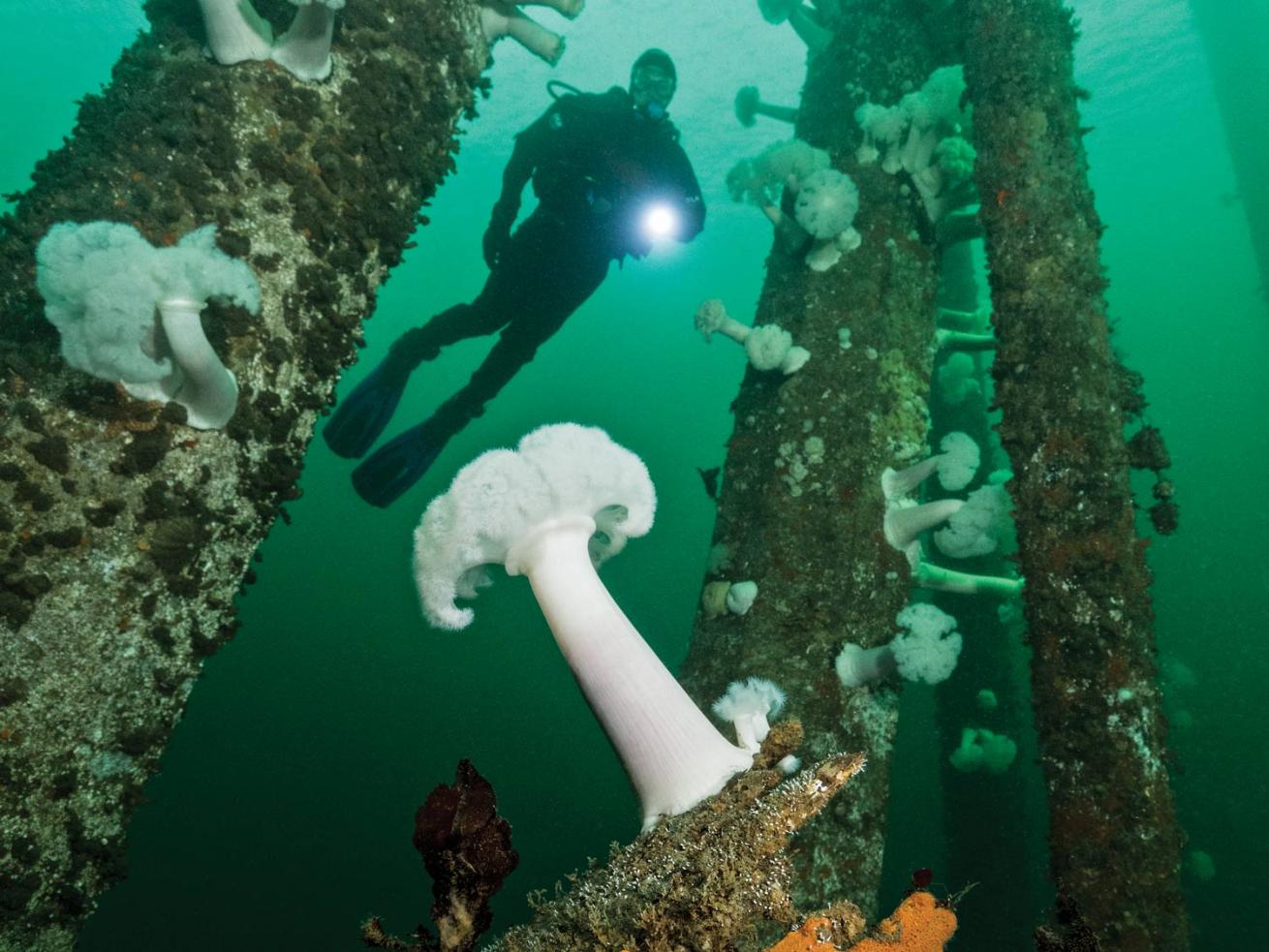 Giant plumose sea anemones decorate Argonaut Wharf in British Columbia.

Brandon Cole
British Columbia, Canada
Cold water. Walls. ­Demanding tide ­changes. The hurdles certainly ­exist between diving British Columbia and a walk in the park, but if you can time the tides right—or be willing to confirm with a local dive center when slack is—you'll drop in on invertebrate-covered walls that explode in color. The signature hotspot that should be on your bucket list, if it isn't already, is ­Browning Pass, the channel flowing alongside the northeastern tip of Vancouver Island, north of the town of Port Hardy.
This area, ­particularly the stretch known as God's ­Pocket, is a wonderland of macro life—one of the corners of the globe with the greatest abundance of ­nudibranchs. Plus, the giant ­Pacific octopus grows to be 100 pounds in this region.
Everything swells to ­almost unrecognizable sizes—even starfish grow so big that they consume other ­starfish. These—along with wolf eels, sponges and anemones of gigantic proportions, and Puget Sound king crabs—are the reasons it's well worth exploring ­British Columbia far beneath the ­surface.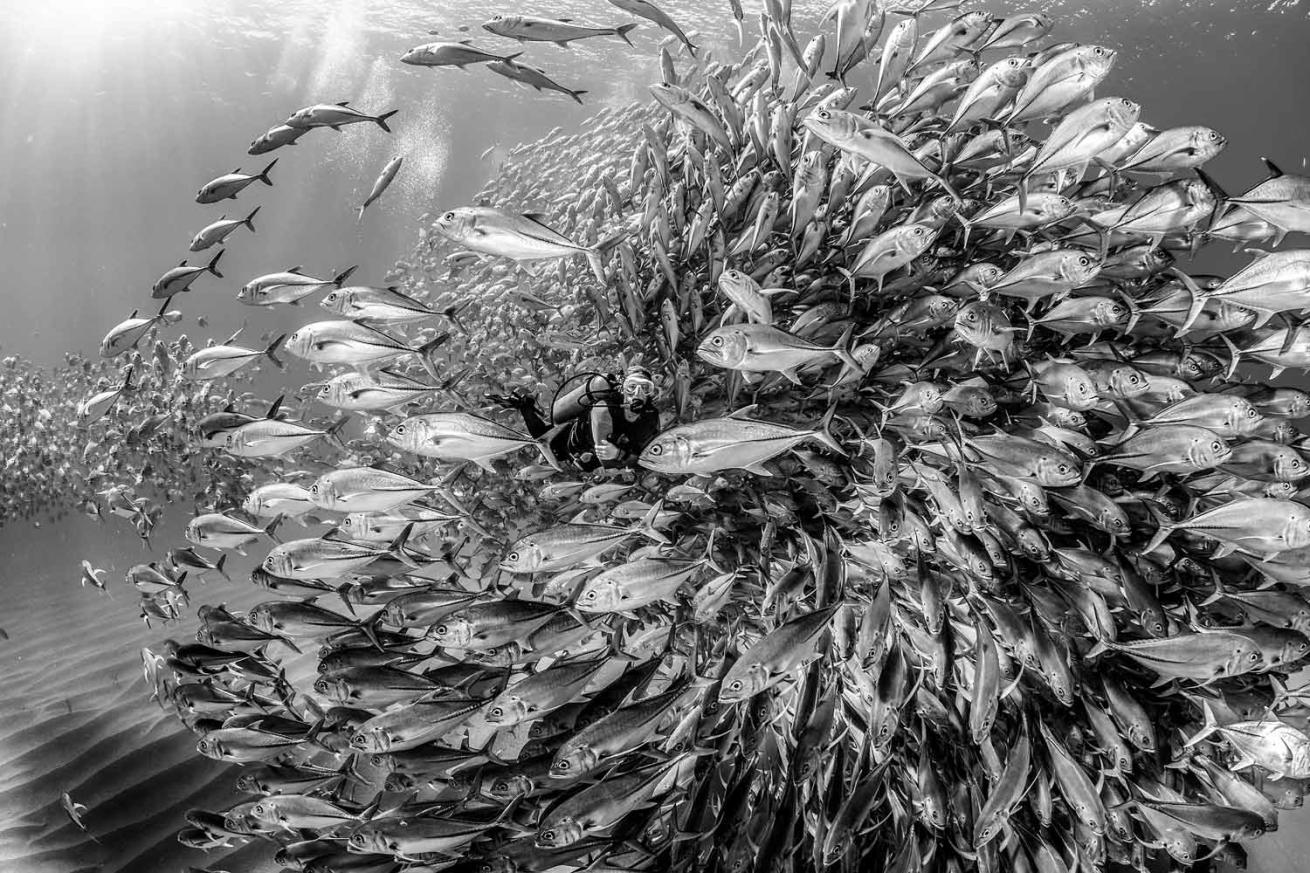 Swirling schools of jacks impress off Baja California Sur, Mexico.

Jason Sintek
Revillagigedo Islands, Mexico
Socorro Island, 240 miles off Mexico's Baja California Peninsula, is one of the last Wild West destinations for diving. There, ­anything can happen—­including strong, unpredictable currents that could shake a ­novice diver.
Those experienced enough to stay calm through the unpredictability will marvel at what can pass through these parts. Regular sightings ­include humpback whales at the surface—including calves—plus seven species of shark, including whale, hammerhead and ­tiger, ­underwater. Add to that list giant mantas.
"The mantas love to feel your bubbles on their belly, so they hover above you," says Dora Sandoval, owner of the M/V Rocio del Mar liveaboard, which travels these waters. Little surpasses that high—it's pure underwater magic.
Readers Picks
Liveaboards
Nautilus Explorer
Pelagic Fleet
Rocio del Mar
Mexico
One flag, unlimited possibility, from sharks and other big-animal encounters to a labyrinth of caverns and caves. Find shark diving off the Riviera Maya city of Playa del Carmen, where every January and February, visitors can get friendly with bulls. ­Cozumel has long been synonymous with walls, deep diving and currents that merge to create a playground of thrills. Head west to Baja, with deeper dives and marine life hotspots such as Cabo Pulmo National Park, where the schools of fish are massive enough to fill a conference center. And, of course, the caverns and caves riddled throughout the Riviera Maya offer a freshwater trip that'll blow your mind, ­whether you're trimix-certified or just logging your 10th-ever ­scuba dive.
Readers Picks
Resorts
Scuba Club Cozumel
Hotel Cozumel
Allegro Cozumel of Barcelo Hotel Group
Costa Baja Resort, La Paz
Operators
Dive with Martin, Cozumel
Scuba Club Cozumel
Dive Paradise, Cozumel
Pro Dive International — Mexico
Aldora Divers, Cozumel
Costa Baja Resort, La Paz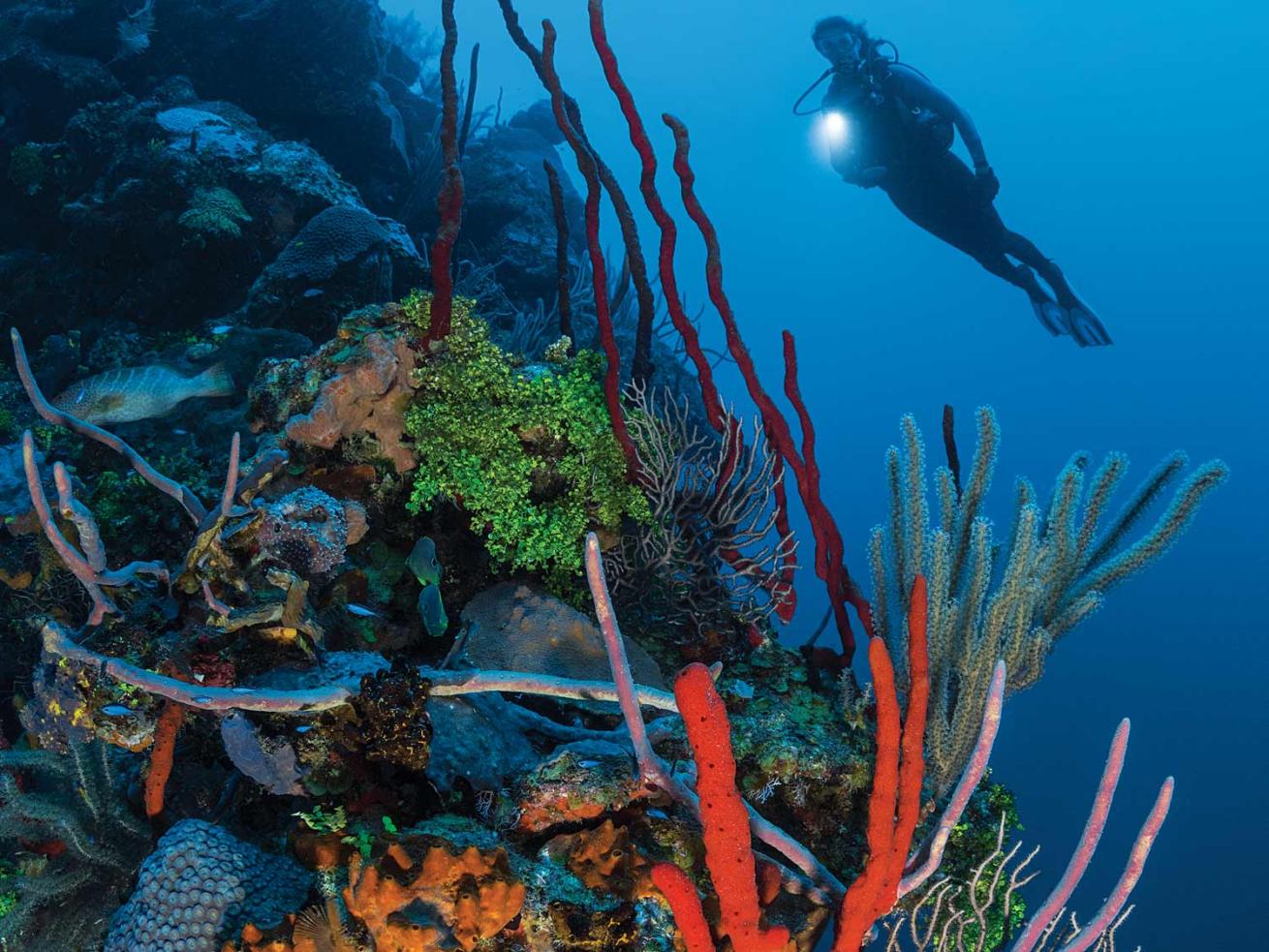 Colorful sponges decorate the walls that plunge into the ocean in the Cayman Islands.

Brandon Cole
Cayman Islands
With great wall diving comes great responsibility—which ­Scuba Diving readers voted overwhelmingly in favor of.
The Cayman Islands won top honors in the ­Caribbean for best advanced diving thanks to its sheer walls, collection of wrecks, and 100-plus-foot visibility that affords divers the comfort to take it all on with confidence.
"We don't expect divers to follow the leader—they can choose to or not," says Debbie Speer of Clearly ­Cayman Resorts, the company that includes Reef Divers as well as Cobalt Coast, Little ­Cayman Beach Resort and Cayman Brac Beach Resort.
This gives divers far more freedom to enjoy the topography, but it does demand a higher skill level. Good buoyancy, navigation skills and depth awareness—all part of the advanced diver toolbox—bring a greater comfort level and overall enjoyment when taking on any of the bigger Cayman Islands dives.
Readers Picks
Resorts
Little Cayman Beach Resort
Sunset House, Grand Cayman
Brac Reef Beach Resort, Cayman Brac
Operators
Ocean Frontiers, Grand Cayman
Reef Divers, Little Cayman
Liveaboard
Cayman Aggressor IV* (replaced by Cayman Aggressor V)
Caribbean and Atlantic
Cayman Islands
Mexico
Bonaire
Bahamas
Belize
United States and Canada
Florida
Great Lakes
North Carolina
Canada
Canada, British Columbia
Pacific and Indian
Galapagos
Indonesia
Mexico (Revillagigedos)
Micronesia (Palau)
Red Sea (Egypt)
What Is Readers Choice?
More than 5,000 readers chose their favorite destinations, resorts, operators, liveaboards and more for our 2019 awards. Here we highlight some of the top vote-getters for each category, and point out the winning resorts, operators and liveaboards that operate in that area, listed in order of votes received.
For more information, visit: /readerschoice