The Best Places to Go Shark Diving
Why have we compiled this collection of the world's 25 best destinations for sharks and adventure? So you'll never run out of ways to stoke your adrenaline. Swimming with sharks is a heart-pounding adventure, no matter the species. But if you're an adventure-seeking adrenaline junkie, what do you do when you're on your surface interval? At some of the planet's hottest shark spots, you can also indulge in pulse-racing topside thrills to keep your heart rate up between dives.
To learn about more of the world's best locations for scuba divers, visit the Travel section of our website.
Why have we compiled this collection of the world's best shark diving locations? So you'll never run out of ways to stoke your adrenaline! Diving with sharks is a heart-pounding adventure, no matter the species. Any of these destinations are worth a visit for the topside draws alone, but when you add watching and swimming with sharks, it'll be a trip of a lifetime.
---
Tiger Beach, Bahamas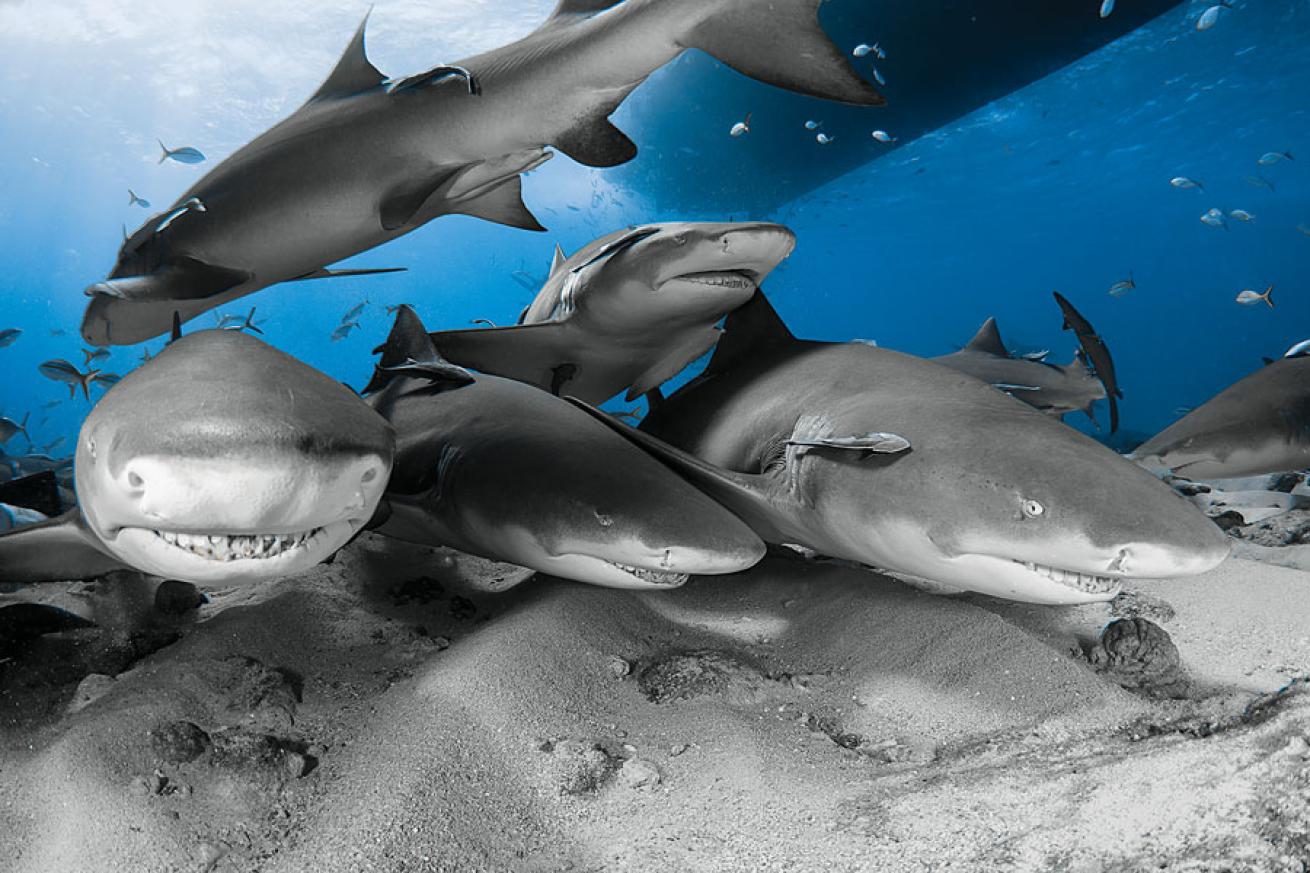 Greg Lecoeur
For underwater photographers and adventurers who are keen to get up close and personal with tiger sharks, there's one shark diving trip that's on everyone's bucket list: Tiger Beach in the Bahamas. At this shallow sand flat,divers not only get within touching distance of multiple tiger sharks, but also Caribbean reefs, lemons and occasional hammerheads that join the scrum. While Tiger Beach is accessible by a high-speed dive boat from Stuart Cove's on the west end of Grand Bahama Island, ocean adventurers should also set their sights on the Abacos — the perfect jumping-off point for an exciting sailing adventure through the remote reaches of the Out Islands.
---
Maui, Hawaii
Masa Ushioda, coolwaterphoto.com
Maui is blessed with an abundance of dive locations, from turtle-laden nearshore reefs to the open-ocean cinder-cone Molokini and the dramatic lava formations of Lanai. Maui insiders also know of a secret dive site where scalloped hammerheads mysteriously congregate. The site, called Fish Rain, sits of the coast off nearby Molokai. It's visited by only a handful of dive boats, like Lahaina Divers, which makes a weekly run for an advanced drift dive among the highly sought-after sharks, which can include gray reef and Galapagos. Lahaina Divers also takes small groups to a secluded part of Lanai where you can kayak, snorkel or try stand-up paddleboarding.
---
Placencia, Belize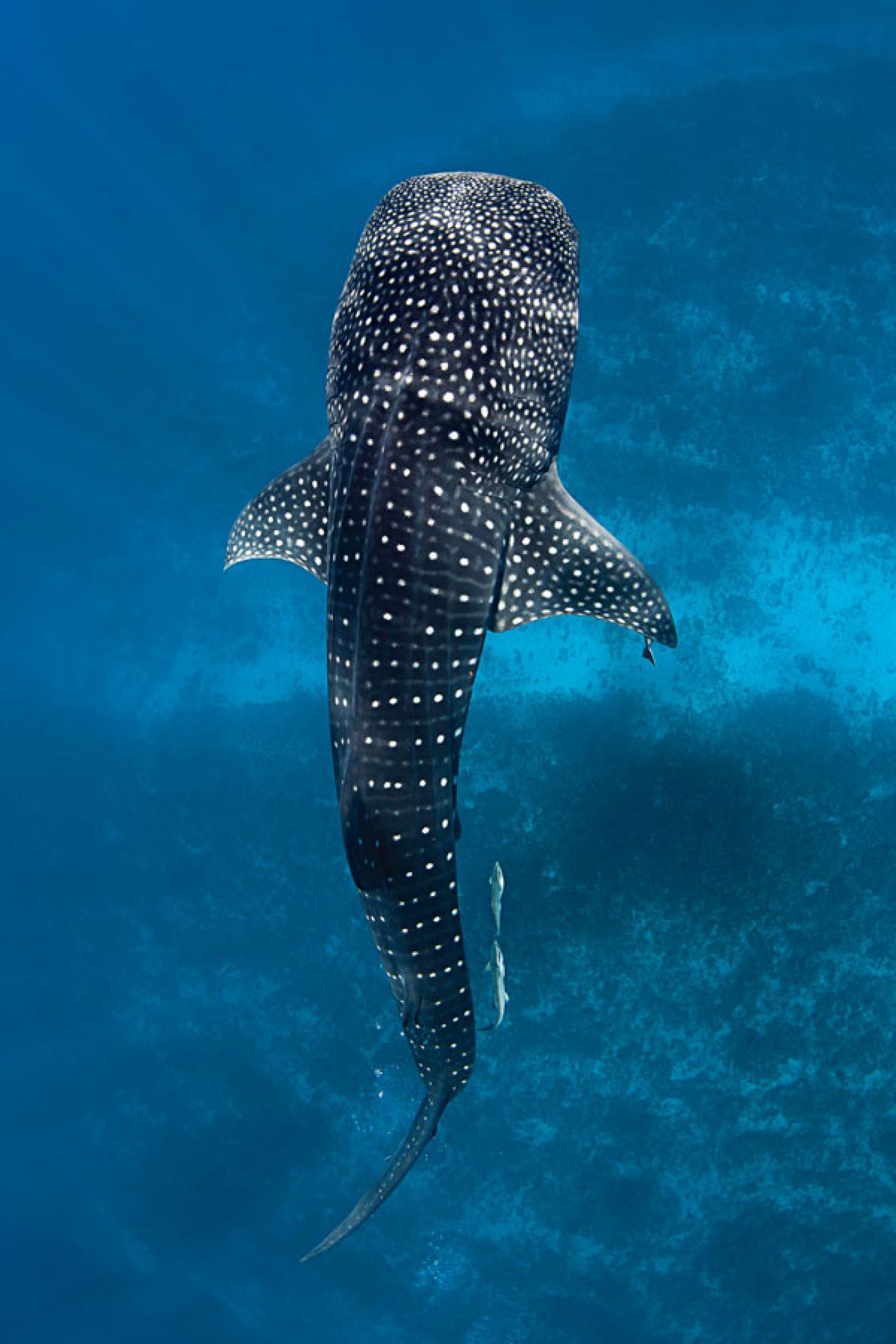 Tim Calver
Drawn by schools of spawning snapper, whale sharks show up like clockwork at Belize's Gladden Spit between the months of March and June. This experience is open to both divers and snorkelers, as whale shark sightings near the surface are common when the animals surface to feed. The best days for whale-shark encounters off the Placencia coast are around the full moon each month of the season, when the spawning action reaches its zenith. Once you've gone face to face with the biggest fish in the sea, turn your gaze inland, where the jungles of Belize conceal a network of caves and underground rivers. Take an inner-tube float through a jungle cave system or go spelunking to explore ancient Maya artifacts.
---
San Diego, California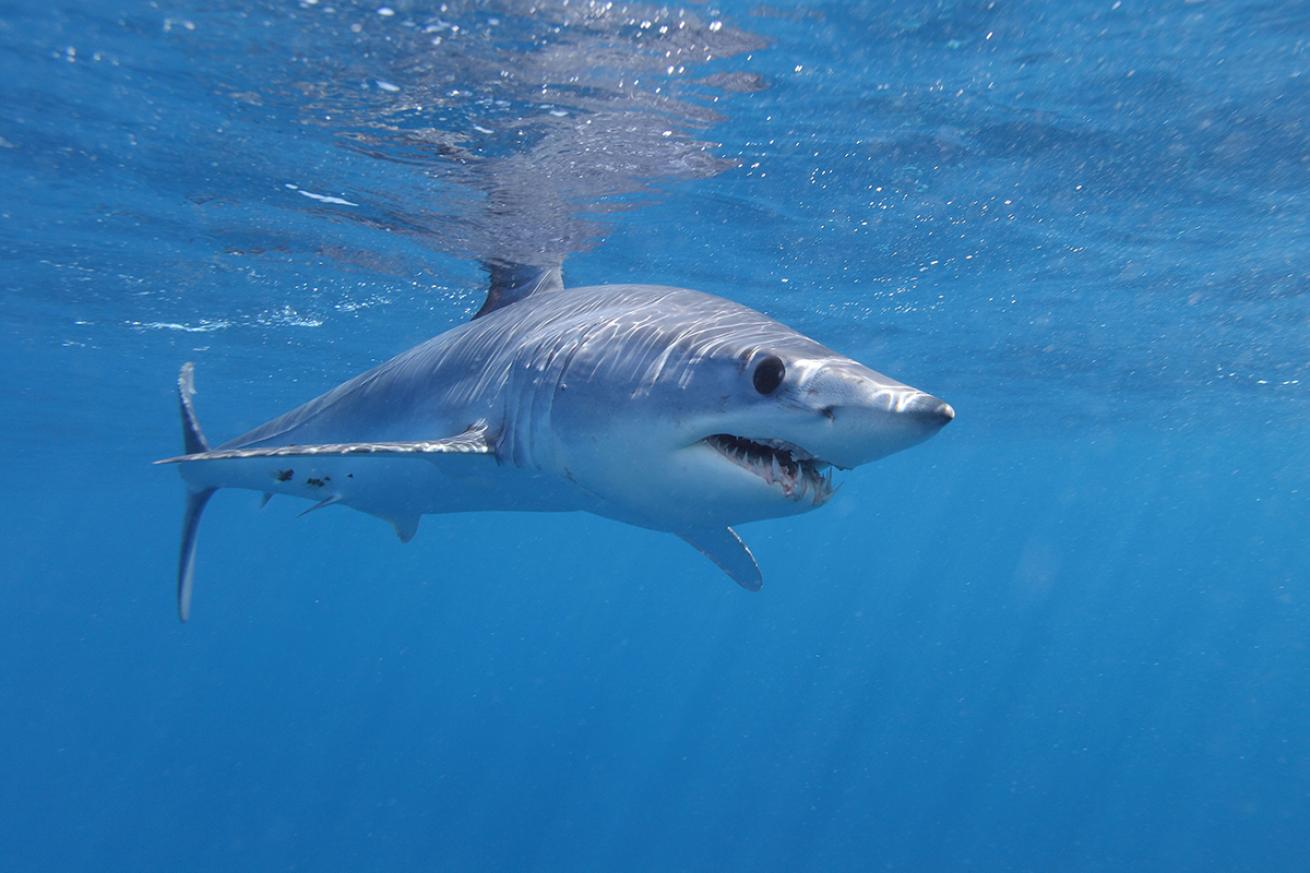 Shutterstock.com/Alessandro De Maddalena
Southern California has one of the best spots to catch a glimpse of blazing-fast shortfin mako sharks. These open-ocean hunters follow their food to the San Diego coast from June to November; divers often spot them alongside sleek blue sharks. Here you get the chance to go sans cage with both of these beautiful pelagic predators at one time. San Diego is also home to one of the most picturesque coastlines in the country. Spend a day exploring the cliffs of La Jolla by kayak, where you can paddle inside wave-carved sea caves and snorkel among the kelp forests.
Beqa Lagoon, Fiji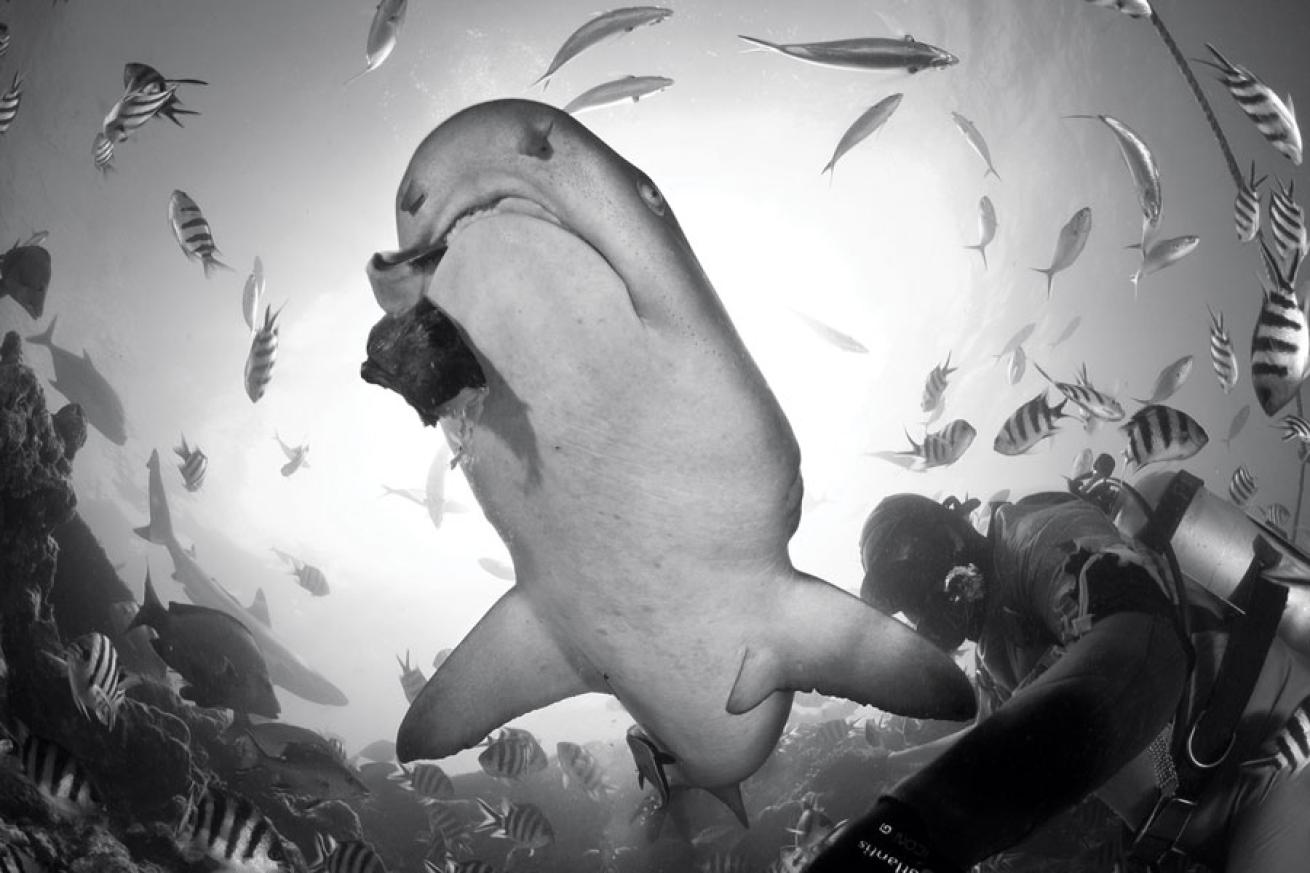 Lill Haugen
Considered one of the best shark dives in the world, Fiji's Beqa Lagoon is famous for encounters with as many as eight species of sharks at one time, including tigers, bulls, sicklefin lemons and many more. The long-running feeding program happens at the Shark Reef Marine Reserve, a marine park created specifically for research and conservation of sharks. The departure point for the shark dive is Pacific Harbour on Viti Levu, which is also where you can join a white-water-rafting excursion to the Upper Navua Gorge, home to some of the most dramatic and formidable terrain in the South Pacific.
---
Cocos Island, Costa Rica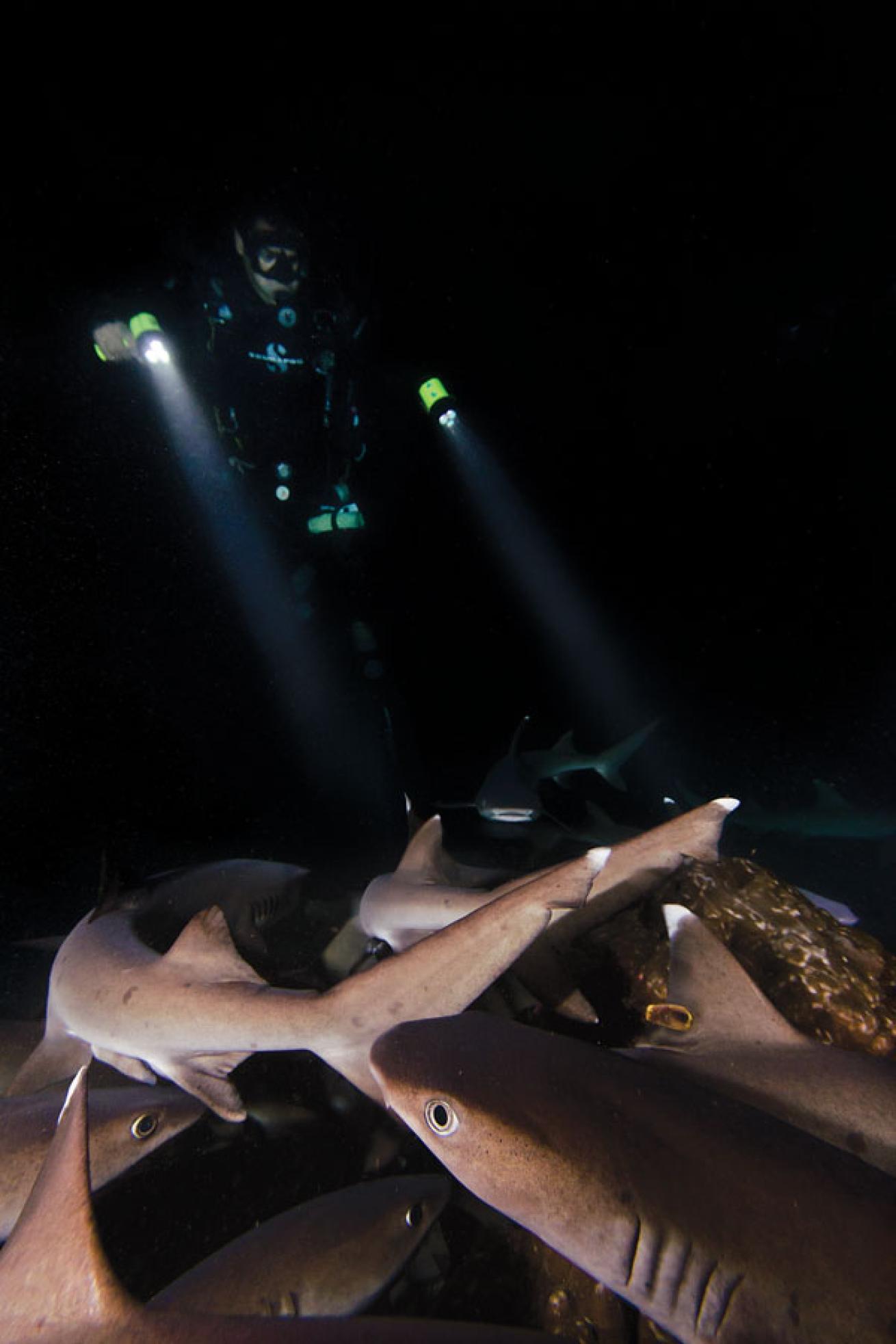 Alex Tyrell
Take a liveaboard from Coast Rica's Pacific coast to the Cocos Island Marine Park, where you can do four dives a day with schools of hammerheads, marlin and filter-feeding manta rays against towering volcanic rock formations. Drop down on the legendary seamount Bajo Alcyone, and you'll share the water column with a half-dozen shark species, not to mention pelagics like sailfish, tuna and wahoo. Between dives, outdoor adventurers can go ashore on this remote isle to hike and swim in the jungle waterfalls of this pristine island in the Pacific, where remote rainforests have earned the island UNESCO World Heritage status.
---
Gansbaai, South Africa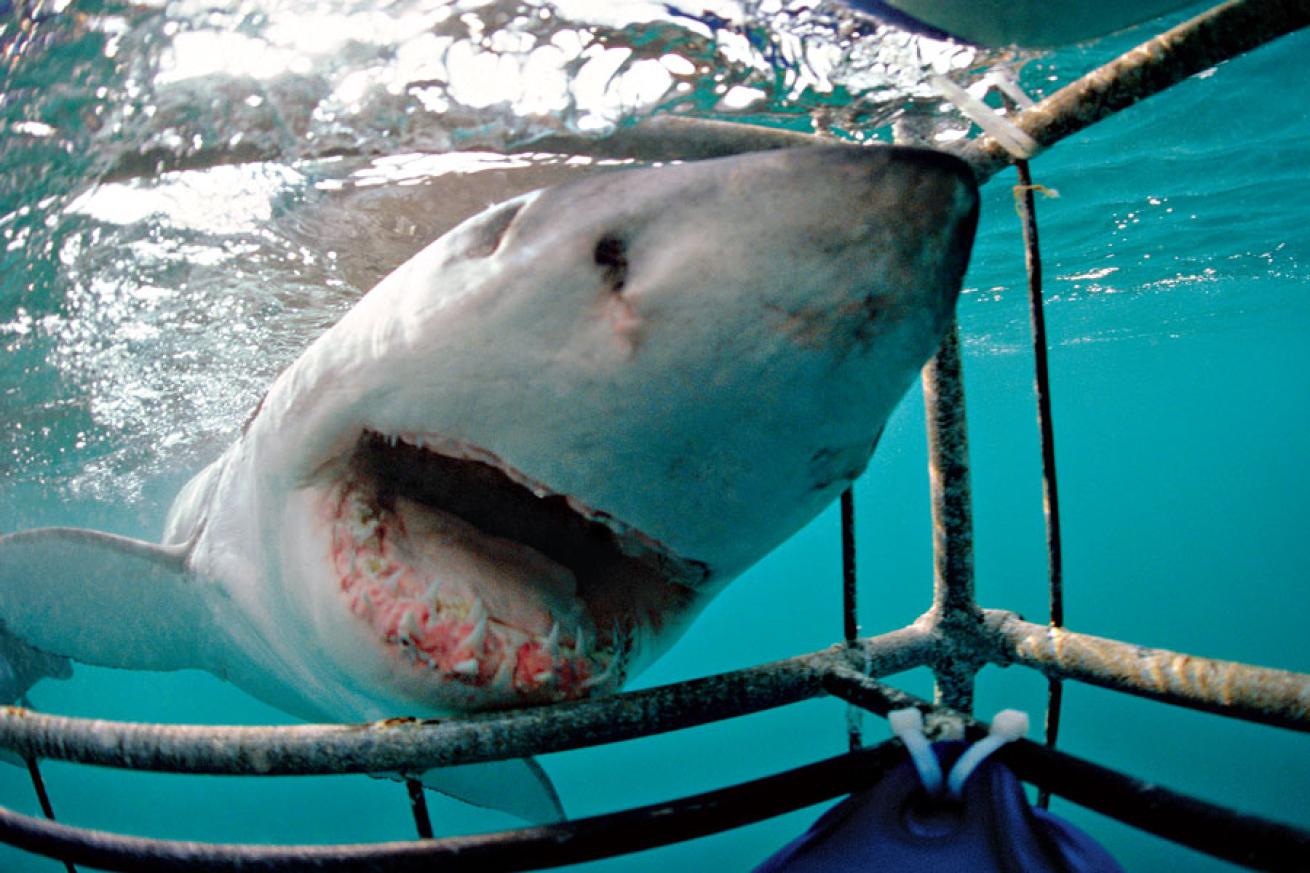 A. Winkler/Picture Alliance/Photoshot
The original home of great white cage diving can be found in one of the wildest corners of the ocean. The southern sea of South Africa is a hotbed of shark activity, where apex predators cruise the temperamental waters for abundant local fur seals. Set out from Gansbaai for an undersea safari you'll never forget when you slip into a cage alongside toothed behemoths the size of school buses. Those watching the experience from the boat won't be disappointed, as the deck provides an all-around view of the sharks as they circle and descend. Before flying home, take a safari in the famed Kruger National Park, where you have incredible odds of first hand encounters with the Big Five: lions, leopards, rhinos, elephants and buffalo.
---
Hebrides, Scotland
Alexander Mustard
One of the most unusual sharks in the sea, the basking shark is only rarely encountered. Basking sharks are the world's second-largest fish — after whale sharks — reaching lengths of about 30 feet. Diving with these prehistoric filter feeders is akin to swimming with their larger cousins, except basking sharks prefer the chilly waters of the North Sea. Scotland is the ideal base for encounters with basking sharks, which arrive at Scottish Bank during the summer months. Summer is also the ideal season to take a stunning cycling tour of Outer Hebrides. Peddle past lochs, windswept beaches and the 5,000-year-old Callanish Standing Stones as you explore the lonely island roads of these remote islands.
---
Blue Corner, Palau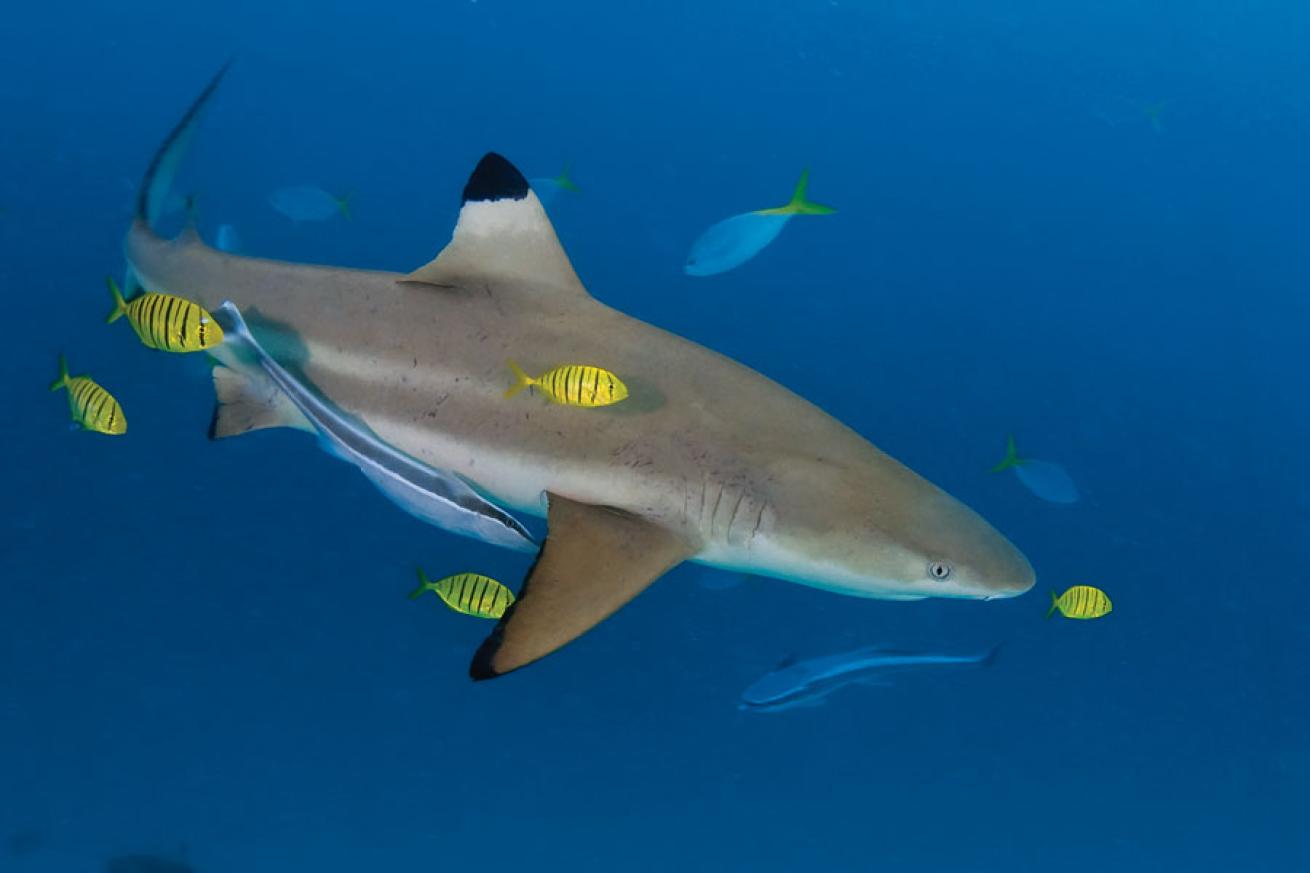 Carlos Villoch
The vibrant reef of Palau's Blue Corner hangs on the edge of deep, open ocean, where sweeping currents blanket the corals with nutrients, sparking a food-chain proliferation right up to the apex predators. Sharks hang here in hordes, cruising the buffet. To get in on the action, toss out a reef hook to hold your position in the ripping flow as the sharks close in around you — you'll feel an incredible sense of stationary flying. And no trip to Palau is complete without donning a snorkel to swim among the swarms of sun-worshipping photosynthetic jellyfish at Jellyfish Lake.
---
Galapagos, Ecuador
A school of hammerheads congregates in the Galapagos.

Shutterstock.com/brandelet
Ripping currents, steep walls, and crazy schools of pelagic fish and sharks are the everyday denizens of a dive in the Galapagos. Divers undertaking the trek to this once-in-a-lifetime destination should make the most of it on a liveaboard like M/V Galapagos Sky, which visits remote dive sites at Wolf Island and Darwin Island. These sharkiest dive spots are the backdrops for iconic images of schooling hammerheads — not to mention Galapagos sharks hunting the open ocean, and whitetips overflowing from every crack. No trip to the Galapagos is complete, however, without exploring ashore to get up close with endemic iguanas, penguins, tortoises and other unique topside creatures.
---
Malapascua Island, Philippines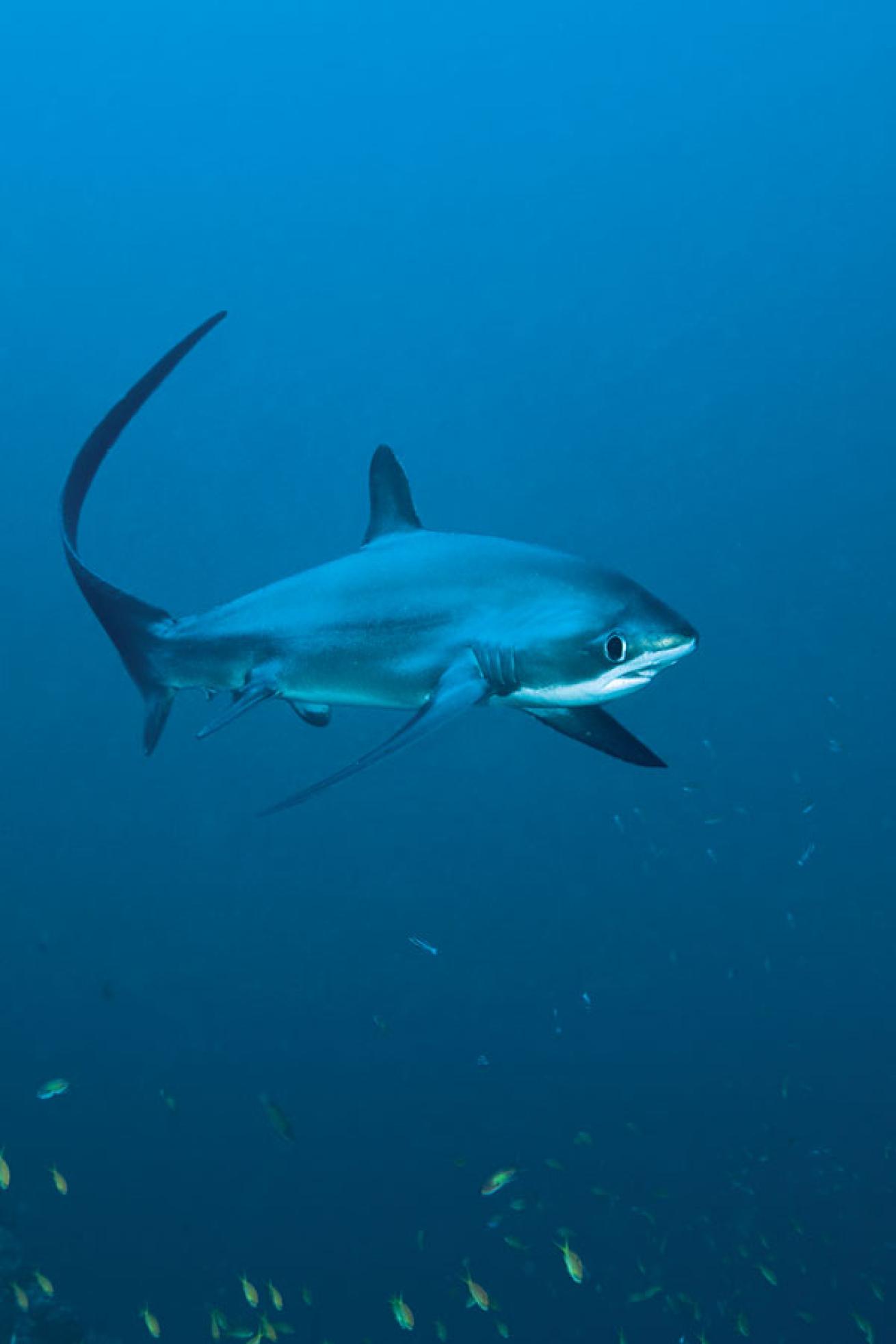 Malapascua Island, Philippines

Gerald Nowak
Drop onto Monad Shoal to swim with rare pelagic thresher sharks, which cruise in from the deep to visit cleaning stations at this submerged pinnacle off Malapascua Island in the Philippines. Topside, take an island cruise with a stop for adrenaline-pumping jumps from towering cliffs.
---
Morehead City, North Carolina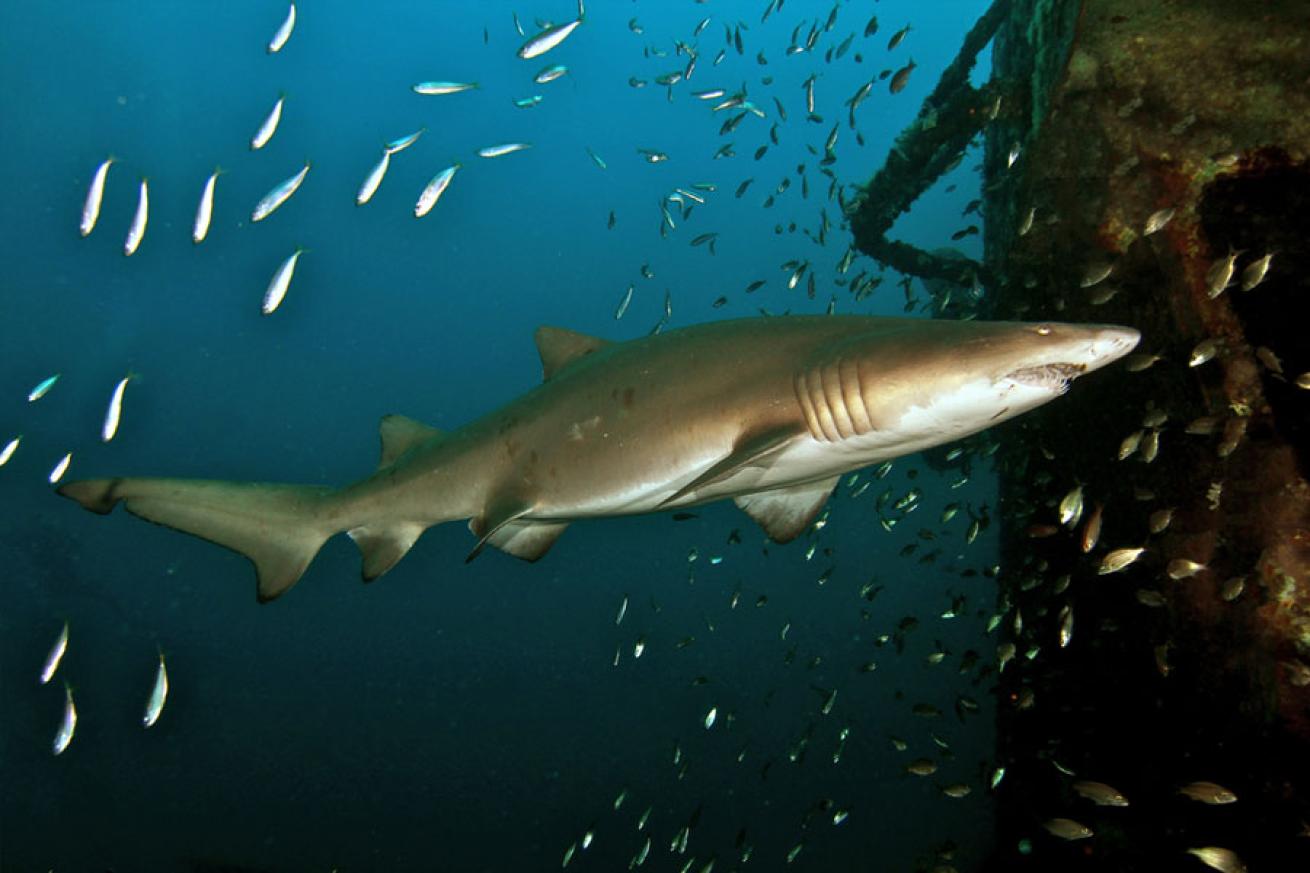 Morehead City, North Carolina

Shutterstock
Fin alongside schools of ragged-toothed sand tiger sharks in the Graveyard of the Atlantic off Morehead City, North Carolina, home to some of the best wreck dives in the country, like the Spar and the Papoose. These Gulf Stream waters also offer world-class fishing — spend an extra day on the waves stalking cobia, mackerel and bonito.
---
Nassau, Bahamas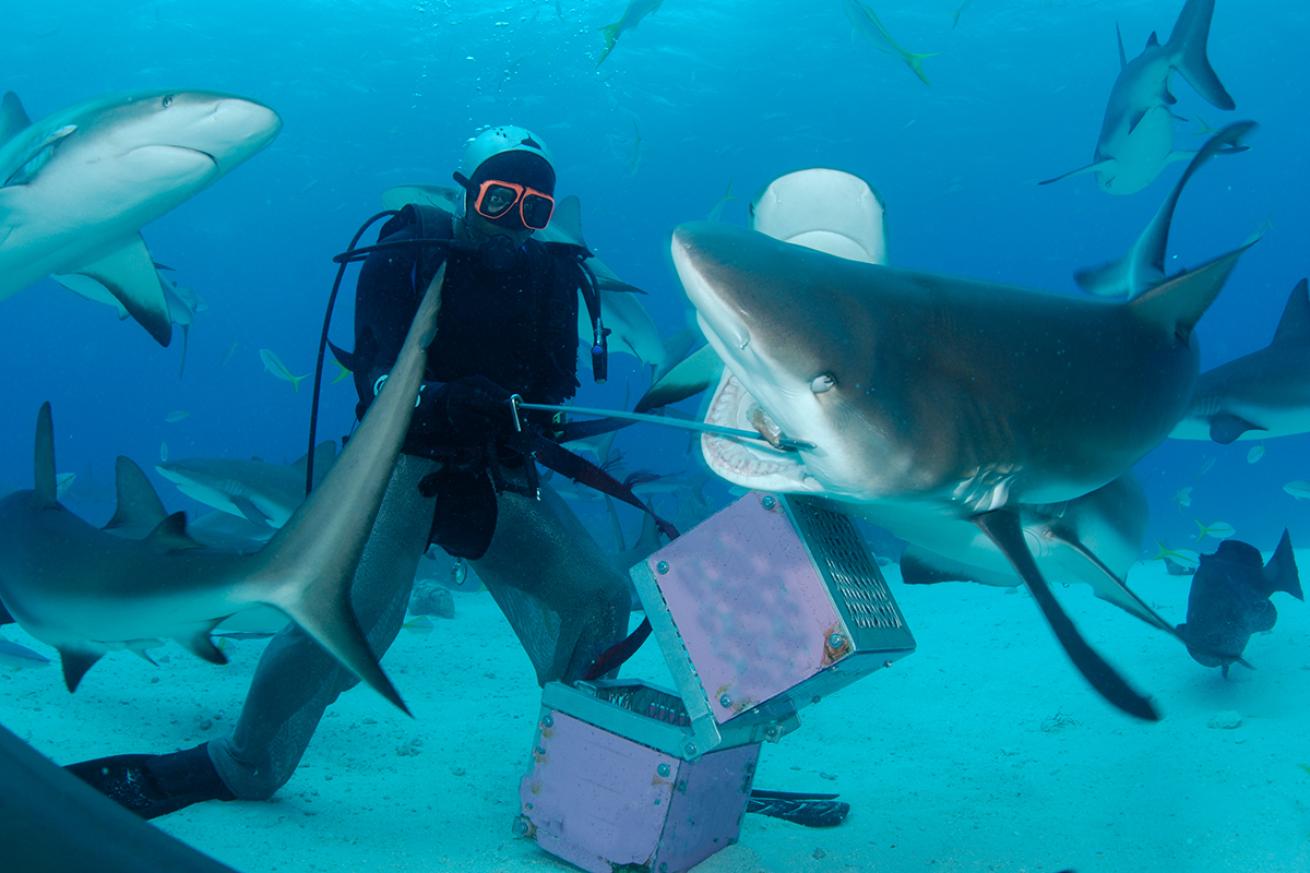 Shutterstock.com/Rich Carey
Experience one of the original shark-feed dives, pioneered by shark-wrangling expert Stuart Cove at his Nassau dive center. Feeders descend with chum buckets at spots like Shark Arena and the Ray of Hope wreck, ringing the dinner bell for throngs of Caribbean reef sharks. Afterward, try your hand at kite-surfing across Nassau's glassy blue waters.
---
Bimini, Bahamas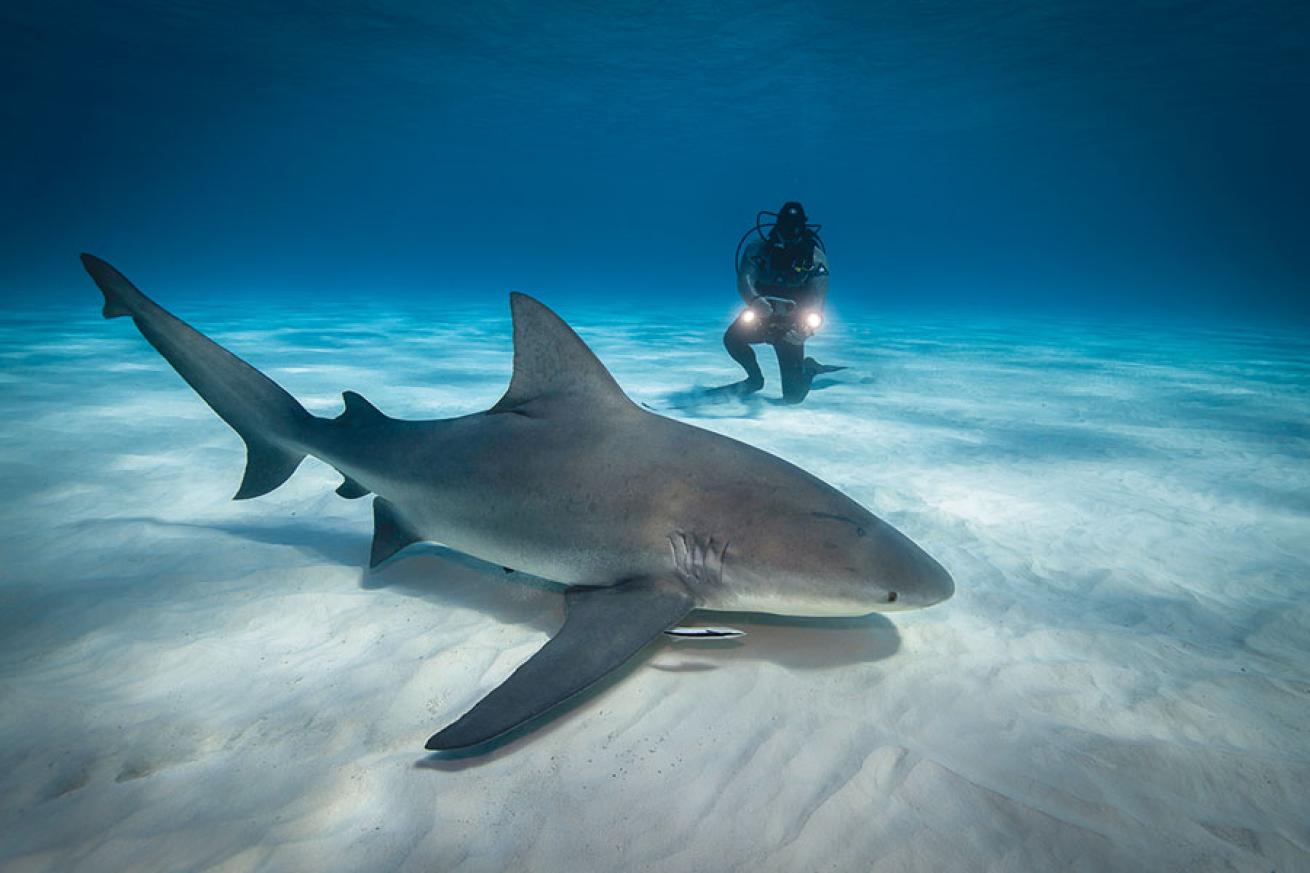 Tim Calver
Slip into a cage to hang with resident bull sharks right in the marina of the Bimini Big Game Club. The original island in the stream (the Gulf Stream, that is) also makes the perfect jumping-off point for marlin fishing and dolphin encounters.
---
Fakarava, French Polynesia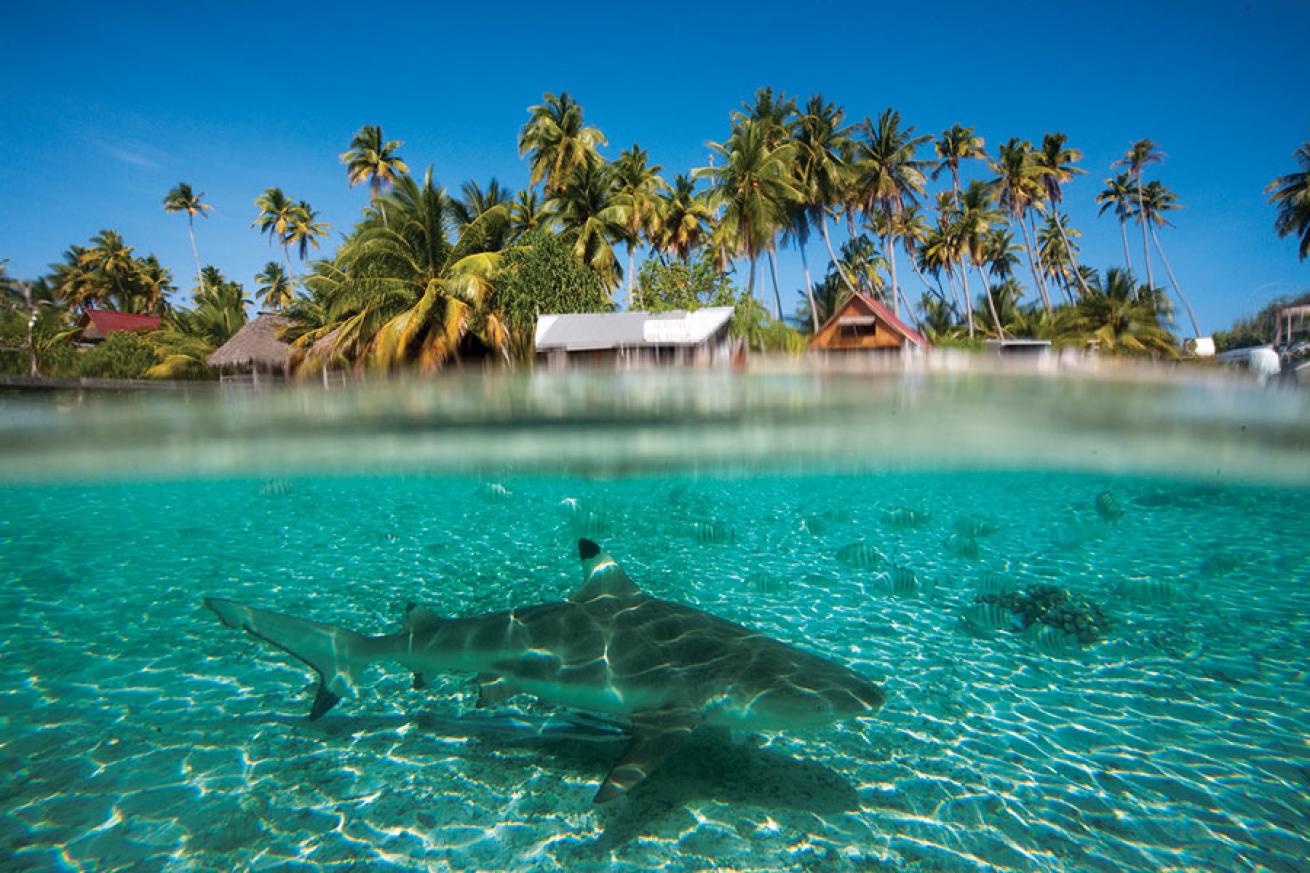 Fakarava, French Polynesia

Aaron Huey/National Geographic Creative
At Fakarava's Tumakohua Pass, ride the incoming tide into a narrow channel, where the current reaches blazing speeds. At the mouth of the pass, a gauntlet of reef sharks makes a formidable start to the dive. And don't miss a day of swimming, snorkeling and sampling the local poisson cru (raw tuna marinated in lime juice and mixed with a blend of diced vegetables and coconut milk ) with a trip to Blue Lagoon.
---
North Queensland, Australia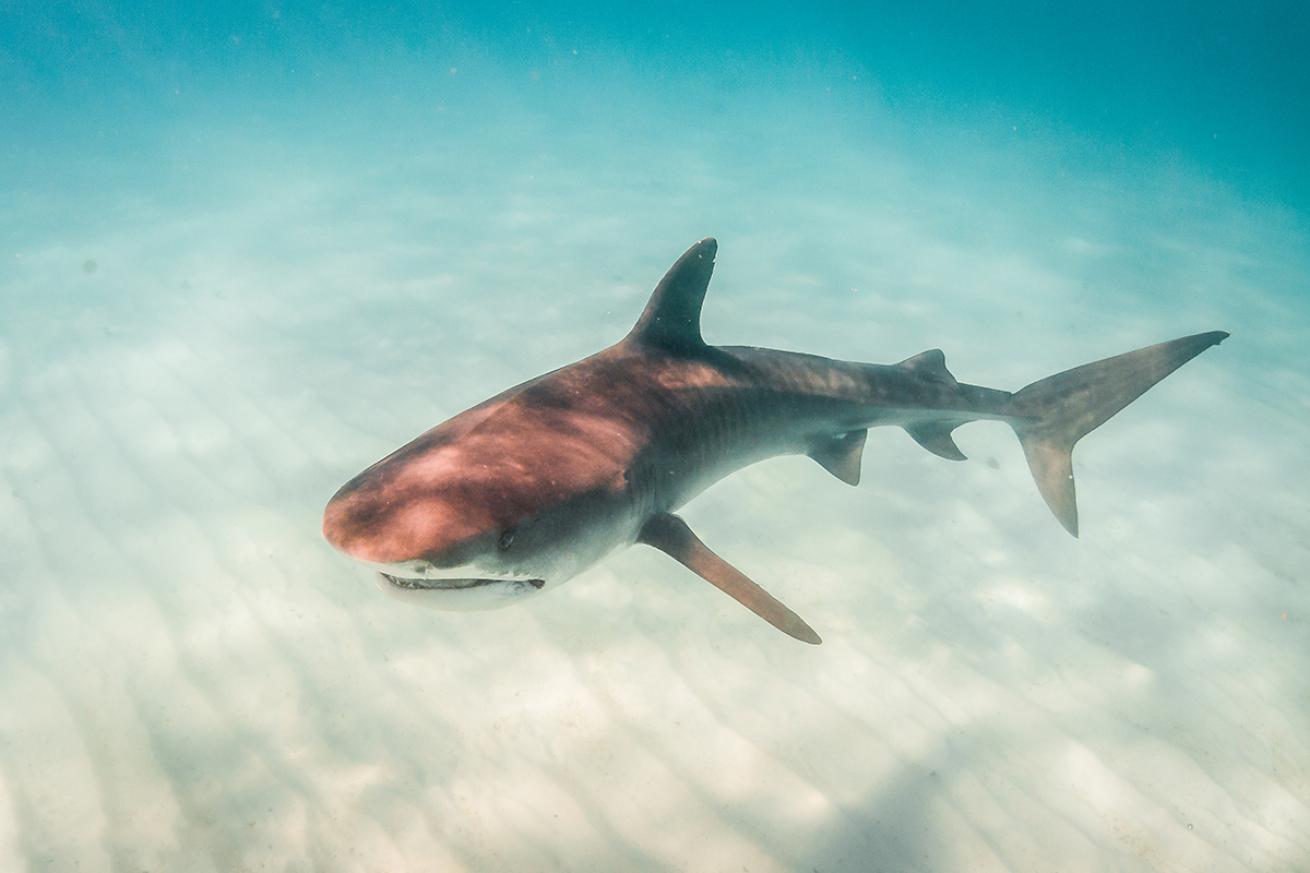 A tiger shark swims over rippled sand.

Shutterstock.com/aaronejbull87
During the Australian summer, thousands of turtles migrate to Queensland's far north to lay eggs, and hungry tiger sharks are hot on their heels for an easy turtle buffet. While there, take a side trip to Daintree Rainforest to spot crocodiles, cassowary and other exotic wildlife.
---
Great Barrier Reef, Australia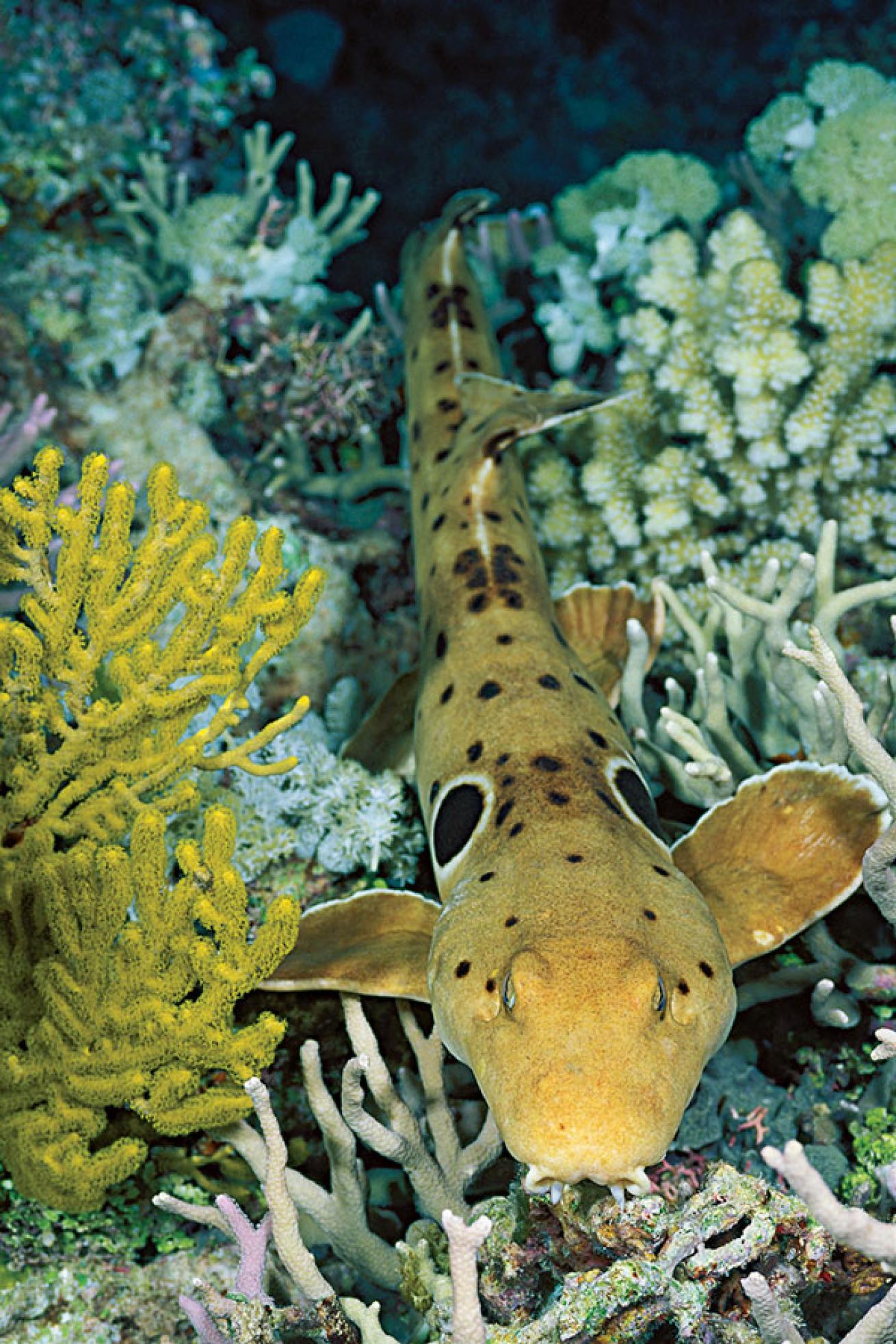 Great Barrier Reef, Australia

Doug Perrine/SeaPics
One of the best shark spots on Australia's Great Barrier Reef is Osprey Reef, where you can spot gray reef sharks, silvertips, wobbegongs and more. Make the liveaboard trip any time from June to August and stop at Lighthouse Bommie for a chance to snorkel with minke whales.
---
Socorro Islands, Mexico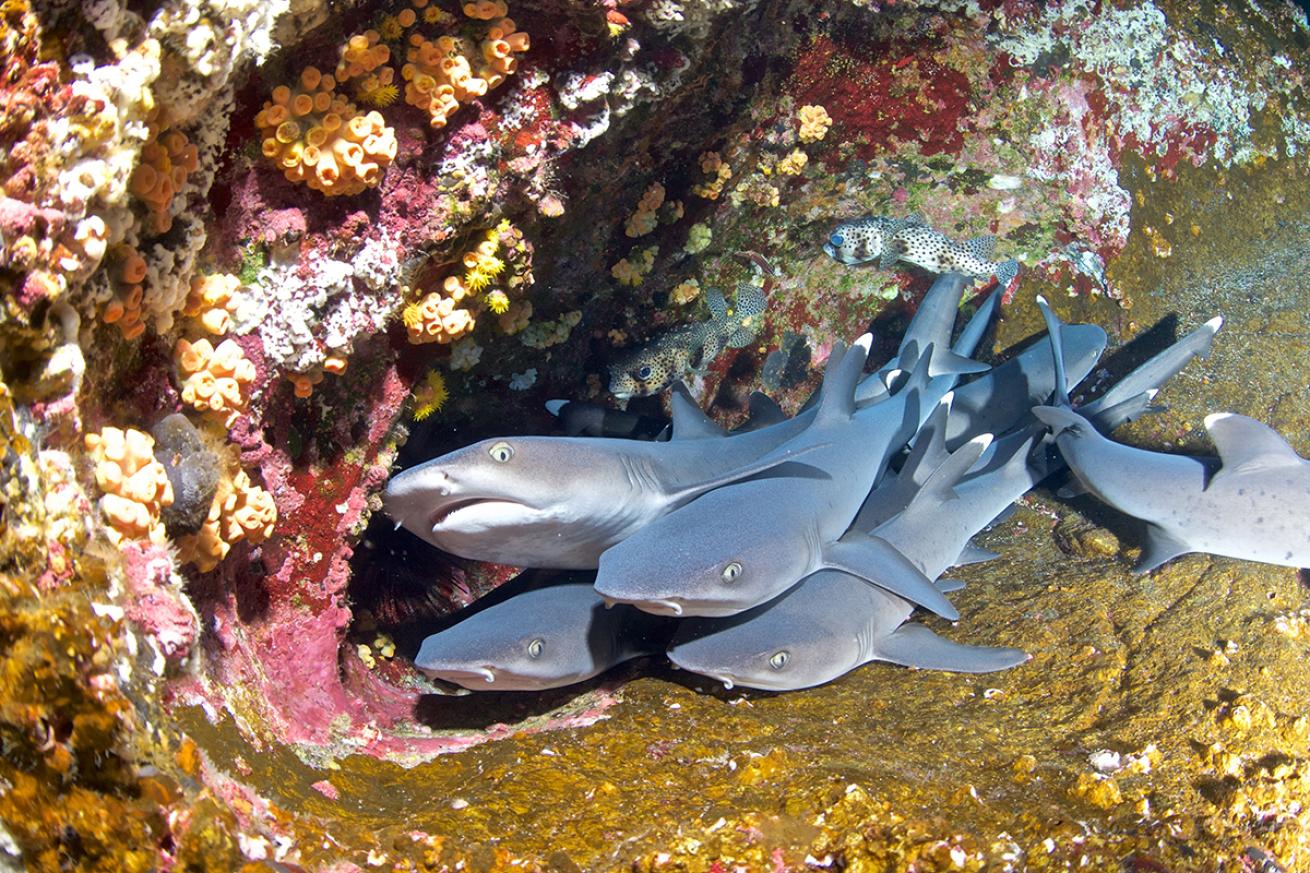 White tip reef sharks gather near coral.

Shutterstock.com/Michael Bogner
From hammerheads to tiger sharks to whale sharks, the Socorro Islands are as sharky as they come. Stop in Cabo on the way out for an ATV adventure in the Baja desert.
---
Guadalupe Island, Mexico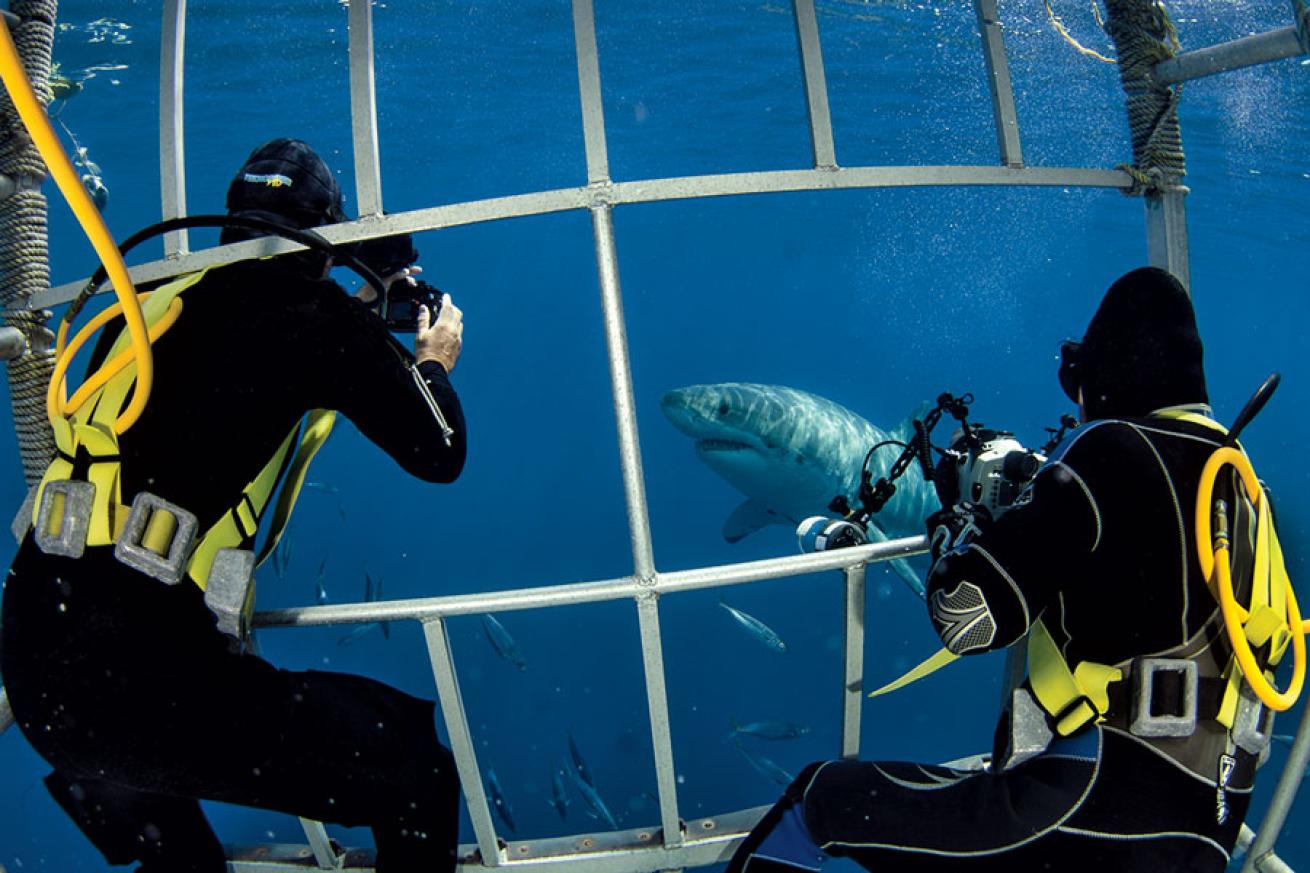 Luis Javier Sandoval
For adrenaline junkies who want the ultimate big-animal encounter, Guadalupe Island — a liveaboard trip from Ensenada, Mexico — is arguably the world's best place to get a cage-side view of great white sharks in action. Back in port, take some time to kayak around La Bufadora, a spectacular natural sea spout.
---
Marsa Alam, Egypt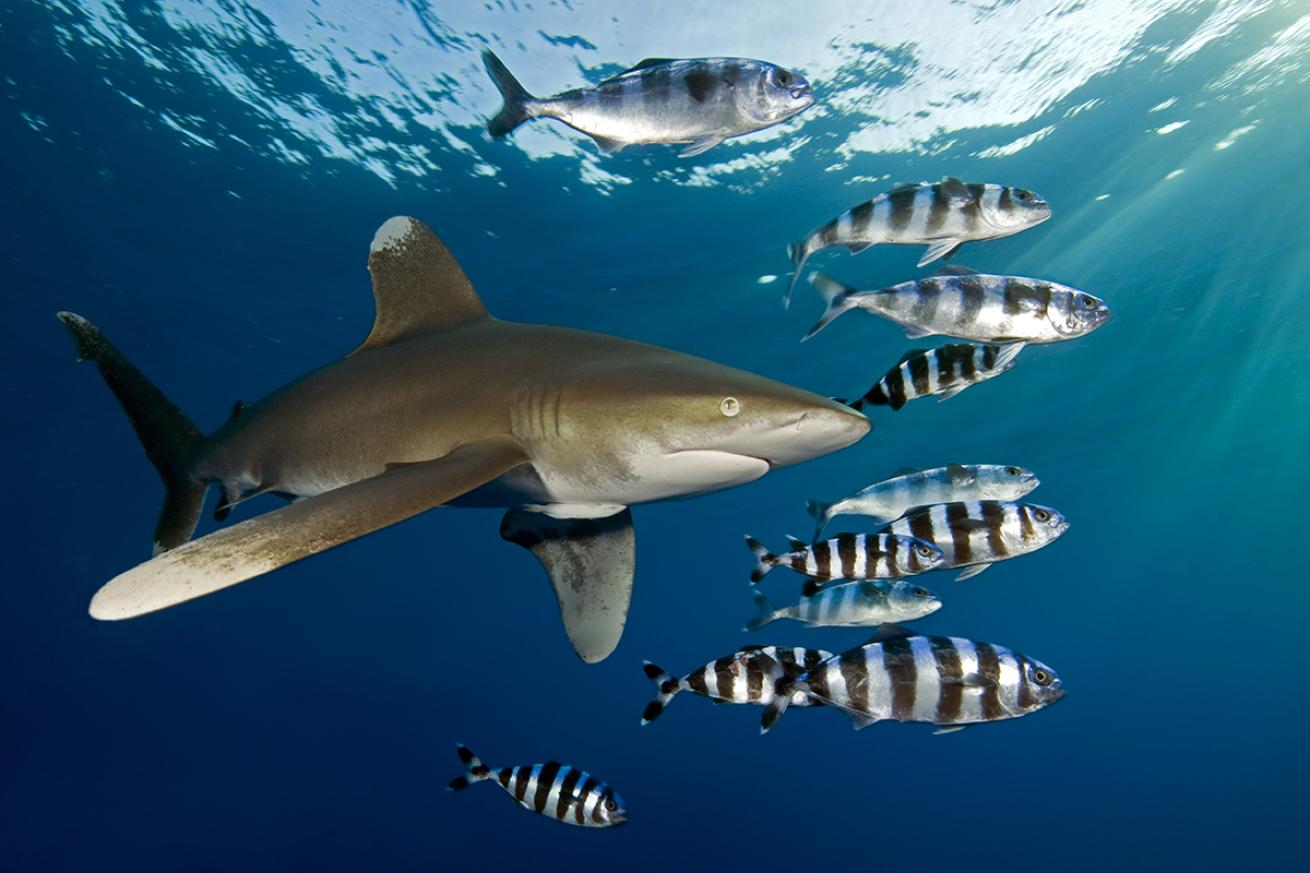 Shutterstock.com/Dray-Van Beeck
Swim with elusive oceanic whitetips — fierce pelagic predators not to be confused with whitetip reef sharks — at Elphinstone Reef, a coral-covered pinnacle accessible by day boat from Marsa Alam, Egypt. After spotting these rare sharks in the wild, take a day to drive inland and go back in time at the ancient city of Luxor.
---
Jupiter, Florida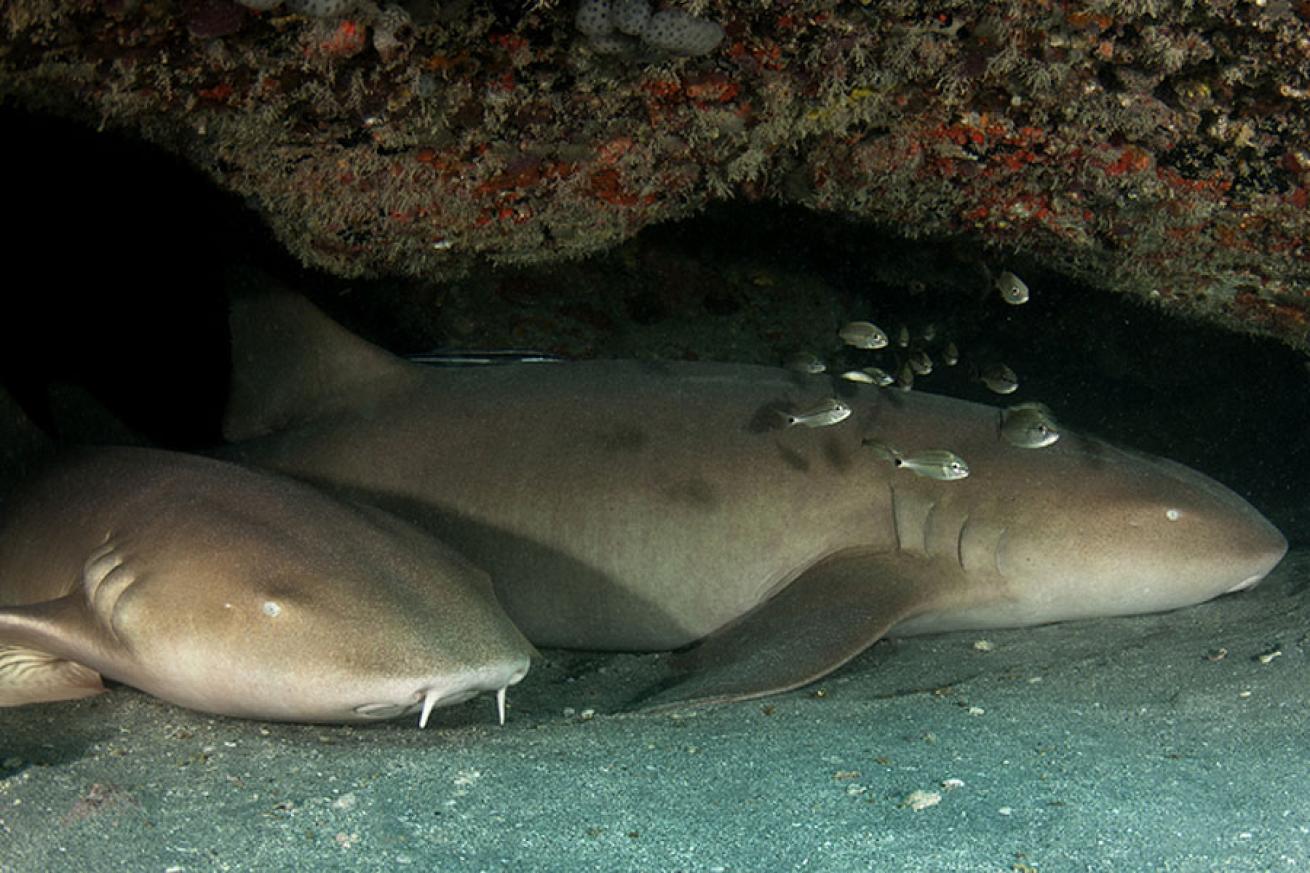 Shutterstock
Jupiter has become famous for the annual migration of lemon sharks along its shores during the winter months. The yellow-tinged sharks congregate around wrecks and deeper ledges from Jupiter to Palm Beach. Winter is also the perfect time to take a paddling trip beneath the cypress stands of the Loxahatchee River.
---
Playa Del Carmen, Mexico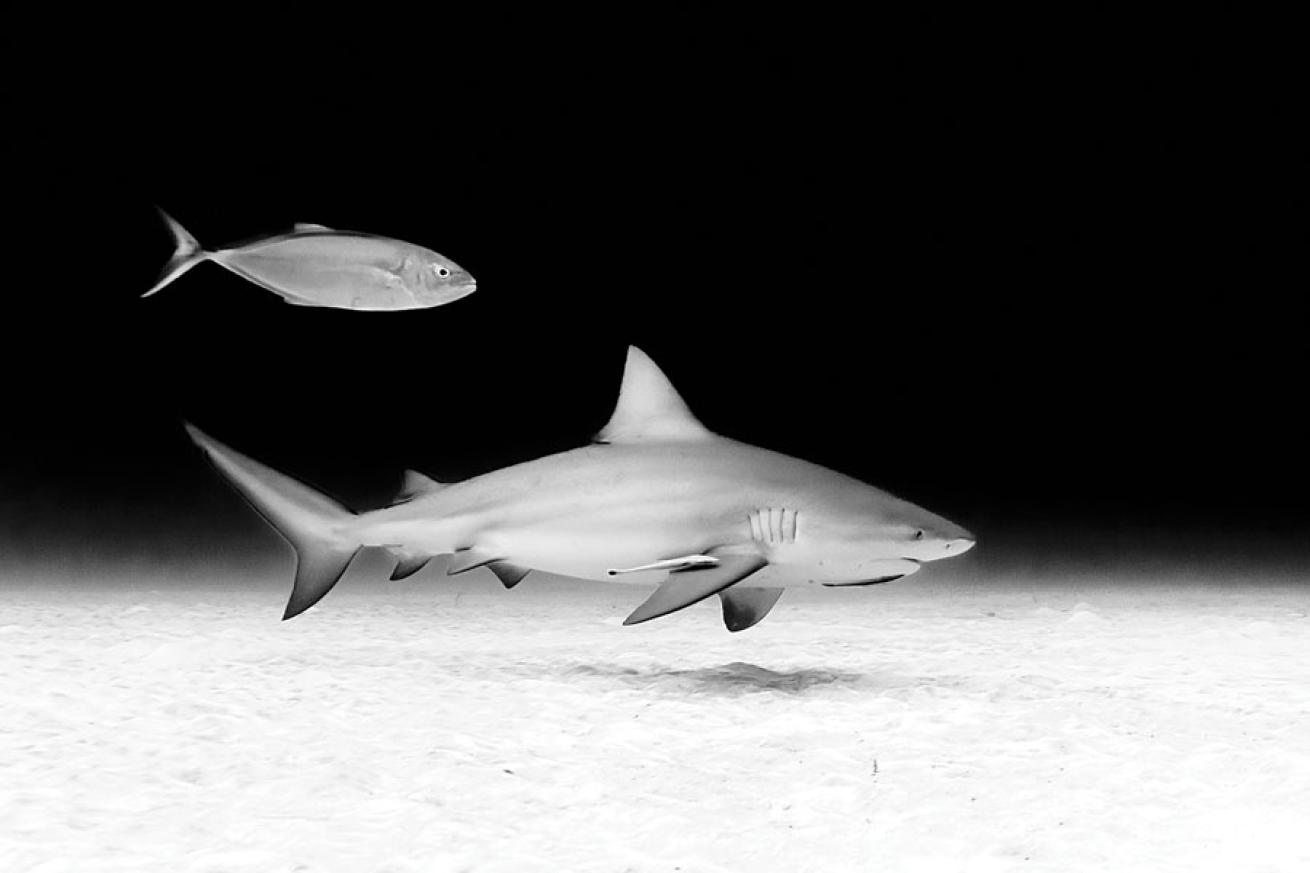 Christian Vizl
For a chance to go cageless with bull sharks, Playa del Carmen has just the ticket. Regular sightings happen from December to March, just a few minutes' boat ride from shore, where a sandy bottom offers a safe, clear view of these aggressive predators. While in town, explore a cavern with a swim in a nearby cenote.
---
Kwazulu-Natal, South Africa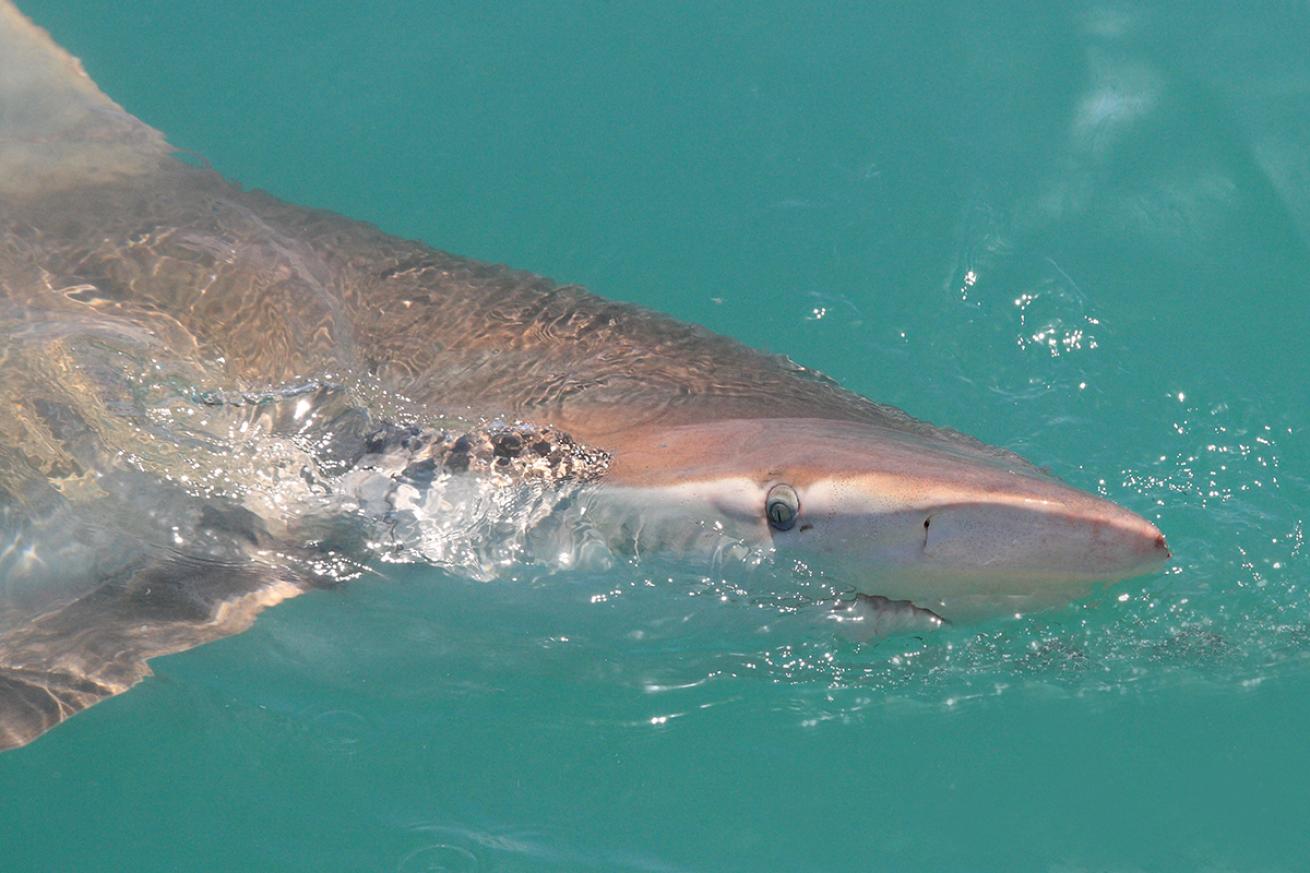 A copper shark breaks the surface.

Shutterstock.com/Alessandro De Maddalena
Hop into a miles-wide boil of baitfish off South Africa's KwaZulu-Natal province, to snag a front-row seat for some serious predation as copper sharks blast past gulping whales and dolphin pods spin bubble nets. Then get a second dose of adrenaline on a zip-line canopy tour in the Karkloof Nature Reserve.
---
Rhode Island, USA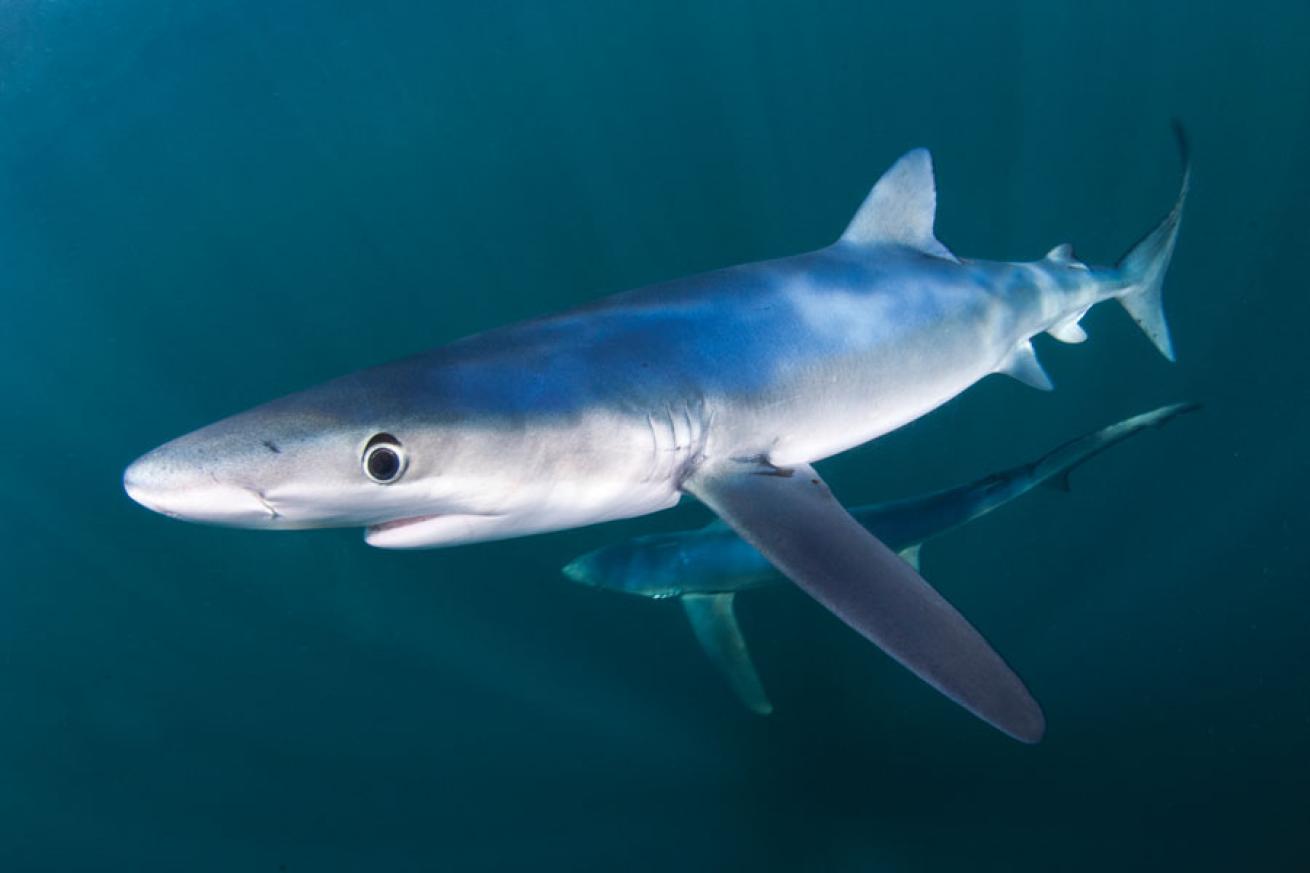 Andy Murch
Plunge into chilly North Atlantic waters for a cage dive with some of the fastest fish in the sea. Slender and shimmering blue sharks make regular appearances, but the guests of honor are the powerfully aggressive and lightning-fast mako sharks. Do double duty on the Snappa by hitting the Gulf Stream on a deep-sea fishing adventure.
---
More Sharks
---