Eight Dive Operators Having Fun with Eco-Tourism
Diving lends itself to incredible, memorable experiences, but preserving the natural world that divers hold dear is no simple feat—reckoning with this dissonance and upholding a solid bottom line takes patience and positivity.
Some companies have gone above and beyond to integrate sustainability and conservation into their operating models. They creatively incorporate eco-friendly initiatives into everyday routines, and display dedication to the delicate ecosystems divers love to visit, inspiring hope for the future of diving around the world.
As the world emerges from an undeniably challenging period for the global travel and tourism industries, these businesses are displaying resilience in the face of the greatest challenge of all: combating climate change.
New Zealand
With doors swinging back open after COVID-19 closures, Adam Whatton finds it hard to believe the dive shop he co-owns has spent half of its business life in a pandemic. Waiheke Dive & Snorkel opened in the Hauraki Gulf off New Zealand's North Island almost five years ago, and infused the local diving community with exuberance for conservation and regeneration projects. In addition to offering PADI AWARE courses, Adam and his team also conduct annual kōura (Māori for "crayfish") surveys.
"In May and June, we get divers in the water to physically swim our coastline looking for increasingly rare crayfish," says Whatton. "In 2021, we found 23 crayfish over 18,000 square meters of coastline. There is currently a rāhui (a cultural protection ratified by New Zealand law) here for the crayfish, so we designed the survey to respect the tapu (sacred, protected) nature of the rāhui."
Prioritizing these sustainability initiatives hasn't been easy given the pandemic restrictions, as Waiheke Dive & Snorkel uses a percentage of its profits to self-fund the regeneration work—but the shop perseveres, knowing its work is important to New Zealand's underwater ecosystems.
Whatton continues, "With a downturn in business comes a downturn in available funds, but we are working on a seahorse monitoring program to roll out later in 2022. We're lucky to still have a small seahorse population here."
Malaysia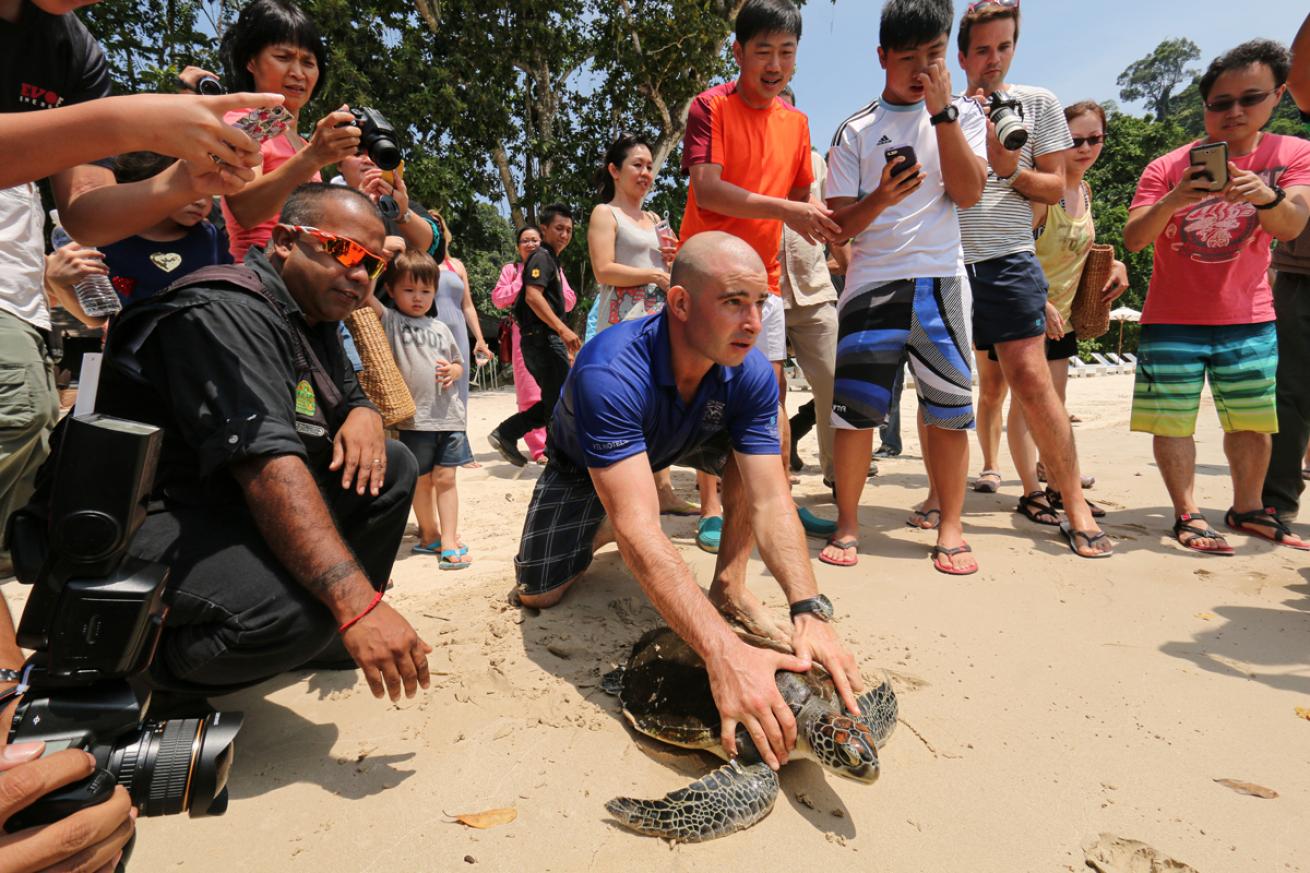 Excitement builds in Borneo as a rehabilitated turtle is released.

Courtesy Gaya Island Resort
Northwest Borneo's waters are a dream for many divers, and Pulau Gaya Island is no exception. Over the last decade, Gaya Island Resort has reflected the mission of the Tunku Abdul Rahman Marine Park in which it resides by protecting local flora and fauna. The property also operates the adjacent Gaya Island Resort Marine Centre and separate Gaya Island Resort Wildlife Centre.
According to Wayne Lee, General Manager of the luxury resort, which is owned by the Malaysia-based hotel group YTL Hotels, Gaya Island is renowned for its proximity to healthy reefs and gentle currents. Divers might be lucky enough to encounter colorful coral and green or hawksbill sea turtles, which are among the five endangered sea turtle species supported by the World Wildlife Fund. Gaya Island Resort Marine Centre supports the local turtle population through rescue, rehabilitation, and release programs.
"We reach out to fishermen and villagers in the region to encourage them to bring injured turtles to the Marine Centre," Lee explains. "They are housed in specially constructed tanks while being nurtured back to a condition where they can be released."
Although the resort is somewhat isolated in the marine park, its many sustainable initiatives positively impact the entire island community, including a special program for proboscis monkeys, a seagrass-planting initiative, and onsite water distillation plant, to name a few.
"Overall, the different projects contribute to the reduction of pollution, increasing the diversity of the ecosystem and allowing for a more vibrant diving experience," says Lee.
Papua New Guinea
Tawali Leisure & Dive Resort overlooks Milne Bay, on the country's east coast. The general manager, Dhoreen Gumtang, touts Lauadi Beach—one of the resort's many dive sites—as the birthplace of muck diving (a subset of macro diving that appreciates the unique creatures inhabiting a silty sea floor). Divers have been making the two-hour trip from the nearest town in this corner of Papua New Guinea for over 15 years to experience Tawali's scuba diving offerings and relax on the limestone bluff in the middle of the rainforest.
The eco-resort has established itself as a major local employer in the area, known for investing in the community by buying local fruits, vegetables, and fish. Tawali also donates seeds to the village for growing and harvesting vegetables which the resort later purchases for its kitchens. Landowners are compensated for allowing touring and diving on their land, and regular donations of supplies, fuel, and other items support local schools.
"We also help the villagers by setting up a fishing aggregate device (FAD) in the center of the sea that helps to attract big fish," says Gumtang. Such devices, according to the National Oceanic and Atmospheric Administration, can benefit local fishermen when tactically deployed in waters where they fish.
Tawali's efforts help preserve the biodiversity of the nearby reefs, where spectacular dive sites on Coral Garden and Deacon's Reef are reachable in 30 minutes or less.
Azores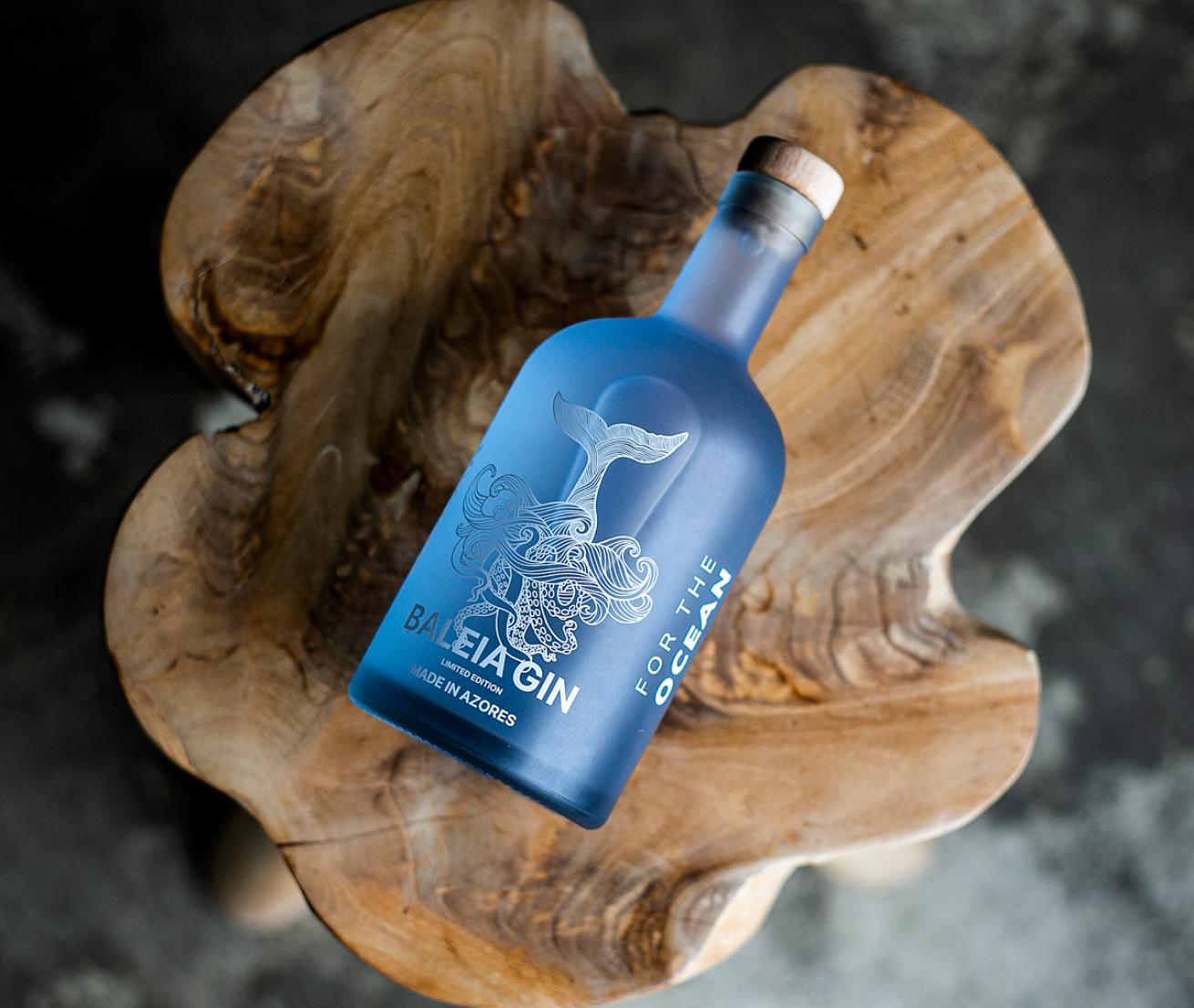 At the Solar Branco Eco Estate, your gin and tonic funds worthy conservation projects.

Solar Branco Eco Estate
The Solar Branco Eco Estate is a resort and gin distillery located on São Miguel. When they're not exploring the waters off the volcanic black sand beaches, visitors can visit The Gin Library, paint tiles, and enjoy fresh sushi or vegan Portuguese dinners at the zero-food-waste, plastic-free estate. Whale sightings abound in the northeast Atlantic archipelago, where researchers find opportune moments to study blue whales, humpback whales, and True's beaked whales. Their natural surroundings inspired owners Caroline and Ali Bullock to establish the Ocean Azores Foundation to promote sustainable tourism and fund conservation projects throughout the Azores.
"We hope that by making a small contribution, whether it be from each night at the hotel, or from a gin and tonic, we can fund meaningful projects for the environment and wider community," Ali Bullock says. "We aim to showcase how this can be at the heart of the way our hotel and experiences business operates, without compromising on luxury."
Proceeds from Baleia Gin (baleia means "whale" in Portuguese), produced onsite at The Solar Branco Eco Estate, fund these regional marine projects. The Ocean Azores Foundation has developed a five-part plan to address threats to whales in the region: raising awareness, tracking the whale population, reducing plastic waste, addressing fishing gear entanglements, and promoting sustainable tourism through the day-to-day operations at the resort.
Baja California
Cetaceans aren't the only ocean dwellers benefiting from sustainability projects. In Cabo San Lucas, Mexico, Dive Ninja Expeditions partners with Marta Palacios, a marine scientist and co-founder of the Mobula Conservation Project, during five-day mobula ray conservation expeditions. Divers learn about Marta's work and experience the incredible phenomenon of massive schools of rays leaping and swirling through the Sea of Cortez along their migration paths.
"I wanted to try utilizing tourism as a way to support marine research and conservation efforts," owner Jay Clue says, describing Dive Ninja's business purpose. "This way it comes full circle by focusing efforts towards protection and the better understanding of local ecosystems and wildlife that make these experiences so special."
Forty percent of profits from the migration expeditions go toward Palacios' ray-related marine projects, and Clue's small team channels their passion for conservation in order to "be that spark" to inspire other dive shops and individuals who want to make a difference. In addition to creating educational programming for customers, Dive Ninja also offers operational support and media reach on its platforms for conservation organizations to utilize.
"We tend to believe that small actions don't have impact, but the reality is these small contributions, when combined with the small actions of everyone else, can create massive tides of change."
Florida
"Anyone visiting the Florida Keys has opportunities to get involved in conservation efforts."
Eric Billips, owner of Islamorada Dive Center and Florida Keys Dive Center, is as passionate today about his sustainable approach to spearfishing as he was when he wrote the PADI Underwater Hunter specialty course years ago. According to NOAA, U.S. Commercial Fisheries landed over 9 billion pounds of seafood in 2019. Since it requires no bait and has no bycatch, Billips is a proponent of spearfishing as an alternative to buying fish sold at markets, because, he says, it's even more selective than conventional hook and line fishing—when you don't know what type of fish you're catching or what size it is until you reel it up out of the water.
Today, divers who want to learn a new skill can sign up for the half-day spearfishing course at either dive shop. The community focus on eco-friendly diving also includes conservation workshops and "shark awareness" dives, which educate divers on the importance of sharks in our oceans.
"We educate the next generation so our reefs, sharks and ecosystems are here for all generations to come," Billips says.
Nearby in Islamorada, another dive shop is reimagining recycling. Key Dives has hosted five annual Wetsuit Wrangles so far—fun community events that have diverted nearly 1,000 used wetsuits from the landfill.
"We have teamed up with our amazing staff of ocean-loving instructors and dive masters to create something we are very proud of in Islamorada," says Cortney Benson, the shop's operations manager. "We get together at the Florida Keys Brewing Company and award prizes to participants who bring wetsuits for recycling."
After gathering old wetsuits from around town, the team gets to work to remove zippers from the wetsuits. Thanks to a partnership with Lava Rubber in New Jersey, the neoprene material is then upcycled into yoga mats. The program coincides with other initiatives at Key Dives, such as handing out 5,000 reusable bags to curb plastic bag usage in the community, removing 15,000 pounds of marine debris from nearby reefs and rescuing sea turtles.
All of these efforts aim to "reduce our footprint on this earth as scuba divers," Benson says.
Caribbean
Iberostar Hotels and Resorts is working to keep coral reefs healthy with large-scale projects that match its large-scale presence across Europe, Africa and the Americas. By defining its goals and holding itself accountable with the Wave of Change program, Iberostar's commitment to the oceans and sustainable tourism, Dr. Megan Morikawa, Iberostar's Global Sustainability Director, says the company hopes to set an example for how the tourism and hospitality industries can make coastal health a priority.
"We're doing work to help restore coral reefs to recover important ecosystem services like their coastal protection and working on projects in the restoration of coastal dunes to ensure healthy beaches," says Dr. Morikawa.
Iberostar properties in Jamaica, Mexico and the Dominican Republic house nurseries growing coral to restore damaged reefs. Whether it's by visiting the nurseries during a stroll on the beach or browsing the Wave of Change online resources, the public is invited to observe the work and learn about the important role of coral in coastal health—an accessible model that increases awareness. For divers, this serves as a reminder that preserving the dazzling underwater colors of the Caribbean is a collective effort from Iberostar employees, guests and surrounding communities.
Dr. Morikawa explains, "Our employees come from families that are parts of these local communities, so a commitment to our employees is also a commitment to these communities. However, that commitment must go beyond just the workday and extend towards working for the regeneration and protection of the natural resources that make these destinations so special."
Elsewhere in the Caribbean, putting sustainability into practice is crucial for preserving the ecosystems of tiny island communities. At Buddy Dive Resort Bonaire, dive operations manager Augusto Montbrun describes how the resort promotes a culture of teamwork and care for the environment. "We try to educate our guests as much as possible by enforcing the basics," Montbrun says.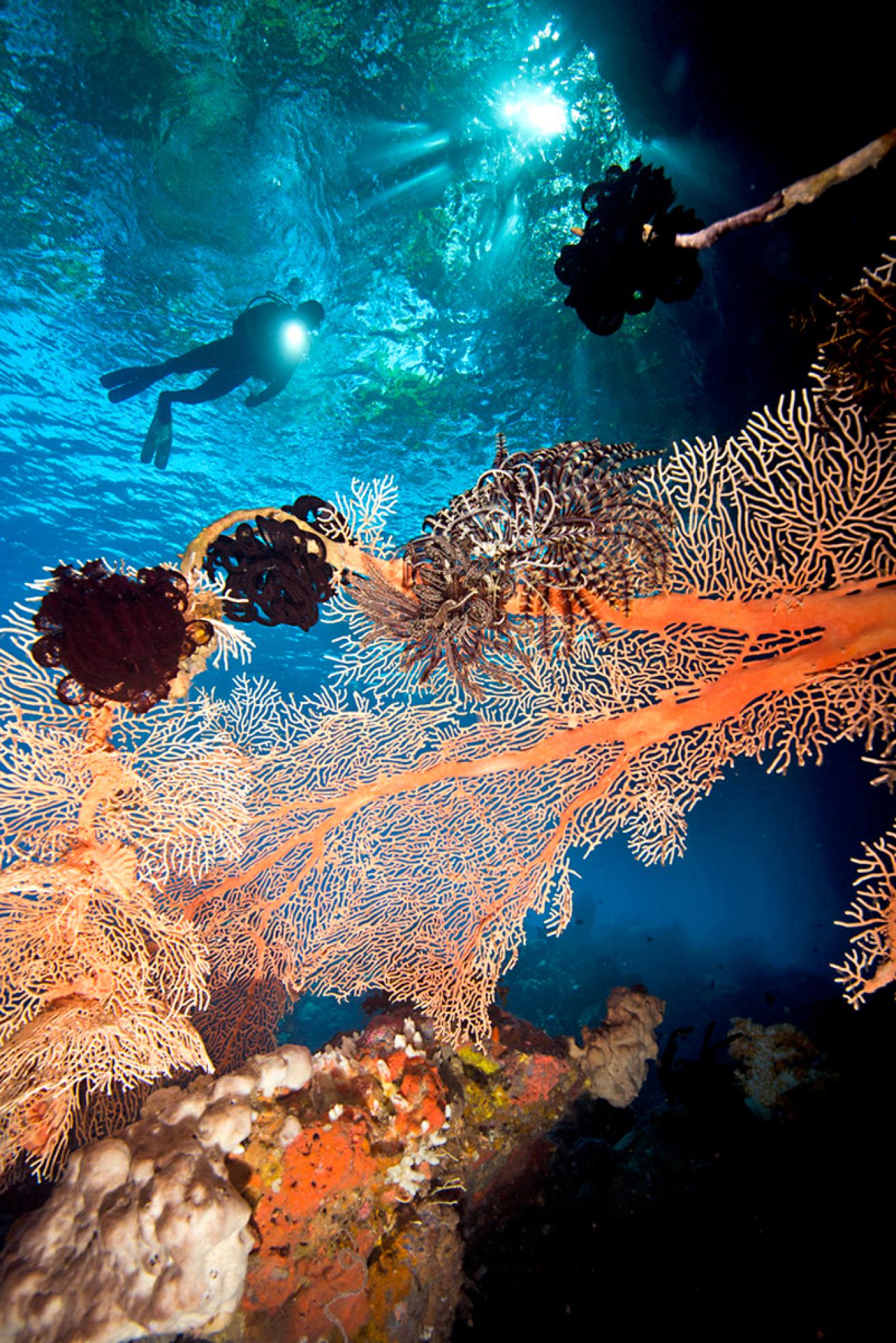 Protecting biodiversity has direct positive effects on the reefs.

Courtesy Mike Scotland/Tawali Leisure & Dive Resort
These simple habits include recycling, reusing, sorting trash and cleaning up any discarded items. Slacking off on these small steps might go unnoticed in a big city, Augusto explains, but the impact on the island is felt immediately. That's why, over the last ten years, the resort has looked to modify its operations by implementing biodegradable housekeeping and laundry products and has stopped featuring endangered species on the restaurant menu.
Buddy Dive Resort also participates in Reef Renewal Foundation Bonaire, along with seven other local dive shops. Augusto describes this partnership as an opportunity for businesses across Bonaire to educate and join together to care for the environment, while spreading the theme to divers as well: it's everyone's responsibility to preserve underwater structures and avoid damaging the coral.
"To our divers we make a big deal about good diving skills and buoyancy," says Montbrun. "That alone makes a huge difference to the wellbeing of the reef."
On the island of Saint Lucia, the Anse Chastanet and Jade Mountain Resorts have celebrated scuba diving since the 1980s, after Nick Troubetzkoy purchased the properties and fell in love with the sport. Today, Anse Chastanet is home to the Scuba St. Lucia dive shop, which boasts trips to beautiful reefs just offshore from the town of Soufriere. Divers also come to practice macro photography, night diving and wreck exploration.
"Nick soon recognized the importance of protecting the marine environment," says Karolin Troubetzkoy, the executive director of Anse Chastanet and Jade Mountain Resorts. Karolin Nick have a special connection to the coastal region which is now part of the Soufriere Marine Management Area (SMMA).
With the support of Nick Troubetzkoy and other community partners, a marine reserve materialized in the form of the SMMA, an NGO that was developed in 1992 to protect more than seven miles of coastline across the bay from the famous peaks of Gros Piton and Petit Piton. It was created to solve issues plaguing the region like pollution, damage to the reefs and community conflicts over fishing practices.
Building upon these efforts, Scuba St. Lucia offers PADI learning opportunities like the Invasive Lionfish Tracker distinctive specialty course, the Dive Against Debris distinctive specialty course and various PADI AWARE courses.
Karolin Troubetzkoy serves as the envoy of the Caribbean Challenge Initiative (CCI), which joins public and private sectors to "conserve and sustainably manage the Caribbean's marine and coastal environment." Eleven countries are currently committed to achieving CCI's goals, including designating 30% of Earth's land and ocean area as protected by 2030. Troubetzkoy's philanthropic work led her to identify a major challenge: growing reliable funding sources to reach these ambitious targets. She remains optimistic about future projects, thanks to the local and international cooperation CCI has received thus far. "Together with other stakeholders, [we hope to] create a Marine Health Fund in Saint Lucia," she says.
The Bahamas
All Star Liveaboards invites divers to become citizen scientists on their dedicated conservation voyages. These run the gamut of educational and hands-on oceanic opportunities in partnership with researchers and other organizations. During a recent 2021 trip aboard the Cat Ppalu, participants helped sea urchins off the Exuma Cays in the Bahamas.
Diadema antillarum, the long-spined sea urchin, experienced a devastating die-off event in the 1980s, from which the population has since struggled to recover. According to Atlantic and Gulf Rapid Reef Reassessment (AGRRA), the urchin plays a critical maintenance role in Caribbean reefs. In August 2021, Citizen Scientists cleared algae and relocated over 50 sea urchins.
This initiative fulfills the dreams of All Star Liveaboards owner, Bruce Purdy, to channel the excitement and energy guests bring to trips into forces for good. CEO Kevin Purdy says a typical diver is "very eco-minded" and the company wants to support these desires to protect and preserve natural resources.
"With each new vessel or destination we sought vessels and partnerships that shared in our common goal; protect our oceans," says Kevin. "This has led to a variety of trips and partnerships with organizations including REEF, Manta Trust, and Red Sea Sharks Trust."
The Citizen Scientist program has expanded aboard the All Star Scuba Scene, which takes divers on weeklong shark-cataloging trips in the Red Sea.
Kevin Purdy hopes there will eventually be enough guest support to run a Citizen Scientist trip every week throughout the year.
---